The Independent's journalism is supported by our readers. When you purchase through links on our site, we may earn commission.
Beirut city guide: How to spend a weekend in Lebanon's capital
The Lebanese capital is a hedonistic mix of fashion, food, art, music and nightlife. Here's what to do on a short break in Beirut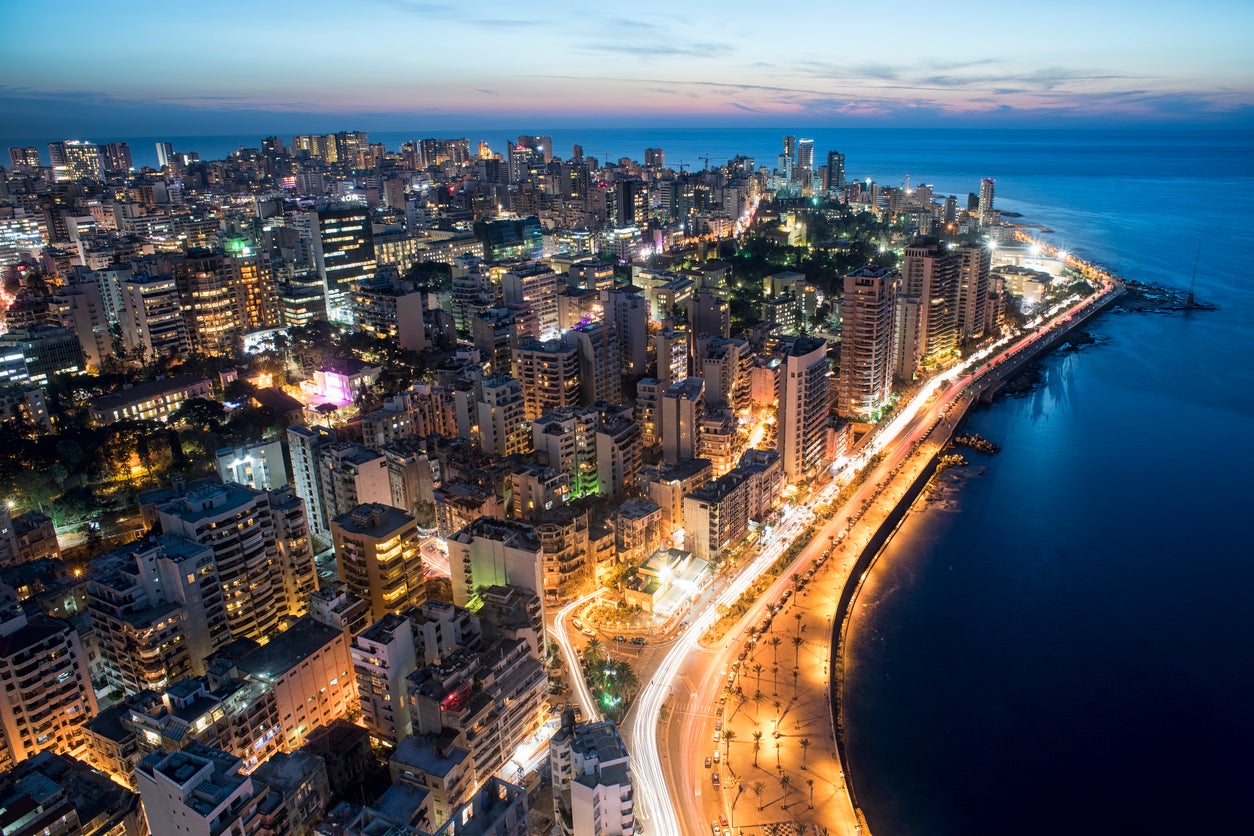 Why go now?
Lebanon is enjoying a period of peace and prosperity and Beirut is thriving. Its vibrant art, food and nightlife rival anything New York, Paris or London have to offer. And Lebanon is such a small country that nowhere is more than two hours' drive away. It is a Lebanese point of pride that you can hit the beach in the morning and go skiing in the afternoon. Top it off with a night of clubbing and you've basically accomplished a Lebanese "triathlon".
Above all, Lebanon is a beautiful and daringly hopeful vision of what the future of the region might hold. Beirut is the city where the Middle East goes to party and shop but also to experiment with new ideas: Fashion, music, art, political movements, social media, gay rights and multiculturalism. The Lebanese are crazy, passionate, creative, hedonistic and some of the best hosts on earth.
Get your bearings
On landing in Beirut, look north: The Mediterranean is on your left and the mountains are on your right. The city sits on a spur of land between the two. Beirut's Rafic Hariri International Airport (1) is south of the city and it's a 15-minute drive to downtown for $25 (£19). Many hotels will offer a car service to collect guests from the airport for a small charge.
Beirut's tourist office (2) (00961 1 340 940; destinationlebanon.gov.lb) is at 550 Central Bank Street.
(NB. The Lebanese pound or lira is the local currency but all hotels tend to give prices in dollars and euros).
Day one
Take a hike
Starting out from Mar Mikhael (3), a fashionable neighbourhood in the Achrafieh district, head west down Armenia Street (4) and continue along Gouraud (5) before it reaches Martyr's Square (6). This is a great street to get coffee and fresh juice and begin to take in the city's mad history. It's a popular place in the evenings too, when the road is crammed with Harley-Davidsons and trendy hipster-types.
Martyr's Square gives a taste of the bloody Civil War which took place between 1975 and 1990 – it still has the odd battle-damaged building and bullet-pocked statue.
Continue west on Waygand (7) and admire the Mansour Assaf Mosque (8) before heading north for two blocks to reach the Beirut Souks for lunch.
Lunch on the run
The Souk el Tayeb (9) (00961 1 442 664; soukeltayeb.com) is an open-air weekly farmer's market held on Saturdays at Beirut Souks (10) from 9am-2pm and on Wednesdays at the Gefinor Centre (11) in Clemenceau from 12-6pm. Souk el Tayeb means "the good market" and it was founded by journalist and food activist Kamal Mouzawak to champion local food. Try the lamb cutlets and fattoush salad. If the Souk is closed then check out Tawlet (12), a restaurant that is part of the farmers market and offers set menus and cooking classes. Each day a different chef cooks local recipes from different parts of Lebanon; profits go to support farmers and producers.
Window shopping
Browse the rest of the Souk area for designer brands or head back to Mar Mikhael (3) for classy vintage and artisanal beauty products. Start at the art/book/card and poster store Plan BEY (00961 1 444110; plan-bey.com). It's run as a cooperative so be sure to ask staff for tips on other fashion, music or art happenings nearby in the neighbourhood.
An aperitif
The Gemmayzeh (13) neighbourhood is where the Lebanese import the latest drinking trends from abroad, perfect them, and show them off. Check out the Torino Express (14) (00961 3 611 456) on Gouraud Street and try their Cafe Corretto – an espresso with a shot of grappa – to turbocharge your evening. Nearby Kayan (15) (00961 1 563 611), on Lebanon Street, does a mean Bresaola Club Sandwich; for a quiet drink try the Dragonfly (16) (00961 1 561 112) right next door to Torino Express for an art-deco, Parisian vibe.
Dine with the locals
Get comfortable at Baron (17) (00961 1 56 51 99; baronbeirut.com) and enjoy a cocktail while people-watching the beautiful and fashionable types of Mar Mikhael. Chef Athanasios Kargatzidis is evangelical about Lebanese and Mediterranean food; his cooking makes Ottolenghi's dishes look like tired coleslaw. Try the quail, garlic aioli and pickled kohlrabi with a side of thyme-roasted squash.
Day two
Out to brunch
Wake up with a recharging dip in the sea. Pierre and Friends (18) (00961 1 33 529 30) is to the north of Beirut and ranked as one of the top beach bars in the world. Grab a cocktail, retox and people-watch. This place has one of the best seafood grills in Lebanon.
A walk in the park
On your way back into Beirut proper stop by at Byblos (19). Considered by many to be the oldest city on earth, Byblos is an ancient gem set beside the sea, boasting examples of the many different civilisations that have inhabited it throughout the centuries. Wander around ancient Phoenician temples, the turrets of the Crusader castle (20), the old Mosque (21) and the historic souks. Stop by Memoire du Temps (22) (00961 9 540 555; memoryoftime.com) where you can buy exquisite marine fossils from this family-run museum and shop.
Cultural afternoon
Back in Beirut, visit the recently reopened Sursock Museum (23) (00961 1 202 001; sursock.museum). This collection of modern and contemporary art is housed within one of the most beautiful former private residences in the country. Open daily bar Tuesdays 11am-7pm; late opening on Thursdays from 1-10pm.
Move on to the National Museum of Beirut (24) (beirutnationalmuseum.com; 00961 1 426 703), a small but perfectly formed museum that tells the story of Lebanon's incredible history without being overwhelming. Highlights include The Abduction of Europe mosaic and Achilles Sarcophagus with scenes from the Iliad. Open 9am-5pm Tuesday through to Sunday.
Take a ride
Hire a bike from Beirut By Bike (00 961 1 365524) for $5 an hour and cycle down the Corniche (25). All of Lebanese life is here: Old men playing backgammon and young men on Harley-Davidsons; grandmothers with their heads covered and girls whistling past on roller-blades; super-yachts and solitary fishermen. Wander down to Pigeon Rocks to watch insanely brave youths dive off the rocks in the setting sun.
The icing on the cake
Don't miss a chance to visit The Music Hall (26) (00961 1 37 12 36; themusichall.com). It's owned and run by Michel Elefteriades, a Greek-Lebanese politician, artist, record producer and judge on The X Factor. The Music Hall is a throwback to the glory days of cabaret: A grand bar and cascade of booths and private tables lead down to the stage where some of the best of Middle Eastern and World Music is showcased.
Travel essentials
Getting there
British Airways (0844 493 0787; ba.com) and Middle Eastern Airlines (00961 1 629999; mea.com.lb) offer direct flights from the UK; BA offers return flights from Heathrow from £298. Lufthansa (0371 945 9747; lufthansa.com) and Turkish Airlines (0844 800 6666; p.turkishairlines.com) offer slightly cheaper flights with an hour's stopover in Frankfurt and Istanbul respectively. Lufthansa offers return flights from London, Birmingham and Aberdeen from £270.
Staying there
The Villa Clara (27) (00961 7 099 5739; villaclara.fr) in Mar Mikhael is owned and run by Olivier Gougeon and his wife Marie-Helene and named after their seven-year-old daughter. Olivier cooks an electric combination of French and Lebanese cuisine while Marie-Helene edits a French-language interior design magazine; the hotel is crowded with stunning, contemporary art. Doubles from £125, B&B.
The Phoenicia Hotel (28) (00961 1 369100; phoeniciabeirut.com) is a Beirut classic. It's not as hip as the Villa Clara but it offers some serious luxury in the centre of Beirut for a very reasonable rate, and the Amethyste Pool Bar and Lounge offers some of the best people-watching in the city. Doubles from £220, room only.
Le Gray Hotel (29) (00961 1 971 111; campbellgrayhotels.com/le-gray/home) is an incredibly stylish, ultra-modern hotel with a rooftop pool overlooking Martyrs' Square. Doubles from £420, room only.
Join our commenting forum
Join thought-provoking conversations, follow other Independent readers and see their replies