The Independent's journalism is supported by our readers. When you purchase through links on our site, we may earn commission.
6 of the best all-inclusive Morocco holidays
Where to go for a slice of North African luxury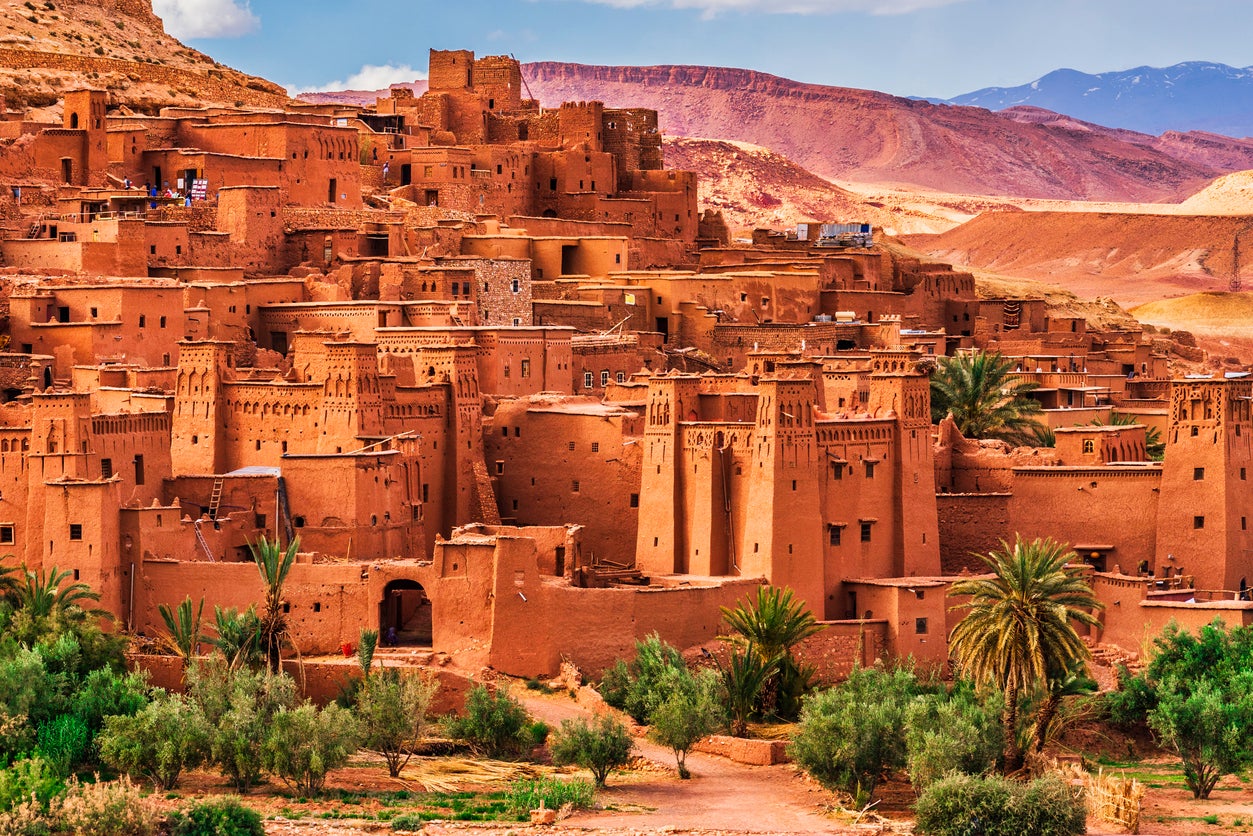 A country steeped in history, Morocco is a beguiling mix of Arabian, Berber and European influences.
The North African country has been important on the world stage since the early days of Islam. Nowadays, almost half a century since gaining independence from France, it remains a bastion of Arabic culture.
Whether you're wandering the crowded streets of Casablanca, enjoying the beaches of Essaouira or hiking up the towering Atlas Mountains, you'll be struck by the vibrant colours, fascinating traditions and rich heritage of the country. Its cultural significance, combined with a variety of captivating cities, impressive natural sites and a warm climate, makes Morocco a magnificent place to visit.
Several package holiday providers in the UK offer trips, with options including city breaks in Marrakech and beach resorts on the coast. With the option to visit late into October and the start of winter, we've rounded up some of the best all-inclusive deals for late autumn.
Marrakech
One of the four former capital cities (along with Fez, Meknes and current capital Rabat), Marrakech remains the country's most popular city for foreign tourists. Located inland near the centre of the country, it is a buzzing city that showcases historic Moroccan culture and traditions and their fusion with modern Arab – and in some cases foreign – influences.
The heart of Marrakech is the Medina district, the original fortified part of the city. It is a maze of winding streets that house some of the city's most important historical sites, from the Koutoubia Mosque and the Kasbah to the ornate Bahia Palace and several large traditional residences. This history meets the present in the Jemaa el-Fna square, where market stalls line the streets, shoppers haggle with traders, locals put on music and theatre shows and diners enjoy local delicacies.
Gueliz and Ville Nouvelle are more modern neighbourhoods, with European-style wide streets and Western hotel brands and restaurants. Head to the shopping quarters such as Sidi Ghanem and experience the pulsing nightlife on show in Ville Nouvelle. Other attractions include the Jardin Majorelle, the Yves Saint Laurent Museum, the central souks and the Saadian Tombs.
Read more on Morocco travel:
Iberostar Club Palmeraie 
British Airways Holidays has the best offer for this magnificent hotel that lies around six miles from the centre of Marrakech. A blend of European and Moorish design imbued with elements of Moroccan style, this hotel is housed in rows of white and red buildings overlooking a large outdoor swimming pool backed by gardens.
The hotel has another two pools (one of which is adults-only and another which has a poolside bar), and other facilities include a gym and spaces for trying your hand at football, volleyball, badminton, tennis and archery (there is also a programme of organised activities). For something a little more relaxing, try a spa treatment or visit the sauna and Turkish bath.
The rooms at this Iberostar have an modern, minimalist design, with large balconies a particular highlight. The common areas are even more opulent, with complex domed ceilings, vast chandeliers and intricate tile patterns.
Prices from £701pp for seven nights' accommodation, all-inclusive, with return flights from Gatwick, one piece of 23kg checked luggage per passenger and airport transfers. Departing 6 November.
Sol Oasis Marrakesh
Thomas Cook provides packages to Sol Oasis, around 20 minutes' drive from the northern Gueliz district (the hotel provides a free shuttle service to the centre). Completely renovated in 2021, it now features an array of state-of-the-art facilities, from its spa and gym to its badminton, tennis and volleyball courts. The vast outdoor pool and terrace are the focal point, with seating for dozens of guests. There's a small bar by the pool, or guests can head to the on-site cafe or restaurant for something more substantial.
Ensuite rooms are large and include an outdoor seating area, with views of the hotel's pristine gardens or pool area. Decor around the rest of the hotel features high, mosaiced ceilings in reception and large columns that adorn the dining areas and outside seating areas. The terraces and gardens are serene, surrounded by green grass, palm trees and atmospheric lights.
Prices from £610pp for seven nights' accommodation, all-inclusive, with return flights from Stansted. Checked baggage can be added starting from £44, while transfers cost an additional £27 per person. Departing 31 October.
Le Riad des Oliviers
Some would argue that a stay in a traditional riad – historic Moroccan houses built around courtyard gardens – is the best way to experience Marrakech, and Tui provides excellent value on a trip to Riad La Maison des Oliviers. Situated in the Medina district near the Jemaa el-Fna, it's the ideal location for exploring the best of the city.
Guests at this riad will enjoy a Moroccan holiday that is every bit as traditional as it is luxurious. The hotel design is based on a kasbah, a type of old city fortification, with the complex split into three different riads housed in a series of ochre and red buildings. Each riad has its own private swimming pool (with views of the Atlas Mountains), gardens and terrace area, while each individual floor also has an extra terraced section.
Interiors are heavily focused on Moroccan design, with a mix of muted pastel tones and geometric patterns and walls and ceilings decorated with patterned domes, arches and pieces of art and ceramics.
For those days spent away from the city, the spa features a sauna, Turkish bath and beauty salon offering spa treatments. You can rent equipment for cycling, mountain biking, table tennis and volleyball; relax by the poolside bar; or go for a meal in the terraced restaurant, which serves a mix of Moroccan delicacies and crowd-pleaser international dishes.
Do note that for trips to Morocco leaving on or after 1 November, Tui is offering an extra £100 off when you spend £800 (using the code MOROCCO100); a room upgrade on this package costs £55 (taking the total to £810).
From £755pp for four nights' accommodation, all-inclusive, with return flights from London Luton and airport transfers. Departing 3 November.
Agadir
Agadir is a seaside resort city on the Atlantic coast, roughly three hours southwest of Marrakech. It was completely destroyed by an earthquake in 1960, but has since been rebuilt and has subsequently become one of the best beach resorts in Morocco. Today, the old city walls overlook a network of streets that hide shops, restaurants, souks and Turkish baths, leading out to a picturesque marina area and over seven miles of golden sands.
A more laid-back alternative to the better-known Moroccan cities, Agadir has managed to retain its history and culture while becoming a popular destination for tourists. Sites such as the Oufella (the remains of the ancient fortress, built in 1540) and the Medina d'Agadir (a detailed replica of what part of the city looked like before the earthquake) have preserved the past, while a spate of developed modern features, from the Turkish baths at Argan Palace to the Souk El Had and the green spaces of Olhao and the Vallee des Oiseaux, blend modern living with ancient Moroccan culture.
Jardins d'Agadir
EasyJet's package for Les Jardins d'Agadir is a great-value option for a stay in the city. Situated just five minutes away from the beach, it is also under 10 minutes from the centre and within easy reach of attractions including the Royal Palace and Souk El Had.
Built in traditional style with ornamental Moroccan features, Les Jardins is a charming hotel of white buildings, green roofs, landscaped gardens and tall palm trees. Restaurants, bars and common areas are far from flashy; instead, they're pared-back and informal with touches of Moroccan and Arabian design, from tiled mosaics to large arches. Rooms follow a similar concept; large in size with simple, unassuming interiors.
Activities such as tennis, football or a visit to the spa and sauna will keep you busy in between a dip in either of the two swimming pools. When it comes to meal times, opt for the poolside snack bar for a quick bite, or take your time over a sit-down meal in either the international buffet restaurant or the a la carte restaurant serving Moroccan delicacies. Any of the three bars offer post-dinner entertainment.
Prices from £478pp for four nights' accommodation, all-inclusive, with return flights from Gatwick, one piece of 23kg checked luggage per passenger and airport transfers. Departing 2 November.
Riu Palace Tikida Taghazout
Tui is among the first providers to feature the Riu Palace Tikida, a brand new hotel in Taghazout, less than half an hour away from Agadir. An exceptionally modern hotel, it sits near the Atlantic Coast – just six minutes away from town – and contains its own separate, guest-only beach area.
Interiors and facades have traded Moorish or Maghrebi influence in favour of a more European modernity. Spacious rooms feature stylish, wood-floored interiors and large beds, as well as impressive balcony or terrace areas overlooking the pools and landscaped grounds.
There are seven swimming pools in total, with a plethora of comfortable seating areas to choose from. Four of these are on the main terrace, while one is indoors and there are two separate, adults-only infinity pools. The spa contains an adults-only gym and Turkish bath, and offers spa treatments and massages.
You won't be let down at meal times either, as there are four bars and four restaurants. Two bars are in the pool areas (one is a swim-up bar), and there's a lounge bar and one 24-hour lobby bar. Guests can enjoy a poolside restaurant that becomes a steakhouse in the evenings, or check out the Moroccan and Fusion a la carte restaurants or the main restaurant (which serves a mix of international dishes).
Do note that for trips to Morocco leaving on or after 1 November, Tui is offering an extra £100 off the price when you spend £800, using the code MOROCCO100.
Prices from £955pp for seven nights' accommodation, all-inclusive, with return flights from Manchester, one piece of 20kg checked luggage per passenger and airport transfers. Departing 2 November.
Robinson Club  
EasyJet features breaks at the Robinson Club, located on a five-mile stretch of golden sand on Agadir Beach. Inside the hotel, sands are replaced by a network of intricate green gardens and winding paths that lead to the white-washed, russet-roofed main buildings.
The design is a fusion between modern and old Arabian influences; paths are paved with tiles, gardens feature small fountains and arches and ornaments are Moorish in design. Inside, the common areas are a simple blend of minimalist design and touches of Moroccan influence, while rooms are pared-back and spacious (all come with a balcony or terrace for views over the gardens or out to sea).
In addition to the private beach area, facilities include a spa with sauna and wellness area, tennis courts, football pitches and three swimming pools (two of which are outdoors). Dining and drinking options include three bars, one of which is on the beach, one international buffet restaurant and an a la carte beach restaurant.
Prices from £962pp for seven nights' accommodation, all-inclusive, with return flights from Gatwick, one piece of 23kg checked luggage per passenger and airport transfers. Departing 30 October.
Read our reviews of the best winter sun hotels
Join our commenting forum
Join thought-provoking conversations, follow other Independent readers and see their replies