13 best things to do in Dubai
How to make the most of a visit to this grandiose desert city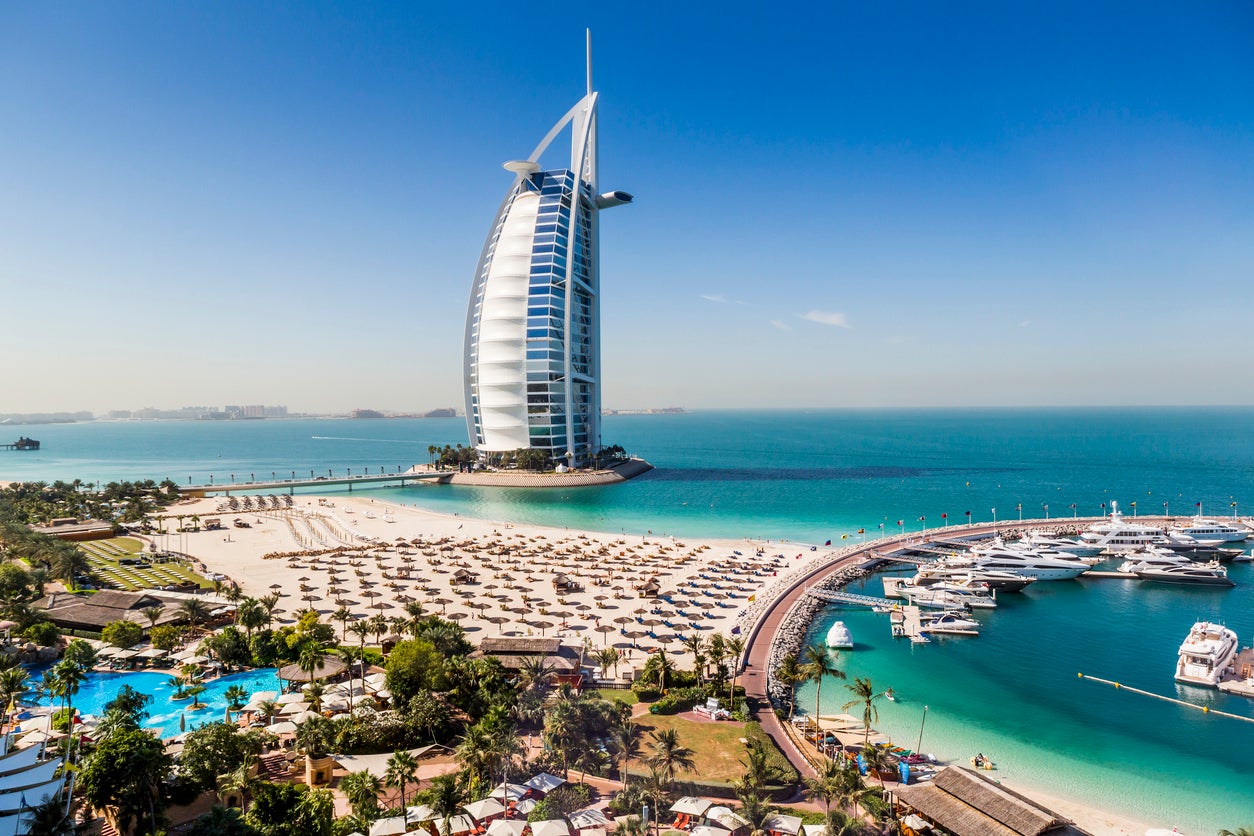 The most tourist-friendly destination of the United Arab Emirates, Dubai continues to attract and enthrall visitors from around the world.
The sprawling desert metropolis is known for its luxury hotels, duty-free shopping and general glitz and glamour, but it offers a far wider scope of activities and attractions than its reputation suggests.
A picture of ultra-modern architecture, soaring skyscrapers and the blue waters of the Persian Gulf, the city (and emirate) also possesses several well-preserved local sites and attractions of historic and cultural significance, from the Jumeirah Mosque to Alserkal Avenue.
This makes for a city with an abundance and wide-ranging variety of things to do; whether you want to explore historic districts, wander the world's largest mall or have dinner in the desert, Dubai should have something to catch your attention.
So whether you've already booked your trip or are still caught in two minds, fear not; we've rounded up a list of some of the best things to do in Dubai.
Visit the Burj Khalifa, Dubai Fountain and Marina
The world's tallest building, the Burj Khalifa is a modern symbol of Dubai and one of its most visited sites. Standing at 830 metres tall, anyone can visit the observation deck, named 'At The Top', on the 124th floor of the building (and at a height of 452 metres) for a panoramic view of the city and its marina.
At the foot of the building lies the Burj Khalifa lake, a 30-acre artificial lake that is mostly known as the home of the Dubai Fountain. This 270-metre tall fountain is the tallest performing fountain in the world, with light shows consisting of over 6,000 lights dancing to different songs, ranging from classical Arab to contemporary world pop. These two structures are perhaps the highlights of the Dubai Marina, a man-made marina with a waterside promenade, its own mall and dozens of shops, cafes and restaurants.
Discover the city's Old Town
Away from the malls and skyscrapers, you'll find Dubai's characterful 'Old Town'. Traditional buildings, local markets and cultural centres are the draw here, with several of the city's best districts contained within the area. There's nowhere better to start than Al Fahidi, a historic neighbourhood where gypsum buildings and wind towers have been restored to provide a contrasting reminder of the city's old skyline. The Al Fahidi Fort is the oldest building in Dubai – built in 1871 – while the Centre for Cultural Understanding provides opportunities for visitors to learn about Emirati culture. Other notable sites in the area include the city's Coffee Museum and the Arabian Tea House, a highly rated cafe serving traditional Emirati cuisine.
Al Seef, along the Dubai Creek waterside, is a blend of the old and new, where more gypsum buildings and narrow, winding streets meet more modern buildings and a background of skyscrapers. Across the Creek lies Deira, a district renowned for its traditional souks (more on them later).
Visit the Jumeirah Mosque
Built in a Fatimid style (a mix of Syrian and Egyptian architectural styles characterised by keel-shaped arches, columns and ornamentation among other things), the Jumeirah Mosque opened in 1979 and can accommodate 1,500 worshippers. Easily recognisable with its two towering minarets, it is one of the only mosques in the UAE that is open to non-Muslims (and the general public) and has guided visits and opportunities to learn about Islam, its customs and history. The mosque is open every day other than Friday; be sure to adhere to dress codes, although the website does say that Kandooras (Emirati national dress for men), Abayas (national dress for women) and Sheilas (head scarves) are available to borrow.
Read more on North Africa & Middle East travel:
Sail across Dubai Creek
The location where many of the first settlers made their home – and an early port – Dubai Creek lies at the heart of the city. Separating the Deira area from Bur Dubai, it is now a popular tourist attraction for the boats – named abras – that you can travel across the water in for just 1 AED (around 21p). There are two routes across; the first is from Deira Old Souk Abra Station to Bur Dubai, while the second, busier route goes from Al Sabkha to Dubai Old Souk. Each crossing takes around five minutes, giving travellers exceptional views of both the old and new parts of the city.
Go shopping in the world's largest mall
Situated next to the Burj Khalifa, the Dubai Mall is the world's largest shopping mall, with over 1,200 shops covering over half-a-million square metres. Visitors can expect anything from luxury stores to well-known international brands and American department stores, with over 200 different places to eat once you're done shopping. For kids, the mall even houses an aquarium, 'underwater zoo' and go kart track, while the entire area is mercifully air conditioned in the summer months.
Go on a desert safari (or have a romantic desert dinner)
Several companies offer excursions into the desert surrounding Dubai, from camel riding and barbecue buffets to quad biking and overnight stays in tents. Spending a day rolling across the golden dunes offers an adventurous alternative to strolling around malls, whether you choose to go on a leisurely drive, dune buggy over the sands or visit conservation reserves to see flora and fauna. As night falls, visitors can watch the sunset while enjoying an unforgettable lamp-lit meal among the dunes. Combine this with an overnight stay to really experience the best of what Dubai's desert has to offer.
Explore the souks
Dubai's souks are a legendary form of traditional Arab market. Some of them are among the most well-known attractions in Dubai, selling an enticing range of products, from spice mixes to gold and hand-woven local crafts. Many of these are housed in the aforementioned Deira district (some stops for the abras are named after them), including the Gold Souk, Spice Souk and Perfume Souk.
The Gold Souk is arguably Dubai's most famous market, a beacon for those in search of gold, silver and fine jewellery, while the Spice Souk offers, as you'd expect, a colourful array of spices and dried herbs. The Textile Souk (found across the Creek in Bur Dubai) is a network of covered alleyways offering clothing, shawls and souvenirs made from fabrics including silk, wool and cashmere.
There are also a handful of modern souks, built to provide a different shopping experience. The Madinat Jumeirah is prime among them; part of the Madinat Jumeirah resort, it was built to mirror the traditional aspects and architecture of a souk but also offers galleries, restaurants and shops. The Ripe Markets – Dubai's take on farmer's markets – run in different locations around the city, with street stalls and boutiques selling organic foods and fresh produce.
Head to the beach
Beaches may not be the first thing that springs to mind when thinking about Dubai, but with the weather sometimes sweltering, you may well appreciate a dip in the sea. The hundreds of miles of beaches here range from free-to-access stretches to exclusive beach clubs.
JBR beach is the city's busiest – a long stretch of golden sand with a backdrop of the city's skyscrapers and the Ain wheel – while Jumeirah Open Beach is a more relaxed alternative. Kite Beach is another free-access area, an eight-mile stretch of white sand that is also a trendy area for pop-up shops, food trucks and cafes. For a tranquil spot, try Sunset Beach; the city's only decent surfing beach, it offers great sunset vistas and a particularly enviable view of the Burj Al Arab.
Beach clubs are common too, for those looking to up the glam factor. Nikki Beach has a location in Dubai, while other reputed clubs include Azure Beach, DRIFT and Riva. Most clubs have pools and served a range of food, with entry prices ranging from around £15 to over £65.
Learn about the UAE at the Etihad Museum
Open since 2016, the Etihad Museum showcases contemporary Emirati history at the site where the UAE was founded in 1971. The museum's eight pavilions hold a range of artefacts and interactive guides, from personal possessions of the rulers to the first written version of the country's constitution. Other exhibitions focus on pictures of the developing nation, documentaries, interactive maps and a homage to the important moments before 1971.
Tickets for the museum cost roughly £5, and it's recommended to spend at least an hour there to have a good nose around. Last ticket sales are at 7pm ahead of an 8pm closing time.
Go on an adventure in Hatta
If you care to venture beyond the desert, you'll find the mountainous Hatta region. Located in the Hajar mountains (roughly 80 miles from the city itself), the region contains a Heritage Village, a centuries-old restored village that retains its defensive tower, stone houses and traditional falaj water system. Dramatic mountains offer scenic hiking and mountain biking opportunities, while canoeing, kayaking and boat rides are available on the emerald lakes (such as the one by Hatta Dam).
Take in the culture of Alserkal Avenue
Though the grey and blue warehouses of Alserkal (in the Al Quoz district) may not look too inspiring from the outside, in reality these buildings house dozens of art galleries, cafes and shops. The city's artistic hub, Alserkal offers myriad surprises for visitors, whether stumbling across an independent records shop (The Flip Side) or watching indie films at Cinema Akil.
Popular galleries include the Green Art gallery, 1X1 and Carbon 12, while creative spaces such as Kave: The Story of Things host workshops including guitar making and embroidery. Food options, meanwhile, range from vegan tacos to handmade Belgian chocolate.
Get golfing
Golf in Dubai caters for everyone, from seasoned golf travellers to total amateurs, with activities ranging from championship courses to Top Golf driving ranges. The city plays host to several professional tournaments, and its climate offers the perfect weather for getting out onto the greens (when summer temperatures soar to unbearable heights, many courses offer the opportunity to play at night under floodlights).
Regardless of level, the opportunity to play surrounded by sea, sun and skyscrapers is not one to be missed. Some of the city's premier courses include the Trump International, Dubai Creek, Emirates Golf Club and Jumeirah Golf Estates, with green fees anywhere between £20 to £175.
Visit a theme park
Dubai has a whole host of theme parks and waterparks to keep kids (and big kids) happy during their visit. One for both adults and children, Global Village is a park with several pavilions, shows and dining areas that showcase culture from 90 different countries across the world, while the IMG Adventure Park is the world's largest indoor theme park, with dozens of rides and areas relating to Marvel characters, Cartoon Network and the 'Lost Valley' of dinosaurs.
The Hollywood-inspired Motiongate has several rides inspired by blockbuster classics, from Shrek to The Hunger Games, while the city's Legoland park is another popular choice, home to over 40 rides and attractions and six themed lands, plus its own waterpark. On the subject of waterparks, Dubai has several: Wild Wadi, Aquaventure and Laguna are some of the best, with wave pools, 18-metre waterfalls, lazy rivers and even a 34-metre tall tower ride among the highlights.
Read our reviews of the best Dubai hotels
Join our commenting forum
Join thought-provoking conversations, follow other Independent readers and see their replies