The Independent's journalism is supported by our readers. When you purchase through links on our site, we may earn commission.
Why Cincinnati deserves to be your next US city break
With new direct flights from London, getting to the Ohio city that's usually just flown over is a cinch, says Laura Millar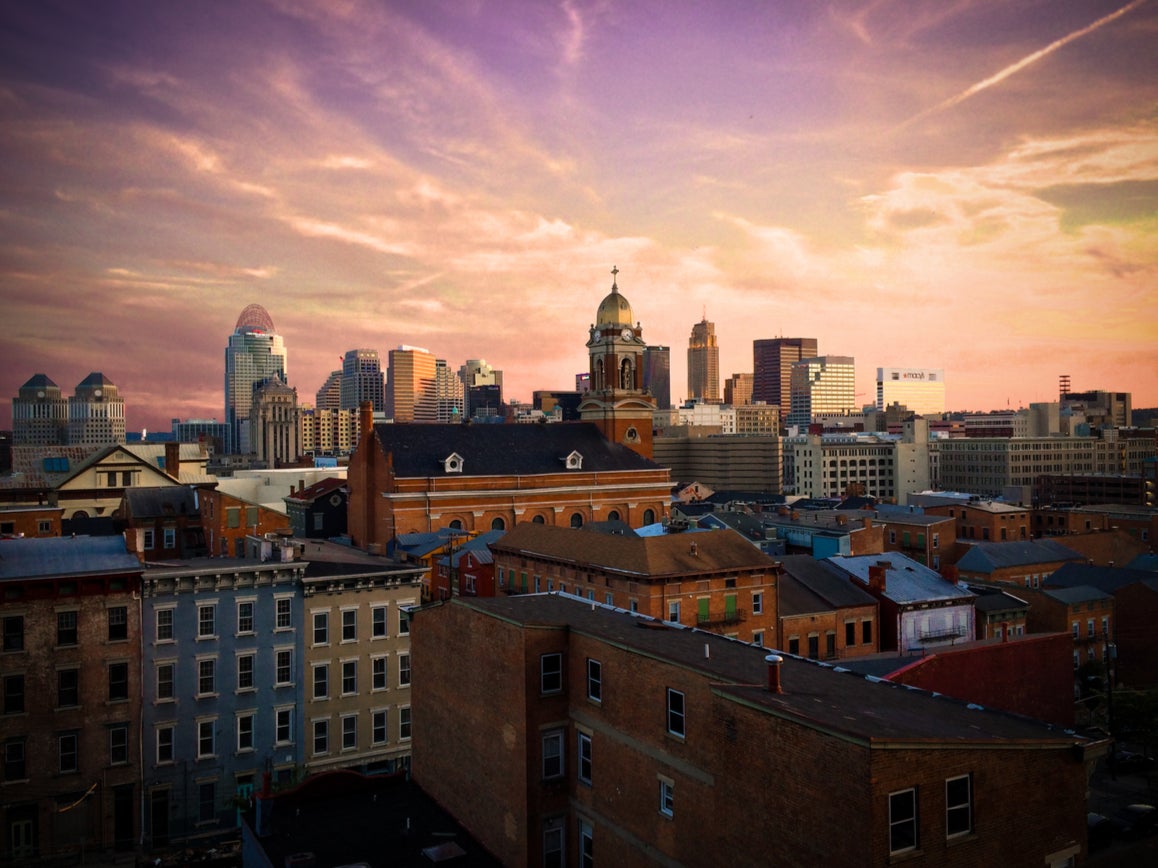 I was barely a couple of blocks into my first stroll around downtown Cincinnati, heading north from the business district that lines the Ohio River with its smattering of skyscrapers, when I began spying street art. Vast, colourful murals adorn multiple walls, from the exteriors of restaurants and apartment blocks to half-demolished buildings, where empty lots are now used as ad hoc car parks.
Vivid images helped me glean a bit more about the past and present of Cincy – as it's affectionately known by locals – with the work spanning illustrations of local heroes, such as renowned Modernist wildlife artist Charley Harper and various sports stars, to images of food, abstract designs and more political messages exhorting tolerance and togetherness. One even depicts some of the toys invented by Cincinnatian company, Kenner Products, many of which were British kids' childhood staples: Care Bears, Star Wars action figures, Play-Doh.
Since I had arrived the day before on British Airways' new direct flight, where a fellow passenger, a Brit who's lived here for five years, described the place as a "big city with a small town feel", laidback and midwestern, Cincinnati had been intriguing me in all sorts of ways – not least because the late Jerry Springer was once its mayor. For a start, it straddles three states. Its bulk sits in Ohio, while a sliver stretches into Indiana. You fly in, however, to northern Kentucky, located just across the Ohio river that runs through the city. This is where I met historian Rick Pender – author of 100 Things to do in Cincinnati Before You Die – at my hotel, the slick new North, in Covington. This charming neighbourhood is all ornate, low-level Victorian brick buildings interspersed with hip coffee shops, independent stores (or both in one, such as Roebling Books and Coffee), and stylish bars and restaurants, like popular farm-to-table spot Bouquet. I loved it straight away.
"Cincinnati has two stories to tell," Rick began. "Where we are now is the gateway to the South, and bourbon country, but if you cross the river, it's all about beer." Cincinnati was officially established in 1788, when Americans started expanding westwards. They chose to settle here, at the confluence of two rivers – the other one is called, somewhat improbably, Licking – and the city was named after a former Roman statesman, Cincinnatus (to whom George Washington was often compared due to his civic pride). However, most of the industries which subsequently evolved were thanks to the Germans.
"We're known for brewing, pork processing and meatpacking," said Rick, which was "thanks to the huge influx of German immigrants in the 1830s". Aside from the availability of work, they were attracted by the riverside area's resemblance to the Rhine, and the feelings of familiarity which that engendered. By 1840, 30 per cent of Cincinnati's population was German; by 1850 it was 50 per cent. You've got them to thank for the delicious wurst you can find on many menus and in food markets – which once led to the city amusingly being nicknamed Porkopolis – and its craft beer heritage.
Read more on USA travel:
One area the Germans settled in is the historic district of Mainstrasse Village. This ridiculously pretty set of streets and avenues is lined with the type of handsome houses you might find in London's Notting Hill – all pastel-coloured frontages and tall windows – except they're available for a quarter of the price. Many Germanic details remain, from Gothic script on some shop signs to businesses owned by family names such as Jentz, Kemper and Frisch, as well as the picturesque, if slightly out-of-tune, glockenspiel bell tower inside Goebel Park. At the Cock and Bull village pub on Main Street, I supped some local ale; the Rheingeist Brewery's Truth IPA had fresh, tropical notes, but I was more into the ballast, tearing into thick dough of home-baked pretzels, dipped into melting, beer-infused cheese.
Suitably imbued with a taste for Cincinnati cuisine, I crossed over the impressive, pale-blue Roebling suspension bridge – designed by the same architect as New York's Brooklyn Bridge – to Ohio, and my next destination: Over-The-Rhine, or OTR. Here, you'll find the city's pulsing heart. This is where locals come out to play, with streets such as Vine and Walnut lined with hip cocktail bars and bistros, from the innovative Lost and Found, which infuses beverages with the likes of bubblegum and dill, to the New Orleans-inspired Nolia Kitchen, where chef Jeff Harris turns out elevated dishes based on the flavours of his former hometown.
OTR got its rather unwieldy name because Germans also settled around its canal – referred to as the Rhine, but now dried up – which separated the area from downtown. To reach it, I passed between the giant stadia for two of the city's major sporting teams, the Cincinnati Reds (baseball) and the Bengal Tigers (NFL), which dominate The Banks, a newly regenerated waterfront area.
Next up, I headed directly up Vine Street to Findlay Market. Opened in 1855, today it's home to over 50 traders and stallholders. On an average weekday afternoon, it is busy with locals stocking up on ingredients for dinner. Tempted by Tasha, who runs Gramma Debbie's Kitchen (Debbie is her mother-in-law), I sampled goetta, a specifically Cincinnatian German pork sausage made with spices and oats. Pan-fried and cut into squares, it's rich, meaty flavour has a peppery edge, and locals generally eat it for breakfast accompanied by eggs.
I also sampled pierogis stuffed with Cincy's answer to chilli. It's definitely something to try, but "Cincinnati chilli" is not quite chilli as we know it. Created by a Greek immigrant in the 1940s, you can sample it at any "chilli parlour" – Skyline being the best known – and ask for a "three-way": you'll be presented with a mound of spaghetti, layered with a blend of beef mince, tomato, cinnamon and cacao powder, all smothered in grated cheddar. To me, it tasted like something a student would whip up either to prevent, or soak up, a hangover; Cincinnatians are crazy for it.
I saved what I considered to be the best example of the city's food for last. During my visit, I heard the same name mentioned time after time, by anyone from Uber drivers to owners of vintage stores: Graeters, which turns out to be an ice cream parlour with, it will come as no surprise, German origins. It was founded in Cincinnati and there are now 18 branches throughout the city. One flavour is repeatedly recommended in tones as reverential as if describing the Holy Grail: black raspberry chocolate chip. I purchase a small cup from the Vine Street outlet and take it to nearby Washington Park, one of Cincy's many green spaces (the city has more than 70 parks). It blows me away; creamy and fruity, and with shards of milk chocolate which crunch before melting away. Extraordinary and exciting – just like the city itself.
Travel essentials
Getting there
Return flights from London to Cincinnati with British Airways from £497.
Staying there
Doubles at North by Hotel Covington from $289 (£221), room only.
Read more on the best USA hotels
Join our commenting forum
Join thought-provoking conversations, follow other Independent readers and see their replies