The Ludlow, New York: Room Service
A hip addition to Manhattan's hottest hood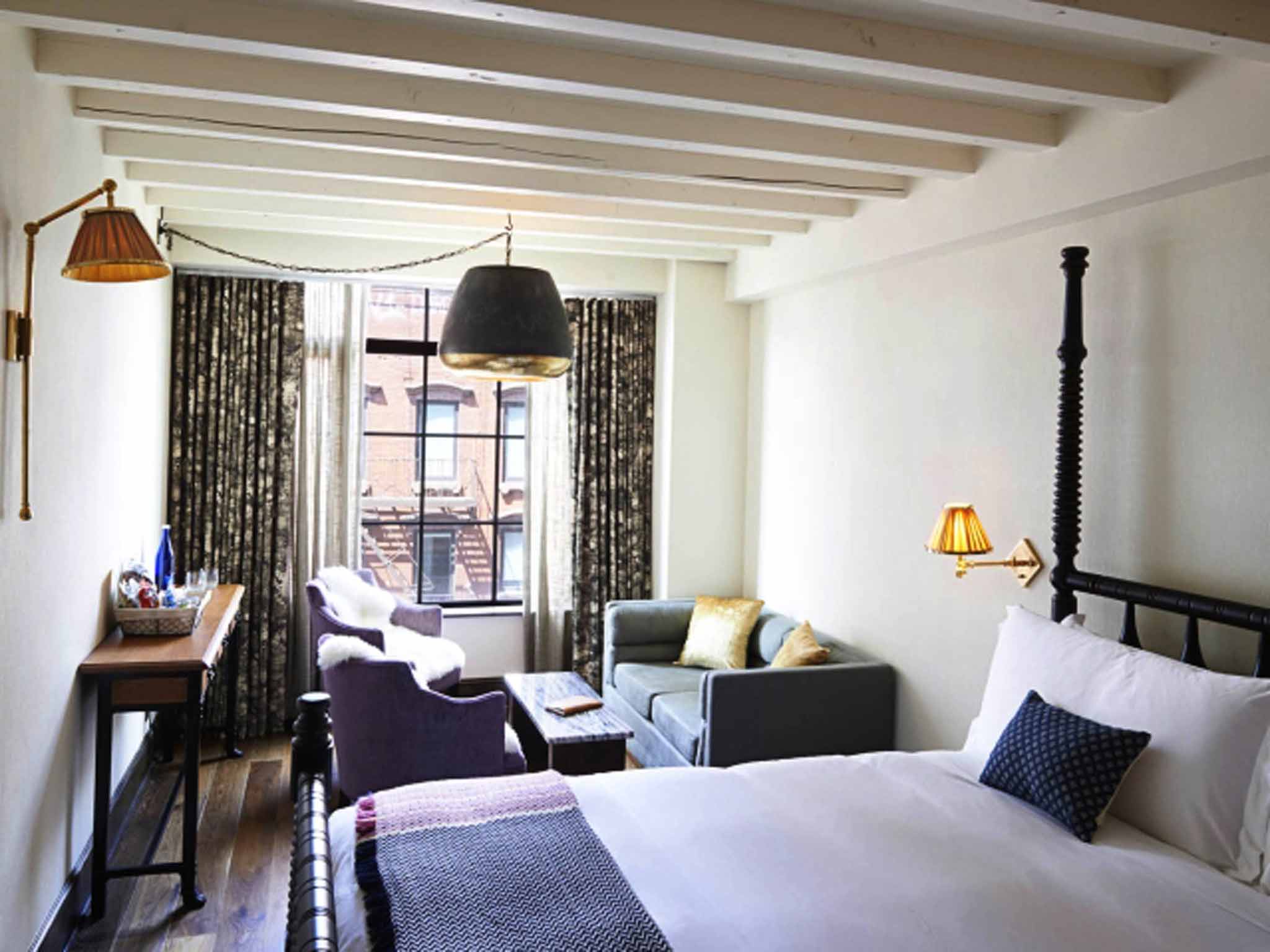 Named after its buzzing street on the Lower East Side, this new hotel is built up to 20 floors on top of a much older warehouse. Ludlow Street may have an old institution flagging its corner – Katz's Deli, of "I'll have what she's having" of When Harry Met Sally fame – but along its length, swish apartment blocks, hotels and restaurants are sprouting above and around the shabby-chic, fire escape-clad tenement buildings that define the neighbourhood.
New York hotelier Sean MacPherson – who has form with hip establishments such as the Marlton and the Bowery – has got in on the act, opening The Ludlow with partners Ira Drukier and Richard Born this summer. The 184-room hotel may be a big new build, but it's cannily tapped into the area's vibe, blending the artfully dishevelled with contemporary chic.
The building was bought as a derelict property, abandoned by developers after the financial crash. Fitting out has kept the look of the block while discreetly ensuring a comfortable stay. With oak panelling, white-washed brickwork and antique brass fixtures, the lobby and bar have a surprisingly convincing vintage feel; bedrooms are all dark wood and more chunky brass, with rustic touches such as sheepskin throws. The minibar includes locally sourced kale crackers, sea-salted chocolate and a scented candle, which probably tells you all you need to know about the expected clientele.
It all fits the studiously cool atmosphere of Ludlow Street. By day, New Yorkers browse its little fashion boutiques and brunch in the stylish cafés; by night, the focus turns to partying. The sidewalks become packed with a young crowd, getting pizza, drinking pricey cocktails or cheap beers in dive bars before dancefloors beckon.
Inside The Ludlow, you won't hear a thing (unless you're hanging out on your private terrace ). And the hotel's own bar, with an understated 1930s glamour, provides a calmer drinking experience. It is dimly lit and has bulbous leather couches, snakeskin stools, fluffy sofas, and a peaceful patio out back. The restaurant, Dirty French, the latest offering from the Major Food Group, promises a New York twist on classic French cuisine.
Location
On Ludlow itself, try Cake Shop (001 212 253 0036; cake-shop.com), a café-cum-record shop that turns into a bar-and-gig-venue by night. Spitzer's Corner (001 212 228 0027; spitzers corner.com) and the also box-fresh new joint Sweet Chick (001 646 657 0233) – next door to the hotel – are jumping spots for a bite to eat.
The Ludlow is a solid base for exploring Manhattan, and if the Lower East Side really isn't cool enough for you, you're also within easy reach of Brooklyn.
Comfort
The Ludlow's decor – hand-picked by MacPherson, apparently – is the same throughout: hardwood floors, enormous Moroccan pendant lamps, brass and marble-topped tables, mauve armchairs, high beds with dark wooden four-poster frames, quirky petrified tree-stumps for side-tables. It's extremely tasteful – the only mis-step being the ghastly, pondweed-coloured, tie-dye style curtains.
Bathrooms are marble and white-tiled, with large tubs or monsoon showers. I liked the old-fashioned brass mirror, flanked by blazing bulbs. Red Flower toiletries and Maison Martin Margiela bathrobes are nice touches.
There are nine categories of room, but you're paying for extra leg space effectively; most are cityishly compact, if never cramped. The Ludlow's elevated design means all come with sweeping views through factory casement-style windows, and many have little Juliet balconies to admire the skyline from.
Splash a little more cash, however, and you'll be rewarded with neat extra ways to enjoy the cityscape: both king and queen rooms are available with private outdoor terraces that have views to the west, while the Skybox Lofts come with sitting areas with wrap-around windows. If you prefer to look at a screen, rooms come with large televisions and free Wi-Fi.
Travel essentials
The Ludlow, 180 Ludlow Street New York City, US (001 212 432 1818; ludlowhotel.com)
Rooms ****
Value ***
Service ***
Doubles start at $377 (£236), room only
Join our commenting forum
Join thought-provoking conversations, follow other Independent readers and see their replies