Puerto Rico: A Caribbean port of call that dances to a different beat
New non-stop flights to Puerto Rico make it easier to reach an island that has mastered the art of blending cultures – and cocktails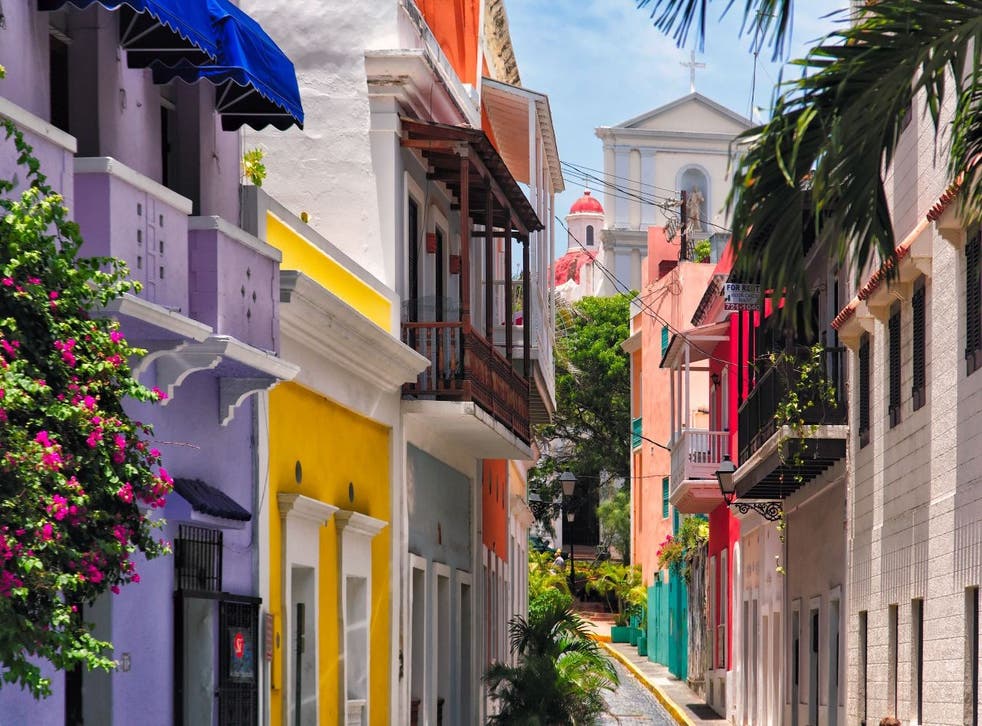 Where the Caribbean meets the Atlantic, the boat rolls over whitecaps under a muddled sky. Beside me, a muscled youth sporting a buzz cut and a singlet grips his rum punch tightly, the words of his tattoo rippling across his deltoids: "Thunder will clap, mast will shake, sailor on sailor, keep the faith". And into a paper bag, he neatly throws up.
They'd warned us about the day's unusual turbulence on the 45-minute cruise to the rustic, low-key island of Culebra, but we were game for the ride – those of us not suffering from mal de mer, anyway.
Tropical sunshine and cerulean sky appear on cue as we don masks and fins to slip into warm turquoise sea, ticking off two Puerto Rican highlights in one: the chance to snorkel, swim and languish on unpopulated Flamenco Beach, touted among the world's most beautiful, and a photo opp with graffiti-speckled tanks in the sand. The tanks, originally used in US military exercises here, were abandoned after protests in the Seventies.
More than 500 years after Columbus claimed the island for King Ferdinand, naming it San Juan Bautista – soon renamed Puerto Rico, "rich port", after gold was discovered – this Spanish colony turned US territory will become easier to access from the UK from next week, with the launch of non-stop flights from Gatwick.
After an afternoon lolling on the white sand of Flamenco Beach, it's an hour's drive east from the port of Fajardo to the capital, San Juan. Feeling like Dorothy, I step through a red-painted gate to the city, passing through the thick outer wall, which dates back to the 1630s, to emerge on to a blue-cobbled road that is spilling over with red bougainvillea.
The Unesco-listed old town is a manageable seven square blocks, though the African slaves who built its 3.4-mile perimeter wall would have felt otherwise. Brick by brick, the slender, winding streets were laid with cobbles that arrived as ballast on Spanish galleons.
In the 1521 Cathedral of San Juan, the congregation fills nearly every pew for high mass, delivered in Latin and Spanish, despite this being a weekday afternoon. Along with a clutch of other curious passers-by, I stand and listen inside the entrance for a few minutes. In addition to a rare Gothic chapel, this Neoclassical gem houses the remains of Juan Ponce de León. Sent by the Spanish on a quest for gold, the conquistador founded Puerto Rico's oldest settlement, Caparra, close to what is now San Juan.
When the afternoon light softens, pastel- coloured 16th- and 17th-century Spanish-style buildings provide a trove of window-shopping delights. Cigars, Panama hats, coffee and hot sauce are the sought-after goods on cobbled Christo Street. And rum, of course. My guide tells me that 80 per cent of the rum enjoyed in the US is made here in Puerto Rico, and Bacardi, the world's largest producer of the stuff, offers tasting tours in its Art Deco distillery across the bay.
As I take a seat in one of the many fan-cooled pavement bars, the sweet scent of coconut wafts past. The miracle fruit is both slathered and swilled by the pitcher-full: the pina colada was invented here in the Sixties after a process was developed to extract coconut cream. To that you add rum and pineapple juice, then blend.
Blending is the Puerto Rican way. Take the island's soundtrack, for example: the word salsa means "mix". From mamba master Tite Alonso to Ricky "She Bangs, She Bangs" Martin, music is emblematic of the island's unique melange of Spanish, indigenous Taino and Carib Indian, African and American cultures.
The most popular place to listen and dance to salsa is off a small alley in Old San Juan. Nuyorican Café is bohemian, loud and doesn't get going till 11pm. Even if your moves aren't up to the (rather high) local standards, enjoying the band is guaranteed. Incidentally, you'll hear the term "Nuyorican" a lot. It's a portmanteau of "New York" and "Puerto Rican"; the Big Apple is home to more Puerto Ricans than their home island.
The following morning, I enjoy breakfast at Bakery Casalta, a beloved neighbourhood diner that earned fame when President Barack Obama stopped here in 2011. Locals like to kick-start their day with a quesito or two, a wickedly gooey sweet cream-cheese-filled pastry. This segues nicely into a day of fried empanadas, rice and beans and mofongo, the island's staple of fried plantain mixed with bits of seafood or chicken.
Initial fears that I'd be gorging all holiday on gorgeous but heavy street food are allayed by a succession of fabulously stellar meals. First, I join local enthusiasts at long plastic-covered tables for a boisterous lunch of patitas de cerdo (pigs' feet), spicy chicken, and pastelón de carne (lasagna with mashed plantain) from the chalkboard menu at Casita Blanca. Afterwards, Chef Fernando takes me on a tour of his rooftop herb garden.
Come evening, the scenery changes dramatically as I'm treated to a super-stylish meal behind drawn blinds at José Santaella's eponymous restaurant. Formerly of elBulli, the now-closed Catalan establishment that several times was named the world's best restaurant, Santaellas has perfected tiny ahi tuna skewers and tacos and blue crab fritters, delectable Antarctic sea bass and whole red snapper with pineapple chimichurri and coriander. He relies on local ingredients and veneration for mama's cooking – and it shows. As the local saying goes, love enters from the kitchen.
Yet, Puerto Rico isn't all about indulgence – there is a wealth of natural beauty too, and even within a short distance of San Juan are some lovely city beaches. A 10-minute taxi ride away is Condado Beach, flanked by the posh Condado Vanderbilt Hotel, and the St Regis and La Concha resorts. Slightly further down the coast is Isla Verde, a wide, crescent-shaped beach ideal for swimming, thanks to the offshore reef that calms big ocean waves. Surfers, meanwhile, head for the town of Rincón, over on the west coast.
From the edge of San Juan, I walk, bent at the waist into the perma-gale that lashes the wide park speckled with children and adults flying kites. Here is El Morro, the cliff-edge fortification perched high above the water and historically the most successful defensive military position in the New World.
In former times, Puerto Rico was considered the strategic key to the West Indies, and it was once thought that whoever defeated the Spanish Armada here would win the Caribbean and all of the Americas. El Morro was never defeated by sea, and only once by land; British troops captured it from the Spanish in 1598, though after six weeks an epidemic of dysentery killed so many men that they withdrew.
Ducking into a garita, one of the small sentry enclosures where Spaniards stood guard over hostile seas, I earn a moment's relief from nothing more threatening than the gale and the glorious Caribbean sunshine.
Travel essentials:
Getting there
Norwegian (0330 828 0854; norwegian .co.uk) flies Gatwick-San Juan from 4 November. Fares start at £250 return.
Staying there
Condado Vanderbilt Hotel, San Juan (001 787 721 5500; condadovanderbilt .com). Doubles from $344 (£230).
More information
seepuertorico.com
As with the US, UK visitors need an Esta in advance of travel: esta.cbp.dhs.gov​
Register for free to continue reading
Registration is a free and easy way to support our truly independent journalism
By registering, you will also enjoy limited access to Premium articles, exclusive newsletters, commenting, and virtual events with our leading journalists
Already have an account? sign in
Register for free to continue reading
Registration is a free and easy way to support our truly independent journalism
By registering, you will also enjoy limited access to Premium articles, exclusive newsletters, commenting, and virtual events with our leading journalists
Already have an account? sign in
Join our new commenting forum
Join thought-provoking conversations, follow other Independent readers and see their replies