The Pyramids of Giza are near a Pizza Hut, and other sites that may disappoint you
Take in the history of the Pharaonic kingdom with a slice of pepperoni pizza to hand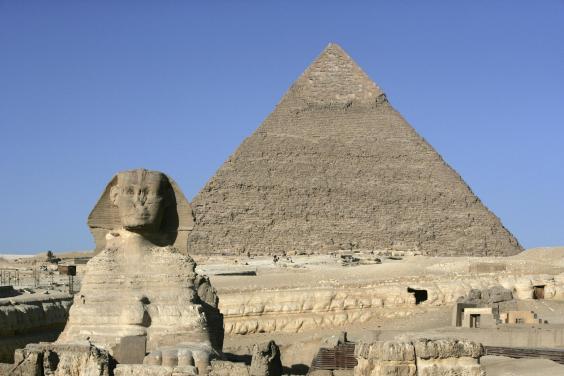 You're probably familiar with those sweeping, romantic shots of the Pyramids of Giza in Egypt. In photos, movies and textbooks, there's sand as far as the eye can see — and maybe a figure in the distance obscured by haze. It must surely take a train or a bus to get there. At least a camel ride.
Well, for those who have never visited the Pharaonic structures or thought about what may surround them, this might come as a surprise: The pyramids are flanked on three sides by the roads and neighbourhoods of Giza, a major city with a population in the millions.
The same goes for the Great Sphinx. A mere quarter-mile or so away sits a Pizza Hut with expansive views of the historic site.
Hundreds of feet northeast of the pyramid complex is the Oberoi golf course, where you can take in views of the Great Pyramid, one of the seven wonders of the ancient world, while you tee off. Just to the north is Mena House, an upscale hotel with similar views.
The road that brings you to the pyramids, Al Haram Street, has long been known for cabarets and other forms of risqué Cairene night life.
The images most people are familiar with are shot from a specific angle and include an expanse of sand to the south. The pyramids can look remote because they sit on a limestone plateau and are on a higher elevation than their surroundings. But if you look closely, you'll probably see city lights in the background of many pictures.
The Mona Lisa
So it's your first time in Paris. Like many tourists, you'll probably drop off your luggage and make a beeline for the Mona Lisa, Leonardo da Vinci's early sixteenth-century masterpiece. The downside of its status as the world's most famous painting is that it's protected as such.
The portrait, which hangs in the Louvre museum, is a mere 30 inches by 21 inches and is kept behind multiple, alternating layers of glass and sheets of protective plastic. And then there's the rope barrier.
Behind that rope, 6 million visitors crowd the painting each year. Even if you get as close as is allowed, and you manage to catch a glimpse through the gap between two iPhones, you'll probably still have to contend with a barrage of camera flashes.
But don't give up on the Louvre. It's over 650,000 square feet and has a lot of important artwork that can be enjoyed in peace, like the sculptures Venus de Milo and Nike of Samothrace.
The Leaning Tower of Pisa
This medieval architectural structure in Pisa, Italy, also suffers from technology pollution. That obligatory "I'm holding it up" photo is hard to resist — the building now leans at about 4 degrees (it used to lean more). And these days, with smartphones in hand, no photos are "one and done".
At about 190 feet tall, the leaning tower is somewhat underwhelming in size as well. And aside from the Piazza dei Miracoli, a cathedral complex of four buildings including the leaning tower, the city of Pisa doesn't have much more to offer.
Still, if you are in the Tuscany region, it's only about a mile from the Pisa Centrale train station, so if you're up to hop off and hop on, the complex is certainly worth a visit. You can even climb the tower's 300 or so steps, but you'll have to buy a ticket.
The Alamo
Much like the Leaning Tower of Pisa, the Alamo in San Antonio, Texas, is not as big as you might assume. The primary structure of the 300-year-old mission-era church is only 75 feet by 62 feet, and its limestone walls have been steadily crumbling for years; air-conditioning may be to blame.
No photos are allowed inside, which might be a good thing, depending on your preference. Lines to enter can be long and parking can be tough, but it is free. Plans to significantly redevelop the area are in the works, including more green space for visitors, though these plans have been complicated.
And on the flip side, a destination that may exceed your expectations:
Stonehenge
If you envision yourself lying in the grass, gazing upward at the mysterious Neolithic monument while ruminating on the meaning of life, you will be disappointed. Those who visit Stonehenge during normal business hours have to enjoy it from afar, about 30 feet away, and with a group.
About one million people visit the site, in southern England, every year. But the trip could eat up your day if you're staying in London; it's about a two-hour drive each way.
As a commenter on Reddit put it: "I always say to people that if they want to see Stonehenge they should just drive down the M3 and take a look out of the window as they go past. That's all you need."
If getting close to the stones tops your bucket list, you can book a special-access visit, which lets about 30 people a day go beyond the barriers. Demand is high, though, so tickets sell out months in advance, and they're not available year-round.
The New York Times
Join our commenting forum
Join thought-provoking conversations, follow other Independent readers and see their replies