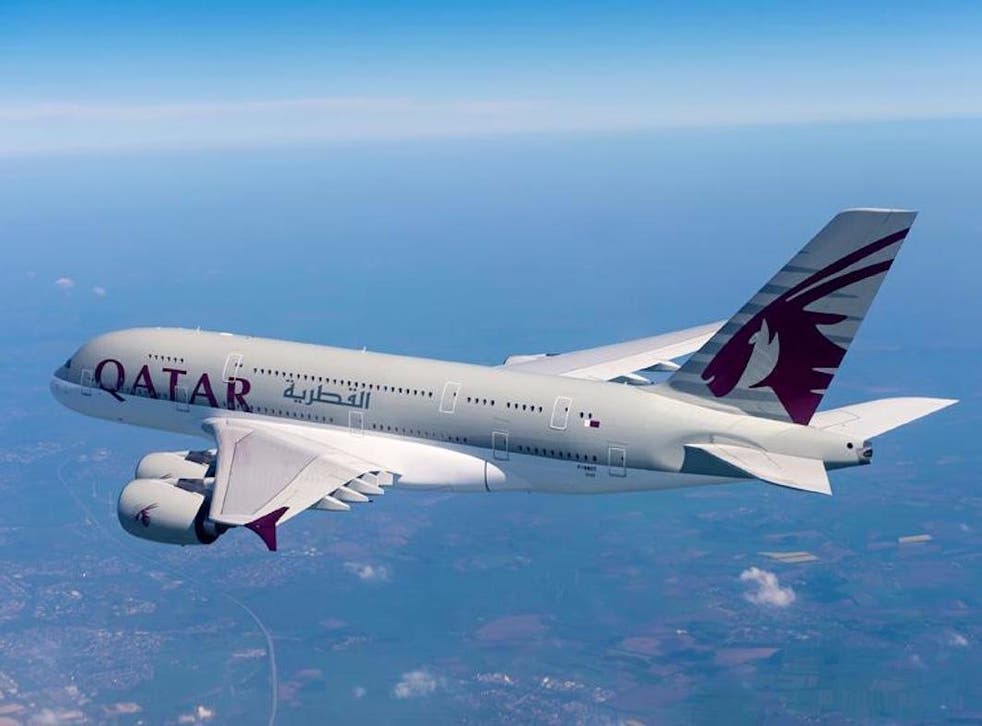 Here's what it's like to fly first class on Qatar Airways, the airline voted the best in the world
Earlier this month, Doha-based airline Qatar Airways gave away free flights to visitors who could find the "Golden Tickets" hidden within the airline's online flight schedule.
While these may have been its most sought-after tickets of late, a seat in the first class cabin on board a Qatar Airways A380 plane, the largest passenger jet in the world, is just as coveted.
In 2015, Qatar Airways was named the Best Airline in the World by leading aviation-consumer website Skytrax.
While it lost the title to Emirates in 2016, AirHelp Score called it the best airline in the world in the same year, based on tops marks for overall quality and service.
First commercial flight powered by renewable energy takes to skies
We took a look beyond economy to see what it's like to fly in style up front. From luxuriously decorated cabins to caviar and designer pyjamas, this is what it's like to fly first class on Qatar Airways, the best airline in the world.
Welcome to a First Class flight on Qatar Airways, which was named the best airline in the world in 2016.
After you've passed the dedicated first class check-in line, make sure you visit the Premium lounge, like this one at London's Heathrow Airport.
There is no reception desk as you enter the "Palm Court, where Arabian water fountains soothe the senses and discreet greeters note your wishes on iPads," according to the airline.
Grab a drink, a snack, or dig into some gourmet dining.
Visitors can indulge in a delicious breakfast (with champagne)...
...a fine lunch or dinner....
...or, they can simply relax in any of the plush lounge areas or in the business centre, which boasts PCs, printers, power sockets, and WiFi.
The lounge also has sleeping rooms and showers.
When you board, you'll be shown to your first class cabin.
There are a total of eight seats, with one on the outside and two in the middle. While airlines like Emirates or Ethiad offer fully-enclosed private suits, if you get a middle seat and you're not flying as a pair, you can put up a divider for privacy.
"Qatar's A380 cabins are sleek and comfortable," said travel blogger Ben Schlappig, who runs website One Mile at a Time and has flown first class on Qatar more than once. "The seats are fully flat and very wide."
The seat becomes a fully lie-flat bed when you're ready for some sleep, complete with linen and a duvet.
"The bed is extremely comfortable, and you'll no doubt get a great night of sleep in their first class," said Schlappig.
Exclusively-designed sleepwear by The White Company, which differs for men and women and comes with matching slippers, will help you get cosy.
If you're not one for sleeping, the in-flight entertainment system offers 3,000 options including movies, TV box sets, audio, and games.
There is free on-board WiFi, as well as power sockets and USB plugs at every seat.
The amenities are the best offered by any airline, according to Schlappig.
While the airline previously offered Giorgio Armani amenity kits, from December they have started to offer an Italian-made leather amenity bag from BRICS packed with products — lip balm, facial mist, moisturiser, and night recovery cream — from Italy's Castello Monte Vibiano Vecchio.
It's worth spending some time in the luxurious bathrooms, complete with roses.
The best place to stretch your legs, though, is in the lounge, with leather sofas and a fully-stocked bar.
"The bar is my favourite amenity on the Qatar A380, and in my opinion they have the best onboard bar offered by any airline," said Schlappig.
"It's such a cool space, and is a great place to stretch your legs on a long flight."
When you get hungry, you can order from the dine-on-demand menu created by world-renowned chefs and eat with luxurious table linen and cutlery.
"The food selection is great, ranging from Arabic dishes to caviar," said Schlappig.
Starters include the likes of mezze, salad, or soup, main dishes may be roasted chicken breast with gnocchi, mustard and dill salmon, or stuffed spinach crêpes, and you can snack on a cheese plate, baked goods, or indulge in a dessert.
This is just a pre-landing snack.
According to Schlappig: "The drink selection is great as well, and they even have Krug champagne."
So if you're lucky enough to grab a ticket, sit back, and enjoy your flight.
• People who hit the snooze button are more intelligent, more creative and happier
• 9 of history's greatest philosophers reveal the secret to happiness
• 12 subtle signs that your coworkers hate you
Read the original article on Business Insider UK. © 2016. Follow Business Insider UK on Twitter.
Check out the latest tours, holidays and cruises from Independent Holidays
Join our new commenting forum
Join thought-provoking conversations, follow other Independent readers and see their replies