Schengen checks: British holidaymakers warned to arrive at airports three hours early this weekend
10 million people are expected to travel through EU airports tomorrow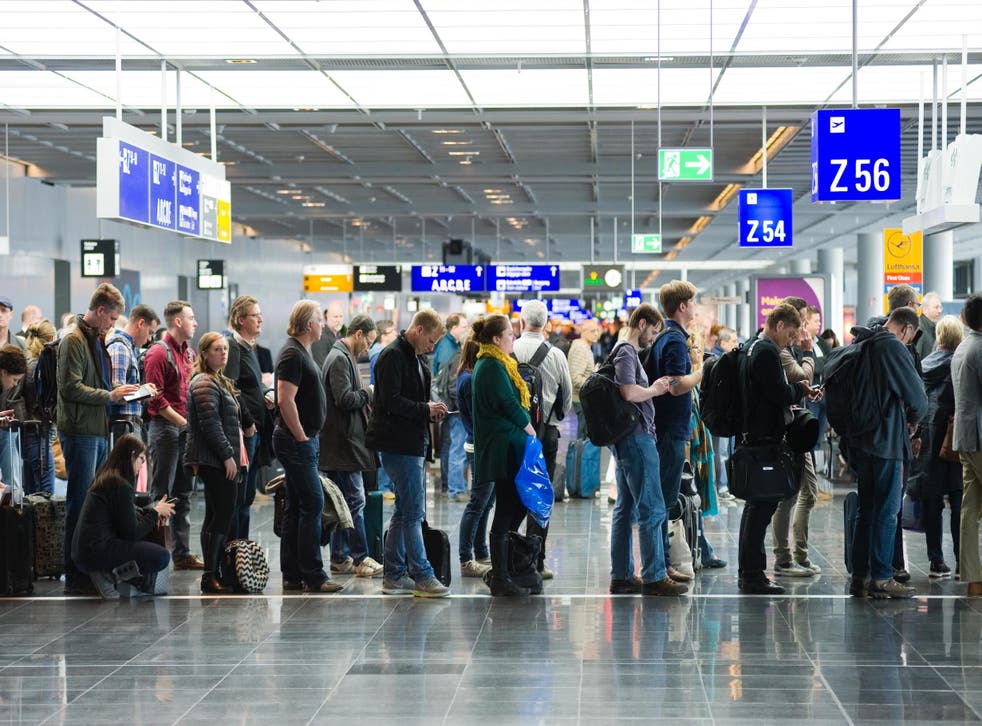 Travellers passing through Europe this weekend have been advised by airports to arrive at least three hours early to avoid chaos at passport control.
British Airways, EasyJet and Ryanair have been sending out texts to customers, telling them to leave plenty of extra time ahead of their flights.
The precautions are being taken in light of the new EU border regulations which require stricter checks for passengers arriving from outside the Schengen area.
Whist the UK and the Republic of Ireland are members of the EU, they are not members of the Schengen area, along with Bulgaria, Croatia, Cyprus and Romania.
Therefore, British travellers heading to or from Schengen countries – which includes France, Italy, Spain and Portugal – will face severe delays at passport control due to the extra checks being put in place.
Approximately 1.7 million people commute through Europe every day for work.
Passengers have taken to social media to document their arduous delays, with some complaining that airports have been massively understaffed despite the disruption.
British Airways' Twitter feed is jam-packed issuing apologies to disgruntled passengers.
Earlier this week, UK travellers were reportedly queuing for nearly four hours at airports in France and Spain.
To make matters worse, it seems that airlines are not currently offering compensation to customers who have missed their flights as a result of the extra checks.
One of the worst affected airports expected to be hit is Palma in Majorca, where more than 1,000 flights will pass through today. Malaga, Amsterdam and Lyon airports are also expecting severe delays, due to their popularity with UK travellers.
Some have been quick accuse Leave voters of hypocrisy for complaining about the queues, with actor Tony Robinson weighing in on the debate on Twitter.
The Blackadder actor and comedian's Tweet received over 3,000 likes.
Register for free to continue reading
Registration is a free and easy way to support our truly independent journalism
By registering, you will also enjoy limited access to Premium articles, exclusive newsletters, commenting, and virtual events with our leading journalists
Already have an account? sign in
Register for free to continue reading
Registration is a free and easy way to support our truly independent journalism
By registering, you will also enjoy limited access to Premium articles, exclusive newsletters, commenting, and virtual events with our leading journalists
Already have an account? sign in
Join our new commenting forum
Join thought-provoking conversations, follow other Independent readers and see their replies