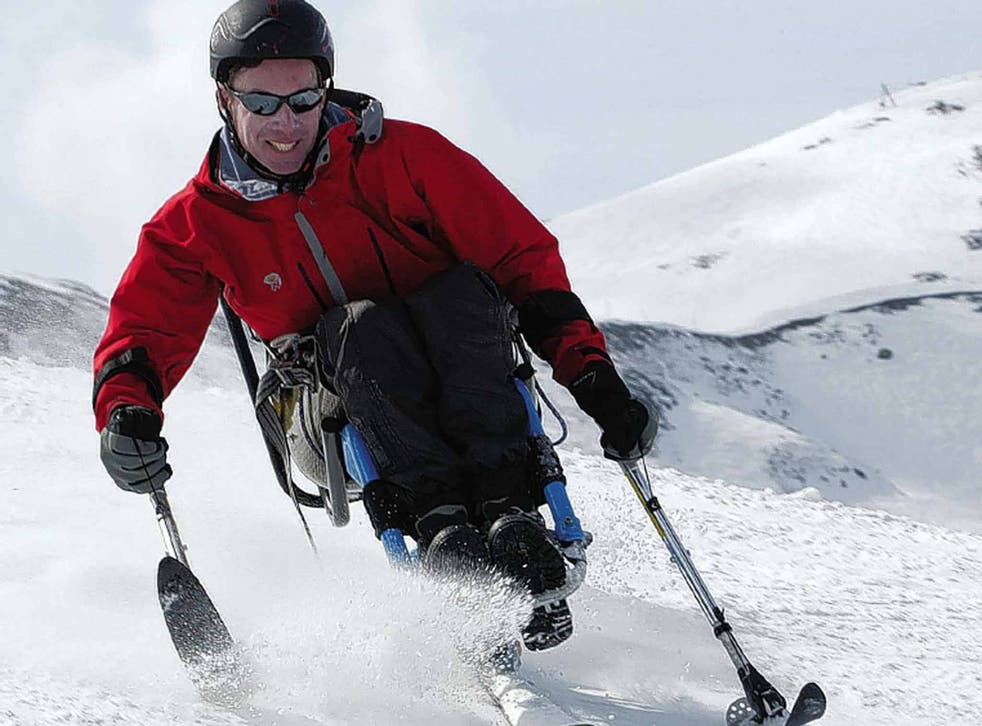 Adaptive skiing in Andorra: Frank Gardner puts the principality through its paces
​Frank Gardner discovers the charm of skiing in this small but welcoming pocket of the Pyrenees
On a high mountain pass blanketed by snow, two flags flutter in the chill breeze. One is familiar from school history books and promotional posters for Les Misérables: the red, white and blue of the French Tricolore. The other is new to me: blue, yellow and red vertical stripes with a coat of arms in the middle. At nearly 2,000 metres above sea level we are crossing into the Principality of Andorra, an independent country since 1993, and for me these days, a refreshing experience: a new country, my 95th.
My friend and I drove down that morning from Toulouse airport, two hours to the north, winding the last few miles through cosy Pyrenean villages and spa towns tucked beneath sheer granite crags and tumbling mountain streams. Signs by the road pointed to prehistoric caves and Neolithic paintings. But that would have to be another time – we were here for a long weekend of skiing, taking advantage of the bumper snowfall the Pyrenees enjoyed last season. With my day job leaving me little time to make any plans I asked the Ski Club of Great Britain to make the arrangements for us and they rose to the challenge.
I say "challenge" because since getting shot and paralysed in the legs while on assignment in 2004 I no longer ski on two skis. Instead I use a sit-ski, the curious device deployed, with rather more speed and grace, by Britain's Paralympic athletes in the Sochi Winter Olympics last year. Imagine a wheelchair without the wheels, where you sit wedged tightly into a moulded bucket, balanced on a spring and resting on a single carving monoski. For balance, you have a pair of mini-ski poles, called outriggers, with tiny skis on the end that fold away so you can use the poles to push yourself along the queue for the ski lift.
It's called adaptive skiing, or in the Andorran language of Catalan, esqui adaptat. The US resorts in the Rockies have got catering for this thing down to a fine art, thanks partly to their experience with wounded military veterans. European ski resorts, I have found, are often still unused to the sight of a sit-ski, with some Bavarian lift operators giving me distinctly grumpy looks each time they have to slow down the chair lift. What would Andorra be like for an adaptive skier, I wondered, as we drove down off the high pass into the attractive mountain resort of Soldeu?
One look at my designated ski guide, Charlie McDonald (from the Soldeu Ski School), told me I was going to be in extremely good hands. A softly-spoken Ulsterman, he has spent the last 11 years living in Andorra. "I came here one season and basically, I never left," he said. He has since coached all levels and even helped prepare the course for the World Cup Women's Downhill, staged on a terrifyingly steep 70-second course.
"They inject water into it the day before," he told me, "there's this Austrian guy who goes round the circuit with a patented device that creates an ice effect just below the snow so that they can race faster. The wind tends to blow the top snow off so it's like skiing down glass." I was prepared to take his word on that one: I just wanted to get my balance right and swerve down some slightly tamer red runs.
Part of the skill with adaptive skiing is getting the logistics right. Screw up here and you can find your wheelchair is on a completely different mountain while you are stuck strapped into a sit-ski at the bottom of a run as everyone else is happily heading home. But at Soldeu this was simplicity itself. The resort has a gondola, a cable car, right next to the comfortable Sport Village Hotel. Once up on the slopes the chairlift operators could not have been friendlier. "They are nearly all from Argentina or Chile," said McDonald. "You won't see many Andorrans working here. The South Americans like to ski two seasons in a year so when it ends here they go back home and ski the Andes."
We skied hard all morning on soft spring snow. Andorra is as far south as Rome but Soldeu's slopes mostly face north and there was better snow here, I found, than there had been in Switzerland's Crans Montana two weeks previously. The Ski Club lent us Steve, one of its appointed leaders: volunteers who take their members off in groups to explore the mountains. They have a strict policy for safety: a maximum of 12 skiers per day. For many years now they have been taking members to Soldeu, part of the Grandvalira complex of Andorran resorts that boasts 300km of runs.
There is nothing like high air and adrenaline to kick up an appetite, and lunch found us at a terraced restaurant at a place called El Tarter. By now the sun was so strong that we actually declined the sun terrace in favour of the well-stocked bar and the flashing smiles of the Argentinian girl behind it. There was a bewildering choice of arroz de muntanya (mountain rice), delicate ceviche salads and rich bean stews. What Andorra doesn't know about ham is not worth knowing: the acorn-fed jamon Iberico just melts in the mouth. We were soon stuffed.
So what are the drawbacks? Resorts here don't have much of a vertical drop compared to the Alps, because the mountains aren't as high – 2,943m is the peak, compared to 4,810m in the Alps. In Soldeu the nightlife does not match, say, Méribel's but popular joints such as Fat Albert's and The Harp have live music until late if you catch it on the right night. The British stag crowd tends to stay up the road at the newer, uglier but livelier Pas de la Casa resort. Instead, there is something genteel, almost sedate about Soldeu. It is clearly popular with families, and it is cheap. Would I go back? If our kids were 10 years younger, definitely. Let me leave it at that.
Frank Gardner is president of the Ski Club of Great Britain (skiclub.co.uk), the UK's biggest snowsports membership club, and is the BBC's security correspondent
Getting there
Andorra can be reached from Barcelona, Girona, Lleida, Perpignan and Toulouse airports.
Staying there
Frank Gardner stayed at the Sport Hotel Village 4* (00 376 870550; sporthotelsandorra.co.uk). Doubles start at €155 including breakfast.
More information
Join our new commenting forum
Join thought-provoking conversations, follow other Independent readers and see their replies