Andorra for families: Much more than just skiing
Mike Unwin discovers the delights of snow-shoeing, igloo building, and dog sledding on a family trip to Soldeu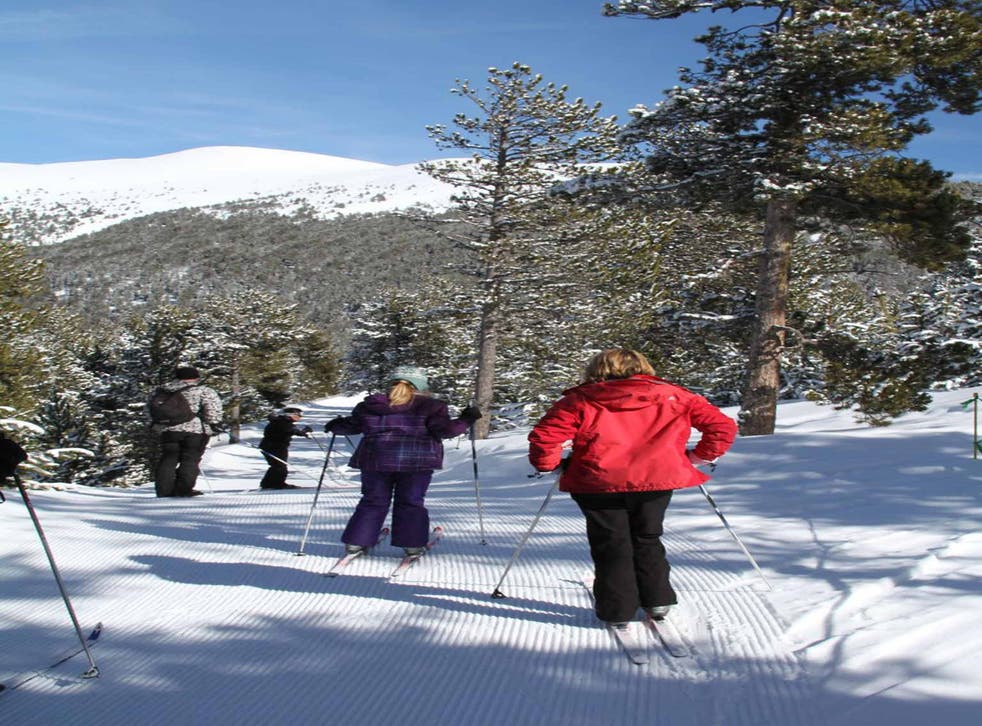 'So, are you a sporty type?" My ski instructor, Sarah Brocklehurst, deploys that reassuring tone reserved for novices. But the question cuts deep. Sporty? Well, I do enjoy Test Match Special and I'm not bad with a Frisbee. But hurtling down a mountainside on a couple of fibre-glass planks, with no means of stopping other than falling over? "I'll let you judge," I reply. But I think she already has.
I'm in the Andorran resort of Soldeu on day three of a winter activity week with the Family Adventure Company. Today's activity is downhill skiing: the big one. The rest of our party are strewn among the cross currents of colourful stick figures hurtling like turbo-charged ants over the wedding-cake mountainside, but I'm with my 12-year-old daughter on the nursery slopes.
My daughter, naturally, has skiing nailed in no time and is frustrated – and embarrassed – by my ineptitude. I redouble my efforts, master the snow-plough, quell some of the terror and by the end of a wearying day am finally negotiating my way around a blue run. It has its moments: the adrenalin rush, the dazzling views. But prising off boots and helmet comes as a relief. And when the others – all experienced skiers – sweep in to join us for hot chocolate, glowing with the mountain and desperate to get back out there, I'm having serious doubts about whether I can manage any more of this.
Thankfully, I don't have to. Here, in the Incles Valley, we may be staying at ski central, but we have already learned that there is more than one way to have fun in the snow. Our base, the cosy little Hotel San Roc Miguel, sits apart from the bigger, brasher establishments just up the road. The three families that make up our group comprise 16 people, with children from 10 to 17 years old. We have the hotel pretty much to ourselves, piling up our dripping gear in the basement, sitting together for our hearty meals and gathering in the bar for pre-dinner briefings. Our amiable hosts, Nick Elrington and his wife, Nuria, cater thoughtfully to the group's mixed range of ability and experience.
Best value family ski break destinations

Show all 10
Our week started with snow-shoeing. We bypassed the gondola queues, collected our bizarre footwear and drove to a quiet, forested area below the resort. Like everything else around here, snow- shoeing was trickier than you'd think. But Nuria was patient, teaching us how to walk with feet tilted forward, as though on high heels, and legs apart, to avoid treading on the rims. Think John Wayne in stilettos. It was slow progress up a steep track into the mountains. At the top we huddled in a mountain refuge with a blazing fire, hot chocolate and the first of many enormous packed-lunch baguettes.
This satisfying activity made for a perfect baptism by snow, breaking us in to a week of gloves, goggles and thermals. It was also excellent first-day group bonding: by the time we returned down the hillside, the children had formed an unruly snowball-throwing gaggle. We adults, meanwhile, amused ourselves by heading into the deep snow among the pines, where snowshoes kept you above the crust, provided you kept moving, but plunged you chest-deep into drifts if you lingered.
Day two was cross-country skiing. None of us had any experience of this very different activity, which turned out to be more edging about on giant cocktail sticks than careering around on planks. The gently graded circuit wound through the woods beneath stirring mountain vistas. Convenient tramlines kept our stick-thin skis on the straight and narrow – at least, until they didn't.
By day four, with two types of falling over – or what was meant to be skiing – under our belts, it was time to let another species do the legwork. Up at the dog sledding HQ, Argentinian guide Julio hooked each of us up with the right number of huskies for our respective sizes. Some were handsome, well-behaved purebreds; others less so. One individual, Scooby, seemed entirely at the mercy of his libido. Technique came down to using the anchor-brake and watching out for low branches on tight corners. We raced off around a forest circuit, the dogs tearing away at breakneck speed on the downhills but requiring more encouragement on the ups. "Go!" we were told to yell, rather than "mush!"
Even less legwork was required for our next mode of snow-borne transport: Ski-Doos. My daughter clung to me pillion as we roared around a snowy labyrinth of tracks through the snowmobile park, and I stood up to open the throttle when we hit open ground. Later, over après-ski beers and nachos, I could finally boast a bit of speed.
On a free day, the skiers elected for more slope time. My daughter and I opted for the less strenuous pleasures of the Caldea Mountain Spa: an enormous, glass leisure complex, with numerous ways in which to steam yourself to a prune – including sitting outdoors to feel the snow on your face as the rest of you boils below the surface.
The final day, however, was my favourite. In a pretty valley just south of our hotel, we found the textbook spot to build an igloo. Nuria brought the shovels and bin-liners (the latter a vital tool for packing in foundation layers) and, as ever, schooled us in technique. The fun turned to work, acquiring expeditionary zeal as we cut snow blocks, gathered branches for doorframes and piled up an ever more ambitious edifice. Finally, sweltering hot in the freezing cold, we slumped to admire our handiwork and munch our biggest baguettes yet. OK, so I may not be a sporty type, I reflected, but at least I have survival skills. Just so long as someone supplies the packed lunch.
Getting there
The Family Adventure Company (0845 450 5316; familyadventurecompany.co.uk) offers an eight-day Winter Activity Week in the Pyrenees from £1,129 for adults and £1,016 for children. Includes flights, transfers, half-board hotel accommodation, a range of activities – such as snow-shoeing, cross-country skiing, igloo-building, dog-sledding and snowmobiling – local transport and a local tour leader. During the summer months, there is an alternative itinerary with hiking, mountain biking and rafting.
Register for free to continue reading
Registration is a free and easy way to support our truly independent journalism
By registering, you will also enjoy limited access to Premium articles, exclusive newsletters, commenting, and virtual events with our leading journalists
Already have an account? sign in
Register for free to continue reading
Registration is a free and easy way to support our truly independent journalism
By registering, you will also enjoy limited access to Premium articles, exclusive newsletters, commenting, and virtual events with our leading journalists
Already have an account? sign in
Join our new commenting forum
Join thought-provoking conversations, follow other Independent readers and see their replies