The Independent's journalism is supported by our readers. When you purchase through links on our site, we may earn commission.
Couloirs: An off-piste adventure
Exciting yet deadly, these narrow snowy chutes are for the highly skilled and stout of heart, writes Simon Usborne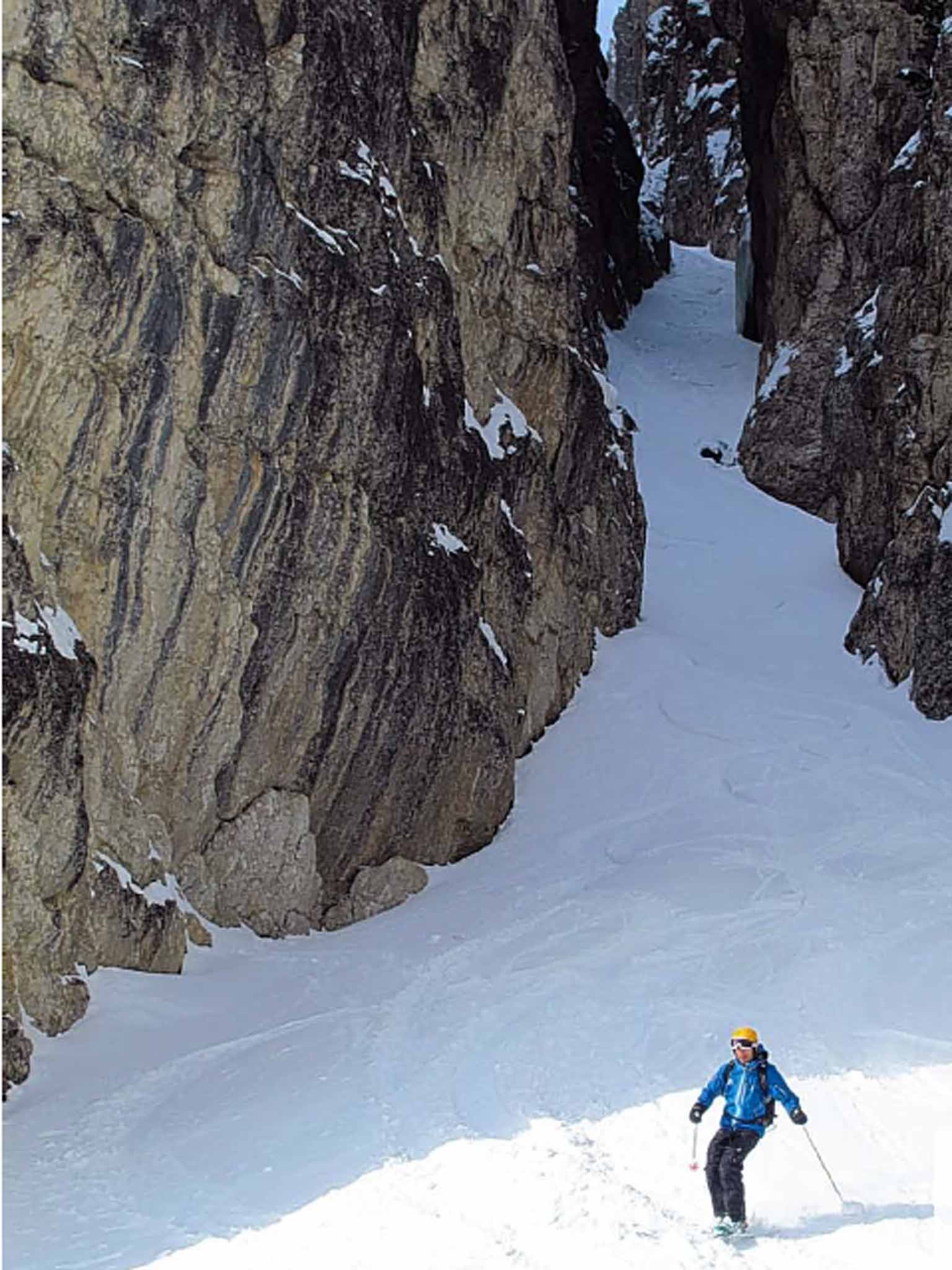 High up a steep, frozen slope in the Dolomites, things are getting hairy. However forcefully I kick my ski boots, only the tips of the toes will penetrate the icy snow. Transferring my weight on to worn bits of plastic feels as stable as balancing on a springboard for a backwards dive. A slip would be a lot more damaging - a long tumble among boulders. Yet to climb to the ledge above me, where I can breathe and put on my crampons, there is nothing to do but kick, kick, kick and… step.
It will not be the last moment of the day to make my leg muscles shiver or my heart quiver. And I have asked for it. I had grown up admiring the giant, jutting molars of golden rock that make up the Dolomites in the fading photos of my parents' own expeditions there. Now I was in the picture, doing things in Alta Badia, a resort in northern Italy, that many mothers would prefer not to hear about.
Most people come here for the food, wine and pistes with spectacular views, including those that make up the renowned Sella Ronda ski circuit, a happy parade of sharp elbows, skinny skis and camera clicks (you can cover 26km in a day, much of which will also be spent in lift queues). I had come for an experience at the other end of the skiing spectrum, to seek out and take on some of the most challenging features of mountain topography: couloirs.
On my last day with my guide, Marcello Cominetti, a veteran of a small and storied community of serious off-piste skiers here, I'm making a perilous ascent to the most famous and formidable couloir in the region: Val Scura. Viewed from below just outside Corvara, my base for a week last March, it's clear why it has such a reputation. It looks unskiable - a plumb-line straight, 900-metre lift shaft cut into the rock of Mount Sassongher (2,655m), which dominates the skyline.
Part of the joy of couloirs, the gullies, chutes (or "canales" in Italy) that fill the space between peaks or cliffs, is that they can look deceptively extreme from the outside. When there is less of an illusion, and a couloir is as serious and narrow on the inside as it looks from the outside, it can focus the mind like no other terrain. Either way, the greatest couloirs become destinations themselves at off-piste magnets such as La Grave, Chamonix or - in the US - Jackson Hole.
Val Scura also makes you sweat. We had started early on climbing skins, shedding layers as the sun hit the back of Sassongher during a zig-zag ascent of its lower slopes. Then, after a walk with skis strapped to backpacks, a stretch with the aid of those razor-sharp crampons. Eventually, I reach the lip of the couloir, clunk into my skis, and peer over the edge. A white ribbon falls away between towering rock faces. Sun reaches only pockets of the snow inside ("scura" means dark) and the bright, open slope at the bottom is barely visible.
"One by one, let's go," Marcello says.
Heini Holzer was the first person to ski Val Scura, in the late 1970s, not long before he, too, died in the mountains. A chimney sweep who was presumably comfortable in tight, vertical spaces, he was a friend of the climbing legend Reinhold Messner, and inspired a generation of Italian mountaineers and skiers that includes Marcello. The evening before our attempt, we meet Daniele Kostner, a friend of Marcello's, for a drink in L'got, a tiny bar he owns.
Kostner was 17 when Holzer dropped into Val Scura, and soon followed in his tracks. "Young people didn't ski couloirs in those days," he recalls over a beer. "Nobody in the town cared much about them but it was always my dream to do these descents. They were scary but it was more about discovering something that nobody had done before."
By the 1980s, when skis were still longer than many couloirs were wide, people had started to care. Kostner, who's now 54, and Marcello, 53, became part of a gang of hot-shots in garish Degré 7 jackets who bagged couloirs and appeared in books and ski magazines. They studied new descents for days through binoculars, assessing conditions and terrain until the time was right to drop.
After the recent revolution in off-piste ski gear and culture, couloirs such as Val Scura are no longer so out of reach, featuring heavily in ski movies and the itineraries of aspiring adventurers. But in an area that somehow remains largely an on-piste destination (I had to take a bus out of town in search of rental crampons - Chamonix this ain't) there is still pride - and great challenges - to be found in Badia's big descents.
"Even ten or 15 years ago we knew everyone who skied Val Scura in a season," Marcello says. "Maybe ten people would do it. Now it's a bit more but maybe you will be the first English to do it."
I'm certain we won't be, but the point is, Marcello and others here would like more English and other nationalities to ski in Alta Badia, which has also been a traditionally Italian destination since Franz Kostner, Daniel's father, put it on the map. Another pioneer, he began guiding here in 1897. He bought the only hotel in town, the Posta Zirm, in 1908 and built the first skilift in 1938. The Posta still stands and is one of several high-end hotels in a region that also has three Michelin-starred restaurants, placing Alta Badia firmly at the heart of the increasingly rich Alpine gourmet-ski map.
I'm staying at the relatively modest Col Alto, run by Stefan Pezzei, whose own grandfather opened its first rooms in 1938. I meet him for a drink with Agustina Lagos Marmol, an Argentinian interloper who fell in love with Alta Badia, as well as Marcello, now her ex-husband (a long story, but all is well). She runs Dolomite Mountains, an adventure travel company trying to appeal not only to foreign visitors, but also those who would like a side of adrenalin with their posh polenta. "Most of our guests never go off piste," Stefan says as the sun turns Val Scura pink through his hotel's picture windows. "But there's so much you can do."
It helps when the conditions are good. I have been blessed with the greatest snowfalls that Marcello says anyone here can remember for 60 years (he says his wrists ache from the almost daily shovelling of his drive). High up on Marmolada, the region's biggest mountain, the delightful Pian dei Fiacconi refuge is almost buried, and marooned after an avalanche took out a chairlift down in the valley. We reach it anyway and stay the night, eating pasta and puccia bread, a delicious local staple flecked with fennel seeds. After a night in bunks, the mountain is ours.
Some of the best couloirs are on Piz Boé, a 3,152m peak reached from Corvara via Arraba, on the Sella circuit. The Sass Pordoi cable car rises to 2,200m, but leads to no pistes. The wide Val Mezdì gets tracked and moguled first but on day one we hit it in fresh snow and experience that rare treat of making knee-deep, steep turns between rock faces. Later, we drop into the Joel couloir, and the 900m Holzer couloir, named after Heini, which has a kink half way down that often requires a stretch of abseiling (not this week, thanks to the snow coverage). The long hike up Boé itself is worth it for the view.
It is, to some extent, all a warm-up for Val Scura, where the only thing left to do is ski the thing. Unless you're a pro or mad, descending slopes as steep and narrow as this becomes an exercise in speed control. The only way bring your skis round in each turn is to become momentarily airborne, before your edges grip again and you slide, your legs forced wide apart by the gradient of the slope as loose snow cascades over your skis. Then you turn again, and again, being careful that your skis don't catch the rock walls that enclose you. The attention and care it demands, drawing on all your courage and experience, adds to the thrill of the descent - and, after a safe exit from the clutches of Val Scura, the joy of arriving back in Corvara. Rarely has a beer been more richly deserved.
Getting there
British Airways flies to Venice Marco Polo from London City, Gatwick and Heathrow (ba.com)
Staying there
Dolomite Mountains (0844 854 1882; dolomitemountains.com) organises ski touring in the Italian Dolomites, £1,750 for a seven-night gourmet ski safari, half-board including a mountain guide. Simon Usborne stayed at the 4* Col Alto (039 04 7183 1100; colalto.it)
Join our commenting forum
Join thought-provoking conversations, follow other Independent readers and see their replies