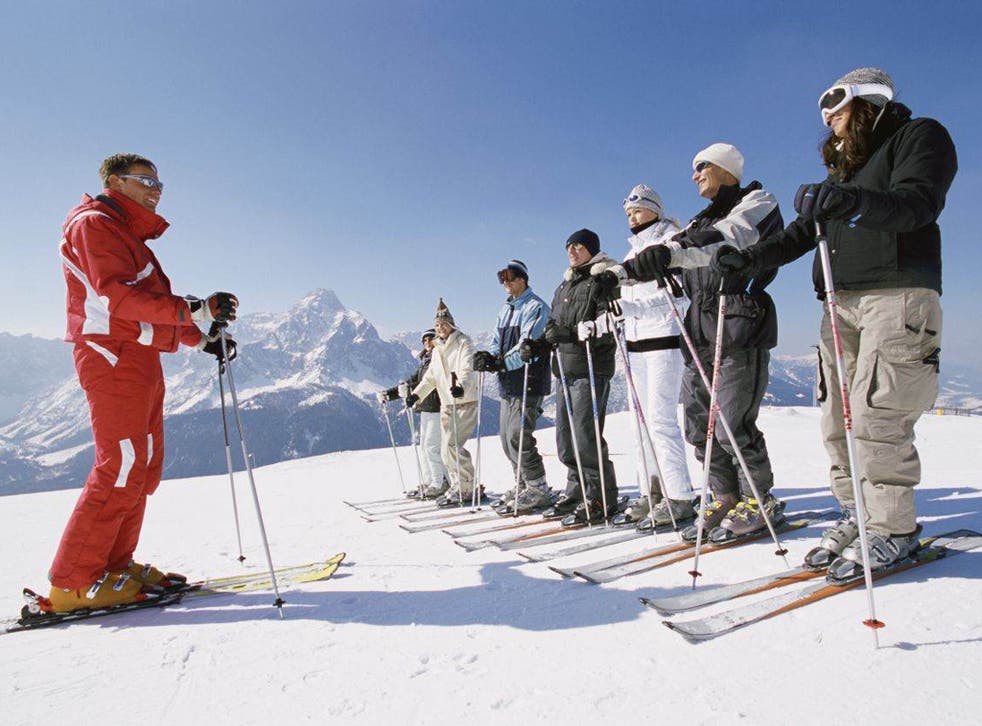 Feel the fear and ski anyway
After five years away from the slopes, Tracey Davies found the prospect of heading back to the piste terrifying. But a chance encounter taught her a new way to cope with her nerves
Tracey Davies
Wednesday 28 December 2011 01:00 Comments
Crisp Alpine air, wide virgin pistes and flagons of vin chaud to keep out the cold are just three of the things I missed during my hiatus from skiing. What I hadn't anticipated on a rare child-free weekend in the French resort of Tignes was a rigid knot of anxiety. Watching a kaleidoscope of Berghaus carve white doodles into the side of a mountain, I got an unfamiliar feeling in the pit of my stomach. Pure. Black. Fear.
Once a keen skier, I haven't been on piste since having my twin girls five years ago and for some reason, I couldn't shift the underlying – dramatic – fear that I would fall off the mountain and die, leaving three children motherless.
I approached the chairlift with a heavy heart. My husband, unaware of my angst, chattered excitedly beside me and at the top of the first run took off with enthusiasm while I stood in tears, legs buckling like Bambi on ice, picturing the fluorescent helicopter airlifting my crumpled body off the mountain. It took 45 minutes to get down that short run and I hated every second of it. Our romantic weekend in the Alps did not bode well.
We were staying in the centre of town in a new fully catered private chalet run by Hundred Hills, a company that specialises in weekend and short-break ski accommodation in Tignes and Val-d'Isère. After a disastrous lesson being overtaken by pensioners and toddlers, I retired early for the day. Back at the chalet, our host, Martin, handed me a slice of home-made cake in an attempt to cheer me up, and I confessed my fears as I ate it. The ski gods must have been smiling on me. By total coincidence, Martin was a trained hypnotherapist and neuro-linguistic programming (NLP) practitioner and had counselled numerous ski and snowboard instructors for the past few seasons. "The fear can strike when you've had a change in circumstance," he explained, "and this not only affects your confidence but it can affect your physical ability to ski." Desperate to conquer this new and rather annoying fear, I jumped at his offer of some one-to-one counselling.
The following morning Martin and I sat cross-legged on the rug in front of the fire, and he explained how hypnotherapy and NLP can help. "With snow sports, if you accept the premise that the mind and the body communicate with one another, then the quality of the thoughts you have must impact on the way you ride," Martin said. "If you're thinking negatively, or view your riding through a gaggle of limiting beliefs, then this will ultimately lead to inadequate performance. In that respect, your thoughts create the conditions necessary for your performance to fail." This made perfect sense. Perched on top of the mountain, I'd already convinced myself that I couldn't do it, therefore my stubborn old bones had refused to co-operate.
Martin's gentle, calming voice lulled me into a comfortable doze and he asked the billion-dollar question, why did I feel so scared? I admitted it was partly because I'd become a big softie and was worried about hurting myself, and, as it was just us in the room, I quietly confessed that now I'm a mother of three, I'm really scared of dying.
"We're going to replace those negative feelings with positive ones using a good experience from your past," he said. "Close your eyes and think of a time when you felt confident and in control." Along with a lot of "How do you feel?" and "Remember that confidence" we dug deep into my subconscious and unearthed my inner skier. "We need to put that feeling of confidence somewhere accessible," he said, and pinched my thumb and third finger together, and despite my initial cynicism I did feel a strange flutter of energy. Martin finished off with some positive chanting (which was less weird than it sounds) before I took my new-found confidence to the slopes.
Pinching my fingers, I made it to the top of the mountain with barely a quiver. While hardly Olympian in my confidence, I was able to take in the glorious Alpine views and launch myself down the run with relative ease. Rewarding myself with a cold beer at the bottom, I felt the stirrings of my former ski swagger start to return.
To make sure that I was firmly back in the driving seat, I had another counselling session with Martin where we laughed at my fears and told my mind off for playing tricks on me, stopping me having fun. I left with more confidence than I'd had all weekend and headed straight to the mountain to race some pensioners before heading home. Fingers pinched, of course.
For more information, see hundredhills.com and martinamott.com
Other ways to make your fear slope off
If you've lost your mojo on the mountain – or never had it in the first place – but want to face your fears, it's worth thinking carefully about where you book to go boarding or skiing. The Italian resorts of Cortina and Champoluc offer beautiful views and plenty of beginners' and blue runs, while Tignes in France boasts lots of nursery slopes and plenty of snow, plus a good range of expert runs for any confident skiers in your party. Basically, go for resorts with a good reputation for learners and don't be persuaded off the nursery slopes until you feel ready.
While group ski school lessons work for some, don't underestimate the benefit of a one-on-one session. True, it's more expensive, but an hour alone with a patient teacher can turn you from a nervous wreck into an optimistic adventurer – and I speak from personal experience. Also worth a go if you're dreading going over the top (or down a green run) is a trip to a ski dome before you leave home for the slopes. Try Tamworth or Milton Keynes and either go solo or book a lesson there (again, choose from en masse or individual, depending on your budget).
Rebecca Armstrong
Register for free to continue reading
Registration is a free and easy way to support our truly independent journalism
By registering, you will also enjoy limited access to Premium articles, exclusive newsletters, commenting, and virtual events with our leading journalists
Already have an account? sign in
Join our new commenting forum
Join thought-provoking conversations, follow other Independent readers and see their replies