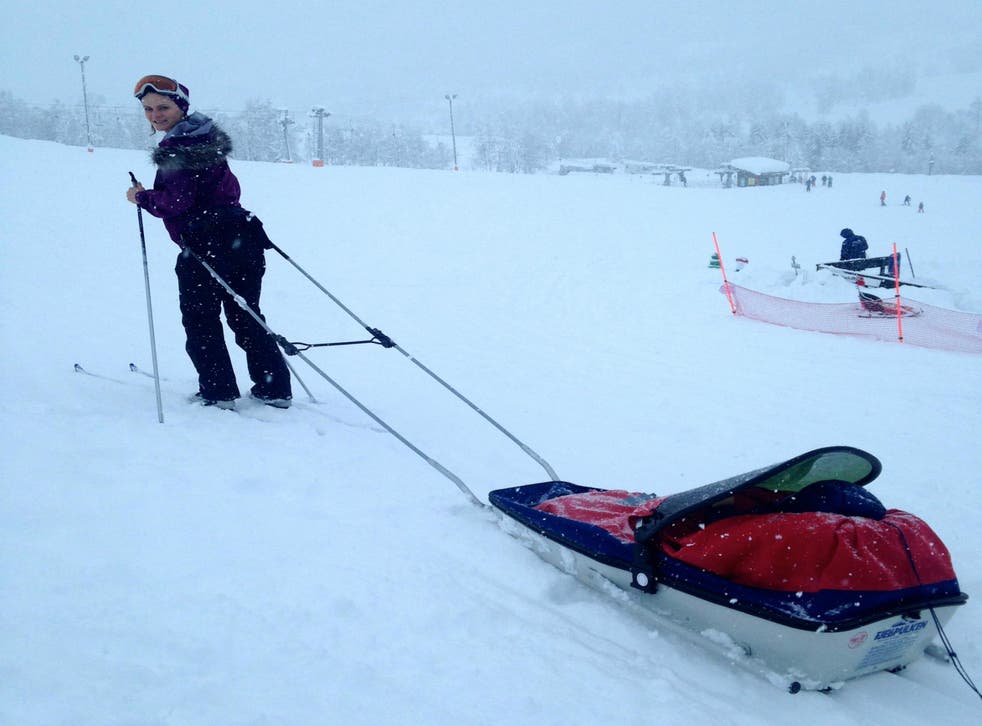 A Scandi-trend too far? After hygge, now skiing with a baby
Is pulling your young child in a 'pulk' as you set off skiing across Norway's slopes taking our Nordic-aping obsession to extremes? Susie Mesure decided to find out
Somewhere, behind the snow-encrusted windshield of the toboggan behind me is my baby. At least I hope she's still there. I'd check, but the pulk, as it's called in Norway, is attached to my waist with two long, thin pieces of metal and turning round is out of the question, not least because my feet are clipped to what feel like chopsticks. Or should that be knitting needles?
It had sounded so easy; the perfect solution to my perennial childcare-on-the-slopes crisis. Instead of leaving my 14-month-old daughter behind while I went skiing, I'd take her with me, Norwegian style: me on Nordic skis and her bundled into a pulk. Admittedly, I'd never tried Nordic skiing before, discounting it as dull and something for old people. But that was before I'd been to Norway, where cross-country skiing is a way of life and it's the downhill diehards who seem out of step.
We were in Myrkdalen, a small, modern resort in western Norway that revolves around a newish hotel, on part two of our ski safari. We'd started the week in nearby Voss, which is better known for its bottled water but makes an excellent ski destination not least because it's easy to reach from Bergen. A train takes around two hours, or you can drive from the airport in about 90 minutes. A ski bus shuttles between Voss and Myrkdalen if you fancy a change of scene without the bother of repacking your bags.
The promise of floodlit cross-country trails across the road from the hotel meant I'd saved my Nordic skiing adventure for Myrkdalen. Local friends had promised that skiing with a pulk was easy, provided there wasn't too much uphill involved. But qualms about skiing with baby attached meant I needed to practise.
I can't lie: it was hard swapping my usual slopes, which despite boasting only two chair lifts, three T-bars, and three buttons, were a joy to ski, for a lesson on the aforementioned knitting needles. Especially as Nordic skiing wasn't quite the easy experience I'd expected. It turns out there's nothing so humiliating as falling over on the flat. You need to get a "kick, stride, glide" thing going to get up any speed – or so I read online after spending my lesson jerking inelegantly along the ski-width tracks that are groomed into place by a snowplough.
Feeling despondent, I paused to get some tips from another mother out with her baby. Hanne, who lives in Bergen, was making it look easy. I peeked in; the baby was fast asleep. "My son is having a lesson and this is the only time I get for me," Hanne said. Although I'd been warned to make sure my own daughter didn't get too cold when she eventually joined me, Hanne was more concerned about hers overheating. Her baby was wearing double, or possibly triple wool, zipped into a sleeping bag with a sheepskin lining. There was another sheepskin on top, and finally a woollen blanket.
Inspired and determined to improve, two hours later I headed back out for an extra pre-dinner session while my other children – two boys, aged seven and four – soaked up Norwegian culture via the local cartoon channel in our room with their sister. With the light fading and snow dusting the tracks and fir trees, there was a pleasing polar quality to my solo expedition.
The beauty of Nordic skiing is that you can keep going after the lifts stop, although it helps if the trails are floodlit, as they are across most of the country. This is ideal if, like me, you're the type of skier who gets angsty if you miss the first lift and positively cross if anyone wants to stop for lunch. Not being tied to a lift timetable is a revelation.
This time it quickly started to feel better. The skis might be long but they are so light compared with their downhill counterparts; I begin to see why Norwegians get hooked. It's so peaceful snaking round the trails without any clanking lift machinery or music blaring out from the bottom of the slopes. When I got it right, it was like a moving meditation.
But the tracks bothered me. Because they are cut deeply into the snow, you are committed to where they take you. Which is all very well but I wasn't sure what would happen if I meet someone coming the other way. Luckily I had the trails almost to myself so disaster was averted.
It was our last morning before I got a chance, finally, to brave the pulk. My daughter had spent the week with a raging fever – my fault, I presumed, for not wrapping her up enough before letting her nap outside on our first day. Her illness meant we'd missed out on a RIB fjord tour in nearby Flam, but I wasn't sacrificing my Nordic ski fantasy.
I'd had visions of her sitting up in the pulk, enchanted by the winter wonderland whipping past as we glided, effortlessly, across the frozen tundra. But she was more trussed up than a Christmas turkey, snug in several layers of insulation, and fell fast asleep. The trouble was, I only learnt she was asleep after I'd stopped, unhooked myself and had a look, which inevitably woke her up. Next time, when she'll be old enough to understand what's going on, I'm planning to rope in the whole family so someone else can check on her. Plus I want to share my newfound Nordic skiing love.
Travel essentials
Getting there
Bergen is served by British Airways (ba.com) from Heathrow, SAS (flysas.com) from Manchester, Norwegian (norwegian.com) from Gatwick and Wideroe (wideroe.no) from Aberdeen.
Norwegian State Railway (nsb.no) operates the Bergen-Voss Railway: trains to Voss take about two hours and run five or six times daily.
Staying there
Myrkdalen Hotel (myrkdalen.no). Packages from £315pp in a double room from Friday to Sunday, including breakfast, a three-course meal, and two-day lift pass.
More information
Visit Norway (visitnorway.com) and Fjord Norway (fjordnorway.com)
Join our new commenting forum
Join thought-provoking conversations, follow other Independent readers and see their replies