Skiing in Kandersteg, the Belle of Bernese Oberland
​Kandersteg flourished in the 19th century and today its picturesque terrain is the perfect playground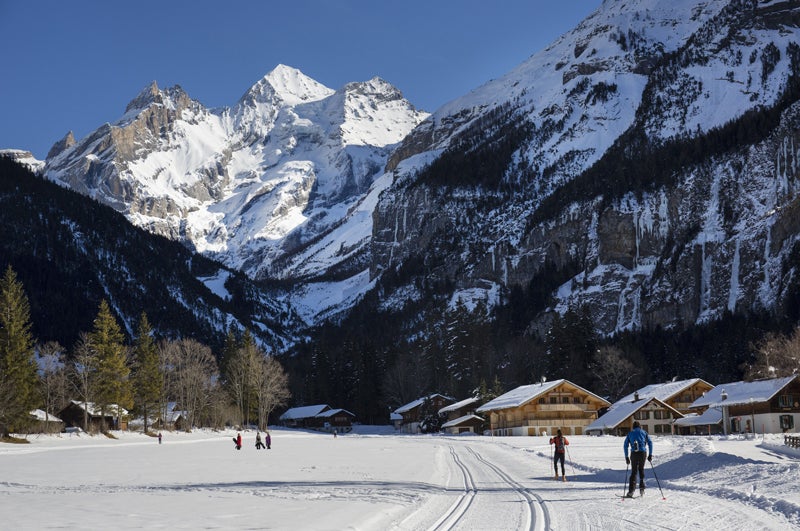 There is a scene in one of the Pink Panther films in which Clouseau is waiting as his passport is checked at the reception desk of a rustic Swiss hotel. Embarrassed by the silence and seeing a dog at the side of the desk, he asks: "Does your dog bite?" "Nein", says the unforthcoming receptionist. Clouseau bends down to pat the dog, which snaps viciously at him, taking a chunk out of his hand. The wounded Clouseau remonstrates. The receptionist replies triumphantly: "Zat is not my dog".
A country of small-minded unhelpfulness, indifference to the world around and ill-tempered dogs – plus the odd cable-car fight scene from an old Alistair Maclean film – was our daughters' only acquaintance with Switzerland. So, being fair-minded folk, we thought a skiing holiday might be the best way of banishing that particular prejudice.
Big-booted, we scramble into our first cable car as ineptly as only Brits can, and find we are sharing with a friendly, elderly German-speaking couple. They have a small, sweet-looking dog, which my nine-year-old diffidently attempts to stroke. The dog snaps at her, which its owners don't seem to think unusual, or worthy of disapproval. We pretend not to notice. They start chatting about what a nice day it is, in English. That's better. The least I can do is apologise for our lack of German and say how well they speak English. To which the husband says : "We have to, you won the war."
It's not going well, this forgive-and-forget thing, but Kandersteg is not a place for petty worries. It's in the Bernese Oberland, and not really on the road to anywhere, it's unshowy, downbeat and lovely. The Belle Epoque Hotel Victoria has been there since 1789, amazingly, but grew considerably in the 19th century, and now has 70 rooms. From today, Kandersteg hosts its annual Belle Epoque week, with themed events and traditional activities.
Though biggish, the Victoria is a homely hotel with a reassuringly badly translated menu that does a vast breakfast buffet in the ornate dining room (guests are invited to pay extra if they're tempted to smuggle their lunch out at the same time) where very acceptable dinners are also served by the charming but understaffed team of waitresses. In case the day's skiing hasn't finished you off, the hotel has a pool, and also offers, at extra cost, massages, a sauna, sleigh-riding, ice-skating, candle-lit toboggan runs and no end of snowbound merriment.
The ski lift is a stone's throw away – actually a short lift in the hotel minibus from the ever-obliging Oscar – and from there you are under the awesome surroundings of Oeschinen's mountainous amphitheatre and, at the back of the gorge, its frozen lake. There can be few more beautiful places in which to learn to ski, which is presumably why a good number of people take the gondola up, not to ski but to have a walk, or potter about. It's about 20 minutes from the top of the lift to the lake, and in between is a handful of blue and red runs (about 14km of them), although admittedly nothing really to stretch the experienced, thrill-chasing downhill skier. But if you want low-key, perfect-for-the-family hols, look no further. The rowdier, fast set will go elsewhere.
Without young children, it would be worth taking a cue from the Swiss who come here for the 52km of fabulous cross-country skiing trails and the charm of 55km of winter hiking trails. Both take you through forests and across snowy hillsides where the abundance of animal paw prints (could it have been a bear?) make the heart beat faster.
Our two were charmed by their ski instructors, found all they wanted on the slopes in the mornings, then spent the afternoons demanding to go down the toboggan run, back to the village far below. Many do this with their hounds leaping along at top speed beside them. We stopped half way down to watch mountaineers painstakingly ascend the blue ice fingers of frozen waterfalls, toy-like figures on a cliff high above us.
Kandersteg's other, much smaller, skiing area is at Sonnbuël, a 10-minute bus ride up the valley, followed by a ski lift over jaw-dropping chasms to a high top-of-the-mountains landscape of unspoilt, old-world downhill and cross-country skiing. There is even a traditional hostel with dorms and lace curtains where you can stay and feel remote and heroic. The energetic can walk from here to the end of the valley and into the next, to Gemmipass and its lake, Daubensee. In fact the wealth of year-round walking trails and the promise of Alpine meadows and pastures, alive with the sound of cow-bells, makes us keen to return in summer.
Kandersteg feels as much a farming village with a few ski interlopers as a resort, quiet but rather special. No wonder there are so many Swiss people here. There is a sprinkling of others, too, at the hotel. You can usually spot the Brits on a skiing holiday, tut-tutting about queue-barging in the wait for the T-bar and caning it on the booze in the evening. Not in Kandersteg, where everyone is pretty well behaved and, with just 1.40 Swiss francs to the pound and the cheapest wine 35 francs a bottle, the Brits can't afford to drink with their meals. So they are the ones ("tap water, please") who have availed themselves of the very decent, and decently priced, wine and lager at the Kandersteg co-op and drinking beer in the bath before supper.
We took the train there and back, which is surely the best way to have a sense of journeying and change in climate, geography and all that. It heightened the children's sense of expectation, even though three changes from London is plenty, and made the children insist on coming back next year. Now all we have to do is stop them humming the theme music from Where Eagles Dare every time they see a cable car.
Getting there
James Hanning and his family travelled with Inntravel (01653 617000; inntravel.co.uk), which offers a week's half board at the Belle Epoque Hotel Victoria from £960pp including flights from Heathrow to Geneva or Zurich, rail and private transfers. The price, including rail travel from London, starts at £1,038pp.
More information
The Belle Epoque week runs until 31 January (kandersteg.ch).
Join our commenting forum
Join thought-provoking conversations, follow other Independent readers and see their replies