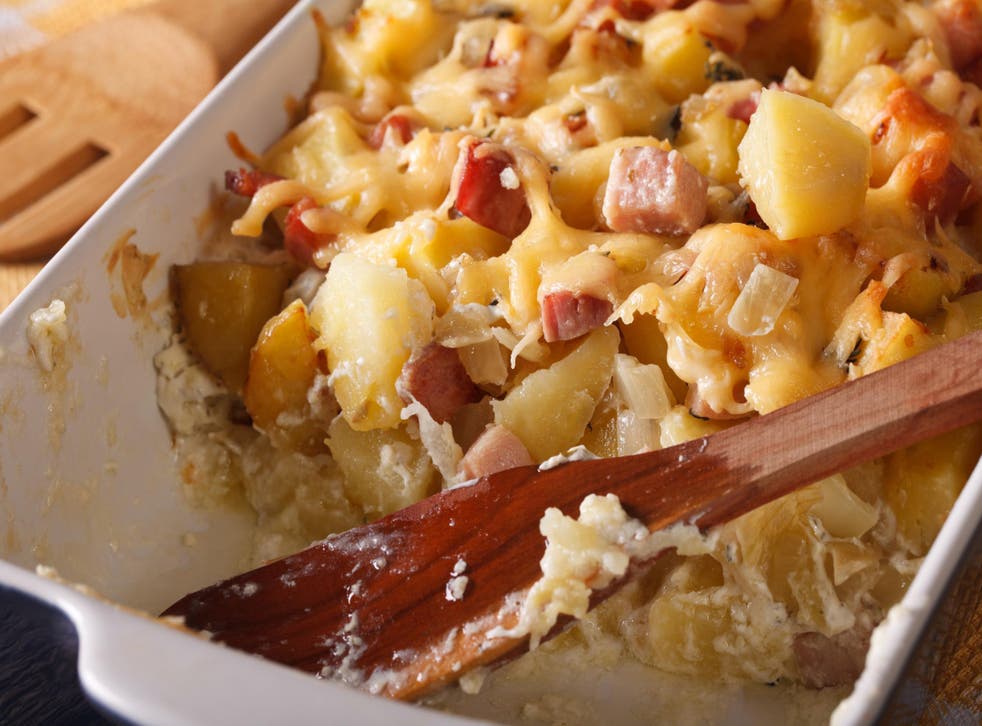 The best places for après-ski – and lots of cheese – in Méribel
Ski-in restaurants, cheap feeds, fabulous fromage and a spot of snow-shoeing to work it all off in the French Alps
My torch flickers as I crunch through the snow, heading deeper into thick forest. Above, the moon shines silver against a star-filled sky. Following a candlelit trail, I watch the glow from other people's torches bob gently in the blackness.
Our final destination at the end of this 15-minute walk is Le Clos Bernard, a mountain restaurant in the French ski resort of Méribel, accessible only by skis or on foot. Hidden in woodland near the altiport chairlift, this site was originally home to a "buvette", or refuge, providing snacks and shelter for cross-country skiers.
Now it's the perfect place for après-ski (activities after skiing). After a 33-year closure, it reopened as a restaurant in December 2015 and now holds weekly Soirées Savoyardes (Savoyard Nights). On Wednesdays – the non-catered night at many Méribel chalets – diners gather for hot wine before walking to the restaurant en masse.
We hear Le Clos Bernard before we see it, thanks to the accordion player performing what I'm told are 1980s French hits on the terrace. Inside the atmosphere is just as lively as the guests pile in, hungry after a day's skiing – many still in their salopettes.
Traditional, hearty Savoie food on the menu: tartiflette, raclette and fondue with no fewer than four cheeses. We end with a coyly named "Cup of Friendship" – a brandy-based punch, drunk from a communal wooden pot with multiple spouts. Each person drinks in turn from one of the spouts, before passing it on to the next. And for the Alps, it's relatively affordable, at €49 (£42) for the three-course meal.
There's a lot of good food in Méribel, as I discover during my week-long stay. One day I ski up to Le Bistrot de l'Orée, where dishes like tartiflette and pizza start from €11.50. In town, L'Abreuvoir is a brand-new tapas restaurant, complete with open kitchen, real birch trees and white fur cushions. You pay for that glamour, though – sharing plates range from €17 to €27.
But the heart of a ski break is, of course, the chalet. Mine – Chalet Bellevue, one of Meriski travel agency's nine-strong collection – is the kind of place that makes you want to huddle up indoors (or outside in the hot tub). Every night our chef whips up things like pear and chicory salad, and duck with truffle mash – just the thing when you're all fondued out.
Meriski also recently launched Mountain Experiences, a free service connecting guests with guides who specialise in slightly less obvious snowy pursuits – like Telemark skiing, cross-country skiing and snowshoeing. I go for the latter, and they hook me up with a half-day trip with local experts Raquett'Evasion. We meet in Le Villard, an 800-year-old hamlet 15 minutes north of central Méribel. My guide, Fabien, hands me some poles and we strap on the snowshoes.
"Stand upright and don't look at your feet," Fabien instructs as we set off through the frozen landscape. "It will help you breathe, and allow you to take in your surroundings."
Soon we're traversing swathes of untouched snow, ducking beneath frosty branches and zig-zagging our way uphill. My guide explains that most tourists shun snowshoeing in favour of skiing, partly because they don't want to miss out on piste action, partly because they assume it's too easy. But within minutes, I'm sweating more than I would on skis and my calves are aching from the steep gradients.
We trek 5km, which – thanks to the 500m elevation – takes almost four hours. Luckily, this being Méribel, there's hearty food at the end of it, courtesy of the Refuge du Christ, a tiny restaurant with just five tables (you'll need to book ahead).
Owner Hervé Jung lays down plates of Savoie dishes: cabbage cooked with cream and lardons, charcuterie from the Mont Blanc valley and gratin de crozets (tiny squares of pasta, stodgy with cheese). We finish with bognettes – similar to doughnuts – and liqueur de sapinette, made with pine extract.
It's only on our way back down to Le Villard that I realise we've not passed anyone else all afternoon – a luxury you don't get with skiing. I won't let on to my cohorts in Méribel.
Travel essentials
Getting there
The nearest airport is Chambéry. Flybe flies from seven regional UK airports, including Exeter, Birmingham and Manchester, while British Airways flies from London City. The writer travelled to Méribel by train with Loco2.com, which offers return fares from London St Pancras International to Moûtiers via Paris and Lyon from £111.
Staying there
Meriski offers a week at Chalet Bellevue from £695 per person or from £6,950 for the whole chalet, which sleeps 12. This includes daily breakfast, afternoon tea and canapés, a four-course dinner on six nights, wine, beer and soft drinks, the services of chalet staff and an in-resort driving service from 8am to 10pm.
Meriski can arrange ski equipment hire through Méribel Ski Service with complimentary in-chalet fitting on arrival. Helmets, boots, skis and poles cost €135 per person, per week. Snowshoeing costs €36 per person for half a day, booked through Mountain Experiences.
More information
Join our new commenting forum
Join thought-provoking conversations, follow other Independent readers and see their replies