What it's like to lose your ski touring virginity in Norway
Swapping lifts for legs is as rewarding as it is tiring, Helen Coffey discovers on a trip to the Norwegian backcountry
Wednesday 14 November 2018 12:47
comments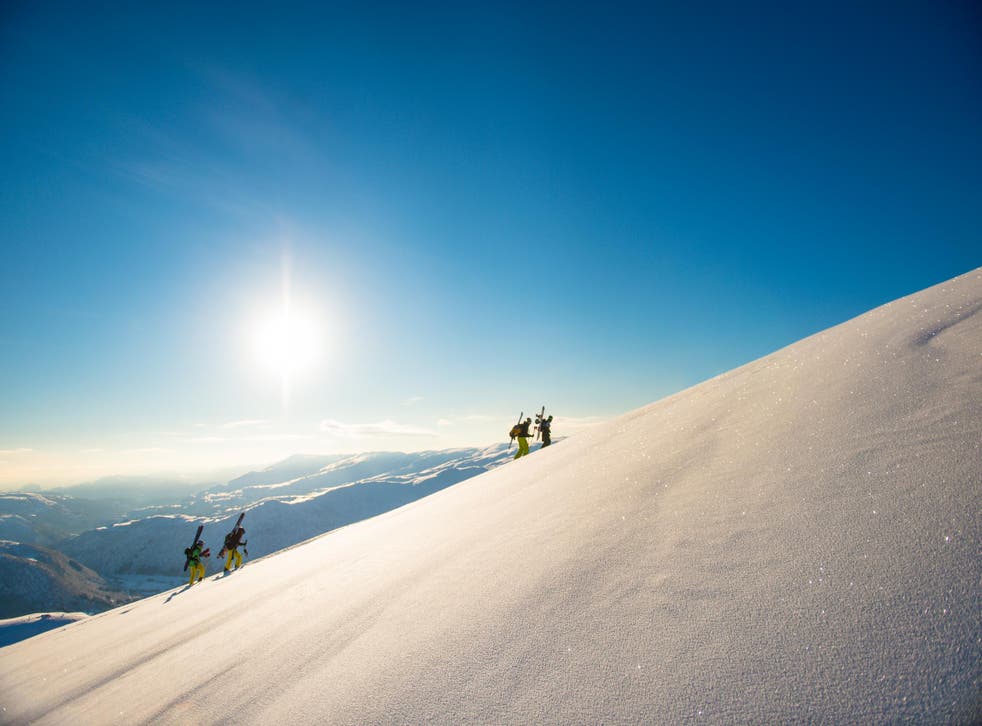 With skis desperately gripping the sugary snow and forehead slick with sweat as I stand panting heavily, I have one of those moments where I wonder if this might be how I die.
Yes, I have a taste for melodrama. But I also honestly don't know how I'm going to make it down the next hundred metres or so of rugged terrain, all of it blanketed in unstable, unforgiving spring snow.
As I hesitate, wanting to put off the moment of attempting another turn (aka another battle with gravity that I will surely lose), I let myself get distracted by the view: a pleasingly sparse landscape of white-clad, undulating peaks, elegantly bare-branched trees and a blue-tinted frozen lake. Other than a handful of burgundy buildings, there is no sign of habitation – no lifts, pistes or indeed other skiers to ruin the uncluttered scene. It feels as pure as nature can get.
This is why people come ski touring in this particular corner of Norway, sliding their way up Tarven, a 1,700m mountain only accessible by railway, in a painstakingly slow, zigzag formation. The solitude is intoxicating.
I had experienced my first taste of touring only a few days earlier in Myrkdalen as part of a Freeride the Fjords package, which includes two days in the resort and two days of guided ski touring. I now feel ever-so-slightly out of my depth.
Used to the French mega resorts of the Alps, Myrkdalen seemed quaintly bijou when we arrived, with just one hotel, one ski school, one hire shop, nine lifts and 21 pistes. But this, it transpires, is entirely intentional. Just 15 years ago, there was nothing here but agricultural land; expansion has been slow and steady, with a focus on sustainability rather than speed. The resort plans to build just one new lift every five years, with the money coming from accommodation offerings being developed alongside the infrastructure so that capacity grows in line with visitor numbers. It's a clever trick.
And one that clearly works, if the empty slopes I experienced were anything to go by. As we explored the ski area, all gently rolling hills, I was taken with how large and open it felt. It's partly down to how little the area has been developed, and partly down to the landscape itself – there's no sense of being hemmed in between Norway's mountains, far softer and lower than their spiky Alpine counterparts.
Don't be fooled – lack of altitude doesn't mean lack of snow. Myrkdalen was covered in the stuff, with 4m up top (1,060m) and 2m at the base (450m) in April. There's good skiing to be found well into June, apparently – though the resort officially closes in May.
After an enjoyable warmup on wide blues, it was time to lose my touring virginity – something I was mildly dreading. Suddenly I had to become a master of different boots, a whole new style of clipping into my skis and, key to the whole process, skins, long strips that adhere to the underside of your skis and slide forward in one direction but not back in the other.
Starting from the highest T-bar lift at 1,060m, we set off beneath a scorching sun in a cloudless dome of cornflower. Unsteady as Bambi taking his first steps, I wobbled my way along for the first few minutes, desperately trying to keep up with the group as I inwardly swore and my thighs burned. It turned out my technique was the problem – "try to slide more, like you're on skates", our guide Simon instructed.
After 10 minutes, something clicked. I found my rhythm, striding forth smoothly with delighted confidence.
All was silent bar the swoosh of skins on snow, my heart pounding in my ears and the occasional exclamation of "bloody hell!" – whether at the flawless view or the exertion, it was hard to say. Beneath our feet, the sun-warmed snow had turned to crystalline sugar; I kept stopping to take pictures that hadn't a hope in hell of doing it any justice.
We reached the highest point, 300m from where we started, in 90 minutes. And, finally, I got the point of it all. It wasn't that the whole valley was laid out at our feet; it wasn't even that we'd get to ski down the completely empty slope below, sparkling enticingly in the April sunshine. I suddenly realised I'd actually enjoyed the climb itself, albeit in a slightly masochistic way – it was satisfying to look back at where we'd come from and know I'd done that, even if I was huffing and puffing like a broken steam engine.
Which was lucky, considering how little I enjoyed the downhill journey. Skins came off, heels came down and, "Whooooaaaa…!"
In the late afternoon, the snow was sticky and heavy, and I felt like Bambi for a second time. I got a few solid turns in but mainly just shrieked my way down – no style, no technique, just one long fight to stay upright.
Myrkdalen is smack bang in fjord country, a fact that helped make the trip from there to our second base, the Vatnahalsen hotel, the most photogenic transfer on the planet. Boarding the hybrid Vision vessel, we gawped at the stupidly beautiful Unesco heritage-worthy Naeroyfjord, its rock walls reflected perfectly in the mirror-like surface of the water. The second part of the transfer – the Flamsbana railway – may not quite surpass it, but did its best, rivers slicing their way through deep gorges and waterfalls pouring down sheer cliff faces.
The hotel itself felt thrillingly remote. Owner Petter and his exuberant dog Viggo were there to meet us and show us around the place – a charmingly cosy bolthole, with chintzy décor and interiors that channelled a hybrid of Scandi style and granny chic, all floral curtains, tartan cushions, upholstered chairs, stark white walls and glossy dark wood floors.
It's a popular place for touring – and there's little option but to skin up, with only one small draglift in the area. So we did the next day, led by mountain guide Roald.
If Myrkdalen had been entry level touring, this was a step up. Rotten snow repeatedly gave way at the bottom of our ascent, while steep stints made trusting the skins a challenge. As the sun slowly rose and the climb got easier, we found our stride, going long stretches without pausing. I felt the heady rush of endorphins pumping through my body, and started to feel something approaching euphoria – why had I never done this before?
Two and a half hours after setting off we sat down for a quick lunch of Kvikk Lunsj (the Norwegian version of a Kit Kat) before tackling the next, steeper section for an hour or more. At 1,600m, I was ready to finish the "up" portion and begin our descent – or so I thought.
Some 100m or so of glorious skiing on soft, untouched powder, prompting a bath bomb of joy to start fizzing in my stomach, was followed swiftly by rotten, heavy conditions. I broke through the top layer of crusty snow more than once, falling softly on my side before righting myself, gritting my teeth and try, try, trying again.
I had my surge of panic. I looked at the soothing view. And then I had a full-blown Annie moment, deciding to stick out my chin, and grin, and say: "F*** it, let's DO this!"
Further down the snow wasn't so bad but the obstacles kicked in: close-knit trees and rocks that required dodging, with no choice about where to turn. Several times I felt on the cusp of hysterical tears but kept calm and carried on, concentrating on following Roald's tracks while not hyperventilating.
Finally, the downhill was over – it was back on with the skins for a 20-minute push to get back to the hotel. Panting, sweating and incredibly emotional, I peeled off all the paraphernalia, purchased an extraordinarily expensive Coca-Cola and sat on the porch, silently gazing up at the majesty of Tarven and contemplating what I'd just done.
I'd climbed a mountain. A mountain.
I felt strong and brave and unconquerable. And, as I tucked into dinner that night, a thoroughly deserved plate brimming with salmon, roasted asparagus, potatoes and couscous, I felt something else too. Pride.
Lifts are all well and good but, if you want to see what you're really made of, take a walk on the wild side.
Travel essentials
Getting there
Norwegian flies direct from London Gatwick to Bergen from £98 return. A direct train service runs from Bergen to Voss (210 Norwegian kroner or £19 each way), from where it's a 30-minute taxi ride or free ski shuttle to Myrkdalen. Alternatively, a direct transfer from Bergen is available for £90 return.
Staying there
Freeride the Fjords packages start from 5,560 Norwegian kroner per person (£506), including two nights at Myrkdalen Hotel, half-board, a two-day lift pass, bus shuttle from Myrkdalen to Gudvangen, Fjord cruise from Gudvangen to Flam on the Naeroyfjord, Flam Railway from Flam to Vatnahalsen, and one night at Vatnahalsen, including breakfast, packed lunch, dinner, coffee and waffles. A certified mountain guide at Vatnahalsen is included in other packages, or can be booked separately for 5,500 Norwegian kroner (£500) a day for a group of up to six people.
Join our new commenting forum
Join thought-provoking conversations, follow other Independent readers and see their replies