How Utah's Park City became the biggest ski area in the USA
After a $50m transformation, you'll find perfect pistes and upmarket resorts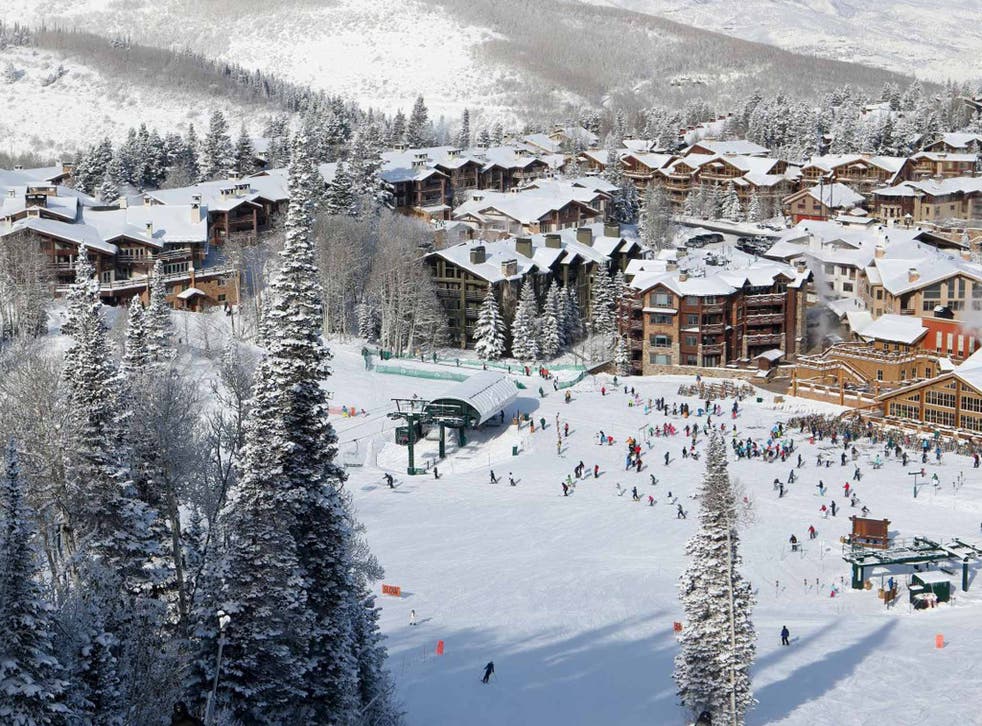 There was grumbling on the chairlift: a group of boarders were unhappy about the space invaders. I gathered that this corner of the ski terrain of Park City in Utah had previously been quiet enough for the boarders to regard it as their own territory. But not any more. A seismic shift had taken place and these slopes – formerly at the margins of an average-sized resort – were now bang in the middle of the biggest ski area in the United States.
On a previous visit a couple of years earlier, the landscape here consisted of little more than sky, trees, snow and some evocative detritus from Park City's days as a mining town; now a huge yellowish restaurant had landed, big enough to seat 500 diners inside. Behind the restaurant, called Miners Camp, there was an even greater novelty – a gondola which seemed to be carrying passengers right out of the ski area.
These two developments are the showpieces of a $50m transformation for this season by Vail Resorts, the Wall-Street-quoted giant of the ski business. Before 2013 it had no presence in Utah's skiing, now it is the big player. And, curiously, it has already reduced the number of ski areas in Park City from three to just two.
For years skiers have enjoyed a range of experiences around the charming Western town, best known for hosting Robert Redford's annual Sundance Film Festival in January. Set just 45 minutes into the mountains from Salt Lake City airport – to which Delta will operate the first direct winter flights from London next season – Park City has an arc of skiing that runs from east to west across the town.
In the first sector is Deer Valley, an up-market resort renowned for its impeccable piste-grooming, its army of ambassadors and ski valets, its excellent mountain restaurants and a portfolio of luxury lodgings. These include a St Regis, accessed via a funicular railway; the legendary Stein Eriksen Lodge and, up near the top (or to my taste, over it) the glamorous, 220-room Montage. This is the sort of place where Blake Carrington and Sue Ellen might meet the Kardashians for an episode of Hotels of the Rich and Famous.
Much of Deer Valley's skiing is smooth and flattering, but there is challenging terrain in its high bowls off the 9,750ft Empire peak, alongside the Park City ski area, and – to the other side – in the Mayflower zone.
Across the canyon in which the town lies is the second of the three ski areas, whose full name is (or rather was) Park City Mountain Resort. Here, the skiing seems almost integral to the town. Visit the marvellous museum on Main Street and you find that the first ski lift was fashioned from disused mining technology: skiers rode a narrow-gauge railway into the mountain and were then hauled up a mineshaft and deposited alongside a spoil heap. To its credit, the ski area also evokes its history by leaving rusty relics out on the slopes – a hopper here, a winding tower there – and posting piste-side information panels about former mines.
Further to the area's credit is its skiing, which is gnarly, fast and unpredictable, on occasion all at the same time. The front face looks like a fairly predictable pitch, and would be were it not for some angled ridges and gullies. But beyond, the top of the area is a jungle of tree-skiing and as many bowls as a French coffee shop.
On the trail map there are 15 off-piste zones with the "most difficult", double black diamond rating. The outstanding area is McConkey's, which overlooks the high point of Deer Valley's skiing. It is a long way from the lift base, therefore never crowded; and miraculously, it allows intermediates to feel like back-country hardnuts thanks to the blue runs inserted into the otherwise black terrain.
McConkey's provides hours of entertainment, and offers a good spot to take a break nearby. Set in the trees, the Mid-Mountain Lodge restaurant is a fine wooden structure with a large deck. It was built almost 120 years ago, but not here. Originally a miners' boarding house, it was moved up the ski area in 1987, a job which demanded a team of seven bulldozers.
Take the most scenic way back down the mountain, and you find yourself breezing along Thayne Canyon. Towards the bottom is the Miners Camp restaurant, and the new Quicksilver gondola which takes you across to the third Park City ski area, Canyons.
Canyons was very much a junior partner to the others until it was taken over by the Canadian property company, Talisker in 2008. With heavy investment and good planning it became bigger than Deer Valley and Park City, and in my opinion better than either of them.
Skiing at Canyons is something of a mystery tour. Forget the familiar ski-area progression up from nursery slopes to back bowls; here the natural order of things is disrupted by a ridge that runs diagonally across the heart of the skiing.
A further, man-made, idiosyncrasy is that private homes have been built mid-mountain. Some of the intermediate pistes follow convoluted routes between the houses, which are shrouded in trees to protect the owners' privacy (or perhaps, to judge from the glimpse of a Norman-style stone chalet with battlements, to protect faint-hearted skiers). The result is intermediate runs such as Serenity and Harmony – with sharp bends and berms, and a total of four tunnels and three bridges – which are a lot more engaging than skiing near-identical blue pistes in a high-Alpine resort.
Intermediates have a dedicated area at Canyons, served by the Iron Mountain Express lift. Experts had an enclave at the western extreme, on the largely double black diamond Murdock zone; aware that ambitious intermediates weren't well served with fast terrain, the resort cut a handful of brand new runs into the trees on a pitch to the east.
The other area in which Canyons excels is on-mountain catering. It's good everywhere but at Cloud Dine it's miraculous. Located up at the tree line, the original structure looked like a pop-up; now it is a permanent glass box which could be the work of a Japanese architect. The menu is a bit too wilted and grass-fed for my taste; but the flatbread calzone, made-to-order, was by far the best I have eaten. If you go, go early, because I am not Cloud Dine's only fan.
What's not to like about Canyons? Well, it is a pity that it no longer exists. In 2013, three years after the resort's makeover and following a long dispute with Park City Mountain Resort, Talisker withdrew and gave Vail Resorts a 50-year lease on Canyons. The following year, Vail Resorts also took control of Park City. This season, the new Quicksilver lift link means – in Vail Resorts' rather baffling slogan – "Park City: there is only one". By my maths there are now two Park City ski areas, "Canyons" surviving only as the name of a lift base.
The link is an epochal event. For half a century the possibility of connecting the Park City ski areas – and the four others in contiguous canyons – has been discussed. The lifts would be simple to build; the fact that the one link completed in 50 years is between areas in common control says something about relationships in the Utah business, though Vail Resorts' top man in Park City, chief executive Bill Rock, insists that the atmosphere in the business is cordial.
The common control is worrying when such a big part of the attraction of Park City is its diversity. On this most recent visit, I stayed in two places: at the classic, maximum-service Stein Eriksen Lodge, where I lived large in 1,284sq ft of de luxe suite; in Park City I was in the Washington School House, a casual 34-bed boutique property in a 19th-century building. Both were very good, and completely different.
Between Deer Valley's Empire Peak and McConkey's Bowl in Park City, just a rope, a snow bank, and a sign threatening legal action separate the two ski areas. Vail Resorts has not divulged how much of the $50m spent on improvements was devoted to the Quicksilver Lift link, but it would be millions. Linking Deer Valley and Park City would cost the price of a pair of scissors.
The best stylish skiwear that won't break the bank

Show all 8
At the Deer Valley base I tagged on to a group of skiers taking Utah's legendary Interconnect, a one-day, ski-and-hike guided tour visiting the Park City ski areas plus those of Alta, Snowbird, Brighton and Solitude, travelling only on skis. From the top of the Empire Express lift, the group side-stepped and poled up to the snow bank. The guide lifted the rope – as he was entitled to do – and we passed underneath into Park City.
It's simple, and obvious. Maybe next season.
Getting there
Stephen Wood travelled with Ski Independence (0131 243 8097; ski-i.com), which offers three nights at the Stein Eriksen Lodge in Deer Valley and four nights at the DoubleTree by Hilton in Park City, both B&B, from £2,397pp, including United flights from Heathrow and airport transfers. A week at the DoubleTree by Hilton costs from £1,549.
Delta (0871 221 1222; delta.com) commences direct flights from Heathrow to Salt Lake City from 1 May. Until then, Salt Lake City can be reached on airlines such as Air France/Delta from a range of UK airports via Paris
Staying there
Stein Eriksen Lodge, Deer Valley (001 435 649 3700; steinlodge.com).
Washington School House, Park City (001 435 649 3800; washingtonschoolhouse.com).
More information
Register for free to continue reading
Registration is a free and easy way to support our truly independent journalism
By registering, you will also enjoy limited access to Premium articles, exclusive newsletters, commenting, and virtual events with our leading journalists
Already have an account? sign in
Register for free to continue reading
Registration is a free and easy way to support our truly independent journalism
By registering, you will also enjoy limited access to Premium articles, exclusive newsletters, commenting, and virtual events with our leading journalists
Already have an account? sign in
Join our new commenting forum
Join thought-provoking conversations, follow other Independent readers and see their replies