The Independent's journalism is supported by our readers. When you purchase through links on our site, we may earn commission.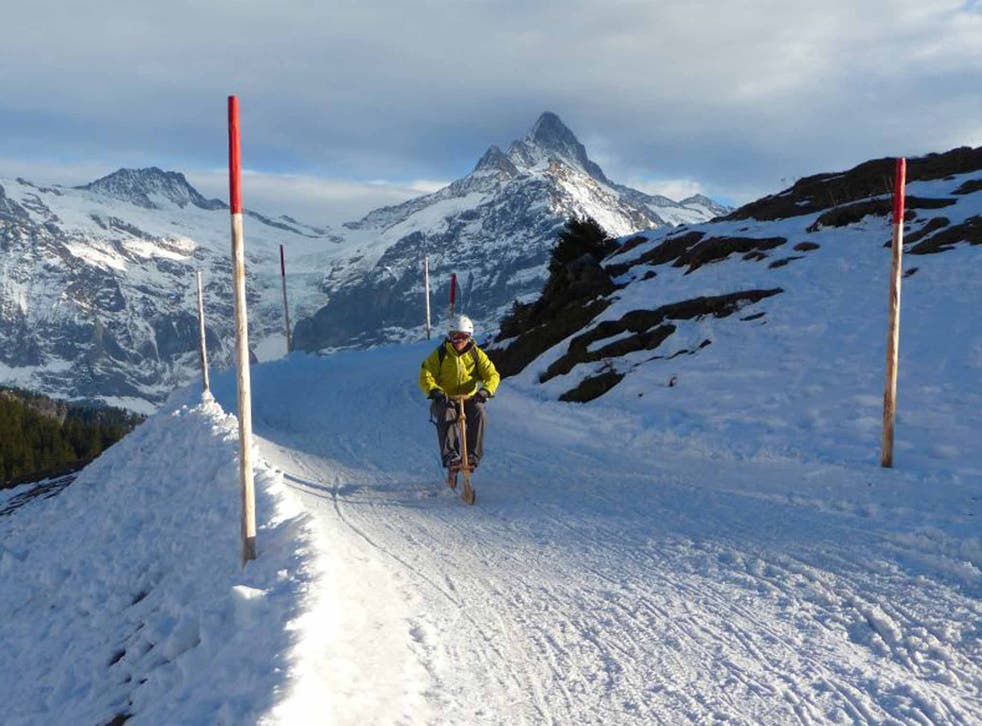 Retro Switzerland: A Velogemel experience above Grindelwald
Velogemel, curling and spas were all the rage here 150 years ago, says Andrew Eames
Andrew Eames
Thursday 01 January 2015 19:52 Comments
I thought I looked like the Milk Tray Man. Whooshing down through the trees, my knees in the breeze, towards the snow-covered roofs of Grindelwald, swooping past hikers and tobogganists. All I needed was the box of chocs and some kind of rip cord to pull so I could take flight and complete my journey etched against the sky. Except that by this point I was already going too fast for my new-found Velogemeling skills, and a patch of frozen sludge had me on my backside before you could say "nut cluster".
For those who haven't heard of it before, the Velogemel is a rudimentary no-brakes snow bike; a wooden frame with skis instead of wheels, and easy enough to master when it comes to a straight line down a gentle slope (neither of which were available to me). In Switzerland, it was used by travelling shepherds once snow had settled on the mountains. As such, it was also one of the bits of winter-sport equipment available to the select band of British travellers who first experienced the Swiss winter, 150 years ago.
My own Velogemel experience above Grindelwald was part of a journey I was making in the footsteps of those early winter tourists. Ignoring skiing, I was keen to rediscover what it was that first appealed to those touristic pioneers. I'd started up to my neck in hot water, in a tradition that is centuries old. Way, way before the Brits strapped slidey things to their feet, or even discovered facial scrubs, the Romans used to travel up to the hot water spa at Leukerbad, in the Valais Canton, and sit for hours in the steaming pools, conversing about the good old days no doubt. You can still do that, up at 1,400m, surrounded by eagle-wheeled peaks in the Leukerbad spa; and you can even have breakfast served to you on a floating tray.
Best snow sports holidays

Show all 7
Back then, spas weren't at all a British thing. Jemima Morrell, who kept a diary of the first ever Thomas Cook tour here in 1863, described peering in the steamed-up windows at all the wallowing locals in Leukerbad. "British people don't sit in hot water for no good reason," she harrumphed.
Jemima and her fellow travellers then set off up over the Gemmi pass on foot, and although there is now a cable car to take the edge off the steeper sections, along with a vertigo-inducing steel walkway, the Gemmi remains one of the few key Alpine passes un-paved across the top. However, its hiking trail is carefully maintained through the winter so I only needed a stout pair of boots and a favourable forecast to complete the three-hour hike up, over, and down towards Kandersteg, through a peaceful, snowy wonderland where icebergs floated in the Daubensee.
Although now outflanked by higher, bigger resorts, Kandersteg was a key destination for those early Brits and it still relives that glorious era in January with a Belle Epoque week of tea dances, curling, skating, sleighing and tobogganing. Visitors and locals dress up in period costume and show their finery in the Victoria Ritter hotel ballroom, waltzing over the parquet under glittering chandeliers.
Alas, I wasn't there at the right moment. So, instead I decided to try curling in the traditional resort of Mürren, where downhill skiing was invented (by British visitors), and the first ski club was formed by Sir Arnold Lunn. Mürren still hosts Lunn's creation, the Inferno downhill race. The Brits were early winners but, needless to say, other countries soon caught on, and we haven't won it for quite a while.
In those days, getting to Mürren from Kandersteg meant sleighs and steamboats. Mountain railways have since replaced anything horse-drawn, but I was still able, once I had caught the train down to Lake Thun, to make the crossing to Interlaken aboard a graceful steamer with an old-fashioned ambience, even though it no doubt had something modern under the bonnet. And for the final part of my journey from Interlaken – itself a resort put on the map by the Victorians, I took the wonderful 122-year-old BLM, a ditsy little mountain railway in the old-fashioned umber and cream livery of the British Pullman, to reach Mürren.
It was easy to see why the Brits loved this place, its wooden buildings colonising a ledge surrounded by peaks. It is totally free of traffic, with a grand view across to the Eiger and with little more than the snicker of skis on snow to break the peace.
My curling lesson was on the giant open-air ice rink at the heart of town, where I turned involuntary cartwheels before I got the hang of standing up. Getting the curling stone to go the distance turned out to be a challenge, especially in an environment where every action has an equal and opposite reaction; every time I curled, I found myself going backwards.
Many of Mürren's old palace hotels have now gone, although the 100-year-old Hotel Regina still stands, and the grand old Hotel Bellevue des Alpes, up on the Kleine Scheidegg pass, just below the Eiger, stills attract an old-world clientele for the views, the peace, the food and the fin de siècle décor. Still run by the family who built it in 1893, the Bellevue is a world of tasselled lampshades, and turned wooden banisters, with claw-footed bathtubs and polished nickel taps. Here, guests come to experience Alpine winter holidays as they used to be.
What a contrast, then, to head down by rail to Grindelwald, the area's biggest winter sport resort. However, it hasn't completely sold out to the designer shaded-hordes. Amid the intricate network of pistes, is a ski-free zone. It's reserved for anyone who wants to hike, toboggan, or even rent a Velogemel, and pretend he's the Milk Tray Man.
Getting there
Grindelwald and Mürren are both around three hours from Zurich airport by train. Zurich is served from the UK by Swiss (0845 601 0956; swiss.com), BA (0844 493 0787; ba.com) and easyJet (0843 104 5000; easyjet.com).
Visiting there
Andrew Eames travelled courtesy of Switzerland Tourism (myswitzerland.com). A Swiss Travel Pass, which includes unlimited travel on railways, ferries and cable cars, costs from CHF272 (£178) for four days.
Leukerbad spa (00 41 27 472 20 20; leukerbad-therme.ch) costs CHF23 (£15) for three hours. Curling at Mürren (muerren.ch) costs CHF28 (£18) per hour for two people (equipment included).
Kandersteg's Belle Epoque week is packaged by Inntravel (01653 617001; inntravel.co.uk), whose seven-night break includes flights, accommodation, some meals, and various themed events, from £1,198.
Velogemels can be rented at the railway station in Grindelwald for CHF15 (£8) a day.
Staying there
Hotel Regina (00 41 33 855 42 42; regina-muerren.ch) has doubles from CHF125 (£82), including breakfast.
Hotel Bellevue des Alpes (00 41 33 855 12 12; scheidegg-hotels.ch) has doubles rooms from CHF380 (£248), half board.
Register for free to continue reading
Registration is a free and easy way to support our truly independent journalism
By registering, you will also enjoy limited access to Premium articles, exclusive newsletters, commenting, and virtual events with our leading journalists
Already have an account? sign in
Join our new commenting forum
Join thought-provoking conversations, follow other Independent readers and see their replies