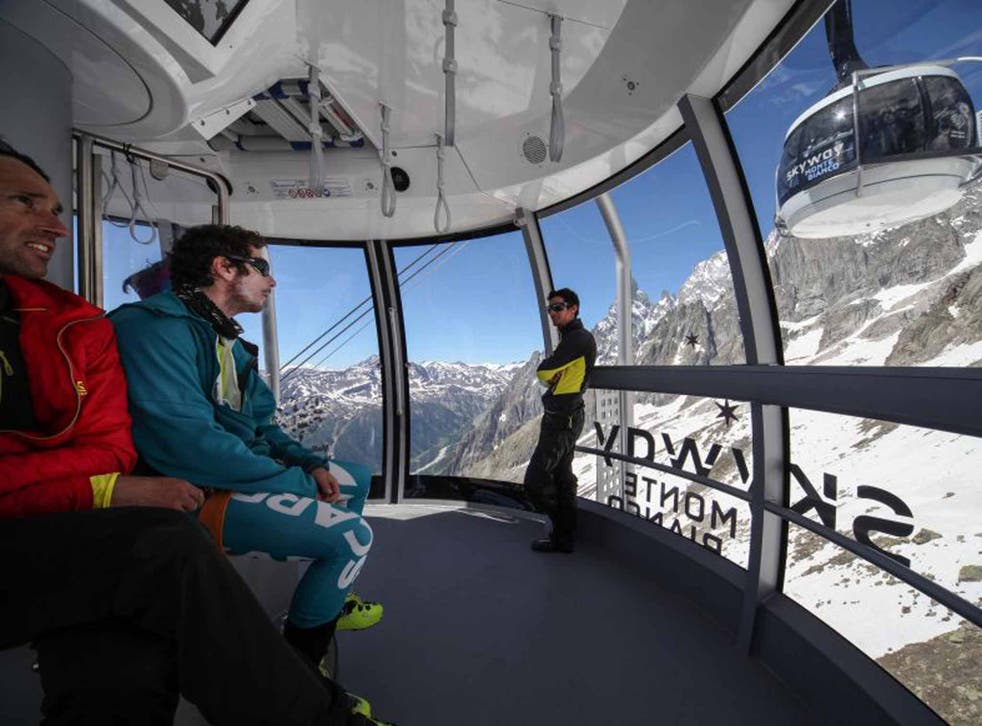 Skiing in Italy's Aosta Valley: A new cable car and top-notch gastronomy make it a tempting prospect
The Skyway Monte Bianco cost more than €100m to build but now offers a sunny perspective of Europe's tallest peak 
There's one sight I've only ever experienced while skiing, something that makes it feel even more special. It's that moment high at the top of the piste when the air all around you sparkles with a million tiny ice particles, as if glitter is being sprinkled on to the slopes.
This morning it's minus 16C – and that's with the sun shining. If a single reminder were needed of why being out in the freezing cold is worthwhile after forgetting to pack thermal underwear, it's that sparkle in the air. But even while I'm whirling my arms around to get the blood back into my fingers, I don't need any convincing why I should be here. Because rising above us, and everything else, is the beautiful sight of Mont Blanc – or Monte Bianco as they call it here in Italy – on the "sunny side" of the mountain, where it faces south towards those winter rays.
Over the jagged ridge to my right, on the other side of geology's natural border, is France. Down below, beyond the trees, is Italy's scenic Aosta Valley, laden with Roman ruins. And best of all is the impending sport of getting down there, back into La Thuile, one of the region's six major ski resorts and the venue for the Ladies Ski World Cup, taking place until 20 March.
I start off by flying through the powder and that icy glitter on a red run – one of the long and undulating slopes the Alpine resorts do so well – where after the challenge of an occasional sharp incline, I can speed along a flat with my arms outstretched and my chest puffed out, absorbing the serenity of my surroundings. And later comes the challenge of the black slope running back into town, steep but wide, perfect for an intensive work out to build up an appetite for lunch – without sending me cartwheeling down the hill into Taverna Coppapan.
There are plenty more pistes like these in the Aosta Valley, of course. La Thuile offers a link over that ridge to La Rosière in France, meaning a large combined ski area – the 160km Espace San Bernado. And half an hour's drive lower into the valley there's also Courmayeur, with another 50km of fine runs.
The latter has a fresh attraction this season: a brand new cable car, the Skyway Monte Bianco. Costing more than €100m to build over four years, it can now carry 80 people per lift, compared to 20 in its predecessor. As well as granting 360-degree views of the valley, both in its rotating cable cars and from atop its open-air viewing deck at the top station, it allows off-piste skiers a new location from which to set off, the midway restaurants at 2,173m. I leave off piste to the more advanced members of my group – but I find it's still worth going all the way up to the Punta Helbronner summit station to take in views of Europe's tallest mountain, accompanied by a glass of wine and a prosciutto sandwich at the bar restaurant.
Indeed, the choice of high-altitude cuisine is a plus in Courmayeur's favour. A cool recent addition to the scene is Ski Box, which brings food to the slopes at a reasonable price. Inside the colourful dining area you'll find a selection of quirky carts and stalls selling hot dogs, pizza and veggie kebabs – a pleasant change from the omnipresent croque monsieur.
For a proper meal, however, I make my way to Giacomo Calosi's Maison Vieille. Giacomo is a local legend with a cheeky glint in his eye (what's the Italian for silver fox?) who set up business in this former shepherd's hut more than 30 years ago. The restaurant has since been crammed with souvenirs, and serves up tasty tagliatelle, penne and six-year-matured parmesan at a very reasonable €10 a plate – accompanied by loud bursts of pop music. Back down in Courmayeur itself, Caffe della Posta serves possibly the best cocoa I've ever had – a cinnamon white hot chocolate, with whipped cream on top for good measure – as well as delicious coffees and gin and tonics big enough to share.
Ready to relax my muscles after a long day of skiing (and snacking), I head to the spa in Courmayeur's Hotel Gran Baita, which reopened in December after an extensive renovation. It has a half-indoor, half-outdoor pool, yielding the invigorating prospect of snow angels for those brave enough to jump out of the warm water and dive into the ice-cold drifts a few feet away.
Not feeling quite so adventurous? The Nira Montana hotel in nearby La Thuile is a great alternative; the pool is effectively the biggest Jacuzzi you've ever seen. After being blasted by the jets I feel loosened – and definitely warmed – up. Who needs thermals?
The Essential Skiing Guide: France

Show all 5
Getting there
The closest airport is Turin, served by British Airways (0344 493 0787; ba.com) and easyJet (0843 104 5000; easyjet.com) from Gatwick; Ryanair (0871 246 0000; ryanair.com) from Stansted; Monarch (0333 003 0100; monarch.co.uk) from Birmingham; and Jet2 (0800 408 1350; jet2.com) and Thomas Cook Airlines (01733 224 330; thomascookairlines.com) from Manchester. Geneva airport is also easily accessible.
Staying there
Ski Solutions (020 7471 7749; skisolutions.com) offers four nights' half-board at the four-star Hotel Gran Baita in Courmayeur from £795pp, including flights from Heathrow to Geneva and transfers. The same package at the five-star Nira Montana in La Thuile starts at £1,135pp
More information
Aosta Valley (lovevda.it)
Join our new commenting forum
Join thought-provoking conversations, follow other Independent readers and see their replies