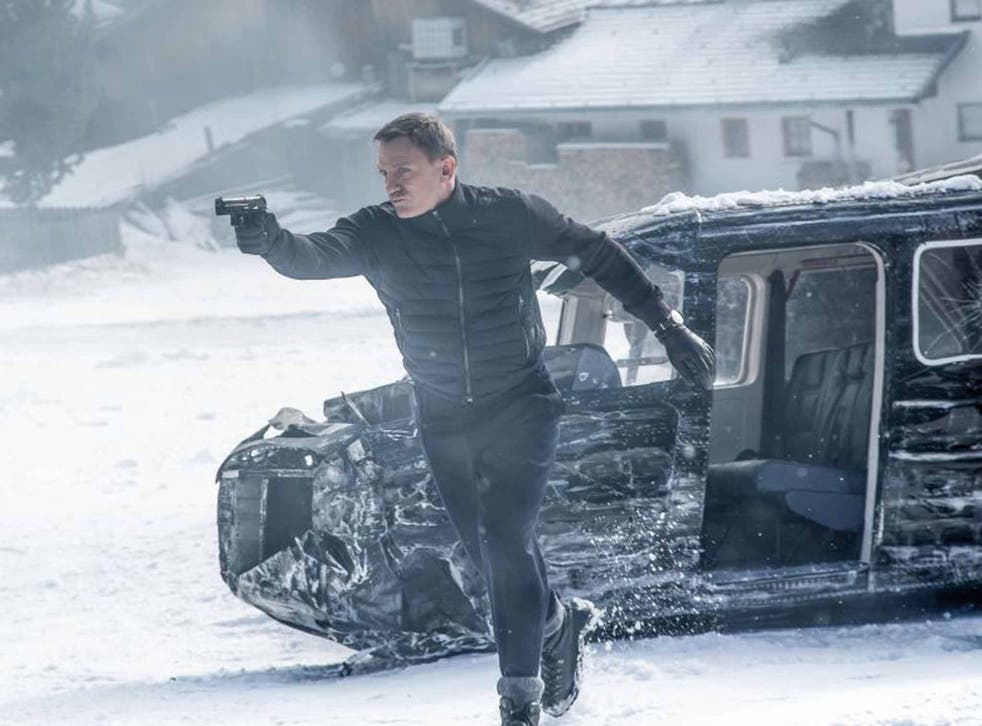 Spectre and Sölden: Ski in James Bond's tracks in Austria
​Sleepy Sölden in the South Tyrol has a starring role in 'Spectre'. Nick Boulos takes to its slopes and finds a mountain lair fit for a Bond villain
The mountain scenery spread out before me was among the finest I had ever seen: more than 250 meringue-like peaks folding into the distance. Yet my gaze was fixed elsewhere.
Ice Q, a striking, three-storey glass building that gleamed in the sun like a melting ice cube (hence the name) presided at the top of the windblown 3,048m summit of Gaislachkogl. And I wasn't the only one to be so captivated by it. Last year, the production team of the new 007 film, Spectre, had been scouring the Alps looking for a lair fit for a Bond villain, when their search ended here.
Following in Bond's perfectly parallel ski tracks brought me to Sölden, a sleepy resort in the South Tyrol. The arrival of Daniel Craig and Oscar-winning director Sam Mendes is big news for this quiet but spectacular corner of Austria, home to a little more than 3,000 residents, including ski guide Norbert. "They closed the mountain in order to film but nobody minded. Everybody is very excited," he beamed proudly. "It's a real honour that they chose our little village."
For the first couple of months this year, the quiet action of the village's gondolas and cable cars was ramped up with high-octane snowmobiles, exploding 4x4s and a convoy of Aston Martins as Daniel Craig took to the slopes – dressed like the Milk Tray man and brandishing a pistol – for one of the movie's main action sequences.
The shoot was shrouded in secrecy (what else would you expect from the world's No 1 spy, and the famously tight-lipped movie franchise?). But Norbert, like most locals, was convinced that mountaintop Ice Q would be the ultimate hideaway for Spectre baddie Franz Oberhauser, played by Christoph Waltz.
Despite being one of the best restaurants in the Otztal Valley (the longest in the region) and one of the most innovative architectural landmarks in the Alps, it hasn't always been such a slick spot. A €4.5m investment transformed the summit, replacing the tired old observation deck that previously stood here.
Stretching out below, Sölden's 145 kilometres of pistes were largely quiet during my visit, shortly after filming took place earlier this year. But such solitude won't last as Sölden prepares for its moment on the big screen. Norbert and I skied gleefully, Bond theme tunes playing in my head as I gazed out across Austria and the Italian Dolomites.
Norbert, however, had more pressing concerns. The Simon Cowell of ski instructors, he passed critical judgement on all who passed us: "He's not bad. She's very good. He is," he said, dropping his voice to a whisper, "terrible". I didn't dare ask for his verdict on my abilities. "The problem with you," he volunteered, "is your bum and what you do with it." "Excuse me?" I spluttered. "Skiing is like walking. The posture should be the same but everybody is almost sitting down."
Sölden – 90km south west of Innsbruck – offers plenty of time to right that wrong. Its two glaciers and high alpine location ensure good conditions from as early as October and as late as May. "When I was a boy you could ski here all summer," reminisced Norbert.
Back down in Sölden itself, a village of bars and bakeries, I needed somewhere to soothe my weary legs. The 121-room Das Central hotel proved just the place. This five-star Tyrolean-style property was where Bond director Mendes stayed during filming. Craig opted for a suite at the nearby Hotel Bergland; a shame, really, because he missed out on what may possibly be the strangest spa in Europe.
Shuffling along a maze of subterranean corridors in my fluffy robe and slippers, I reached two wooden doors draped in heavy red velvet and pinned with a laminated sign: "No photography permitted in the Venezia Water World". Intrigued to know exactly what a "Venezia Water World" might be, I stepped over the threshold and straight into the middle of St Mark's Square.
Murals of Venice's celebrated central piazza covered the walls. More prominent was the scaled down but impressive replica of the Doge's Palace, complete with Moorish arches and Gothic windows. Copies of old-fashioned free-standing Venetian lanterns glowed between sunloungers occupied by out-of-shape couples wrapped in towels. Overhead, the ceiling twinkled with LED lights strewn across a scene of a starry night sky. Upstairs, another sweeping mural of La Serenissima's lagoon provided an appropriate backdrop to the replica gondola poised by the edge of the swimming pool.
I made my way to the nearest bath, one of the spa's 10 hot tubs and saunas, when an exasperated attendant marched over. Suddenly I had left Venice and was firmly back in Austria. "Naked!" he barked, ordering me to strip off.
Still feeling bashful the following morning, I headed back out to the slopes and concentrated on a bum note of a different kind. Norbert soon had me standing tall with perfect posture. You'd never catch Bond skiing with his bottom sticking out, after all.
"Beautiful," Norbert later bellowed. I wasn't sure if he meant my skiing or the scenery, which never failed to please.
The day ended with a long, late and boozy lunch at Ice Q. It was difficult to tear myself away from the floor-to-ceiling windows to survey the menu in the stunning stone and oak dining room.
The restaurant, which opened last year, is headed by chef Patrick Schnedl who creates a fine dining menu to match the high altitude. Everything from the truffle honey to the apples for the flakey strudels is transported up by cable car.
I feasted on the delicious views of rumpled mountaintops in between mouthfuls of veal schnitzel with parsley potatoes and cranberries, washed down with a glass of Pino 3000, a smoky red created by three winemakers in three countries designed to mature and be enjoyed at altitude. Bond would most certainly have approved.
'Spectre' goes on general release in cinemas from 26 October.
Getting there
easyJet (0843 104 5000; easyJet.com) flies to Innsbruck from Gatwick. British Airways (0844 493 0787; ba.com) starts flights from Gatwick from 12 December.
Staying there
Das Central (00 43 5254 2260; central-soelden.com) has double rooms from €167, half board.
More info
Sőlden tourist board: soelden.com
Join our new commenting forum
Join thought-provoking conversations, follow other Independent readers and see their replies