Winter sports: In search of the high life
Based at the highest ski city in the alps, Arnie Wilson tackles the black runs of Serre Chevalier, then heads off on a nature trail to discover secrets beneath the snow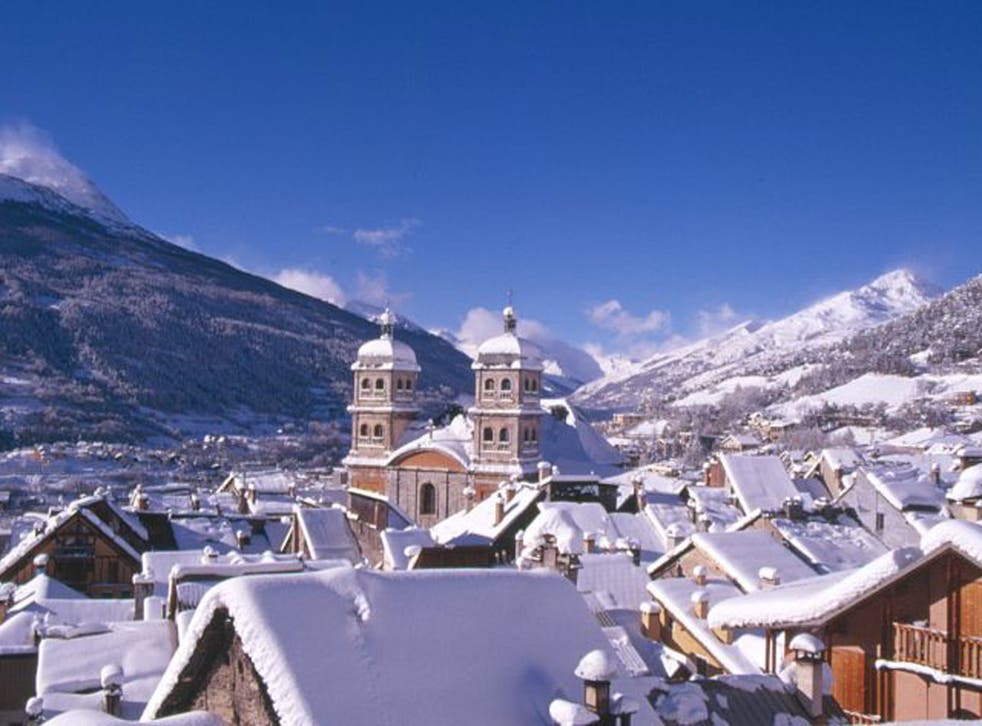 I always thought I'd skied in Briançon – at 4,350ft, the highest ski city in the Alps – but it turned out, when I finally got there, that I hadn't. My memory of its fascinating fortified historical centre, with steep and narrow streets, was based on a long-ago visit to neighbouring Serre Chevalier. And back then, Briançon – a commune where five valleys meet in the Hautes-Alpes département of the Provence-Alpes-Côte d'Azur region of south-eastern France – didn't really have any skiing of its own. What it did have was a gondola which accessed the Serre Chevalier slopes of Chantemerle, then the real gateway to the Serre Chevalier valley, and the link with the other two main ski villages: Villeneuve and Le Monêtier-les-Bains.
These days Briançon is an integral part of the Serre Chevalier ski network. As I discovered during my day out with Stéphane Simond, head of the Ecole du Ski Français in Briançon, there's some challenging skiing as you work your way to the end of the valley at Le Monêtier and back, especially if you take the time to ski down to each village en route rather than staying high. The long, steep black runs all the way down to the valley floor are pretty taxing. And it's no surprise to find that the tough run down to Chantemerle is named after Briançon's 1997 World Cup champion, Luc Alphand – or that after retiring from top-level skiing, he had another career as a racing driver.
Since ski racing started in nearby Montgenèvre in 1907, Briançon has bred a fair number of top-flight skiers, including Jules and Benjamin Melquiond, and Henri Bréchu. Other notable ski athletes include Nicolas Bonnet, a celebrated ski mountaineer and the cross-country skier Laure Barthélémy.
It's not often that your instructor takes you on a nature study tour after a hard day on the slopes, but tired as I was, I welcomed the chance to accompany Stéphane, a man who seemed to be as much inspired by the wildlife in the Hautes-Alpes as the skiing. I knew I'd been following an instructor with more on his mind than just skiing when we took our skis off in Le Monêtier-les-Bains and climbed up to a narrow ridge on a peak called Yret, from which he leant out above the abyss to pluck a small sprig of génépi, the Alpine plant used in the production of the celebrated absinthe-like liqueur. It was as if he had found a truffle buried in the snow. He was ecstatic: "It's the first time I've come across this in winter."
So when we'd finished exploring Serre Chevalier, it wasn't a complete surprise when he took me off up the valley – towards the wildly desolate Col du Lautaret in search of bouquetin (ibex). But after we'd toiled up a long, snaking mountain path above Le Lauzet at le Pont de l'Alpe, he was astonished to find they were not where they were supposed to be.
With his small but powerful binoculars he scanned both sides of the valley ... not a bouquetin to be seen. The only explanation he could come up with was that because of the unusually warm spell in late March, the snow had retreated to a higher elevation than usual and the animals had retreated with it – possibly to an adjacent valley. There was no sign of a snow top-up. Just one tiny cotton wool ball hung in a perfect blue sky.
His disappointment and puzzlement were short lived, however. There was much to be seen in spite of their absence. We didn't need binoculars to see the Mirage jet which came sweeping through the valley at low altitude. The pilot, said Stéphane, had some friends in the valley and was just dipping his wings in their direction.
After that excitement, Stéphane asked me whether I could I see the strange semicircles on the grass on the opposite side of the valley. Yes, now that he mentioned it, I could. They were a little like tiny crop circles. These "fairy rings", he explained, were caused by the nitrogen-heavy gases formed by decomposing materials. Mushrooms – which are visible signs that organic material is being broken down – sometimes grow within the circles. Oh yes, he knew his mushrooms. Indeed, he was anxious even as early as late March that there would be sufficient rainfall in the summer months to trigger good mushroom growth.
But my mushroom lesson was just the beginning. In quick succession, he pointed out a veritable galaxy of tiny wildlife gems that I would never have noticed on my own: perce-neige, a much more evocative French name for the English "snowdrops", edible nettles, tiny maple shoots, wild spinach and even the tracks of the campagnol – the tiny field mouse that travels under the snow in the mountains.
It was time for me to travel on too – a few miles back up the road to the Col de Montgenèvre. I think I was more tired by the nature ramble than the skiing. Apparently, exercising after skiing is known as active recovery – gentle exercise to let the muscles relax gradually. "Tomorrow, new legs," said Stéphane, reassuringly.
Travel Essentials
Staying there
Arnie Wilson was a guest of Peak Retreats (0844 576 0170; peakretreats.co.uk) which offers a week's self-catering at Résidence Aigle Bleu, close to the main cable car and a short walk to the centre of Briançon from £294pp based on five sharing the two-bedroom apartment. The price includes a FlexiPlus Eurotunnel crossing for a car and passenger.
More information: esf-briancon.com
Register for free to continue reading
Registration is a free and easy way to support our truly independent journalism
By registering, you will also enjoy limited access to Premium articles, exclusive newsletters, commenting, and virtual events with our leading journalists
Already have an account? sign in
Register for free to continue reading
Registration is a free and easy way to support our truly independent journalism
By registering, you will also enjoy limited access to Premium articles, exclusive newsletters, commenting, and virtual events with our leading journalists
Already have an account? sign in
Join our new commenting forum
Join thought-provoking conversations, follow other Independent readers and see their replies