The Independent's journalism is supported by our readers. When you purchase through links on our site, we may earn commission.
Piscos and mountain views: How to spend a weekend in Santiago
New direct flights mean Chile's cool capital is even closer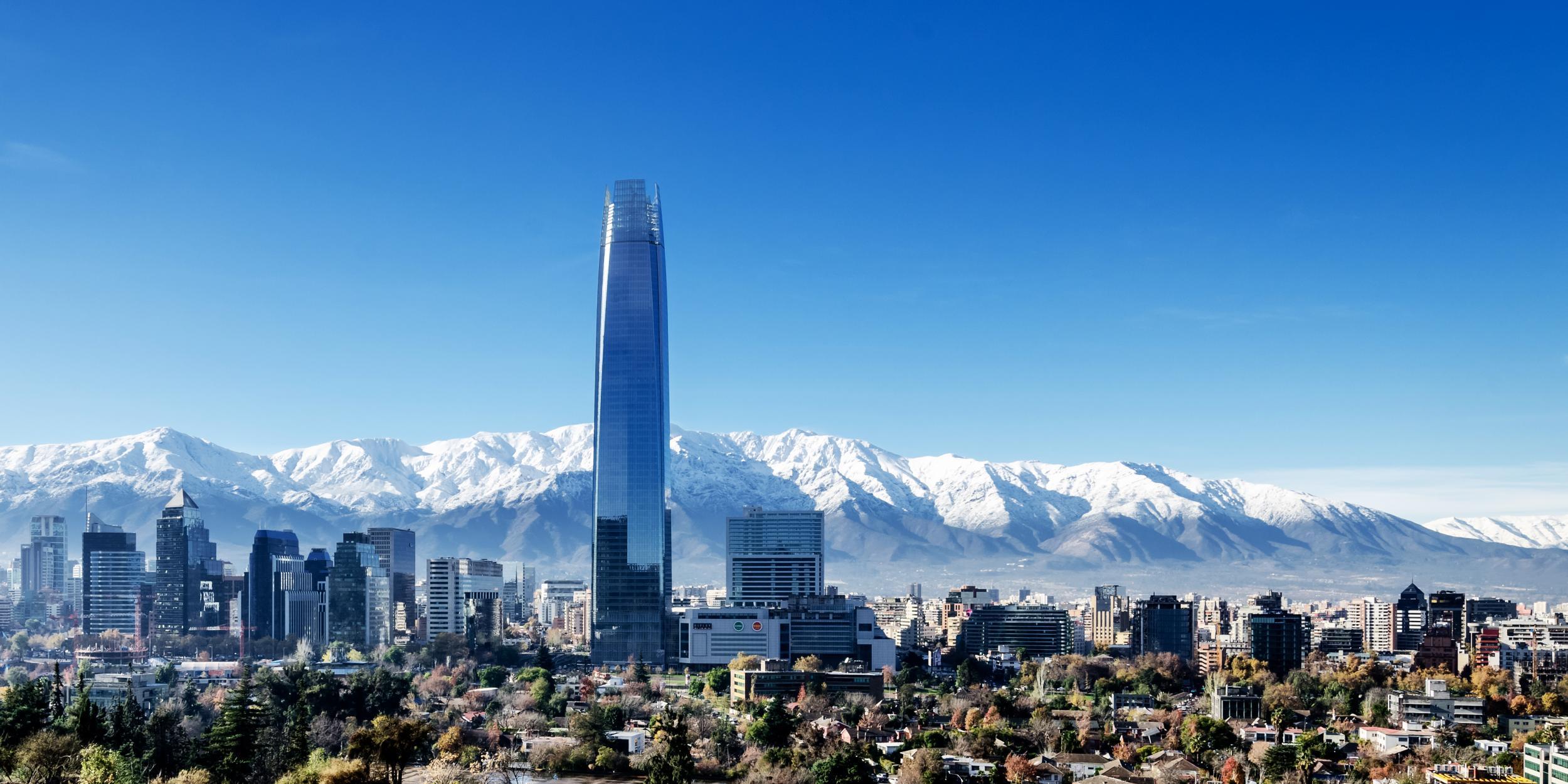 Why go now?
The leafy, Chilean capital is about to become easier to access thanks to new non-stop British Airways flights from Heathrow, the airline's longest route, which launches on 3 January.
Pinned more or less to the middle of this implausibly long sliver of South America (the country measures almost 4,300km north to south) Santiago is the hub from which travellers fly to the Atacama desert (north) or Patagonia (south). It is also within easy reach of the Pacific coast (90 minutes' drive west), the Andes (an hour away) and the country's best vineyards (scattered within two hours of the city). If you need any more reasons to visit, February is the height of summer, with daytime temperatures comfortably in the mid-20°Cs until April.
Get your bearings
The snow-dusted peaks of the Andes dominate the Santiago skyline to the east, providing a dramatic backdrop from all over the city. The historic centre remains the city's heart, while the skyscrapers of the financial district fan out towards the mountains.
Neighbourhoods are known as barrios; just a few blocks east of the centre you will find the gourmet hotspot Barrio Lastarria, and the café culture of Barrio Bellas Artes. From there, cross the Mapocho river, to the north, for lively nightlife in arty Bellavista.
There is a tourist office (1) in the central Plaza de Armas, which is open from 9am to 6pm on weekdays and 10am to 4pm at weekends.
The Metro has five, easy-to-use lines that criss-cross the city; buy tickets at the station kiosk or buy a rechargeable BIP! card for 1,550CLP (£1.90). One journey costs 610CLP off-peak or 740CLP during peak hours (7am-9am, 6pm-8pm).
£1 = 850-960 Chilean pesos (CLP), $1 = 650-710CLP
Day one
Take a view
Marvel at the mountainous backdrop from the lungs of the city, Parque Metropolitano. It is popular with runners and cyclists who head up to the Virgin Mary statue at the top of the 869m hill Cerro San Cristóbal (2) at weekends, while the less energetic can take a funicular train (10am-7pm, 2,000CLP return for adults, 1,500CLP return for children) from Estación Pio Nono (3).
Take a hike
For a snapshot of Chile's history, start at La Moneda (4) in the historic centre. This is the presidential palace where left-wing president Salvador Allende died in the 1973 coup d'etat led by General Augusto Pinochet. Book a free tour in advance; you can ask for tours in English and they operate each weekday at selected times between 9.30am and 6.30pm.
From here, head one block east then walk north on Bandera to find the Museo Chileno de Arte Precolombino (5) (closed Mondays) and admire beautiful pottery from Chile's pre-Columbian cultures.
Head north one block and turn right onto Catedral to find Plaza de Armas (1), the heart of the city since it was founded by Spaniard Pedro de Valdivia in 1541, and home to street sellers, colonial buildings and soaring Chilean palms. Continue east on Catedral and turn north on to Mosqueto to find the pretty Parque Forestal (6), and the national fine art museum, Bellas Artes (7) (closed Mondays).
Lunch on the run
The street José Victorino Lastarria gives its name to the trendy Lastarria district. Try lunch here, at Chipe Libre (8), where you can sample Chile's national drink, pisco – as well as several Peruvian piscos (both countries claim the drink as their own and make them using slightly different distillation methods) – plus well-executed northern Chilean and Peruvian dishes, from ceviche and empanadas to sautéed beef tenderloin.
Window shopping
Artisans sell everything from leather work to wood crafts and jewellery in adobe huts at Pueblito Los Dominicos (9). It is open daily from 10am-8pm.
An aperitif
Head to Bar The Clinic (10) for a drink with a political twist. Owned by a left-leaning satirical magazine of the same name, it is decorated with political cartoons and is a great place to try Patagonian microbrews as well as cocktails and Chile's bountiful wines.
Dine with the locals
Restaurante 040 (11) (closed Sundays and Mondays) is one of the city's most in-demand eateries, offering 12-course tasting menus celebrating local ingredients such as local clams served with pork scratchings and beetroot salsa, and hake churros with a parmesan dipping sauce. At 35,000CLP a head it is more than fairly priced. There is also the option to pair wines with each dish and customers can also head up to the speakeasy-style rooftop bar for a digestif.
Liguria (12) (closed Sundays), is a bistro with a quirky selection of vintage adverts and art on the walls, a buzzing bar area and waiters dressed in waistcoats and aprons. The food focuses on classic Chilean dishes such as saltwater clams with parmesan and hake with lentils. The wine list is extensive, too.
Day two
Sunday morning: out to brunch
The Peluquería Francesa, which translates as French hairdresser, may seem an unlikely place for lunch – particularly as it is still turning out Santiago's most-coiffed inhabitants – but within the elegant yellow and red brick 1925 building you will also find Boulevard Lavaud (13), a French-inspired eatery named after the founder of the original hairdresser in 1868. It is open from 11am-5pm on Sundays and from 9am-1am in the week and 9am-2am on Fridays and Saturdays, serving savoury crêpes, seafood, meats and salads in antique surroundings.
A walk in the park
You'll never tire of the mountain view in Santiago and central Cerro Santa Lucía (14) is another hilltop park where you can drink it all in. Stroll the pathways and stone staircases that wind their way past two bougainvillea-draped 19th-century forts, a church, fountains, monuments and lookout points (from 9am-8pm daily).
Take a ride
A stroll through the leafy barrio of Providencia is an enjoyable way to while away an hour or two. It is graced by wide, tree-lined boulevards and grand early 20th-century houses, while the main street, Avenida Providencia, is lined with relaxed bars and cafés. You can reach it by taking the clean, modern Metro to Pedro de Valdivia (15), then simply stroll south on any of the quieter streets.
Cultural afternoon
Chile's Nobel Prize-winning poet Pablo Neruda was a leading light of the left-wing movement in the 20th century and died shortly after the coup d'etat. The eccentric had a fascination with the sea and decorated his blue and yellow Santiago home in Bellavista (entry 6,000CLP; 10-6pm; closed Mondays) in the style of a boat and lighthouse. Named La Chascona (16) for his mistress who he called "the messy haired one", the house displays his lovelorn poetry and also reveals a tempestuous time in Chile's history.
The icing on the cake
The bustling food market La Vega (17) offers an authentic flavour of Chilean life and is open from 5am-5pm. Try the unusual Latin American fruits on sale such as the sweet chirimoya custard apple and maqui berries, once used by the Mapuche to make alcohol, and then head across the road to La Vega Chica (18) for a lunch of pastel de choclo (a meat and chicken dish covered in corn) or humitas (corn dough steamed in a banana leaf and filled with minced meat).
Travel essentials
Getting there
British Airways commences four flights per week from Heathrow to Santiago on 3 January. Alternative routes include Latam from Heathrow via Sao Paulo, Avianca from Heathrow via Bogota, Air Europa from Gatwick via Madrid and Air France from a range of UK airports via Paris.
Chile - from the desert to the sea
Arturo Merino Benítez International Airport (19) is located about 15km north-west of the city centre. Head to the official taxi stands in the arrivals hall where the fixed rate for a taxi to the city centre is about 22,000CLP and a shared drop-off is 7,000CLP.
There are also two bus lines operating routes to the city centre. Buses Centropuerto and TurBus Aeropuerto both charge 1,700CLP (£2) one way. They operate from 6am-11.30pm and take about half an hour.
Staying there
W Santiago (20) is set among the glittering skyscrapers of the Las Condes district with mountain views from the bedrooms as well as a rooftop pool and bar. Doubles from US$299 including breakfast.
The Aubrey (21) is set in a beautiful 1927-built mansion with 15 stylishly decorated rooms (bone inlay Indian chairs, antiques, brightly coloured and patterned textiles) pretty patios and a sunny pool area. Doubles from US$195 including breakfast.
Hotel Boutique Tremo (22) is set in an early 20th-century building and its understated white rooms are brightened with splashes of colour – some also have their own balcony. Doubles from 70,000CLP including breakfast.
More information
Click here to view tours and holidays in Central & South America, with Independent Holidays.
Join our commenting forum
Join thought-provoking conversations, follow other Independent readers and see their replies