The Independent's journalism is supported by our readers. When you purchase through links on our site, we may earn commission.
48 Hours in Lima: hotels, restaurants and places to visit in the Peruvian capital
South America's only coastal capital is easier to reach from today, with new flights from London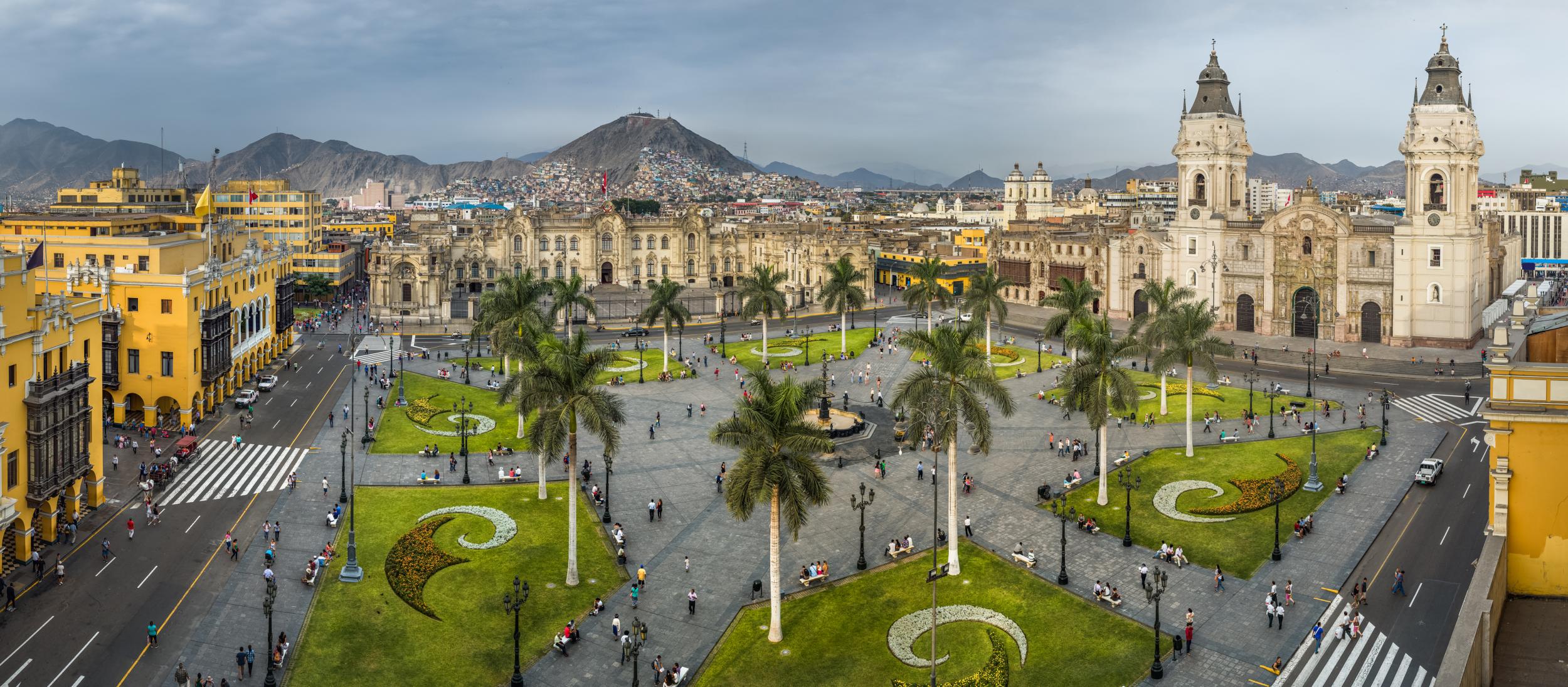 Travel essentials
Why go now?
The Peruvian capital just got a lot easier to reach thanks to direct British Airways (0344 493 0787; ba.com) flights from Gatwick, which launched today – the first since 1982.
It will surely be an enticing prospect for the legions of travellers that dream of visiting this mystical land, home to ancient civilisations, crumbling citadels and the world's most famous trek.
But don't head off on the Inca Trail bound for Machu Picchu too hastily – Lima is a city that surprises and delights. Furthermore, at this time of year, it hosts some of its most interesting religious and cultural events, including the Festival of the Crosses and the feasts of Saints Peter and Paul, on 29 June.
Touch down
Flights arrive at Jorge Chavez International Airport (1), located in the Callao district around 12km west of the city centre. The new BA service is scheduled to land at 8.25pm, when, in theory, the traffic choking Lima's notoriously congested streets should be starting to ease.
Indirect flights are offered by Air Europa (0871 423 0717; aireuropa.com) from Gatwick via Madrid, Iberia (0870 609 0500; iberia.com) from Gatwick and Heathrow via Madrid, Air France/KLM (0871 231 0000; klm.com) from a range of UK airports via Paris or Amsterdam and American Airlines (0844 499 7300; americanairlines.co.uk) from Heathrow via Miami.
From the airport, make life easier for yourself by avoiding the complicated public transport system and taking a taxi. A ride to Miraflores District will cost 60 Peruvian sols (S60) and take at least one hour while the Centro Histórico district is slightly cheaper at S50 but no speedier.
I travelled to Lima with Journey Latin America (020 3393 7286; journeylatinamerica.co.uk), which offers tailored trips throughout Peru.
Get your bearings
On first impressions, Lima is not the prettiest of cities. Home to flyovers, skyscrapers and 8 million people, it's blanketed under an almost perpetually grey sky between April and October – a fog known locally as garua – but there's colour beneath the gloom, with colonial squares, busy fishing communities and lively nightlife to discover.
Founded by Francisco Pizarro in 1535, it went onto become one of the most important cities in the Spanish Empire. Today, it is South America's only coastal capital. Its heart remains the atmospheric Centro Histórico, while the coastal and bohemian neighbourhoods of Miraflores and Barranco offer a flavour of Lima's contemporary flair.
The main tourist information office (2) is at Pasaje Santa Rosa 145 (peru.travel; 8.30am-5.30pm daily).
Check in
Plush rooms, a heavenly spa and sea views await at the Belmond Miraflores Park (3) on Avenida Malecon de la Reserva (00 51 1 610 4000; belmond.com), one of the most luxurious hotels in the city. Doubles start at US$418 room only.
Hotel B (4) at Saenz Pena 204 (00 51 1 206 0800; hotelb.pe) may well be Lima's most chic property, located in an early 20th-century Belle Epoque mansion in Barranco and filled with bold art. Doubles start at US$343, including breakfast.
Situated in the heart of Miraflores is Hostal El Patio (5) at Calle Ernesto Diez Canseco 341 (00 51 2 444 2107; hostalelpatio.net) with just 23 rooms and a charming terrace. Doubles from US$55, including breakfast.
Day one
Take a view
From up high in the historic heart of the city, downtown Lima is all cobbled streets, church spires, pretty squares and canary yellow colonial buildings and a pleasing contrast to its other less scenic parts. A good vantage point is the belltower in the Church and Monastery of Santo Domingo (6) at Jiron Camana 170 (00 51 1 426 5521; 9am-1pm; free).
Take a hike
From Santo Domingo church (6), wander south-east towards Plaza de Armas (also known as Plaza Mayor) (7), the grand birthplace of the city. Spanish explorer Francisco Pizarro laid the foundations of Lima here upon a site previously occupied by an indigenous tribe. Today it's home to some of the city's boldest architecture, most notably the baroque stone cathedral (8) (00 51 1 427 9647; S15) which stands on the square's eastern side and is renowned for its gold-plated altar.
From Plaza de Armas (7), stroll east along Jiron Junin, turning left on Jiron Lampa heading towards the narrow Rimac River and pretty Parque la Muralla (9) (9am-6pm daily). Step inside to see the bronze statue of Pizarro and the excavated ruins of the old city walls.
From there, it's a stone's throw to the mighty monastery of San Francisco (10) (00 51 1 426 7377; 9.30am-5.30pm daily; S15). Once inside, look out for the wooden staircase that dates back to 1625 and the spooky catacombs, formerly part of Lima's first cemeteries. It's believed more than 75,000 bodies were buried here.
Lunch on the run
El Cordano (11) at Ancash 202 (00 51 1 427 0181; restaurantecordano.com, 8am-8pm daily) is a cosy spot with a brown and white tiled floor and old photos of past customers, all suited and booted, framed lopsidedly on the walls. It opened in 1905 and has long been popular with Peruvian presidents. Try the parihuela, a fish stew with boiled yucca and red onions (S28).
Window shopping
There's no shortage of opportunities to pick up souvenirs and handicrafts in Lima. Choices range from Inca carvings to garments of the softest alpaca wool. Two recommended spots are the arcades around Santo Domingo church (6) or from the Mercado Indio market (12) on Avenida Petit Thouars (10am-8pm daily). Some shops are closed on Sunday.
An aperitif
It's widely agreed that the old-fashioned El Bolivarcito bar inside the Gran Hotel Bolivar (13) at Jiron de la Union 958 (00 51 1 427 2788; elbolivarcitoperu.com; 7am-9pm daily) is the place to go for the city's best pisco sour (S25) It was certainly among the first to serve it. This much loved drink – a sharp tipple of pisco (the national spirit), bitters and citrus juice - was rumoured to have been invented here by a barman in the early 20th century. The place is now dubbed the Cathedral of the pisco sour. Judge for yourself.
Dine with the locals
Feast on Amazonian delicacies at Amaz Restaurant (14) at Avenida La Paz 1079 (00 51 1 221 9393; amaz.com.pe; 12.30pm-11.30pm Monday-Saturday to 4.30pm Sunday). The menu features yucca empanadas and churros pishpirones – giant Amazonian snails stewed with chorizo and chilli. The jungle-themed interior, including bar stalls carved from fallen trunks from the world's largest rainforest, completes the experience. Mains from S60.
Fine dining Perroquet (15), part of the Country Club Hotel at Los Eucaliptos 50 (00 51 1 611 9007; hotelcountry.com; 6.30am-11.30pm daily), is regarded as one of the best restaurants in South America. Highlights of the menu include zesty sea bass with mashed corn. Mains from S70.
Day two
Sunday morning: go to church
By now, having explored the Centro Histórico neighbourhood, you'll have already seen the cathedral (8) on Plaza de Armas, so head instead to arty Barranco, famed for its pretty central square with colourful flowerbeds and colonial buildings.
La Iglesia Ermita (16) - located beside the wooden and well-known Bridge of Sighs footbridge built over a ravine in 1876 - was originally a small chapel used by local fishermen but was rebuilt after being burnt to the ground during the Chilean invasion in 1881. It's closed to the public but its handsome mustard-coloured façade and twin belltowers are worth admiring from outside.
Out to brunch
Across the road from Parque Municipal, Barranco's charming central square, and housed in a train wagon – one of the first to come to Peru from Europe in 1909 – is Café Expreso Virgen de Guadalupe (17) at Avenida San Martin 16 (00 51 1 252 8907; 9am-2am daily). Secure a small marble table in the charming interior, with stained glass windows, and order an omelette with cheese and mushrooms (S16) and a cup of coca tea (S7) or, perhaps, a Machu Picchu cocktail of orange juice, grenadine and, of course, pisco (S21).
Cultural afternoon
See another side to Peru's most celebrated contemporary photographer, Mario Testino, at Mate (18) at Avenida Pedro de Osma 409 (00 51 1 251 7755; mate.pe; 10am-7pm, closed Monday; S10), the museum dedicated to his work including portraits of stars such as Kate Moss, Princess Diana and the Rolling Stones. The Alta Moda collection focuses on Peruvians local to the Andes around Cusco in festive costume.
Alternatively go back in time, to the pre-Columbian days at Museo Larco (19) at Avenida Bolivar 1515 (00 51 1 461 1312; museolarco.org; 9am-10pm daily; S30). Housed in a grand, former mansion and charting 5,000 years of history, its exhibits include erotic art and ancient archaeological finds as well as jewellery and textiles. Don't miss the Sacrifice Ceremony room detailing the unsavoury custom of spilling blood to appease the Gods in centuries gone by.
A walk in the park
Limeños (locals from Lima) have been fond of Parque de la Reserva (20) located between Avenida Arquipa and Paseo de la Republica (00 51 1 331 0353; parquedelareserva.com.pe; Tuesday-Sunday, 3pm-10.30pm; S4) since it opened in 1929.
These days it's more popular for the synchronised light show that takes place in the 13 fountains that dance to Peruvian music each night at 7.15pm, 8.15pm and 9.30pm. It remains a pleasant spot to stroll outside of these times, its eight hectares filled with large lawns and palm trees.
Icing on the cake
The best ceviche in town? Opinions vary but the busy stands within Mercado Central (21) on Jiron Ucayali (8am-6.30pm daily) are testament to the quality of the food. Choose from the freshest grouper, tuna and tilapia drizzled copiously with zingy limes (S15) and washed down with a papaya juice (S6).
The conversion rate at the time of publishing was 21 Peruvian sols / £1 and US$1.4/£1
Join our commenting forum
Join thought-provoking conversations, follow other Independent readers and see their replies