The Independent's journalism is supported by our readers. When you purchase through links on our site, we may earn commission.
Ten great places to visit in Miami
Turn up the heat with a winter escape to Florida's buzziest city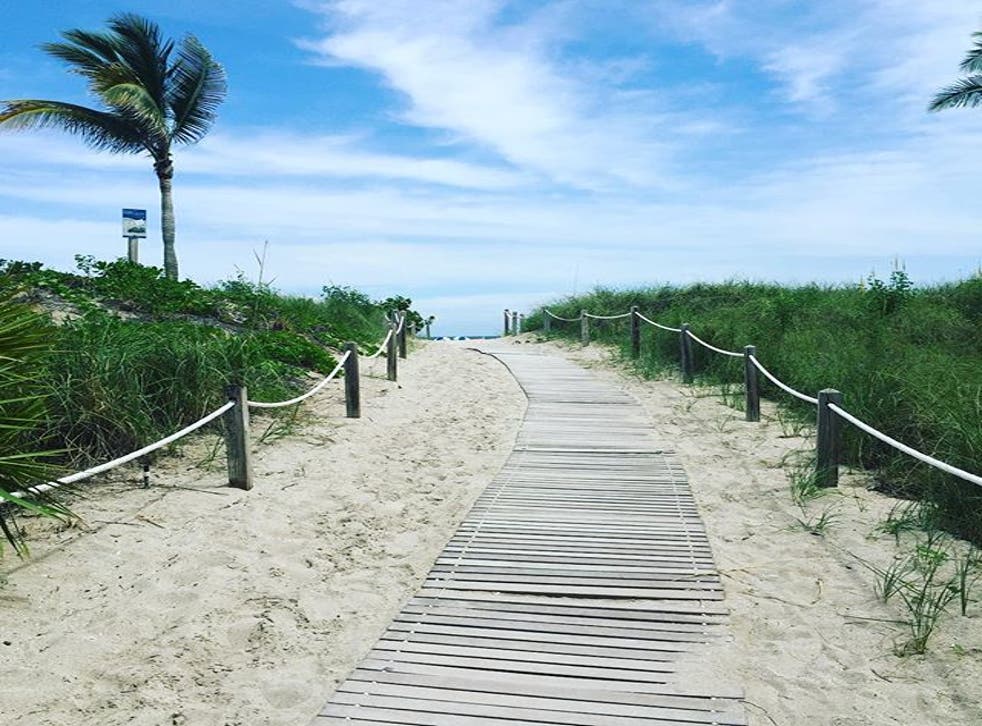 With January temperatures hovering in the mid 20Cs and a flight time of around 10 hours from the UK, Miami makes for an alluring winter escape. As the Sunshine State's most populous city, there is a lot to pack into a break here, from South Beach's Art Deco district to Cuban communities in Little Havana, the Mediterranean Revival architecture of Coral Gables and glittering Downtown, now emerging as a rival to the Beach. But if your sights are set on sun and sea, look no further than South Beach, with its dazzling architecture, beautiful beaches and buzzing nightlife. Here are some highlights in South Beach and beyond.
​Loews Miami Beach Hotel
This five-star treat is large (opened in 1998, it was the first major hotel to be constructed in Miami in 30 years and comprises 700 rooms), but homely, with plenty of Art Deco flourishes restored in the original part of the building, formerly the St Moritz hotel. From the decadent lobby to vast ballrooms, everything is on a grand scale. Request a sea view room to wake up to see the sun rise over the Atlantic. Rooms are decorated in warm colours while at ground level there's a palm-shaded pool and access to sun loungers on the white sandy beach across the road.
Treat yourself to a day in one of the poolside Soak Cabanas - your own designated area with butler service, Apple TV, DVD, food and drink service, sundeck and ocean views plus a marble bathroom. If you want to get out of the sun for a while, it's a real treat.
Double rooms start at $499 (£356) per night, cabanas at $500 (£357) per day for up to six guests (loewshotels.com).
The Fontainebleau - Lapis Spa
The Fontainbleau hotel is a spectacular blend of Golden Era glamour and modern luxury, and Frank Sinatra was once a guest. In fact, there's currently a gallery of photos of Ol' Blue Eyes at the hotel on display marking his 100th birthday. Deep within the hotel, the Lapis Spa it is a welcome retreat. The massage therapists are excellent and you will leave your treatment room feeling as light as a feather.
The mineral-enriched bath is a luxury, heated to 40 degrees celsius and infused with nutrients to restore balance to your skin. Another favourite is the Bleau Rain Room. Lie face down in a blue hazy room while rain-like water showers down on you giving you a surprisingly relaxing massage.
A Day at Fontainebleau package costs $175 (£125)pp (fontainebleau.com/spa).
Gianni's at The Villa - The Versace Mansion
The former mansion of the late Italian fashion designer, Gianni Versace, is now a boutique hotel and restaurant. After Versace's death, The Villa became a private club and since 2009 it has operated as a luxury hotel and restaurant. The central courtyard is beautiful, with its secret-looking staircases going up to the bedrooms on a further two floors (one of which was officially named Madonna's room and the only bedroom to contain a bath).
While a night in Gianni's former bedroom will set you back $10,000 (£7,140) a night, the restaurant and bar are more accessible and offer a lovely setting for an evening's indulgence. The barman mixes out of this world cocktails such as Mosaic's Mojito or the Empire Martini. Dishes such as seared Maine lobster and lamb chops with truffle-mashed potato are reasonably priced at around $35-50 each (vmmiamibeach.com).
The Perez Art Museum
On the waterfront in Downtown Miami, The Perez Art Museum is dedicated to contemporary art of the 20th and 21st centuries. The Museum also emphasizes artists and projects that engage with traditions from the United States, the Caribbean, and Latin America, and is particularly attuned to the work of local artists and designers
The museum moved to its acclaimed, Herzog & de Mueron-designed facility overlooking Biscayne Bay in Museum Park in 2013 and features work from artists such as Cuban "post-postmodernist" Consuelo Castaneda. An ideal way to spend a few hours, especially if you're unlucky enough to get a spell of rain (pamm.org).
The Regent Cocktail Club at the Gale South Beach
Since cocktails are likely to be the main tipple during your stay in Miami, make time for one or two at The Regent Cocktail Club, a warm and inviting oasis just steps from the hustle and bustle of South Beach that references the hotel's 1941 glamorous origins.
The Gale South Beach & Regent Hotel were once two trendsetting buildings. Architect L Murray Dixon had the unique vision to build two venues of Tropical Art Deco fashion; a style the pioneer is still today credited with developing. In 1964 the sister properties were linked by a bridge.
The bar is rich with oak floors and wall panels, with ornate chandeliers reflecting light into this warm, cosy nook. Be sure to order the El Diablo or the Tipperary. Cocktails start from $14/£10 (regentcocktailclub.com).
FDR at The Delano
This intimate two-room nightclub sits underneath the elegant Delano Hotel. The celeb hotspot has a trendy, vibrant atmosphere, with Fridays tending to attract a younger crowd (the clue is in the name 'Forever Young Fridays'); Saturday is a little less manic. The Delano is well worth a daytime visit, too. Its outdoor pool and restaurant, Bianca, are perfect for a Sunday brunch and restorative day in the sunshine (morganshotelgroup.com).
The News Café
This quaint sidewalk café on Ocean Drive in the Art Deco District, overlooks the beach and is open 24 hours a day. You could almost be in France or Italy as you listen to classical music and watch the world go by. In fact, it was the last place Gianni Versace visited before he was tragically murdered.
It's a fantastic place to go for breakfast to avoid the high cost of hotel options. The French toast along with a coffee is delicious or if you prefer lunch, the burgers are quite special. A very relaxed place overlooking the ocean that feels a far cry from the other tourist spots on the strip (newscafe.com).
The Broken Shaker at The Freehand Hostel
A shining example of the new generation of hostels, The Freehand has won numerous awards since it opened in 2012, including Best American Hotel Bar. Its vintage-tropical bar is popular for its cocktails made from garden herbs such as parsley, basil and rosemary. The adjoining restaurant Twenty Seven is a lovely, casual eatery serving both sharing and bigger plates. The atmosphere is young and buzzing. Try a Scumdog Millionaire (Bacardi with kumquat-infused brandy, lime and sloe liqueur) for $12/£8.60 (thefreehand.com).
Havana 1957
Española Way in South Beach, with its Spanish colonial architecture, is packed with quality restaurants serving various Latin American cuisines. Havana 1957 is one of the best. It's always crowded and buzzing with a queue of eager diners spilling on to the pavement. However, once you get a table either outside or in, you'll be glad you waited. Waitresses wear traditional Cuban dress and will give you a taste of Fifties Cuba. The Havana 1957 Sandwich is something you will go back for over and over again. It contains traditional roasted chicken in a delicious Cuban gravy, Cuban bread, lettuce and tomato. Seems simple, but you will never find anything like it again (havana1957.com).
Boat tour of Miami
The best way to see this waterfront city is undoubtedly from the water. Take a tour on a two-level yacht from Bayside Market in Downtown Miami (the tour company will pick you up from your hotel) to see some of Miami's best sights. The cruise is narrated by a guide who will point out highlights, including a trip to Star Island, home to celebrity mansions belonging to the likes of Gloria Estefan, Will Smith and Julio Iglesias. The boat cruises around Biscayne Bay and includes great views of Miami Beach. Try and sit on the top deck and don't get roped in to doing more than one tour. A one-and-a-half hour trip costs $28/£20 (miamitourcompany.com).
Register for free to continue reading
Registration is a free and easy way to support our truly independent journalism
By registering, you will also enjoy limited access to Premium articles, exclusive newsletters, commenting, and virtual events with our leading journalists
Already have an account? sign in
Register for free to continue reading
Registration is a free and easy way to support our truly independent journalism
By registering, you will also enjoy limited access to Premium articles, exclusive newsletters, commenting, and virtual events with our leading journalists
Already have an account? sign in
Join our new commenting forum
Join thought-provoking conversations, follow other Independent readers and see their replies