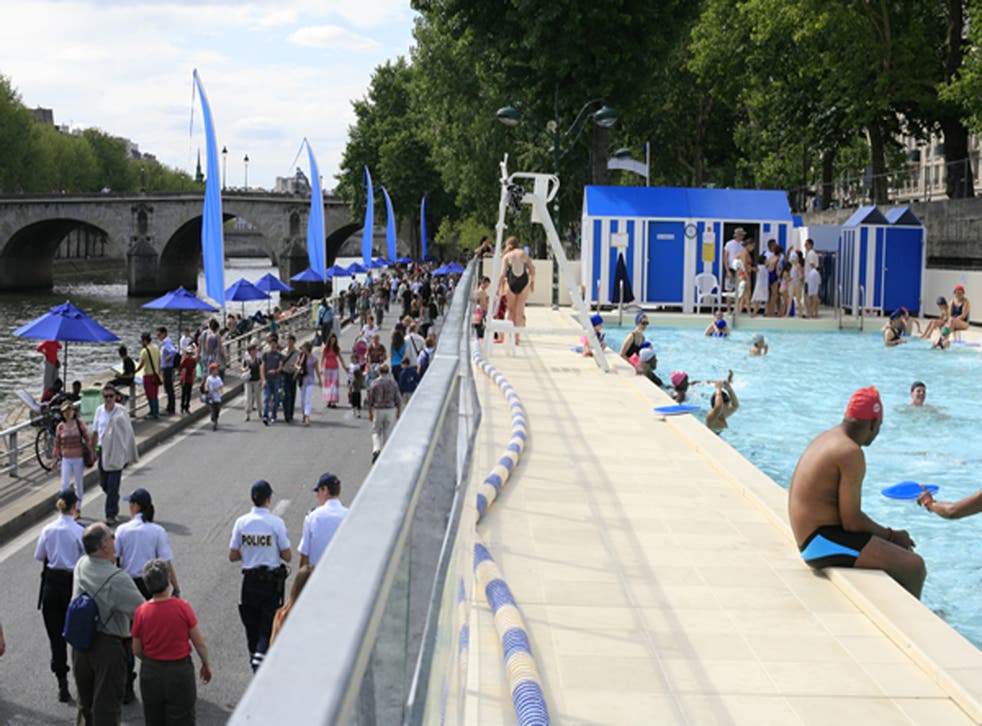 The 5 best urban beaches around the world
Who says the coast has to have all the summer fun? Cities are getting in on the act too
It's that time of year in Paris when the city's riversides are transformed from simple promenades to full-blown seaside resorts.
Sand and palm trees, shipped in and deck chairs are set up for the annual Paris Plages event, which starts on 20 July and runs until the middle of August along the Georges-Pompidou Expressway and the La Villette Canal Basin. You won't even have to leave the city to dip your toes in the sand and sprawl out with a cold drink with friends, at the free, daily attraction that has been part of the city's summer scene for over a decade.
And it's not just Paris that has all the fun, either.
Back again this year at the Roundhouse in London is Camden Beach. Open from the 17th July - 23rd August, the terrace outside the iconic music venue is transformed by 150 tonnes of sand which sets the scene for pop-up restaurants, cocktail bars and of course, beach huts. While you don't need to book tickets for Camden Beach, it is first come first serve, so arrive early to bag a deck chair.
During the summer months, the Quai des Péniches in the city of Brussels is transformed into a fun and fabulous beach scene. Grab a Belgian beer and relax among the palm trees in a classic striped deckchair. The beach is open from the 6th July - 9th August and while it's free to lounge on the beach, some of the events may have an entry fee.
What was once an industrial estate is now one of Toronto's urban beaches. While you wile away the afternoon, children can play in the beach's maple leaf themed water feature. As well as the beach, there's a nearby plaza with plenty of performance space for entertaining weary beach goers. The beach is open all year round in Toronto's eastern East Bayfront. Luckily, this beach front is free for the public.
Happy Hour at this party beach is from 6-7pm, so get down and grab yourself a deck chair before it gets too busy. For those who are into it, yoga takes place on the sand on Sunday mornings and those addicted to their smartphones won't have to worry, as the beach has phone chargers available. Get Instagram at the ready. Strandbar is open from the 3rd April - 29th September in Herrmann Park. While you don't have to pay to enter, it is a beach bar, so expect to be buying a few drinks.
Not only is this a sandy, city beach but it also is home to a market, event hall and a bar. There is also Roest's café, so no need to worry about going hungry while you recline with a book. For families, many of the events held at the beach are child friendly, such as film-screenings. Based in Oostenburg, Roest is open all year round and while it's free to hang out there, you may have to buy tickets for specific events.
Join our new commenting forum
Join thought-provoking conversations, follow other Independent readers and see their replies