The Independent's journalism is supported by our readers. When you purchase through links on our site, we may earn commission.
Impossible complaints, grooming, and dangling feet: Flight attendants' strangest experiences
"It's like as soon as they get on the plane they are in a bubble all alone,"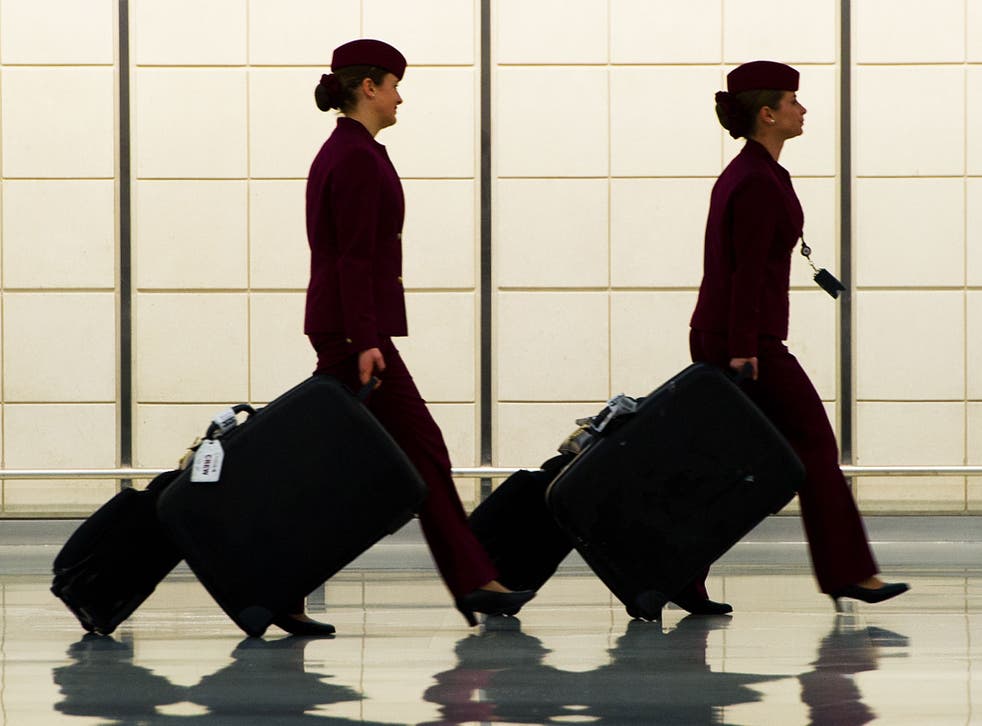 When passengers board aeroplanes and the aircraft takes to the skies, social norms go out of the window and anything goes – or at least that's what flight attendants' eye-opening accounts suggest.
From impossible complaints to unsanitary behaviour, flight attendants largely have to grit their teeth and remain professional regardless of what they're faced with.
"People don't have a filter with us," veteran flight attendant Emily Witkop told Yahoo Travel.
"They have that comfort level with us where they'll say anything."
Here are some of the strangest things that those who work on-board commercial flights have been forced to deal with.
Demanding that the engine noise stops
A flight attendant who identifies herself only as "Betty" told Yahoo Travel that one woman ordered her to make that "blasted noise" to stop.
"I think you are referring to the engines, and we better all pray that they don't stop," she replied.
Making soup in the toilet
"Guys, the water lines haven't ever been cleaned – ever," former flight attendant Heather Wilde wrote on Quora.
Passengers relieving and grooming themselves mid-flight
"It's like as soon as they get on the plane they are in a bubble all alone," wrote Ms Wilde.
She witnessed passengers biting their nails, breaking wind and popping acne during flights.
Fellow flight attendant Liz Corcoran wrote on Quora that someone once blew their nose on a linen napkin, and handed it to her despite the fact she didn't have a tray and wasn't wearing gloves.
Another passenger asked Ms Corcoran to wait as she pulled strands of hear from her head, balled them up and put them in an empty teacup on her tray.
Treating the plane like a tip
The Passenger Shaming Instagram and Facebook pages offer disgustingly visual proof of how inconsiderate some passengers can be, particularly when it comes to leaving litter behind.
Images on the site show packaging and food strewn across aisles, and bloody bandages stuffed into seats.
Feet anywhere and everywhere
The Passenger Shaming pages also reveal how people feet are unleased on flights. Judging by these photos, it is hardly surprising that a recent study revealed that tray tables are the dirtiest places on aeroplanes - collecting more bacteria than the lavatory flush button.
Passengers "hanging out" in the galley
The Huffington Post recently asked memebers of the Flight Attendant Career Connection Facebook page to shed light on irritating mid-flight behaviour, with user Nia Monet flagging that she couldn't understand why passengers insist on taking up the galley.
"Do I come to your office to do yoga and hang around?!" she wrote on the page.
Register for free to continue reading
Registration is a free and easy way to support our truly independent journalism
By registering, you will also enjoy limited access to Premium articles, exclusive newsletters, commenting, and virtual events with our leading journalists
Already have an account? sign in
Register for free to continue reading
Registration is a free and easy way to support our truly independent journalism
By registering, you will also enjoy limited access to Premium articles, exclusive newsletters, commenting, and virtual events with our leading journalists
Already have an account? sign in
Join our new commenting forum
Join thought-provoking conversations, follow other Independent readers and see their replies