10 B&Bs where you get your own building

Show all 5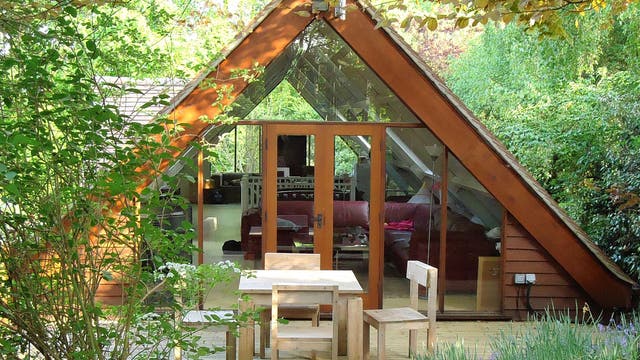 10 B&Bs where you get your own building
Alastair Sawday's new Special Places to Stay British Bed & Breakfast guide goes on sale this week. Here, Alastair picks 10 B&Bs where you get your very own building.
Tuesday 03 September 2013 16:44
comments
Dale End House, Gratton, Bakewell, Derbyshire
Your quarters are in the former milking parlour of the listed farmhouse and it certainly has scrubbed up nicely. The ground-floor bedroom has a finely dressed antique bed and magnificent chandelier while the well-equipped kitchen is a boon if you don't fancy venturing out for supper. Friendly, helpful Sarah takes orders for breakfasts – eggs from her hens, local sausages and bacon – and delivers to your door. No open fire but cosy underfloor heating warms you after a blustery yomp. Bring your four-legged friends – canine or equine – to this happy house.
From £85 per night based on two sharing, includes breakfast - www.daleendhouse.co.uk - 01629 650380
Ben's Cabin at Broughton House, Field Broughton, Grange-over-Sands, Cumbria
Down lanes edged with dry stone walls and hedges, with distant views of the Lakeland mountains... what peace! Tucked away in the corner of the garden Ben's Cabin, with its twin bedroom, shower room and little kitchen offers snug simplicity and adjoining yurt provides a wonderful relaxation space. Wake to fresh juice, pancakes, homemade bread, local bacon and sausages, smoked salmon and scrambled eggs. Muffin the dog, Minty the cat, a host of hens and a large garden all add to the charm. Perfect for cycling, a hop from lake Windermere and eating out in pretty Cartmel is a treat.
From £60 per night for the cabin, based on 2 sharing, includes breakfast - www.broughtonhousecartmel.co.uk - 01539 536439 
HotelForTwo, Tobermory, Isle of Mull, Argyll & Bute
For friends or for two: your own stone cottage sitting in the middle of a terrace of jaunty colours. The door opens to Julia, who makes you feel immediately at home; an ex-foreign correspondent, she has oodles of panache and an easy charm. Her home is intimate, cosy, filled with tapestries, antiques, chintzy sofas, curious artwork and a tousle of books; bedrooms (one up, one down) come in cottage chic with gorgeous bed linen. Julia lives in a bothy at the top of the garden, so the house is all yours with delicious meals provided too. The bay bursts with boats and Mull is a treat: wildlife, whale tours, castles, good eating.
From £80 per night based on two sharing, includes breakfast - www.hotelfortwo.co.uk  - 07990 940562
Mayes Park Lodge, Warnham, Horsham, Sussex
It's nicely private here, up a bird-filled lane, and you stay in a stunning converted dairy near to the Lodge where charming owners James and Hannah live. Two super bedrooms are filled with cleverly sourced furniture – if you fall in love with anything you can buy it and take it home! Beds are deeply comfy, linen is crisp, fabrics are luxurious and the bathroom is immaculate with underfloor heating and Moroccan tiles. It's all on one floor with a lovely shared sitting/dining room; an organic breakfast is brought to you at a time you choose so you can snooze for longer. Perfect for friends.
From £105 per night based on two sharing, includes breakfast - www.mayespark.com / 01403 218879
Danyfan Carriage, Danyfan, Cwmgwdi, Brecon, Powys
Emma and Stevie fled London a few years ago and landed in the Brecon Beacons. Sympathetically restored, their railway carriage is from another age; the grand wicker headboard and the burnished walnut wardrobe are welcome additions (so are the tea lights and the Scrabble). This off-grid space comes with its own piping hot shower and compost loo a step away. A wood-burner keeps the bedroom cosy, the bed has mountains of soft pillows, lanterns give a gentle light and two gas rings make cooking a doddle. Emma leaves you a sourdough loaf, milk, tea, coffee and local bacon] to whip up your own breakfast.
From £80 per night based on two sharing, includes breakfast (minimum 2 night booking) – www.canopyandstars.co.uk/danyfan - 01275 395 447
The Threshing Barn, Privett, Hampshire
You are on the edge of the rolling Meon valley in the South Downs National Park. The approach through hedge-lined lanes is bucolic and the beautifully restored barn sits on a conservation award-winning farm run by John. You have quiet independence in the glorious bothy – a beamed and light space with a big walk-in shower. Find flowers, a comfortable bed and feather and down pillows. Guests are greeted with tea, breakfast is a local or home-grown extravaganza (check out Emma's borage honey) and views are to one of the tallest village church spires in Hampshire.
From £100 per night based on two sharing, including breakfast – www.thethreshingbarn.co.uk - 01730 828382
Sherborne Forge, Sherborne, Cheltenham, Gloucestershire
You are in a quiet Cotswolds corner, in your own restored cottage across the garden from the owner's 17th-century house, overlooking Sherborne Brook. Walk in to a large living space with a high beamed ceiling, comfy sofas, bright rugs, antiques, books and a dining table and chairs. You have your own small kitchen for toast and tea; Karen brings over a delicious organic breakfast, served on a private terrace on sunny mornings. Your bedroom has pretty fabrics and fine linen; the bathroom has a big tub for long soaks. Fish for trout in the brook or head off for glorious walks.
From £100 per night based on two sharing, including breakfast –  www.sherborneforge.co.uk  - 01451 844286
55a North Road, Combe Down, Bath
Hidden down a narrow drive just a 25-minute walk from all that the centre of Bath has to offer and a short stroll to the very fine Prior Park, is a 1980s house full of surprises. Delightful owners Natalie and Guy offer you two elegant self-contained studios each with its own entrance, kitchen and wonderfully soothing mix of ultra-chic and traditional. Be spoiled by new oak floors, wool carpets, limestone tiles, old Irish bedheads and bed linen as soft as a cloud. And, if you wish them, the most amazing breakfasts brought to your room – lavish, inventive and delicious.
From £120 per night based on two sharing, including breakfast – www.55anorthroad.co.uk - 01225 835593
Ightham, Ightham, Sevenoaks, Kent
Lord it through electric oak gates to find B&B in your own modern barn. Gardening enthusiast Caroline's house is close but not hugely visible: you're wonderfully independent. Bedrooms on the ground floor are eclectic and appealing, with pine floors, dazzling white walls and slatted wooden blinds for a moody light; the bathroom is big and contemporary with a walk-in shower. Upstairs: an enormous space for sitting, eating, and glass doors on to a terrace for outdoor fun. Breakfast is delivered: eggs from the hens, pancakes, French toast. Great walks start from the door; return for supper – Caroline loves to cook.
From £115 per night based on two sharing, including breakfast – www.ighthambedandbreakfast.co.uk  - 01732 884359
Stonebridge, Banwell, Somerset
A country house with scrumptious food, a friendly black labrador and croquet on the lawn. When their daughters flew the nest, Liz and Richard opened an independent wing of their listed house: perfect for families and couples. You have two pretty bedrooms (one up, one down) with country furniture and super bathrooms. In winter, a wood-burner keeps your little sitting room cosy; in summer, laze in a sea of flowers. You feast on local eggs, homemade bread and delicious dinners with garden veg. Just off the village road, it's close to Bristol airport, the M5 and Wells. And with hosts this friendly you can't go wrong.
From £75 per night, based on two sharing, includes breakfast – www.stonebridgebandb.co.uk / 01934 823518
Sawday's Special Places to Stay British Bed & Breakfast is out now priced at £15.99. For more information on any of these places or to buy a copy of the book go to www.sawdays.co.uk.
Join our new commenting forum
Join thought-provoking conversations, follow other Independent readers and see their replies