The Independent's journalism is supported by our readers. When you purchase through links on our site, we may earn commission.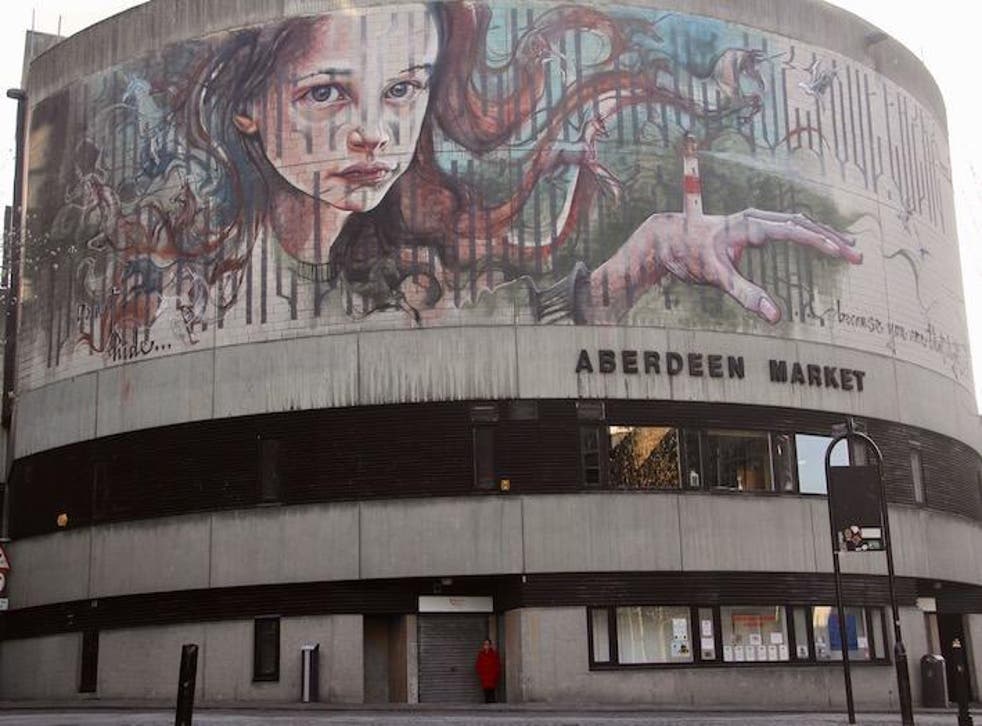 Aberdeen: Scotland's oil powerhouse finds its street art soul
Sterile? Not anymore. In the middle of economic downturn, Aberdeen is reinventing itself as Scotland's street art hub
"It's very un-Aberdeen this," a woman tells me as we walk through a dark tunnel. "I'm so excited, I'm almost tearful." Long used only by delivery drivers and the odd pigeon, today the tunnel is home to two unlikely residents: classical-looking images of children, reproduced by street artist Julien de Casabianca.
"These are places you would never normally go," she says. "Dead spaces are coming alive". The portraits – paste-ups of masterworks from the Aberdeen Art Gallery, reproduced by Casabianca for this most unlikely of settings – will remain as long as nature will let them, while the gallery itself reopens later this year after extensive refurbishments. Aberdeen, AKA 'Granite City', has never exactly been an art hub – but things are changing, now, up in the supposedly grim north.
When oil was discovered in the North Sea in the 1970s, Aberdeen went from a declining port and fishing city to having the highest concentration of millionaires in the UK. Not that that really did much for its street cred – money never did buy taste. Aberdeen was named Scotland's most dismal city in 2015; the Rough Guide to Scotland calls it "soulless" and "existing mainly as a departure point for the transient population who live on the oil platforms out to sea". That's not as bad as it used to be; the previous edition added that it exuded "corporate sterility".
Not that I can see much evidence of that today. Kaleidoscopic murals, neon-bright stencil figures and even poetry have appeared across the city's walls over the past week. These new pieces of public art are the work of 11 international street artists who have been invited to Aberdeen as part of NuArt Festival.
Aberdeen's arty reinvention

Show all 14
That NuArt, a world-renowned street art festival, would set up shop here last weekend may seem odd, but it's an indication of a 'new' Aberdeen as the impact of the oil price collapse hits home and the city contemplates a future beyond the industry upon which its economy has depended for decades.
There's a template for this oil capital-turned boho arts town, and it lies on the other side of the North Sea. Stavanger, Aberdeen's Norwegian twin city, has long been more adept at diversifying its economics. 2001 saw the first edition of NuArt; it's been held every year since then.
NuArt's Aberdeen outing was the first time it had ever left Norway – and it's not just the sibling relationship that brought it here. Founder Martyn Reed has had many invitations to bring NuArt to other cities, but he's turned them all down, he tells me, because he likes a challenge. "Cities that are already flooded with this culture don't need us to go in to introduce it," he says. Aberdeen, however, is not.
Like Aberdeen, Stavanger "is not one of the world's great metropolises" says Reed and, as in Stavanger, the oil price crash has seen rising unemployment. Supply boats sit idle in the water, waiting out the crisis. Aberdeen has been here before, but the downturn seems to be lasting a little longer this time – two years and counting. That's why it's time for another reinvention.
"We are going through a transition here in the city," says Adrian Watson, chief executive of Aberdeen Inspired – a private company that collects mandatory levies towards "making the city centre more attractive" from local businesses. "We need to look at ourselves and revisit what we're about as a city. Aberdeen has done very well out of oil and gas but perhaps now we need to diversify."
And so it is. Last year Aberdeen Inspired launched the Painted Doors project – part of its Summer of Art – recruiting local artists to paint doorways and brighten up this grey city. This month also brings the Look Again visual arts and design festival, which will include public sculptures, a pop-up record store and performance art. It's part of a new network of 10 city festivals – from a light festival to others celebrating jazz and even traditional Scottish boats – held throughout the year.
It's been a long time coming. Jon Reid once dabbled in street art here, but gave up after being arrested. Now he runs a blog, Mood of Collapse, aiming to support local artists and react "to people saying that nothing ever happens in Aberdeen".
Maybe with the arrival of NuArt, he says, the city will "see that what I was trying to do wasn't about making a mess or damaging property but about trying to improve things. I think maybe people will feel a bit more inspired".
The city certainly seems inspired – delighted, too. People queue patiently for NuArt's sold-out UK premiere of Saving Banksy; one woman spots me looking at a mural and calls me over to let me know there are two more round the corner. The festival's first street art tour attracts more than 300 people, huddling together to endure Aberdeen's ever-changing weather patterns. It's this tour that takes us into the tunnel, emerging at The Green. Before the oil arrived, this used to be a market. These days it's just a delivery route; but now, it's an exhibition space too.
Today, a mural by the German duo Herakut covers the façade of Aberdeen Market, possibly the Granite City's most-maligned concrete building. The whimsical image of a child, surrounded by such Scottish iconography as unicorns, a lighthouse and seagulls, gazes across The Green where crowds now gather, putting the heart back into the city.
Many of NuArt's artists make visual references to local scenes in their works. Alice Pasquini, from Italy, depicts a couple looking out towards the harbour; Norwegian Martin Whatson has painted a golfer, and Belgian Jaune's signature stencils of bin men (a nod to his former occupation) wear kilts. The miniscule scale of Jaune's stencils, and of Isaac Cordal's cement figures of angst-ridden businessmen, most of which are not included on NuArt's official street art map, requires visitors and locals alike to look closer than ever at the city.
NuArt may be over – it was a single weekend – but the works of art will stay in place for as long as the weather (or local taggers) leaves them alone.
Below the bridge on Union Street, Portuguese artist Add Fuel has left a mural riffing on the azulejo tiles he typically works with. Reid tipped him off to the tiled entranceways still found in Aberdeen's Victorian homes; his mural depicts a peeling back and revealing of those local tiles. Perhaps it's a metaphor for Aberdeen's cultural scene: It was always there, beneath the surface. You just had to look for it.
Travel essentials
Getting there
British Airways flies direct from Heathrow to Aberdeen from £75 return. Flybe flies direct from Manchester (and connects from Newquay, Southampton, Jersey and Birmingham) from £65 return. The train from Edinburgh takes just over two hours; return journeys start at £30.
Staying there
Carmelite Hotel occupies a granite 19th century gothic building in the Merchant Quarter. Pop art fills the 49 rooms and public spaces. Doubles start at £75.
More information
Look Again visual arts festival runs from 20-24 April and from 27 April-1 May. True North – Aberdeen's festival of music and song – runs from 8-10 September. NuArt and Aberdeen Inspired are in talks to bring the street art festival back next year.
Register for free to continue reading
Registration is a free and easy way to support our truly independent journalism
By registering, you will also enjoy limited access to Premium articles, exclusive newsletters, commenting, and virtual events with our leading journalists
Already have an account? sign in
Register for free to continue reading
Registration is a free and easy way to support our truly independent journalism
By registering, you will also enjoy limited access to Premium articles, exclusive newsletters, commenting, and virtual events with our leading journalists
Already have an account? sign in
Join our new commenting forum
Join thought-provoking conversations, follow other Independent readers and see their replies