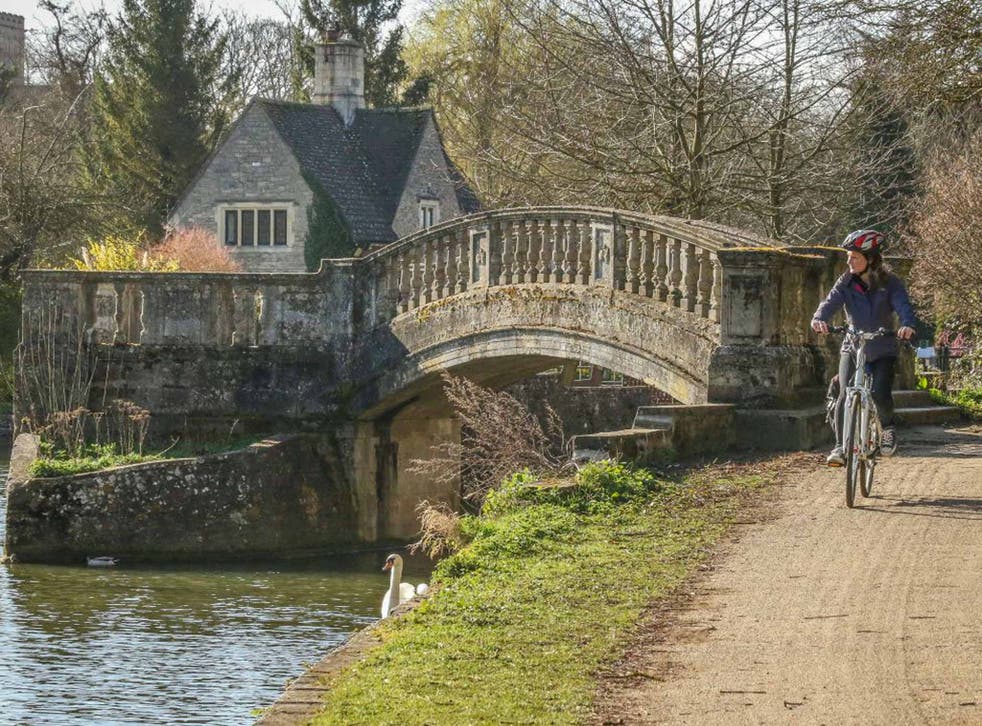 Alice's Oxford by bike: Follow Lewis Carroll's heroine around the city on two wheels
150 years ago this week, Lewis Carroll began telling stories to a young Alice Liddell on a boat trip through Oxford. Ellie Ross retraces the route that inspired Wonderland
The river is flowing lazily round the bend as I pedal beneath drooping willows, lost in a daydream. Then a flash catches my eye. In front of my tyres is a rabbit, not white or wearing a waistcoat, but still popping down its burrow, disappearing as quickly as it came. A duck eyeballs me as it glides through water that is as green as its plumage. Splashing through a puddle, I dodge a pair of geese that squawk and fan out their wings, growing suddenly to twice their size. I have been on my bike just minutes, but already I feel I have cycled straight into Alice's Wonderland.
Lewis Carroll's much-loved tale turns 150 this year. To mark the anniversary, activity specialist The Carter Company has launched a new two-wheeled break in Oxford, where the author lived from 1851 until his death in 1898. Ideal for leisurely cycling or little legs, the two-day, 14-mile route is self-guided, flat and virtually traffic-free, passing places that inspired the story, from the city's dreaming spires to its tranquil backwaters. There are also plenty of optional pit stops along the way, such as Alice's Shop, depicted in Through The Looking Glass, and the Museum of Oxford, home to some of Carroll's possessions, including his watch.
"This tour is for people who want to explore Alice and the wonders of Oxford while doing just a bit of cycling," Wendy Carter, the company's founder explains when I meet her at my base for the weekend, The Buttery on Broad Street. "Being on a bike gives you a sense of adventure."
I unlock my hired hybrid bike and set off, bumping along the cobbled streets that Carroll would have known so well, first as a student, then as a don at Christ Church. Most of the ride runs along towpaths next to the Isis, the name for the part of the Thames flowing through Oxford above Iffley Lock. This waterway was integral to the conception of the Alice stories, and well known to Carroll, whose real name was Charles Dodgson.
On 4 July – a date now celebrated in Oxford as Alice's Day – he rowed up the Isis with Robinson Duckworth and the three daughters of Henry Liddell, Dean of Christ Church, including 10-year-old Alice. They set off from Folly Bridge, which today carries a main road, and stopped for a picnic three miles away, on a bank near the hamlet of Godstow. It was here that Carroll created, and was persuaded by Alice Liddell to write down, stories that formed Alice's Adventures in Wonderland. Retracing that significant boat trip by bike is like a journey back in time.
While Carroll described that day as a "golden afternoon", I battle spring showers and chilly winds as I follow the river northwest towards Godstow. When the weather is good, you can still rent a boat from Salter Brothers, the same family-run company Carroll used, which has built and hired boats since 1858. The first part of the journey seems to be enveloped in modern life, following a concrete strip of houses. But soon I am dipping beneath trees heavy with blossom and rolling past allotments and stone cottages.
A narrowboat, trailed by a swan, floats past my left handlebar, its young passengers waving as they, perhaps unwittingly, follow Alice's watery path. A few hundred yards past Osney Lock, green tunnels open up to Port Meadow, a bleak but beautiful expanse of grassland with a few cows grazing in the distance. Stretching right up to Godstow, this open space where Alice and Carroll picnicked is still owned by the city and, save for some student accommodation blocks, it has remained largely untouched. A few distant spires peep over the treetops, but, though this is just a mile from the centre of Oxford, I feel a world away.
I push on, turning left towards Binsey, a hamlet of a dozen houses, the 17th-century Perch pub and St Margaret's church. Walking my bike through the graveyard, I almost miss the Treacle Well, hidden in a grassy corner and down four steps. With its healing fluid, or "treacle", this is widely cited as the idea behind the well that the Dormouse refers to in the "Mad Tea-Party" episode. Carroll's friend, Thomas Prout, who had a reputation for dozing off like the Dormouse, restored the well in 1874 while he was vicar. I can imagine Carroll peering down, wondering what was there and conjuring up the Dormouse's story of three sisters who lived in its depths, eating nothing but treacle.
Back on two wheels, I return to Oxford along the canal, passing Isis Lock and the boatyard of Jericho. As I lock up my bike outside Christ Church, the Great Tom tolls, a sound Carroll would have grown used to during his 47 years living in the college. Here, I join local historian Mark Johnstone Davies for a walking tour, and he points out Carroll's rooms just across the courtyard from the Liddell family's residence.
"Christ Church was the choice of royals," Davies says, explaining that Queen Victoria's sons, Albert, Edward and Leopold, attended the college. "Living here, Alice mixed with royalty, so the idea of playing croquet with the Queen of Hearts wouldn't have have been so strange." We walk through the green expanse of Christ Church Meadow until we are facing a grey, three-storey house built on arches over the Isis on the opposite bank. "That is Grandpont House," he says. "It is where Thomas Randall, a tailor, who called himself a hatter, lived." Although the Mad Hatter is frequently linked to eccentric furniture dealer Theophilus Carter, Davies is convinced that it was actually based on Randall, who Alice knew well.
Pewter skies and rainclouds dissolve into dusk and the following day I am back on my bike, this time heading south along the river towards Iffley Lock. Veils of trees buffer me from the sounds of everyday life as I sail past college boathouses and ducks warming themselves along the banks – but still no white rabbit. I cycle over the bridge next to the real Mad Hatter's house, passing rowers with oars glinting in the sun on another golden afternoon.
Travel essentials
The Carter Company (01296 631671; the-carter-company.com) offers a two-night Alice in Wonderland self-guided tour from £250pp based on two sharing a room at The Buttery (01865 811950; thebutteryhotel.co.uk), including bike hire, luggage transfers, adventure handbook, OS maps, route directions and emergency call out. There is a £15pp supplement at weekends.
A 75/90-minute Alice-themed walk with Mark Davies costs from £40 (oxfordwaterwalks.co.uk).
More information
Alice's Day takes place this Saturday, 4 July, with activities at 20 venues around Oxford (storymuseum.org.uk). visitoxfordandoxfordshire.com
Register for free to continue reading
Registration is a free and easy way to support our truly independent journalism
By registering, you will also enjoy limited access to Premium articles, exclusive newsletters, commenting, and virtual events with our leading journalists
Already have an account? sign in
Register for free to continue reading
Registration is a free and easy way to support our truly independent journalism
By registering, you will also enjoy limited access to Premium articles, exclusive newsletters, commenting, and virtual events with our leading journalists
Already have an account? sign in
Join our new commenting forum
Join thought-provoking conversations, follow other Independent readers and see their replies