The Independent's journalism is supported by our readers. When you purchase through links on our site, we may earn commission.
On the trail of Argyll's best seafood
Jenny Rowe delights in southwest Scotland's seafood, taking in several destinations and Highland scenery – all in one gulp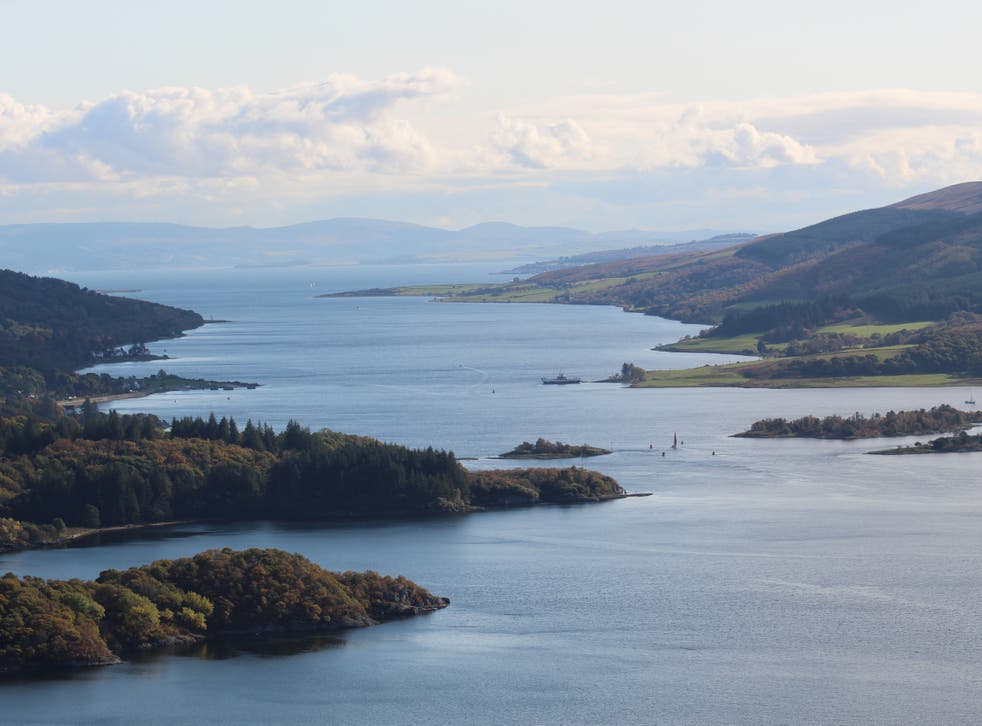 Imaginative artworks of local fish decorate Loch Fyne Oyster Bar in Clachan, Argyll. Some are abstract, others anatomical, but together they convey the otherworldly beauty of the underwater life here in the southwest of Scotland.
These are the same prints and paintings that I remember curiously sizing up when I visited as a child. Though I'd been dunking winkles in vinegar and munching on mussels since I was about four or five, oysters themselves weren't appealing back then. So, returning as an adult, I go to town, knocking back both the fried panko-coated and fresh Tabasco-spiked varieties. And with the sea exploding in my mouth, and my eyes resting on the beguiling loch surface, I feel incredibly lucky to be party to this seafood lover's paradise.
A new series of Taste of Place trails curated by Wild about Argyll, of which this is one, take Glasgow as their logical starting point — yet they're more about getting lost than going anywhere in particular. A hand-picked selection of the best seafood restaurants dictate our route, which dips and dives over land and sea.
Once we are sure that the nippy hire car is under control, it's off to Helensburgh, half an hour northwest of the city. Our first stop, Cattle & Creel, is no elementary affair. The hot seafood platter is enormous, chargrilled and garlic-powered. We've skipped breakfast in preparation, and devour every last langoustine claw, mopping up the rich, citrussy juices with ciabatta and chips as we go. Friendly barman Tom assures us everything on our plates has come from "just around the corner. It all joins the Clyde at some point or other." Afterwards, I look across the Firth with a new appreciation, and not only because I'm totally stuffed: it's the lifeblood not only of Glasgow, but Argyll and Lomond too.
If you can describe any of the roads in Argyll as well-worn, the next part of the trip is just that, but only in comparison to what is to come. We cross Loch Lomond, and then zip along the shores of Loch Long and Loch Fyne, keeping an eye out for exhibitionist seals or – and our fingers are tightly crossed, but to no avail – a reticent otter. With a reservation at our next destination approaching, we scale the Cobbler in record time, using the handy Walkhighlands website to find our way. It would have been a mistake not to on such a beautiful day, and the reward is breathtaking (in a literal sense, too). Ironically, it's easier to understand how this landscape cultivates such exquisite seafood with a bird's eye view. Fingers of purest water creep soundlessly between the mountains, providing deep, sheltered habitats for diverse marine life. Never far from shore, it's rich and easy pickings for the local fishermen.
We rush on past the busy Rest and be Thankful Viewpoint only so we can take our time along the deserted Secret Coast. The A8003 travels down the Cowal peninsula, hugging the shores of the Kyles of Bute, a narrow channel of sea so-called because it is bounded on its other side by the Isle of Bute. It is one of the most scenic roads I have ever driven and if, understandably, you need more proof than that, take it from Jeremy Clarkson: he rates it as his number one drive in Britain.
At the tip of the peninsula, we reach Portavadie, a resort developed around its glittering marina. Here we wriggle out of our soggy boots and now less-than-spotless car, straight into the infinity pool, which overlooks Loch Fyne salmon farms and offers a glimpse of Arran. The indulgence continues upon discovering that The Hideaway, our cosy cottage for the night that's tucked away in the woods with views over the water, has its own hot tub. A welcome cafetiere, made from beans roasted at Tignabruaich just 10 minutes back the way we came along Argyll's Secret Coast, hits the spot.
At dinner, we meet gigha halibut for the first time – a meaty flatfish farmed off the coast of the nearby community-owned island – served with a hazelnut crust and silky mussel veloute. I fall once more for the ocean's sweet, salty serenade. Another highlight, the salmon, is paired with a horseradish cream and crafted by hand at Dunoon's Argyll Smokery. The same destiny, I presume, that awaits some of the salmon I watched flip-flopping offshore from the pool. The scallops that follow were landed in Tarbert, which is where we were off too the next day on a ferry direct from Portavadie.
While we bob across the wide mouth of Loch Fyne, I realise that more than any meal, these freeing, floating moments should be savoured. But with the promise of Loch Melfort Hotel awaiting us further north, less than 20 miles south of Oban, we need to build up an appetite again. A walk around the majestic Moine Mhor, a national nature reserve oxymoronically referred to as a 'bogland showpiece', does the trick.
Hypnotising us within minutes, the view from Loch Melfort Hotel is dramatic, with the still sea loch stretching to the horizon, flanked by the isles of Scarba, Jura and Islay. Owners Calum and Rachel Ross's pet Highland cows complete the photo opportunity — a pod of dolphins are less reliable. With the addition of a firepit, gin and tonic in hand and a smouldering sunset, indelible memories are forged.
Head chef Richard Young performs a live cooking demo especially for the two of us on arrival. He is a font of no-nonsense knowledge, explaining that the hotel sources virtually all of its shellfish from the cold waters around Mull. They prefer to serve hand-dived scallops, it turns out, because they are generally bigger and better (though more expensive) than those that are dredged, a process which stresses the scallop and can affect flavour, not to mention the damage it causes to the seabed and its ecosystems.
Richard tells us who is responsible for every single ingredient on the menu. There's Rob Cameron, the venison man; Duncan, who brings the game; and Ewan and Flo at Balvicar Farm, who supply the eggs – you get the idea. Of course, he continues, they don't shop local for the sake of it. Everything still has to be the best. Chef reveals that, though west is best for crustacea, when it comes to wild fish, such as monkfish and turbot, or the more standard haddock and cod, the east coast "reigns supreme". He puts his trust in supplier Iain Stewart of Fort William to pick out the best quality fish, rather than whatever is closest to their doorstep. Happily, they need never look further than Scotland. An enormous wild halibut, deftly filleted as we chat, is delicious – the definition of a catch of the day.
Our trip comes to its fairytale end at my childhood stomping ground. Loch Fyne Oysters speaks for the whole region with its Gaelic motto Nach Urramach an Cuan or "How worthy of honour is the sea". Argyll's seafood has an extremely low carbon 'fin-print', with no need to skimp on quality to achieve it.
Stomachs full of smoked haddock chowder, Hebridean mussels and prime kinglas smoked salmon, we contentedly begin the drive back to Glasgow. But minutes into the journey, I am gobsmacked to spot three bottle-nosed whales leaping from Loch Long, an impressive feat when accounting for their size. The road is cleared of cars in an instant, as everyone pulls over to enjoy the show. A knowledgeable local explains that this is a rare sight, but that the whales have been staying in the area for a few weeks, most likely gobbling their own fishy feast.
The sea is home to far more than sustenance to feed hungry travellers. Indeed, those who live and work in Argyll are the caring stewards that ensure this Highland hinterland can keep on giving us a taste of the ocean. In the words of chef: "Long may it continue."
Travel essentials
Getting there
Direct flights arrive in Glasgow from London, Bristol, Southampton and Belfast from £37 return. Car hire from several companies is available at the airport.
Staying there
Portavadie has a wide variety of accommodation types – from self-catering cottages to Scandi-style apartments and modern lodge rooms – starting from £99, B&B for mid-week stays.
Loch Melfort Hotel is a country house hotel offering a one-night stay plus breakfast and dinner for £175 per room as part of its summer offer (available from 1 May-20 September 2021).
Register for free to continue reading
Registration is a free and easy way to support our truly independent journalism
By registering, you will also enjoy limited access to Premium articles, exclusive newsletters, commenting, and virtual events with our leading journalists
Already have an account? sign in
Register for free to continue reading
Registration is a free and easy way to support our truly independent journalism
By registering, you will also enjoy limited access to Premium articles, exclusive newsletters, commenting, and virtual events with our leading journalists
Already have an account? sign in
Join our new commenting forum
Join thought-provoking conversations, follow other Independent readers and see their replies