B&B and Beyond: Dome House, Cumbria

Show all 3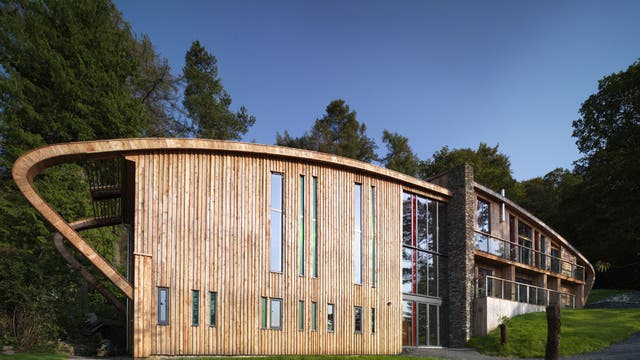 B&B and Beyond: Dome House, Cumbria
Viewers of 'Grand Designs' may recognise this striking project, but probably not as a B&B. Rhiannon Batten checks in
Amid the Victorian and Edwardian fancies and dreary new-builds of Bowness, Dome House is about as inconspicuous as Paris Hilton at a ramblers' convention. It mushrooms from a hillside with panes of green and rose-tinted glass glinting in the sunlight. Yet this designer B&B is perfectly in keeping with its surroundings. A geodesic grass roof reflects the shape of the hill behind it, its larch cladding blends with the trees above, and the huge, heat-storing slate wall at the centre of this ultra-contemporary building echoes the immense Cumbrian geology.
Beady-eyed visitors will recognise this bold feat of architecture from Channel 4's Grand Designs, when its transition from drab 1980s house to its current incarnation was documented, with all the ups and downs of a Cumbrian fell range (the return visit is on More4 tomorrow night).
The bed
The three ground-floor doubles and single first-floor suite are a lesson in restrained glamour. Mid-century furniture, colourful bathroom tiles and jewel-coloured bedspreads are the motifs here, with a wooden feature wall in the Rose Room, freestanding wooden bathtub in the Green Room and wood-burning stove in the newly-finished Dome Suite.
Walls are whitewashed, floors wooden, and the rooms' mini kitchens and Villeroy & Boch bathrooms glossy and white. Despite that restraint, the overall feeling is warm. Fittings are high spec and beds are super king-size. The only communal area is a lap pool, which guests can pre-book a private slot to use. A bigger selling point is the view. Even from the ground-floor rooms it's spectacular, with Windermere and a great arc of craggy peaks clearly visible over the rooftops of Bowness.
The breakfast
Breakfasts are delivered to the rooms in wicker hampers each evening. Ours came with fruit, milk, butter, bread, cheese, eggs, orange juice, shortbread, mini boxes of Kellogg's cereals and (everyone gets a surprise treat) prosecco. Coffee, tea and other store cupboard essentials are pre-stocked in each kitchen. Ours also came with little plastic portions of jam, but these have now been upgraded to Claire's Handmade jams from Cumbria. Dorset cereals have also been added, as well as bread from the Staff Of Life bakery in Kendal.
The hosts
The Dome House is the project of Yorkshire-born Robert and his Malaysian wife Milla. It was featuring the house on Grand Designs that led the family to develop it into a B&B; when their funding shortfall was broadcast, a donor offered them a loan and they turned what were originally planned as family guest suites into B&B rooms.
"We're newcomers to the hospitality business," Robert had warned us when we arrived just a couple of months after the property officially opened last November.
Their lack of experience does sometimes show: the website is a little sketchy on practical details and there are no guest information packs. But they are naturals at making you feel welcome, and steer an adept line between generous hospitality and discreet service.
The weekend
Bowness (golakes.co.uk) is as popular with urban day-trippers as it is with walkers and cyclists. Many of the former come to visit The World of Beatrix Potter (0844 504 1233; hop-skip-jump.com) or to take a boat trip on Windermere (015394 43360; windermere-lakecruises.co.uk). It's well worth the half-hour boat ride to Ambleside and back for lunch at Lucy's On A Plate (015394 32288; lucysofambleside.co.uk) and a short, scenic walk around Stock Ghyll Force waterfall, just behind the town. In the summer, Windermere Lake Cruises sells tickets that allow visitors to hop on and off around the lake.
Bowness is also home to the Royalty Cinema, built in 1926. There are plans for its Wurlitzer to crank back into action later this year (01539 443364; windermere.nmcinemas.co.uk).
And don't miss Blackwell (01539 446139; blackwell.org.uk). Reached via a 30-minute walk from Bowness, this Arts and Crafts masterpiece was designed for brewer Sir Edward Holt around the turn of the last century.
The pit stop
The best pub in town is the Hole in t' Wall (015394 43488), which celebrates its 400th anniversary this year. Its wooden benches and open fires are an ideal backdrop for a pint of "Dizzy Blonde". For sophisticated pub grub, head to the Angel Inn (015394 44080; the-angelinn.com) for potted shrimp (£7.95), wild boar and apple sausages (£12.50) and plates of local farmhouse cheeses (£8.95).
The bottom line
If you want luxury in the Lakes without swags and antiques or leather headboards and Jacuzzi baths, Robert and Milla offer a radical alternative. Dome House is a high quality contemporary experience that's big on comfort, but free of silly frills.
The essentials
Dome House, Brantfell Road, Bowness-on-Windermere, Cumbria, LA23 3AE (01539 445667; domehouselakedistrict.co.uk). B&B starts at £75 single or £175 double.
Register for free to continue reading
Registration is a free and easy way to support our truly independent journalism
By registering, you will also enjoy limited access to Premium articles, exclusive newsletters, commenting, and virtual events with our leading journalists
Already have an account? sign in
Register for free to continue reading
Registration is a free and easy way to support our truly independent journalism
By registering, you will also enjoy limited access to Premium articles, exclusive newsletters, commenting, and virtual events with our leading journalists
Already have an account? sign in
Join our new commenting forum
Join thought-provoking conversations, follow other Independent readers and see their replies