B&B and Beyond: Merchant's House, Frome

Show all 3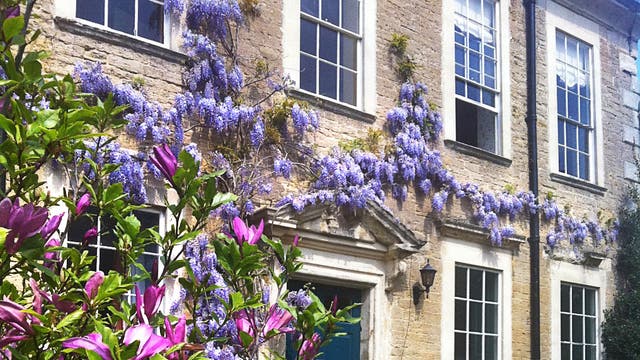 B&B and Beyond: Merchant's House, Frome
As the Glastonbury masses prepare to descend on Somerset, Laura Holt explores a more serene corner of the county
Laura Holt
Saturday 01 June 2013 18:04 Comments
This wisteria-draped house in the sleepy Somerset town of Frome has quite a history. Built in 1696 by local merchant John Whittox, it went on to become a convent school run by French nuns in the late 1800s. Today, it's Grade II-listed, after mysterious murals were unearthed behind panels in the drawing room. The artworks are believed to have been painted by Italian craftsmen, who stayed at the house having been shipped over from the Continent to work at nearby Longleat House in the 17th century. But their work might not have been found at all had the property been demolished, as was planned, to make way for a road into town in the 1970s. Falling derelict as the scheme was abandoned, Merchant's House was eventually saved by gay rights activist and self-made millionaire, Ivan Massow, who spent a decade restoring it as his home with English Heritage before selling it to the current owners.
The Bed
There are two rooms, Lavender and Sunflower, with corresponding colour schemes of light lilac and canary yellow. We went for Lavender, which came with an in-room Victorian bath, local Mendip toiletries scented with the room's eponymous plant and an antique bed from where we could sit and watch the morning mist rising from the Mendip Hills.
We had the place to ourselves during our stay, so it was blissfully quiet – with only a cooing collared dove to wake us each morning. In the hallway outside, the hosts have stacked a shelf with DVDs and books, wine and beers, shortbreads and olives – a thoughtful touch which all guests are free to dip into.
The Sunflower room is warm and inviting, with a luxurious wet-room and a beautiful stained-glass window that looks across to a small stone chapel. Downstairs, there's also a new self-catering apartment which opened earlier this year, complete with two bedrooms, a kitchen and a big light-filled lounge, with an open fireplace and garden views.
The Breakfast
We had it delivered to our bedroom on the first morning and downstairs in the farmhouse-style kitchen the next, with Kyro – the lively Glen of Imaal terrier. There was fresh fruit salad sweetened with prunes and Golden Syrup, a plate of Somerset cheddar and thickly sliced ham, oven-warmed croissants and Danish pastries, delicious homemade jams and local Frome honey.
The Hosts ...
… are Gina Parker and her husband Vince. The pair are Londoners at heart who met in Marylebone when they both worked in recruitment. They were lured to Frome seven years ago when Merchant's House came on to the market. In 2011, after their children had flown the nest, they opened it as a B&B.
The rooms are very separate from where the couple live and even have their own side entrance, allowing guests to come and go as they please. You could happily sequester yourself away, but if do need them, Gina and Vince are always just a shout away.
The Weekend
We came for rest and Frome delivered. This tiny market town is never going to win awards for its thriving cultural scene, but its undulating cobbled streets make for a scenic stroll on a Saturday afternoon. There are bargains to be found in the arty shops of St Catherine's Hill (stcatherinesfrome.co.uk), where you can rummage through vintage clothing and accessories at Make and Mend (01373 228472; makeandmenvintage.com), or browse menswear and interiors in Assembly (01373 455999; shopassembly.com).
The Georgian charms of Bath are just 20 minutes away. Here, we took a walk up to The Crescent in glorious sunshine, delved into the homemade cakes at Jacob's Coffee House (01225 758132; jacobscoffeehouse.com) and sealed a weekend of relaxation by taking a dip in the Thermae Spa at sunset (0844 888 0844; thermaebathspa.com; two-hour session £26).
The Pit-Stop
On Stoney Street, you'll find The Garden Café (01373 454 178; gardencafefrome.co.uk), which has an organic shop, outdoor terrace and rustic wooden tables laden with weekend papers. The food is made fresh on-site each morning with a menu that includes focaccia topped with goat's cheese and red peppers by day (£6) and stone-baked pizzas after 5pm (£7).
Or idle away an afternoon at The George Inn (01373 834224; georgeinnnsp.co.uk), a half-timbered medieval pub in Norton St Philip, which serves a weekend menu of scotched duck eggs (£6) and wild boar sausages (£11) alongside locally brewed ales such as Bishop's Tipple.
The Essentials
The Merchant's House, 21 Whittox Lane, Frome, Somerset BA11 3BZ (01637 881 942; merchantshousefrome.co.uk). B&B doubles from £120.
Register for free to continue reading
Registration is a free and easy way to support our truly independent journalism
By registering, you will also enjoy limited access to Premium articles, exclusive newsletters, commenting, and virtual events with our leading journalists
Already have an account? sign in
Join our new commenting forum
Join thought-provoking conversations, follow other Independent readers and see their replies