The Independent's journalism is supported by our readers. When you purchase through links on our site, we may earn commission.
10 of the best things to do in Bristol
Try these must-do activities on a trip to this west country gem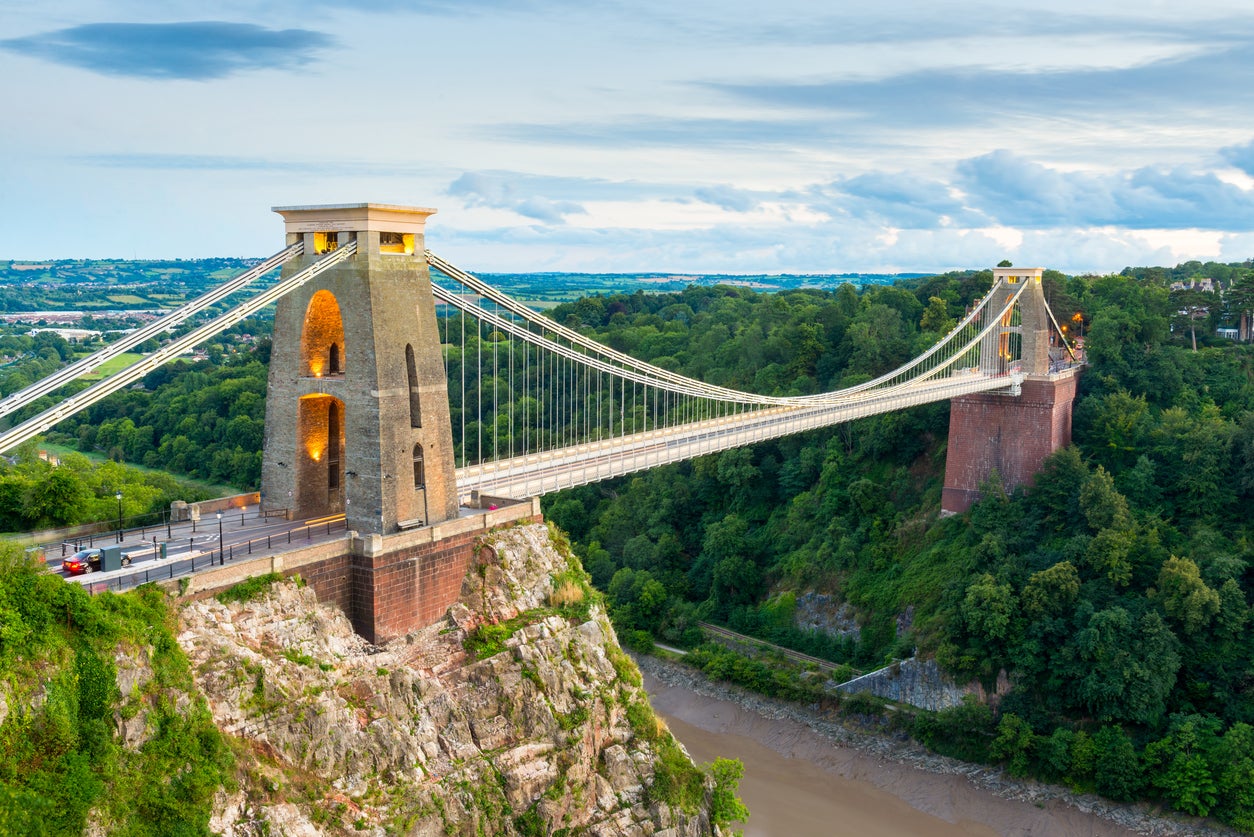 With friendly folks, a thriving foodie culture and one of the most noteworthy music scenes in the country, Bristol is on the up.
If you've never been before, the warmth of its residents and buzz of its nightlife can't fail to charm, while a return visit means an opportunity to revel in this city's dynamic character.
From a thriving – and much-lauded – foodie scene to nearby scenic attractions, here are 10 of the best things to do in and around Bristol.
The Cube is a cinema, arts centre, "adult crèche and progressive social wellbeing enterprise". Set up in 1998, this diminutive venue focuses on independent and cult cinema, performance, music, discussions, cabaret, comedy and children's activities.
Truly independent, the collective runs as a not-for-profit workers' cooperative and all staff are volunteers. They don't serve Coca-Cola or Nescafé and despite receiving no external funding, asylum seekers can come in for free.
Future events include Witch Please, described as a "posthumous occult and ritual performance party", a screening of cult Japanese flick Funeral Parade of Roses, and a Boogie Nights screening, followed by a disco.
Bristol has a rich musical legacy, with artists such as Portishead (named after the Bristol suburb), Massive Attack, Tricky and Roni Size all emerging from here. Soundsystem culture is embedded in the city and car stereos pumping with bass abound.
Nowhere epitomises the Bristol sound better than the annual St Paul's carnival, held in the Bristol area of the same name. This free music and community event celebrates its 50th anniversary this year and celebrates the best of Afro-Caribbean culture.
Seven Decades of Sound is a major new exhibition at the M-Shed exploring the city's musical heritage and runs until 30 September.
One of my personal delights of visiting Bristol is finding Thatcher's Gold on tap in almost every pub in the city. Bristolians have long championed the fermented apple, hosting both a winter and summer cider festival, proving that cider is for life, not just for summertime.
One of the nicest spots to enjoy a pint of the cloudy stuff is on the cobblestone quayside of The Apple, a bustling cider pub on a beautifully converted Dutch barge in the heart of the Old City.
The world famous suspension bridge links the genteel Clifton area of the city with Leigh Woods on the western outskirts. Built by the famous Victorian engineer Isambard Kingdom Brunel, the bridge straddles the Avon Gorge, sitting 75 metres above the water below. The bridge took 33 years to complete, finally opening in 1864.
Walking across the bridge is not for the faint of heart, but it's the best way to appreciate this marvel of engineering. Cycling across at night when the bridge is lit up is also a real treat.
Bristol's foodie star has been ascendant for a number of years now, with respected critic Jay Rayner describing the city's restaurants as the best outside of London. There's something for everyone, too, from haute cuisine to street food.
Holder of a Michelin star, Casamia continues to wow diners with its seasonal British cooking, while accolades for the Caribbean Croft, which serves authentic family Caribbean food, have poured in since its opening in early 2017.
While it won't be winning any awards for aesthetics, Jeevans Sweets is a vegetarian Indian restaurant, takeaway and sweet shop based in Easton. Its paneers are the stuff cheese dreams are made of.
Home to one of the world's most famous street artists, Banksy (allegedly), it's no surprise that the city is covered in colour, with walls and panels serving as blank canvases for the many graffiti artists who come to make their mark.
Stokes Croft near the Montpelier area has a good selection of political art, including a "boycott Tesco" sign in response to the opening of one of its stores nearby, and a wonderful red reproduction of Hokusai's Great Wave, while Nelson Street in the centre of town is a dedicated area to all things arty created with a spray can. Upfest, Europe's largest street art festival, is due to take place in the city in July.
Bristol's chequered history is intrinsically connected with the slave trade that built its economy, and the docks of the city saw more than 2,000 slave ships depart between Africa and the Caribbean during the height of the transatlantic slave trade.
Today's harbourside is a vibrant place incorporating restaurants, pubs and the Arnolfini Centre for Contemporary Arts. A stroll around its floating harbour, or a boat trip on the water, are both great ways to see more of this historic city.
One of the best things about Bristol is its proximity to Wales and the Southwest. Take advantage with a trip south to the many beautiful beaches of Devon and Cornwall.
Travellers heading across the border can reach the verdant Brecon Beacons National Park in just over two hours by car, a journey well worth making.
Closer to home, the coastal walk along the cliffs at Brean Down, with its panoramic views of the Bristol Channel, can be reached in less than 90 minutes.
Visitors with children should check out We The Curious, a large museum previously known as At-Bristol.
This interactive, playful and educational space makes science fun and visitors can make fake blood, mill their own flour and stand in a pink, vibrating room meant to imitate the experience of a child in the womb.
A great place to head if the weather's poor – a few hours here will entertain and amuse adults and kids alike.
In a balloon, obvs. The Bristol International Balloon Fiesta is Europe's largest annual meeting of hot air balloons, attracting more than 130 hot air balloons from across the world.
Held over four days in the beautiful Ashton Court Estate, the sight of so many balloons in such a small space is wondrous to behold. This year's festival runs between 9 and 12 August.
For more information on Bristol, check out Visit Bristol's website.
Join our commenting forum
Join thought-provoking conversations, follow other Independent readers and see their replies