The Independent's journalism is supported by our readers. When you purchase through links on our site, we may earn commission.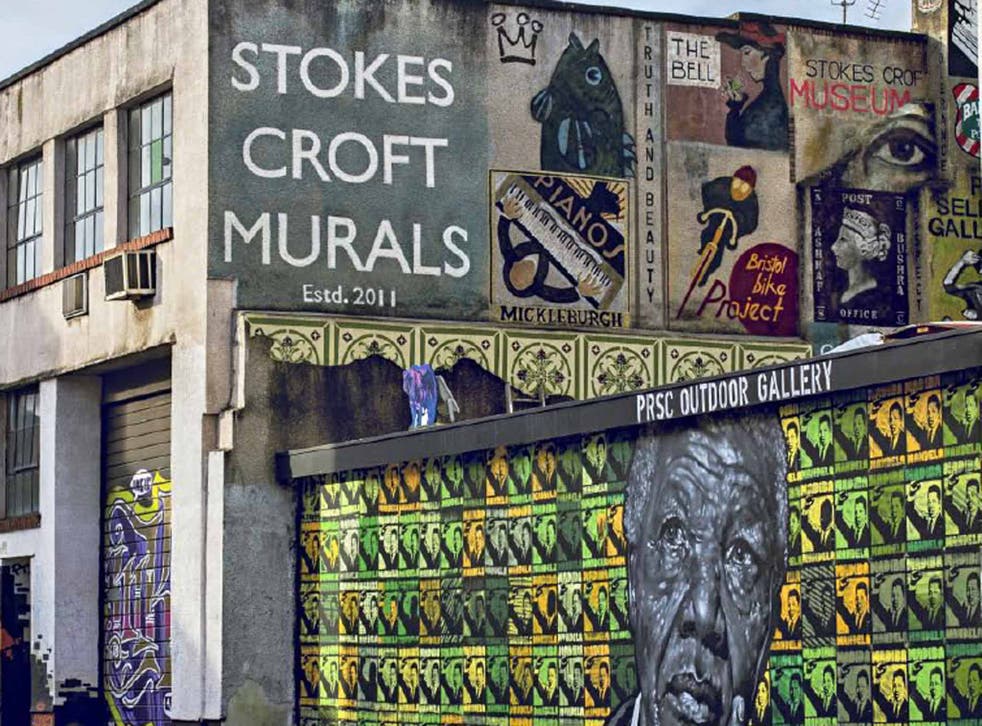 Bristol: Green and pleasantly off-beat
Forward-thinking restaurants and art initiatives have turned this into a model of urban sustainabilty, says Paul Bloomfield
When guerrilla artist Banksy labelled one of his most notorious pieces The Mild Mild West, he was being ironic. Bristol's not mild. Sure, it's environmentally-friendly, currently revelling in its tenure as European Green Capital, but you can scotch notions of a worthy, yoghurt-knitting place. That Banksy masterwork depicts a teddy bear lobbing a Molotov cocktail at riot-shielded policemen.
Bristol's a bit tasty, in both senses of the word. It's got attitude, plus an enviable array of restaurants celebrating the best local ingredients. Bristol's Big Green Week (actually a fortnight, running until 21 June, biggreenweek.com) offers a host of tours, concerts, fairs and feasts.
At the rejuvenated harbourside, I mingle with stalwarts of the green movement at the City Ideas Studio (bit.ly/ArcStu), a temporary hub for events and exhibitions tied into the European Green Capital title. I ask what is it about the city that's nurtured this alternative, environmentally aware spirit.
"Bristol's slightly dysfunctional," offers Phil Haughton of the Better Food Company (0117 946 6957; betterfood.co.uk). "The slave trade, then the wartime bombing of the centre, obliterated part of its soul. That created an interesting energy affecting how people organise, allowing grassroots stuff to become more meaningful."
Whatever the reason, Bristol is now wall-to-wall one-offs with a green conscience. I could walk in any direction for examples, but I set my compass north, ducking first into St Nicholas Market (stnicholasmarketbristol.co.uk). The rear of this Grade I-listed Georgian exchange is crammed with food stalls peddling organic falafel and free range sausages.
Beyond, I traverse a formerly grim stretch that's been transformed by the See No Evil street art project. In 2012, the monoliths of Nelson Street were daubed with spectacular graffiti, and though some buildings (and paintings) are currently being taken down, there's plenty still to admire; Wherethewall (07748 632 663; wherethewall.com) helps you find the best with urban art tours.
On a side wall alongside the Canteen Bar (0117 923 2017; canteenbristol.com), a sustainable restaurant and social space, I make out Banksy's graphic declaration of un-mildness. Graffiti seems to encapsulate the Bristol attitude. It's our city, it says. We'll paint it in hues to reflect our passion for the place – in every colour, but always green.
UNPACK
Within sniffing distance of St Nick's Market is Brooks Guesthouse (0117 930 0066; brooksguesthousebristol.com) a solicitors' office converted into sleek boutique accommodation, with rooftop glamping in "retro rockets" – Airstream-style caravans. Doubles/retro rockets from £79/£99, including breakfast.
Over in Southville, the plain exterior of The Greenhouse (0117 902 9166; thegreenhousebristol.co.uk) belies the welcoming comfort of this award-winning B&B. Doubles from £115 (two night minimum stay, Fri-Sun).
THINK LOCAL
Hop over Brunel's bridge for Leigh Woods (0117 973 1645; nationaltrust.org.uk/leigh-woods), a National Trust nature reserve which overlooks Avon Gorge. Until 6 September you can wander amid the abandoned fishing boats of Luke Jerram's melancholic art installation, "Withdrawn". Arnos Vale Cemetery (0117 971 9117; arnosvale.org.uk) is part Victorian Gothic fantasy, part overgrown nature reserve. Its Atrium Café (0117 971 4850) serves seasonal dishes and indulgent homemade cakes.
EAT
Poco (0117 923 2233; eatpoco.com), a tapas café-bar in artsy Stokes Croft, has won awards for its ethical eats. River Cottage alumnus Tom Hunt aims for zero waste – easy to achieve with food this delectable.
Birch (0117 902 8326; birchbristol.co), a relative newcomer to the Southville restaurant scene, has a small menu with dishes that change daily according to what's in season. Open Wednesday to Saturday, 6-10pm.
Hidden on the outskirts of Stokes Croft, Sky Kong Kong (0117 2399528; skykongkong.co.uk) serves whatever its chef, Wizzy, decides to conjure up using veg from her allotment, organic local produce, and inspiration from her Korean heritage. Open Tuesday to Saturday, noon to 10pm.
DRINK
The Bristol region was an early adopter in the micro- and craft-brewing boom. In the cavernous vaults of the Beer Emporium (0117 379 0333; thebeeremporium.net) in the city's "Beermuda Triangle", you'll find 24 keg and draught beers plus more than 380 bottled varieties.
Milk Thistle (0117 929 4429; milkthistlebristol.com), behind an anonymous city-centre door, puts a twist on the prohibition speakeasy trope with the style of a gothic gentleman's club.
SPEND
The indie shops around the Christmas Steps, Gloucester Road and Stokes Croft are hotspots for intriguing prints, ceramics, jewellery and other crafts. Stokes Croft China (0117 944 4540; prscshop.co.uk), at the Seller's Gallery on Jamaica Street, specialises in quirky, Bristol-themed mugs.
Community collective Made in Bristol (madeinbristol.blogspot.co.uk) creates art, jewellery, T-shirts and homeware. Based in the Lab Shop on Harbourside during Green Capital year, it is open Friday to Sunday, 10am to 6pm. (Open every day during school holidays.)
DON'T MISS
Isambard Kingdom Brunel left Bristol a three-part legacy: the Great Western Railway; the Clifton Suspension Bridge; and SS Great Britain (0117 926 0680; ssgreatbritain.org). The world's first iron-hulled, screw-propellor passenger steamship was completed in 1845; today, in permanent drydock alongside the Floating Harbour, she's an immersive walk-through museum.
Nearby M Shed (0117 352 6600; bristolmuseums.org.uk/m-shed; closed Monday) reveals how the population shaped the environment and traces diverse storylines from the city's history.
Register for free to continue reading
Registration is a free and easy way to support our truly independent journalism
By registering, you will also enjoy limited access to Premium articles, exclusive newsletters, commenting, and virtual events with our leading journalists
Already have an account? sign in
Register for free to continue reading
Registration is a free and easy way to support our truly independent journalism
By registering, you will also enjoy limited access to Premium articles, exclusive newsletters, commenting, and virtual events with our leading journalists
Already have an account? sign in
Join our new commenting forum
Join thought-provoking conversations, follow other Independent readers and see their replies