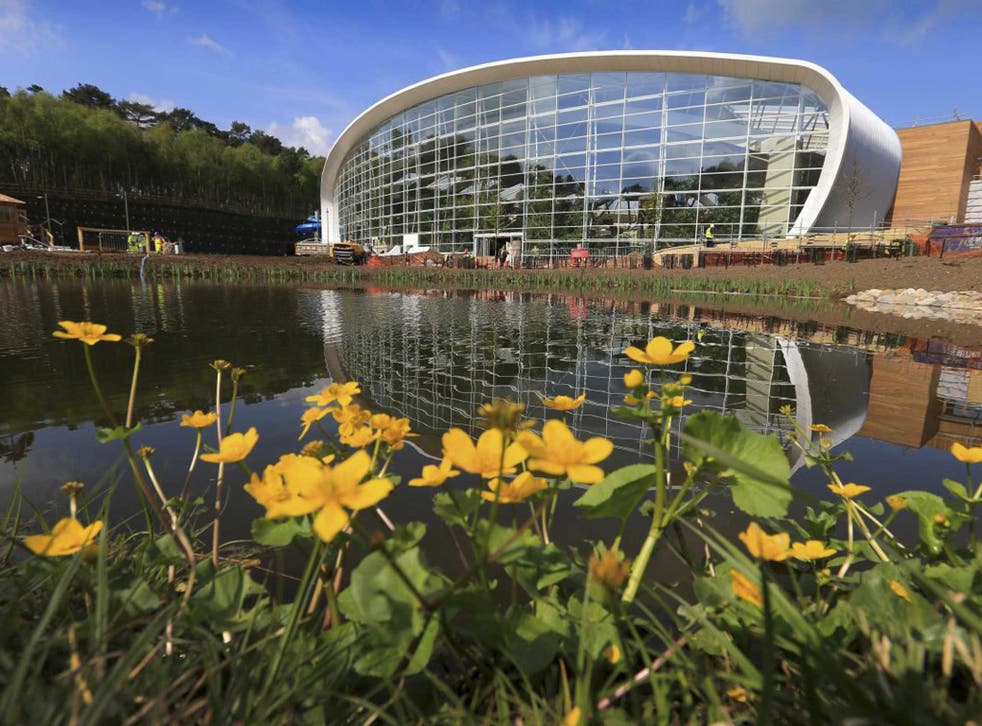 Center Parcs: 'If the kids are happy, we're happy'
For high-end short breaks, it seems we can't get enough of Center Parcs. As a new outpost opens in Bedfordshire, Simon Calder explains the resorts' unique brand of fun
Simon Calder
Tuesday 10 June 2014 22:21 Comments
By the time I was halfway through an opening-day tour of Britain's first new Center Parcs for 20 years, I was convinced that the management had deployed some very plausible actors around the Bedfordshire complex known as Woburn Forest.
"We're very impressed," said Fraser Chainey from Oxfordshire, as he paid the lunch bill at Café Rouge – one of several high-street chains embedded in and around the complex. He and his wife, Jennifer, are Center Parcs veterans. They had brought their four-year-old son, Alex, and seven-month-old daughter, Eve.
"Alex is in the soft play," said Jennifer. "He thinks Center Parcs is brilliant. He cries every time he leaves." Mr Chainey's parents had joined them for the opening weekend, making a three-generation group that is a staple of Center Parcs business. "It brings the family together," said his father.
"This is our 36th stay at Center Parcs," chimed in a couple from Essex, standing in their bathing costumes inside the "Sub-Tropical Swimming Paradise" that is at the heart of every Center Parcs. "We're very impressed."
So what exactly is Center Parcs, and why is everyone seemingly so delighted with the place? On the basis of probably quite enough stays from my point of view, but not nearly enough according to my children, let me explain how it works.
The idea was born in Holland more than 40 years ago, as an effective way for city folk to experience the countryside. Since then, it has grown to become a high-end, high-intensity bucolic break. The UK operation began at Sherwood Forest in Nottinghamshire, then expanded to Longleat in Wiltshire, Elveden in Suffolk and now Woburn Forest in Bedfordshire; Whinfell in Cumbria was picked up along the way, after the Rank Organisation struggled with its attempt to emulate and improve upon the concept.
You book a Friday-Monday or a Monday-Friday stay (or, for gluttons, an entire week). On the starting day you turn up any time from 10am; last Friday, one father and son at Woburn had arrived at 8am to ensure they were the very first proper paying guests at the new site. By 3pm you are able to check into your accommodation. For urban dwellers keen to escape to the woods, but not to surrender too much while doing so, the "lodges" are ideal. Row after row of individual chalets are deftly inserted into mature woodland; trees at the Woburn site have been carefully filleted to make room, but it still feels more like a forest than, say, a Butlins. Inside each well-furnished lodge, there are beds for four, six or eight, a communal area with kitchen and a flat-screen TV with Freeview. Nicer than my house, in fact.
"The more quality we add, the stronger the demand," says Colin Whaley, sales and marketing director for Center Parcs and my guide for the day. "Our experience is that the public want more – they want the quality bar raised in the UK."
Woburn's "Executive Lodges" each have a sauna and Jacuzzi in the back yard, and are selling strongly at around £400 a night. There is also a hotel option, intended for couples who don't need all the space of a lodge.
Everything is tidy in a rustic kind of way. "We haven't got one litter-picker," I was told, "We have 1,600." He means all the staff who, in my experience, are friendly, well-trained and genuinely concerned that guests enjoy themselves.
With base camp established, the fun begins. The hub of Center Parcs is that Subtropical Swimming Paradise (SSP), where the hubbub, like the temperature (29.5C), is constant. There are pools for tots, a bigger wavepool that activates at 15 and 45 minutes past each hour (a "Tarzan" yell will warn you) and a Lazy River, which, through a clever system of pumps, manages to waft you downstream, but in a big circle.
None of that, though, compares with the waterslides, which, for me and anyone else with a pulse, are the main attractions. The closest approximation must be experiencing the spin cycle of a washing machine then being spat out into a pool. At Woburn they are named "Tempest", "Typhoon" and "Tornado", not weather phenomena that are common in Bedfordshire. The SSP is as appealing in January as in July – which is one reason Center Parcs has the most impressive occupancy figures in the business. Night after night, year after year, over 97 per cent of the lodges are booked; given that a few are typically out of commission for maintenance, Center Parcs is effectively and eternally full.
Expanding the operation's capacity by one-fifth while maintaining that score is a challenge: in a full year, Center Parcs UK intends to attract one-third of a million extra people to Woburn. The key to that task is to lure first-timers, which is why location is so critical. "Woburn Forest" is pretty much in the middle of Bedfordshire. It's an odd patch of England: verdant loveliness abounds, yet parts are scarred by Victorian quarrying and carved through by the M1 and the Midland main-line railway from London St Pancras to Leicester and Sheffield. Those two arteries are expected to bring the majority of guests.
The new site is quite near Woburn, but a lot closer to Millbrook (site of the former Vauxhall testing ground, as featured on Top Gear) and Flitwick – whose station is key to unlocking the London market. For the first time, the forest holiday park venture is within easy reach of the capital, and reasonably accessible by public transport. That is why, all this week, commuters at Waterloo station have been greeted by an "experiential exhibition" that allows them to try their hand at a virtual (but astonishingly lifelike) zip wire and compete with fellow train travellers at virtual archery. The idea is that they will want to sample the real thing at a venue that halves the travelling time from the centre of London to Center Parcs.
"We'll see a different guest mix," says Colin Whaley. "London is a very different place."
Woburn Forest is a different place to the other Center Parcs. The first time I visited the spa at Longleat, for example, it was basically a sauna with a warning notice about the hours when it operated in the "Continental" mode (ie without costumes). At Woburn, the Aqua Sana complex is the biggest spa I have ever seen, with three floors of hydrological bliss. It comes at a price: like just about every activity apart from the SSP, you pay extra. My Center Parcs app, which allows me to book everything without standing in line at a counter, says a basic three-hour spa session costs £37. In the Plaza – looking like a high-spec municipal leisure centre – a half-hour of table tennis costs £7. I reckon that works out at a penny per ping, or per pong.
After all that excitement, you have to eat. Many people bring their own food and drink; Asda and Tesco stores near Center Parcs prepare themselves to be emptied on Monday and Friday afternoons, as guests stock up en route. The restaurants are partly Center Parcs' own creations, and partly high-street implants such as Strada and Starbucks. SSP (the railway-platform-to-pizza organisation, not the Subtropical Swimming Paradise) has a big presence. Quality is high, as are the prices.
I told Colin Whaley about an encounter two weeks earlier with a British family in the Spanish city of La Coruña. They explained that they were on a cruise and volunteered that they would have preferred to have been at Center Parcs, but after taking all the costs into account, a week on a ship worked out cheaper. "We're not competing against cruises," he said. "We're a short break, a top-up break. And our lead-in price in June is £419 for four people."
As the ripples of sunlight on the artificial lake began to soften and the shadows from the very real trees lengthened, Colin Whaley was relieved that the two-year, quarter-billion-pound project had survived first contact with the great British public. Outside Café Rouge, where my soup and salad for a lead-in price of £9.95 was excellent, Jennifer Chainey summed up the secret of Center Parcs' success: "If the kids are happy, we're happy."
Center Parcs: 08448 266 266; centerparcs.co.uk
Register for free to continue reading
Registration is a free and easy way to support our truly independent journalism
By registering, you will also enjoy limited access to Premium articles, exclusive newsletters, commenting, and virtual events with our leading journalists
Already have an account? sign in
Join our new commenting forum
Join thought-provoking conversations, follow other Independent readers and see their replies