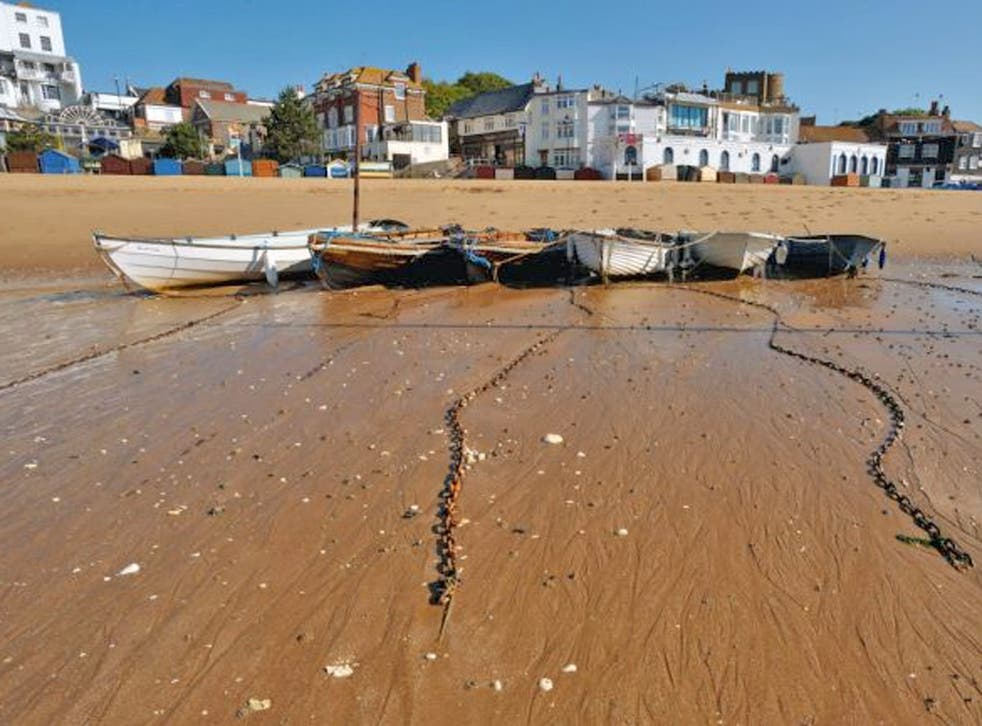 Charles Dickens: Old curiosities with a new twist
Broadstairs in Kent was once Dickens's holiday retreat. As the bicentenary of his birth arrives, Hilary Macaskill pays a visit
In 1842, Charles Dickens spent six months in exotic America – a trip that took him and his intrepid wife, Catherine, from a log house in Pennsylvania to a steamboat along the Mississippi. The next year, however, he took his family away for the summer from his London home opposite Regent's Park to ... Finchley, north London.
Nowadays, on the site of that holiday home stands a street of Edwardian villas, a plaque on 70 Queen's Avenue marks the spot. Then, it was the "sequestered farmhouse" of Cobley's Farm, his "Arcadian retreat" of "green lanes" where on long walks Dickens devised Mrs Gamp while writing Martin Chuzzlewit.
The 200th anniversary of the birth of this most prolific of Victorian novelists will be marked on Tuesday with a wreath-laying at Poets' Corner in Westminster Abbey – and this bicentennial year offers a frantic itinerary of ways to honour the great man (see dickens2012.org).
Dickens himself was very good at taking a holiday (even though he never entirely switched off). A summer home was always important to him, though he usually went further than Finchley. Broadstairs, for example, a favourite for many years, was his "home from home".
Back then, travel to Broadstairs was generally by river and sea from the wharf at London Bridge. Once established, he sent invitations to friends with instructions about boarding the Ramsgate steamer.
I took the train instead, trundling along the North Kent coast. On arrival, there was time for lunch in the stripped-back stylishness of The Royal Albion, now somewhat removed from the jolly "Albion Hotel" where Dickens spent "merry nights". It still offers the same wide views of the sea that so enticed him: for three years his summer home was next door, a house later absorbed into the hotel. From the terrace, I had a perfect outlook on to the bay, the smooth sands, and the sailing club.
Later, I joined the Saturday walking tour which starts on the seafront at 2pm. It's led by Peter Shaw, who besides being a guide is also chairman of the Cramptown Tower Museum (engineer Thomas Crampton was responsible for laying the first telegraph cable under the Channel). As we took shelter by the Pavilion, Peter pointed out the sights: Eagle House, named after the captured French imperial standard brought ashore here after victory at Waterloo in 1815; the clock tower erected for Queen Victoria's Jubilee; and Bleak House, formerly Fort House – the holiday home Dickens aspired to during his years here.
His first stay, in 1837, was in lodgings overlooking High Street. It was here that he finished The Pickwick Papers. There's a plaque: one of many Dickens plaques here. (There's one in York Street that reads: "Charles Dickens did not live here.") Oliver Postgate, creator of Bagpuss and The Clangers, has a plaque too, in Chandos Square, together with a mosaic depicting two Clangers.
It was always important to Dickens to be close to the sea. The town has lovely beaches and he spent much time on them, with his children, with his friends, and swimming. Of course, being Dickens, he was also writing all the time. He started books here and finished books here. One reason for being fond of the Albion Street house was that he"started the old man and the child on their Curiosity-Shop wanderings from that mansion". One year Dickens, unusually for him, kept a diary of sorts.
Entries for 15 days had one word: "Work" (he was writing Nicholas Nickleby); the next five days involve, simply, "Sea Bathing". Dickens finally got his wish to stay in Fort House, which "stood prominently at the top of a breezy hill". He finished David Copperfield here. Later, Fort House was extended in the crenellated style of the original and renamed Bleak House. This causes confusion: he neither wrote Bleak House here, nor used it as a location: that novel was set near St Albans. When it changed hands, the small museum here was discarded in favour of an upmarket B&B.
The Dickens House Museum, despite the name, is one house he did not stay in. It was the home of Mary Pearson Strong, the inspiration for Betsey Trotwood, the magnificent aunt of David Copperfield. Today, it is an interesting little museum where Betsey's parlour has been recreated as described in the book and there's Dickens memorabilia including letters.
In Our English Watering Place, Dickens enthuses about the sparkling sea and the boats "dancing on the bubbling water". He was less fond of St Peter's Church, a "hideous temple of flint, like a giant petrified haystack".
Many of the landmarks he describes are recognisable today: the "queer old wooden pier, fortunately without the slightest pretensions to architecture, and very picturesque in consequence"; the lighthouse; and the "fancy shops", stocking "objects made of shells that pretend not to be shells".
Broadstairs has repaid this devotion. The library and assembly rooms have now been replaced by The Charles Dickens Inn. Close by are: Barnaby Rudge restaurant, Nickleby's Takeaway, Marley's café, and Dickens's Thai Diner. And, each June at the Dickens Festival, locals dress in Victorian costume and enact scenes from his books.
By 1851, he had become disenchanted with Broadstairs, complaining of "vagrant music", including a "violin of the most torturing kind" under his window. "I fear Broadstairs and I must part company," he wrote. The following year he switched his allegiance to Boulogne, but just two years earlier, he had written boisterously to a friend "Veeve la Broadstairs!"
Charles Dickens at Home by Hilary Macaskill is published by Frances Lincoln
Let Dickens be your guide to ...
... Brighton (148 King's Road)."I couldn't pass an autumn here: but it is a gay place for a week or two."
... Dover (10 Camden Crescent). "The sea is very fine and the walks are quite remarkable."
... Folkestone (3 Albion Villas). "The Down-lands in this neighbourhood – principally consisting of a chain of grass-covered hills of considerable elevation – are enchantingly fresh and free."
... The Isle of Wight (Winterbourne Country House, Bonchurch). "Cool, airy, private bathing, everything delicious."
Travel essentials
Getting there
Fast trains from London St Pancras to Broadstaires take 82 minutes. Slower trains run from Victoria (0845 000 2222; southeasternrailways.co.uk).
Staying there
Bleak House, Broadstairs (01843 865338; bleakhouseholidays.co.uk); Dickens House Museum (01843 863453; dickensfellowship.org/ branches/broadstairs) where, from Easter, the museum will open 2-5pm daily and 10am-5pm from June.
More information
Broadstairs Dickens Festival runs from 16 to 22 June (broadstairsdickensfestival.co.uk). Broadstairs tourist information: 01843 862242; visitbroadstairs.co.uk. Visit Thanet: visitthanet.co.uk
Join our new commenting forum
Join thought-provoking conversations, follow other Independent readers and see their replies