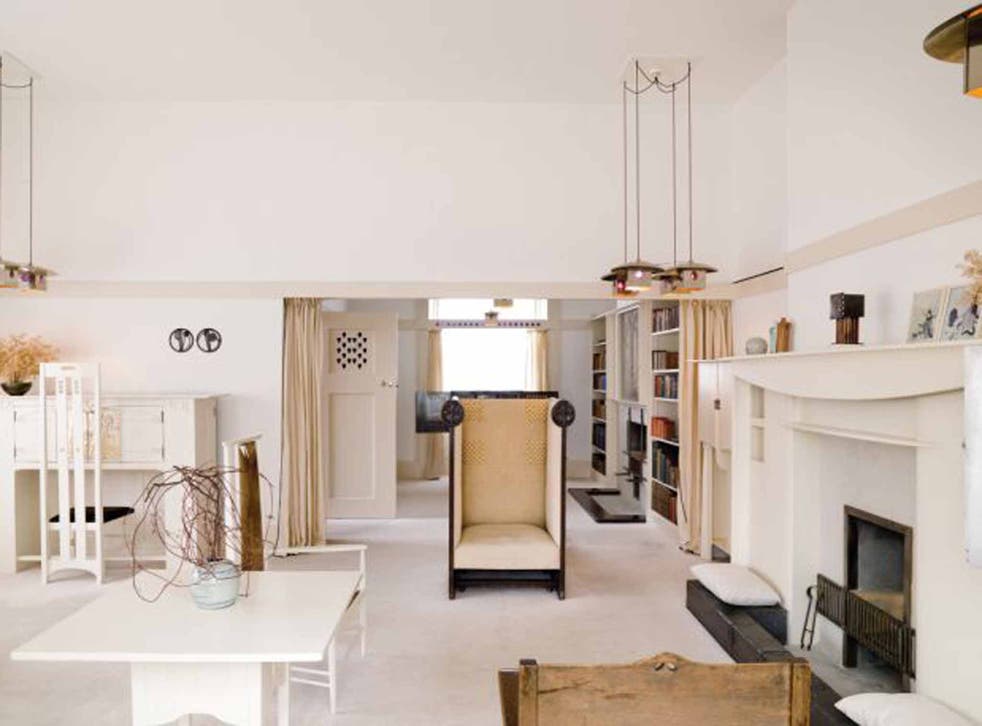 Charles Rennie Mackintosh: Explore the world of Scotland's most famous architect
As a new exhibition on Charles Rennie Mackintosh opens, Christopher Beanland follows in his footsteps
Tuesday 17 February 2015 18:59 Comments
Charles Rennie Mackintosh created something from nothing: his designs were totally new, and totally modern, and they came to define a progressive "Glasgow style" a century ago. Whether it was furniture, rooms or whole buildings, Mackintosh had a flair for mixing minimalism with images inspired by nature. And, as well as being a prolific designer and architect, he was an accomplished painter and sketch artist.
Sadly, the western half of his most famous building, the Glasgow School of Art, was seriously damaged in a fire last year. But while the building is being painstakingly repaired, a new exhibition in London delves deeper into the Mackintosh mind. And there are plenty of other places to get the measure of the man – VisitScotland has a page on its website dedicated to him (bit.ly/MackintoshScotland).
Capital collection
The Royal Institute of British Architects (architecture.com; free) hosts the most in-depth exhibition about Charles Rennie Mackintosh ever staged. Mackintosh Architecture features more than 60 items, previously housed in Glasgow, including drawings, paintings, photographs, the ledger book from his office, and documents which tell Mackintosh's story. There are also designs for buildings he never built. Most intriguing of all is the competition entry for Liverpool Cathedral – although he lost the contest, the final design, by Giles Gilbert Scott, was strikingly similar.
Home from home
The Hunterian Art Gallery (0141 330 4221; gla.ac.uk/hunterian) in Glasgow's leafy West End is the perfect place to learn more about Mackintosh. Here his house has been reassembled, complete with all the interiors as they were a century ago. It used to stand down the road, but was demolished when Glasgow University expanded in the 1960s. You need to join a half-hour guided tour (free; several times daily), but it's well worth it.
Also in the gallery, aside from a slew of Whistlers, are Mackintosh's travel works – sketches and paintings of places from Sintra in Portugal to Saxlingham in Norfolk.
Stay over
The handsome Hill House in Helensburgh, west of Glasgow, sits in picturesque grounds, overlooking the river Clyde. Mackintosh designed the building and nearly everything inside, including the furniture and fittings, for the well-off publisher Walter Blackie and his family to live in.
Much of the house has been restored to how it was in 1904, when the Blackies moved in, and today you can stay there too. The National Trust for Scotland (0131 458 0305; bit.ly/Mack HillHouse) is taking bookings from 28 March, with prices for a four-night stay starting at £460 (sleeps six). The house reopens for day visits from 1 April; £10.50.
Take a walk
A stroll around Glasgow, the city with which Mackintosh is the most closely associated, will unearth plenty of architectural treasures. The Willow Tea Rooms (0141 332 0521; willowtearooms.co.uk) on Sauchiehall Street serves cream teas, soups and sandwiches in a room he designed, where you can sit on chairs made to his specification. The gift shop downstairs is perfect for those seeking Mackintosh souvenirs.
Two streets west is the Glasgow School of Art (gsa.ac.uk), which you can pop to if you want to see how restoration work is progressing. The answer, alas, is: slowly. And don't miss Stereo (0141 222 2254; stereocafebar.com), tucked down a lane near Central station. It's on the ground floor of the old Daily Record Building, another Mackintosh treasure. These days, it's perfect for late-night beers and bands.
Midlands Mack
One of the few buildings Mackintosh designed in England is 78 Derngate in Northampton (01604 603 407; 78derngate.org.uk; entry £7). The toy magnate Wenman Bassett-Lowke had an eye for design, but not quite enough cash for a whole new home, so Mackintosh's solution was to remodel an existing terraced house. It was gutted and remade into a modern villa; the rear elevation looks like something from the International Style, while the restored interiors are fresh and modern. A new exhibition about quilt-making has just begun, and there's also a restaurant, The Dining Room.
Register for free to continue reading
Registration is a free and easy way to support our truly independent journalism
By registering, you will also enjoy limited access to Premium articles, exclusive newsletters, commenting, and virtual events with our leading journalists
Already have an account? sign in
Join our new commenting forum
Join thought-provoking conversations, follow other Independent readers and see their replies