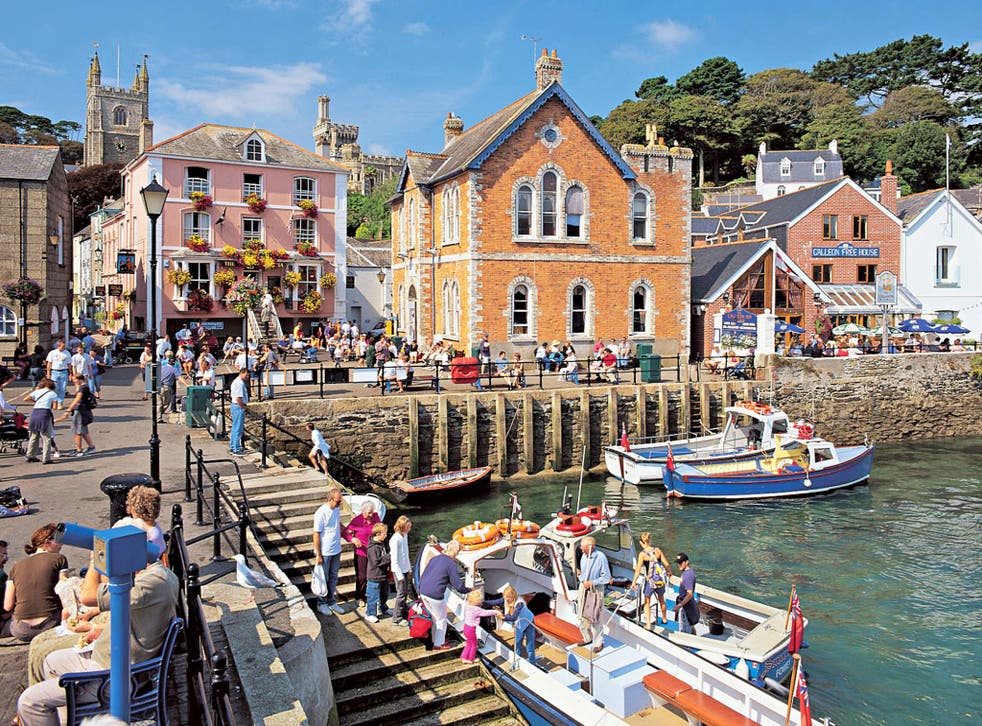 Cornwall: Smugglers' country
As the TV adaptation of Daphne du Maurier's 'Jamaica Inn' hits our screens, Harriet O'Brien visits the places which inspired the classic tale
Sparkling waves were dancing beneath the windows of the blue-and-white house by the ferry crossing. Thanks to the combined efforts of sunshine and sea breezes, life looked preposterously pretty around the mouth of the River Fowey (pronounced to rhyme with joy, so the area's nifty promotional literature points out). I was in the eponymous harbour town, gazing across to the hamlet of Bodinnick and a charming property called Ferryside.
Originally part of a boatyard, Ferryside was bought as a family holiday home by the mercurial actor-manager Gerald du Maurier in the mid-1920s. Local legend has it that he could afford the property thanks to a deal he made in selling the family name to a tobacco company: du Maurier cigarettes are still produced for the Canadian market. It was a life-changing purchase for his second daughter, for whom Fowey and Cornwall were inspirational. Daphne du Maurier wrote her first book, The Loving Spirit, here; Rebecca, her tour de force, was based on the country mansion Menabilly just outside the town; while Jamaica Inn, her fifth book, is a page-turner of a tale about Bodmin Moor and Cornwall's turbulent past of smugglers and wreckers. The latest screen adaptation of the latter is a BBC series starting this Monday, starring Jessica Brown Findlay as the feisty heroine, Mary Yellan.
Prompted by the prospect of the screen drama, I had come to explore Daphne du Maurier's Cornwall. The Fowey tourist office runs historical walks around town, and joining one of these seemed an apposite introduction. We started at The Esplanade, lined by large Victorian houses, then walked down to scenic Readymoney Cove where Daphne and her three children lived during the Second World War when Ferryside and much of Fowey were requisitioned by American forces. We meandered into the ancient heart of town taking in the main quay and the Daphne du Maurier Centre – a permanent free exhibition at the tourist office. Then we moved on to the old boatyard area, looking across to the du Mauriers' house. Opposite it, a few boatyards still operate and beyond them are jetties where fish and china clay are unloaded.
For all that, Fowey is satisfyingly real and not just a tourist town. It's a pocket handkerchief of a place, all pastel-shaded houses, winding lanes and stupendous views over the river. I could have spent hours gazing from the picture window of my room at the Fowey Hotel, a grande dame exuding the charm of the 1920s and '30s. Then, Daphne would take tea here with her mentor, the writer Arthur Quiller-Couch, who lived on The Esplanade.
In 1932, she married a dashing soldier, Frederick Browning. It proved a diffident marriage and both Tommy and Daphne had affairs (she most notably with the actress Gertrude Lawrence), yet initially it was the stuff of romantic fiction. They wed just three months after first meeting: accompanied by a few family members they took a boat from Ferryside up Penpol Creek to tiny Lanteglos church. With formalities over, the newlyweds sailed away in Tommy's yacht, mooring for the night at Frenchman's Creek, off the Helford river, further along Cornwall's south coast.
So, it is no coincidence that Daphne's 1941 novel Frenchman's Creek is her most romantic work. It's a zesty story in which the creek is portrayed as a magical stretch of water. And that's very much as I found it on an early morning kayaking trip run by adventure operator Koru Kayaking, which welcomes beginners like me. The wind was a cheerful challenge as we paddled across the Helford river, then we rounded into the creek past the dramatic remains of a wrecked fishing boat, and found ourselves in a haven of calm. Sunlight filtered through ancient woodland, bright white egrets stalked the shallows and a pair of swans glided past.
Next stop was Falmouth, where the permanent displays at the National Maritime Museum include sea craft dramatically suspended across the atrium. However, until 6 July the museum has an exhibition on smuggling in Cornwall. That this is largely geared for children makes it all the more imaginatively devised: you learn how smuggling became ingrained into the local economy in the 18th and 19th centuries; how tobacco would be braided into coils of rope; and how women would literally spirit away brandy in containers beneath their petticoats. The world of Cornwall's smugglers was a compelling subject for fiction.
Jamaica Inn, first published in 1936, was among the books to borrow by the fireplace in the cool, cream sitting room at Merchant's Manor where I was staying. It is a newly, and strikingly, revamped hotel a short walk from Falmouth Harbour and, under chef Dale McIntosh, its food is a treat, featuring everything from freshly caught mackerel to six-hour braised shank of local lamb.
The next morning, suitably fortified, I set off for Jamaica Inn territory. I was heading first for Holywell Bay on the north coast about six miles from Newquay. It is not obvious Daphne du Maurier country, but it is where the wrecking scene from Jamaica Inn was recently shot. In the book, the scene is sinister and violent in equal measure, as rum-sodden wreckers lure a ship on to rocks and murder those who swim ashore. By contrast, the sandy expanse of Holywell Bay looked glorious on the morning I was there. The peace was palpable as I sat on a grassy clifftop gazing at the beach dotted with gulls and oyster catchers.
About a mile inland is Trebellan and the Smugglers Den Inn, picturesque beneath thatch. This was a 16th-century farmhouse with tunnels running to a nearby mine that made perfect storage space for contraband. It became a pub in the 1960s and has hearty fare, roaring fires in winter and outdoor dining with lovely views in summer.
Onward to Bodmin Moor, about 40 minutes' drive away. Clouds descended as I approached this rugged region of granite tors and heather-coated upland. In the hamlet of Bolventor at its heart stands Jamaica Inn, built in 1750 to offer shelter to those travelling by mail coach. Much altered over time, and much developed since Daphne du Maurier brought it fame and fortune, it is now a rambling slate- and grey-stone complex that at first might seem to be pandering to a kitsch tourist market – there's a set of stocks in the forecourt and a talking mannequin of a pirate by the Peddlars Bar door. But inside you find a place of genuine warmth. They welcome walkers here, providing free parking and offering guidance on routes across the moor that are invaluable in view of the treacherous marshes.
And there's more. Jamaica Inn has two bars, a well-visited gift shop, an absorbing museum on smuggling and Daphne du Maurier (with many items donated by her family), and a hotel complete with stories of ghost sightings. Last month, the pub changed hands and now belongs to businessman Allen Jackson, who plans to expand its accommodation. I had been planning to stride up Tolborough Tor from the pub. But the rain lashed down. So, as if in perfect harmony with the elements, I ordered a coffee, hunkered down by the fire and started re-reading Daphne du Maurier's fast-paced yarn about this brooding expanse of Cornwall, while the wind howled around the grey buildings.
Jamaica Inn starts at 9pm on BBC One on Monday
Travel essentials
Getting there
The railway from Exeter to Penzance is now open again after February's storm damage. Harriet O'Brien travelled on the First Great Western (0345 700 0125; firstgreatwestern.co.uk) service from Paddington and hired a car with Europcar (0871 384 1087; europcar.co.uk). Trains are also run by CrossCountry from Bristol, Birmingham, Leeds, Edinburgh and many other towns and cities. By air, Newquay airport takes flights from Gatwick and Manchester with Flybe.
Staying there
The Fowey Hotel, Esplanade, Fowey (01726 832551; thefoweyhotel.co.uk) has doubles from £138, including breakfast.
Merchants Manor, Western Terrace, Falmouth (01326 312734; merchantsmanor.com) has doubles from £130, including breakfast.
Jamaica Inn, Bolventor, Bodmin Moor (01566 86250; jamaicainn.co.uk) has doubles from £85, breakfast included.
Eating and drinking there
Smuggler's Den, Trebellan, Cubert (01637 830209; thesmugglersden.co.uk).
Visiting there
Trips with Koru Kayaking (07794 321 827; korukayaking.co.uk) include two-hour guided excursions from the Helford Estuary up Frenchman's Creek, from £35pp.
More information
Visit Cornwall (01872 322900; visitcornwall.com).
Join our new commenting forum
Join thought-provoking conversations, follow other Independent readers and see their replies