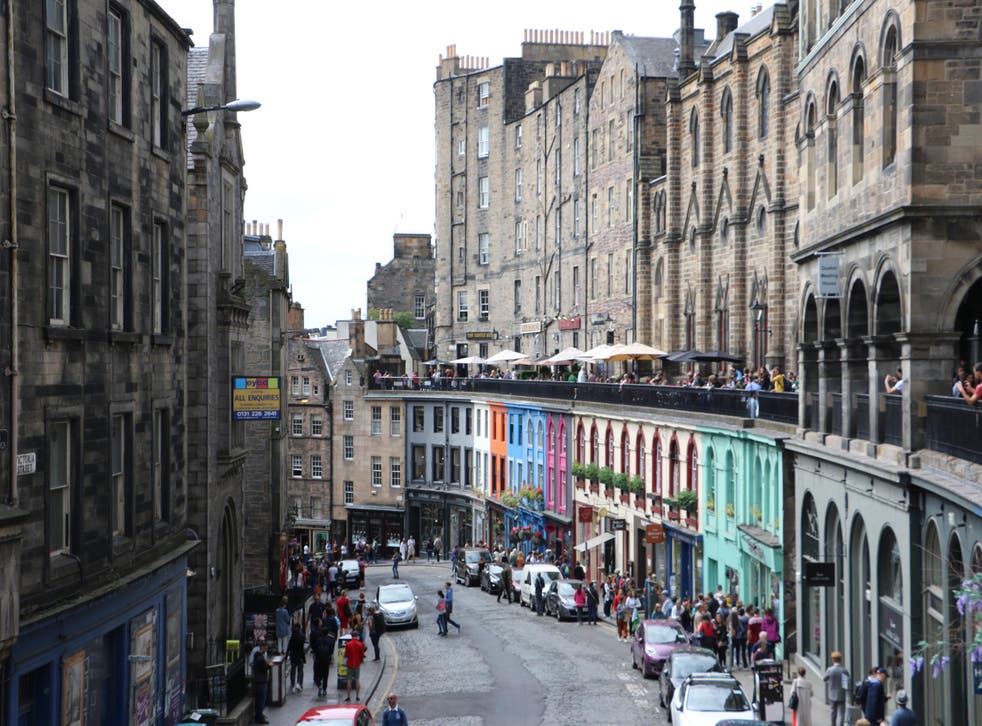 Why Edinburgh is the best city for pop fans
There's more to the Scottish capital than The Proclaimers – this summer sees the tandem launch of an insider's music tour and the city's loudest exhibition yet
Every corner in Edinburgh has an echo. The brick vaults, recesses and chambers of the Cowgate, the quaysides and waterways of Leith, the wynds and alleyways that funnel from the High Street – and all lead to taverns, pubs, clubs and venues where you can find musicians rehearsing, tuning up and playing. In between, there are plenty of music fans who can tell you a story or two.
"If you ignore The Beatles, the world's most successful boy band comes from here," says former music journalist Jonathan Trew, beating a path onto George IV Bridge. "Edinburgh's celebrated for its architectural beauty, its fascinating history and its world-famous summer arts festivals, but the story of its music is one that's lesser known."
There are few better people to tell you this than the one-time music critic, and he's whisking me along the cobbles on a trivia-loaded tour of the city's pop, punk and folk temples. It's 1pm and we've just left Chambers Street, while the music diehard talks up the impact of homegrown pop stars the Bay City Rollers. "They gave us Rollermania and sold 120 million records. Not even One Direction have managed that!"
To prove it's a story worth telling, Trew has just launched Edinburgh Music Tours, a sister to the successful Glasgow walkabouts launched three years ago with fellow music writer Fiona Shepherd. And with more in-the-know anecdotes than former city resident David Bowie had hits (few know the Thin White Duke once lived on Drummond Street), he's making quite a song and dance about the city's pop credentials.
The timing of the launch is key too, complementing the opening of the National Museum of Scotland's blockbuster exhibition, Rip It Up: The Story of Scottish Pop (open until 25 November). It charts a Caledonian pop chronology across the decades with fabulous costumes, instruments and memorabilia donated by some of music's biggest stars, from Lonnie Donegan and Lulu to Biffy Clyro and Belle and Sebastian. But before that, I need to catch up with Trew, who's racing ahead of me around the corner.
As complicated as Edinburgh can be to navigate, it takes little more than a couple of hours to walk through its music history. We turn onto Forrest Road, home to Sandy Bell's, a historic boozer and ground zero for the Scottish folk revival. It's hosted sessions since 1942 with regulars comprising a Scots who's who, including Barbara Dickson, Dougie Maclean, The Corries (whose Roy Williamson wrote Flower of Scotland) and Bert Jansch, a major influence on Neil Young and Led Zeppelin's Jimmy Page.
As we continue onto Heriot Place, with its camera-ready view of Edinburgh Castle and skirt of crags and church steeples, Trew suggests Edinburgh has always been more punk than Glasgow, an attitude that belies its more buttoned-down feel.
"Scotland's punk epiphany was the opening date of The Clash's White Riot tour at the Playhouse in May 1977, and it was notable for the amount of attendees who went on to form bands," he says, turning to point out No 2 Keir Street. The address was once the counterculture epicentre for Fast Product Records, the country's most celebrated 1970s indie label. "After that we soon had The Fire Engines, The Rezillos, The Exploited, The Scars and Josef K. A huge list."
We cut under the castle's parapet and the stands of the Edinburgh Military Tattoo, watched every year by a TV audience of 100 million, then move to venues that continue to leave a mark. Favourite records are debated, and outside The Liquid Room, Sneaky Pete's and Subway, we hear stories like the one about grunge pin-up Shirley Manson's first gig. The rude health of the city's venues is discussed (the Leith Theatre, the Impact Centre on St Andrews Square and the redesigned Ross Bandstand in Princes Street Gardens are just three reasons to be cheerful). And, best of all, before leaving I learn the optimum tempo for administering CPR is "(I Would Walk) 500 Miles" by hometown heroes The Proclaimers.
Around the corner at the National Museum of Scotland, there's plenty of The Proclaimers' memorabilia on display, alongside a rich trove from an eclectic mix of artists. Among those present are Simple Minds, Primal Scream, Alex Harvey, Franz Ferdinand, The Average White Band, Mogwai, AC/DC, Nazareth, Teenage Fanclub, The Incredible String Band, Altered Images, Annie Lennox and Rod Stewart – and it's in front of a 1950s skiffle guitar that I meet curator Stephen Allen.
"For some people, seeing these items is like looking at the Lost Ark of the Covenant," says Allen, stopping in front of the beret worn by The Associates' Billy MacKenzie. Close to that is Gerry Rafferty's guitar painted by John Byrne and the bass played by Cream's Jack Bruce. "It's a bit of a departure for us as a museum, but pop music is a gateway drug into lots of different art forms."
What's also pushing the boundaries is the exhibition's enterprising approach. There's an accompanying TV documentary and series of concerts to be held in conjunction with this month's Edinburgh International Festival. The Jesus and Mary Chain, Django Django and King Creosote are all on the bill. "There's something ephemeral and deep rooted, academic and serious about all this," Allen concludes. "It takes a hard look at what Scottish pop is – and I think it's an attitude, more than just a tartan trim."
Attitude, pure and simple. Or wild, radge and pure dead brilliant, as some commentators have put it. Whatever you call Scottish pop, it's found in the record shops and the scuzzy venues; in the spaces between, and in the echoes.
More information
Rip It Up: The Story of Scottish Pop runs at the National Museum of Scotland until 25 November.
Edinburgh City Walking Tours run regular guided tours.
Register for free to continue reading
Registration is a free and easy way to support our truly independent journalism
By registering, you will also enjoy limited access to Premium articles, exclusive newsletters, commenting, and virtual events with our leading journalists
Already have an account? sign in
Register for free to continue reading
Registration is a free and easy way to support our truly independent journalism
By registering, you will also enjoy limited access to Premium articles, exclusive newsletters, commenting, and virtual events with our leading journalists
Already have an account? sign in
Join our new commenting forum
Join thought-provoking conversations, follow other Independent readers and see their replies