The Independent's journalism is supported by our readers. When you purchase through links on our site, we may earn commission.
Dorset Coast travel guide
This awe-inspiring prehistoric coastline offers scenic hikes, breathtaking views and sandy beaches. There are even wild dolphins, says Harriet O'Brien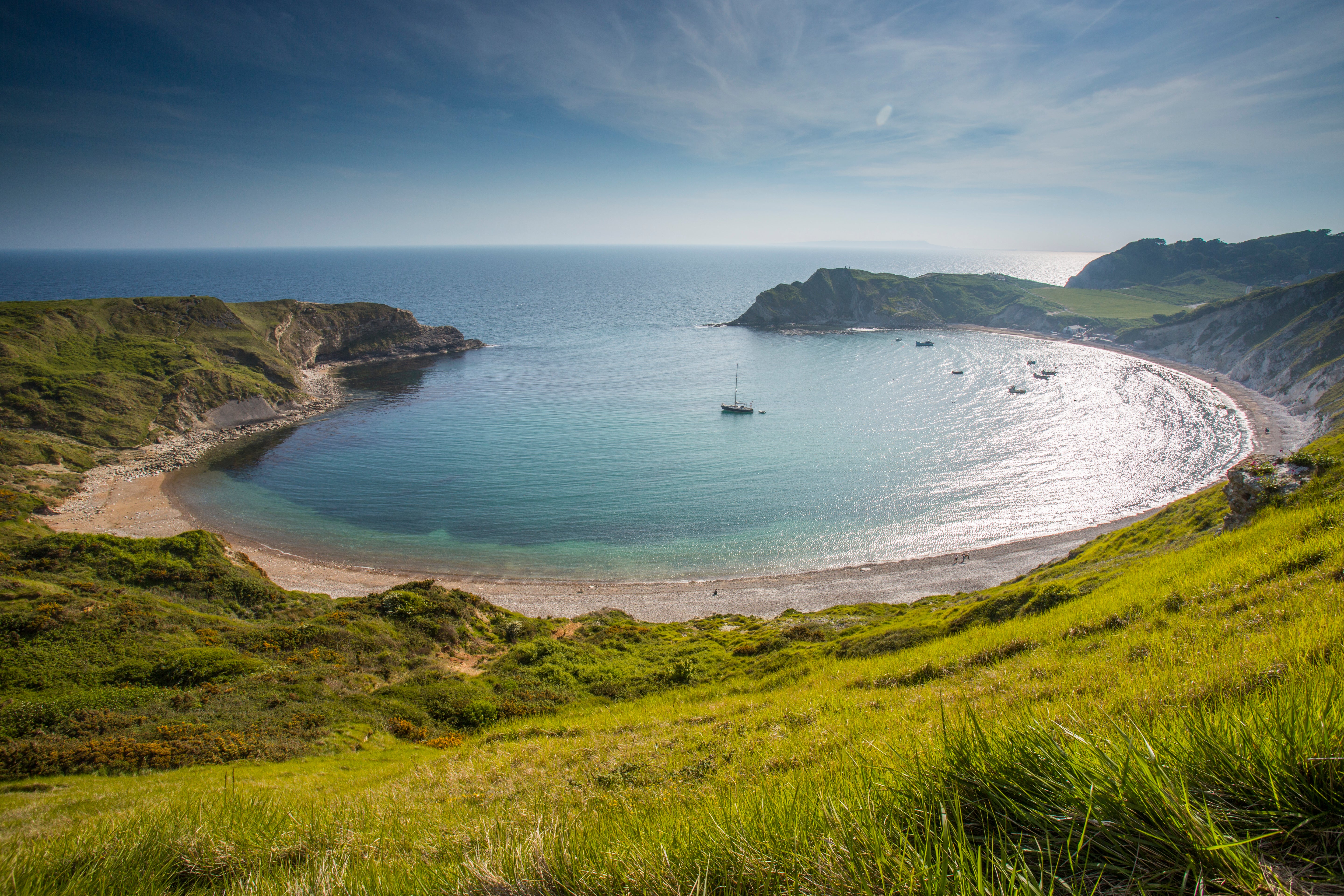 What's the big attraction?
Bracing fresh air and beauty, laced with an intriguing geology and history. From rolling downs, vertiginous cliffs and weird rock formations to sparkling seas, long stretches of beach and hidden coves, Dorset's coast packs in wonderful variety and plenty of wow-factor highlights. On a clear day the panoramas are spectacular and even in less clement conditions there's a rugged grandeur here. Yet there is more – much more – to this long strip of shoreline than just good looks.
The Dorset seashore forms a substantial part of an area recently named the Jurassic Coast. This was declared a Unesco World Heritage Site in 2001, a status shared with the Great Barrier Reef, the Tasmanian wilderness and Yellowstone Park, among other natural wonders of the world.
Running from east Devon along the edge of Dorset, the 95-mile Jurassic Coast is so called because right there is extraordinary evidence of 185 million years of Earth's history, with amazing fossil sites and geological features spanning not just the Jurassic period (essentially the "age of the dinosaurs") but the preceding Triassic and succeeding Cretaceous periods as well. So you can enjoy glorious living scenery – graced with wild flowers, the occasional appearance of a dolphin or a seal, sea birds and more – while also getting an awe-inspiring sense of the Earth's past.
Can I walk it all?
Yes you can – if you have the time and stamina. The South West Coast Path begins in the Dorset port of Poole and extends for 630 miles around Land's End to Minehead on the edge of Exmoor. Dorset's Jurassic Coast path, known more tamely as the Dorset Coast Path, comprises an 86-mile stretch between Poole and Lyme Regis in the far west on the Devon boundary.
Between April and October a dedicated Jurassic Coast bus service (Coastline X53; details from Traveline on 0870 608 2608 or visit www.jurassiccoast.com) is in operation. This links the key gateways of the coastal path: towns and villages such as Bridport, Weymouth, Wool and Wareham. The service makes it possible to walk small sections of the Dorset coast without taking a car; with a £5.50 day ticket you can hop on and off at will during a 24-hour period.
Various organised hiking holidays along the Dorset coast are offered by Footscape (01300 341 792; www.footscape.co.uk), which provides those on its self-guided tours with a booklet explaining the lie of the land, as well as recording local myths and legends. An eight-day self-guided trip along the whole of Dorset's stretch of Jurassic Coast (including a day's rest to draw breath) costs from £520 per person, based on two sharing. The price covers bed and breakfast accommodation, walking book and instructions, as well as transport to the trail each day.
Guided tours and shorter independent trips are also available. Another company offering similar services is Discerning Traveller (01865 515 618; www.chycor.co.uk/holidays/discerning-traveller).
For fossils?
Head to the western end of Dorset's Jurassic Coast. The cliffs by Lyme Regis and Charmouth are real treasure-troves, particularly rich in ammonites, belemnites, nautiluses and more. And because the cliff faces are eroding fairly rapidly, "new" fossils are constantly being exposed. It is dangerous and ecologically unsound to dig them out for yourself, although if you find specimens there is no ruling against taking them away. However, it may be better, not to say more satisfactory, to join a guided trip on which you learn about what you're looking for, how to recognise important finds and where to record them. The Visitor Centre on the beach at Charmouth (01297 560 772; www.charmouth.org; open 10.30am-4.30pm daily from April to October, until 6pm during school holidays) runs two-hour fossil-hunting walks over most weekends in the summer; adults £7, children £3. It also contains fossil exhibits and information as well as hands-on displays. Private fossil-hunting sessions with the Charmouth wardens (on the above number) can also be arranged.
Any other natural wonders?
Between Charmouth and Bridport is the distinctive Golden Cap, a striking hill and cliff that takes its name from the yellow sandstone crowning its summit – which, at 626 feet, is the highest point on the south coast. It now belongs to the National Trust. Further east is Chesil Beach, an extraordinary, narrow stretch of shingle some 17 miles long that has been washed up by storms and forms a barrier ridge with a lagoon behind it. The beach is composed of millions of pebbles which neatly decrease in size west to east, the largest being at the eastern extremity in Portland, the smallest to the west near Abbotsbury. No one is completely sure why, but one theory holds that the larger pebbles move faster and that the natural grading takes place due to pebble-speed in response to the force of the waves.
The eastern end of the lagoon behind the beach is now the Fleet Nature Reserve, protecting migratory birds and a huge number of marine species. Its visitor centre is open daily (11am-6pm; admission free).
East again, beyond Weymouth, you reach particularly dramatic coastal landscape, the Purbeck stone and limestone rocks here having been carved by the sea in very different ways. Lulworth Cove is an almost perfect scallop shape lying beneath downland and cliffs. Just off the headland nearby is Durdle Door, an astonishing arch of rock, its innards worn away by waves. The long, sloping beach to one side is a haunt of summer crowds.
Fossil-rich Kimmeridge Bay lies further east, beyond a military firing range, which remains a largely no-go area. The bay is a wonderful, protected haven, its double low tide making it an exceptionally absorbing place for rockpooling. You are likely to lose all sense of time here as you gaze into magical watery worlds of hermit, and delicate porcelain, crabs and tiny fish.
In August last year a snorkelling trail between buoys was devised further out in the bay – it is recommended only in calm, clear conditions when the tide is in. You can pick up a leaflet on how to access the trail, and what you are likely to see, at the Purbeck Marine Wildlife Reserve on the bay (01929 481 044; www.coastlink.org/kimmeridge; open daily Easter to October 10am-5pm; rest of the year Sundays only; admission free). Managed by the Dorset Wildlife Trust, this is a voluntary centre containing exhibitions and an aquarium of local marine life.
Over by Swanage Bay, a line of chalk stacks can be seen off the cliffs at VC Ballard. Known as Old Harry Rocks, these eroded cliff remnants were once part of a continuous shoreline extending to the Needles on the Isle of Wight. Harry is the single white stack at the end of the line. He once had a wife – in the form of a chalk stack further out to sea. But she stood the test of time and tide less well and collapsed into the water about half a century ago.
For sheer scenic appeal
If you're in search of a picturesque village, make for Abbotsbury. Not only is it chocolate-box pretty, but it also offers plenty to see and do. You can visit 20 acres of spectacular subtropical gardens (01305 871 387; www.abbotsbury-tourism.co.uk; open daily 10am-5pm, adults £8), a large swannery that has been a nesting site for more than 600 years (01305 871 858; website as above; open daily 10am-5pm, adults £8), and a children's farm offering such activities as goat racing and feeding (01305 871 817; website as above; open daily 10am-5pm, adults £6.50, children £5). In addition, you can wander around the remains of Abbotsbury's Benedictine abbey, open daily during daylight hours (www.english-heritage.org.uk; admission free).
Although the abbey was all but destroyed during the Reformation, one monastic building still stands complete: about half a mile above the main abbey ruins and the village itself, little St Catherine's Chapel was built in the 14th century, and sits amidst ridges of medieval agricultural terracing.
For a glorious combination of gently managed nature and wildlife, head east to Durlston Head just below Swanage. In the spectacular landscape of 280-acre Durlston Country Park you will usually be able to see guillemots, peregrines and, offshore, possibly, even bottlenose dolphins. The clifftops here are now awash with wild flowers – wonderful displays of sea pinks, yellow wort and horse-vetch – and when the sun shines, butterflies are abundant. The park offers four walking trails, with leaflets on each route available at the Visitor Centre (open from Easter to October daily 10am-5pm, otherwise open weekends 10.30am-4.30pm; 01929 424 443; www.durlston.co.uk). The park itself is open all year, sunrise to sunset, and admission is free.
How about sandy beaches?
With few exceptions, the best sandy beaches of Dorset's coast lie between Weymouth and Poole. An appealingly old-fashioned seaside resort complete with Punch and Judy shows, deck chairs and donkey rides, Weymouth was in many respects created by George III who, between 1789 and 1805, visited the little town at least 14 times. He came in the hope that bathing in the sea water would help to cure his "nervous disorder", although his accompanying retinue sounds inappositely unhelpful: an attendant band is said to have struck up the national anthem every time the king took a dip. The great and the good of the country flocked here in the wake of their sovereign. Today the impressive sweep of soft sands along Weymouth's mile or so of sandy seafront remains largely backed by Georgian buildings. Tourist information: 01305 785 747; www.weymouth.gov.uk.
Further east there's a glorious beach beyond Swanage. About three miles long, Studland Bay is owned by the National Trust, which also runs a nature reserve (a particular haven for grebes and divers) in the heathland immediately behind. For the most part Studland is very much a family beach but it is as well to be aware that an area of its northernmost part is a designated naturist section.
Across the bay is Poole, which offers a small choice of sandy beaches. In particular, the narrow stretch off Shore Road has a lively buzz contributed by a Mediterranean-style café and brasserie. However, Poole's beach attractions are eclipsed by neighbouring Bournemouth, which boasts about seven miles of sandy promenade, from Sandbanks to Southbourne. Tourist information: 01202 253 253; www.pooletourism.com.
A regular beach-award winner (for facilities, quality of water, first aid and more), Bournemouth is very much a thriving, lively seaside resort and its entertainment accoutrements range from an IMAX theatre to a large aquarium (Oceanarium, open daily 10am-6pm; adults £8; children £5.50; 01202 311 993; www.oceanarium.co.uk). It also retains its atmospheric old amusement pier, a reminder of the town's boom status as a hugely popular Victorian resort – it was, after all, here that Hardy set part of Tess of the d'Urbervilles and here that Robert Louis Stevenson spent some of his most productive years: at his house, Skerryvore, on Alum Chine Road, he wrote Kidnapped and Strange Case of Dr Jekyll and Mr Hyde. The property was bombed during the Second World War and a memorial marks the site. Tourist information: 0845 051 1701; www.bournemouth.co.uk.
Literary connections?
Lyme Regis has perhaps the strongest literary associations of any of the Jurassic Coast destinations. It was here that Jane Austen chose to place some of the most dramatic action of her posthumously published novel Persuasion. In 1968 the seaside town became home to the author John Fowles, who set much of his novel The French Lieutenant's Woman here. It was published a year later, and turned into a Hollywood film starring Meryl Streep in 1981.
During the early 1920s the First World War hero and author T E Lawrence rented a cottage near Lulworth Cove and the military base of Bovington Camp. "Lawrence of Arabia" later bought the spartan little property, living there until his death due to a motorbike accident on 19 May 1935.
Lawrence's cottage, Clouds Hill (01929 405 616; www.nationaltrust.org.uk), has been left much as devised by the writer. It gives an insight into his extraordinary world. It is now owned by the National Trust and is open to the public noon-5pm Thursday to Sunday until 28 October, adults £4, children £2.
Dorset's literary giant is the poet and novelist Thomas Hardy, who was born in the hamlet of Higher Bockhampton, inland near Dorchester, in 1840. His birthplace was a cob-and-thatch cottage that is now open Sunday-Thursday 11am-5pm; admission £3.50 (01297 561 900; www.nationaltrust.org.uk).
To celebrate Hardy's life and works, a long-distance footpath has been devised, beginning at his birthplace and ending at the churchyard at Stinsford where his heart is buried. Much of the route passes along the coast, taking in Lulworth, Kimmeridge, Wareham and Weymouth. The 212-mile trail is detailed in the paperback The Hardy Way by Margaret Marande (Dorset Publishing Company, £9.95).
Incidentally, Lyme Regis is twinned with St George's in Bermuda – whose founder was a Dorset mayor.
Where can I stay in style?
For elegant accommodation near the coast there are some excellent, if limited options. Abbey House on Church Street in Abbotsbury (01305 871 330; www.theabbeyhouse.co.uk) has a welcoming, "shabby chic" atmosphere. The former infirmary of Abbotsbury's Benedictine abbey, it offers four double bedrooms and one suite, from £65 including breakfast.
Further east, there is another atmospheric former church property in Wareham. The Priory at Church Green (01929 551 666; www.theprioryhotel.co.uk) dates from the 16th century and is set in gloriously landscaped gardens. One of its 18 bedrooms costs from £215 (including breakfast) for a standard double.
For families there is a real treat at Chesil Beach. Moonfleet Manor (01305 786 948; www.moonfleetmanorhotel.co.uk) at Fleet is a gracious Georgian mansion offering a swimming pool, sandpit, squash courts, crèche, great food and more. The Dorset coastal path lies just beyond the garden. Standard doubles cost from £170 (including breakfast).
Bournemouth also presents a wonderful family option. The Sandbanks Hotel (01202 707 377; www.fjbhotels.co.uk) is set right on a classic stretch of soft beach and has great sea views. Its facilities include a swimming pool, nursery and children's activities. Prices start at £150 per double, including breakfast.
Or rent a place of my own?
Classic Cottages (01326 555 555; www.classic.co.uk) offers a number of rentals along the Jurassic Coast. Damson Tree Cottage, for example, is located close to the fossil haven of Charmouth. This converted old stone barn, sleeping four, even has the odd fossil embedded in its walls. It is stylish, cosy and costs from £384 per week. Other companies offering places to rent along Dorset's seaside include Dorset Coastal Cottages (0800 980 4070; www.dorsetcoastalcottages.com) and Hoseasons (01502 502 588; www.hoseasons.co.uk).
The Landmark Trust (01628 825 925; www.landmarktrust.org.uk) is trying to save a historic building above Kimmeridge Bay. Clavell Tower, built in the 19th century as an observatory and folly, was standing dangerously close to the edge of an eroding cliff and so is being dismantled stone by stone and rebuilt further inland. Once the work is completed the building will be a distinctive holiday home, sleeping two.
Where can I find out more?
Call Dorset Tourism on 01305 221 001 or visit its website www.dorsetforyou.com.
She sells seashells...
Mary Anning is the quiet heroine of Dorset's Jurassic coast. She was born in Lyme Regis in 1799 to a poor family of cabinet makers. Her father, however, was also a fossil collector and he passed on his skills to his daughter.
At the age of about 12 she made an astonishing find: the first discovery of a complete ichthyosaur fossil (a sort of fish lizard). Mary went on to become an accomplished fossil hunter and won much respect among scientists of the time. Her practice of selling her finds are thought to be the origin of the tongue twister "She sells seashells by the seashore."
Click here to view UK Tours and Holidays, with Independent Holidays.
Join our commenting forum
Join thought-provoking conversations, follow other Independent readers and see their replies