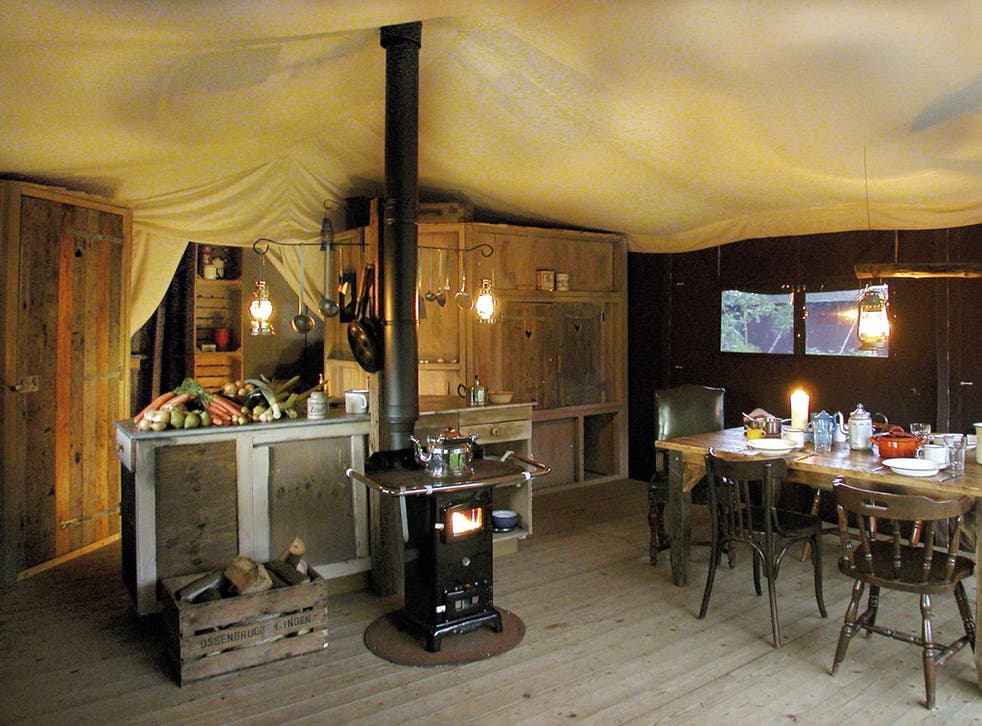 Farm-stays: There's more lying in than mucking out
The farm-stay experience now comes with a host of extras, from comfortable beds and home-cooked meals to spa treatments and champagne
What's the attraction?
A farm stay is now as likely to involve homemade ready-meals and hot tubs as it is hands-on farm activities. Increasing numbers of smallholdings and bigger agricultural operations are offering the chance to stay the night and experience life on the farm, either by getting stuck in or just renting a room. Farm Stay UK (farmstay.co.uk), a collection of over 1,200 farm-based accommodation providers, is a good place to start. Members include Wheatacre Hall Barns (01502 677208; wheatacrehallbarns.co.uk), self-catering cottages in south Norfolk that share a games room, gym and 1,100 acres of farmland. Rates start at £400 per week, or £300 for a short break.
Field to fork
You don't have to worry about food miles at Habton House Farm in North Yorkshire (01653 669707; northyorkshirebedandbreakfast.co.uk), where breakfasts include sausages from the farm's own rare-breed pigs. Double rooms start at £170, B&B.
Or head to Sherbourne Lodge Cottages, in Suffolk (01787 210885; sherbournelodgecottages.co.uk). This year, guests renting a cottage on this working crop and livestock farm can book their children in for a session to learn about foods grown on the farm. Cottage rental starts from £300 per week.
Who said that?
"Farming looks mighty easy when your plough is a pencil, and you're a thousand miles from the corn field." – Dwight D Eisenhower
"If a farmer fills his barn with grain, he gets mice. If he leaves it empty, he gets actors." – Sir Walter Scott, Scottish novelist, playwright and poet
"I saw something nasty in the woodshed." – from Cold Comfort Farm by Stella Gibbons
Added indulgence
At Llwyndyrus Farm (01766 810859; farmspa.co.uk) in North Wales, a working beef and sheep farm, guests staying in one of five luxurious cottages can also book a slot in the hot tub or treat themselves to a spa treatment. Rental starts at £295 per week; treatments from £24. Meanwhile, Caradoc of Tregardock (01840 213300; tregardock.com) in Cornwall, is home to two self-catering properties and three camping pods (cottage rental starts at £495 per week for four, camping pods from £35 per night for two). The farm also hosts yoga retreats and painting holidays, costing from £250 per person for three nights.
Into the wild
If you want the farm-stay experience with a free-range edge, Brick House Farm (01233 850221; brickhousefarm.com) near Tenterden in Kent offers gypsy caravans, a timber fishing shack and a showman's wagon for hire. For romance, book the fishing shack, complete with wood-burning stove and rowing boat; the cost is £70 per night for two. The owners can also provide picnic hampers (from £12), sell home-grown provisions for a campfire supper or deliver a three-course meal (from £30) to eat on the deck. Farm animals include rare-breed pigs, sheep, lambs, hens, chickens and cob horses.
Family friendly farm stays
Featherdown Farms (01420 80804; featherdown.co.uk) manages luxury safari-style stays at 28 farms in England, Wales and Northern Ireland. At Hollings Hill Farm in Herefordshire, guests can pay extra for a "Retreat with Treats" and have their beds made and candles lit when they arrive. Rates start at £415 for four nights, standard rates from £265. Mill Farm Glamping (01380 828351; millfarmglamping.co.uk) in Wiltshire, has recently left the Featherdown fold to go it alone. Rates for its six-man tents start at £350 for a three-night stay and activities for children include donkey rides and cycling.
At Cronkshaw Farm Fold (01706 218614; cronkshaw.co.uk) in Lancashire, the emphasis is on the surrounding sheep farm. Guests at the site's self-catering cottage can join the farmer on his morning rounds, feed the hens, collect eggs and more. The cottage sleeps six and costs £380 per week. The Old Barn (01872 864599; tresithick.com) is a self-catering cottage on a small farm in Cornwall sleeping four. Guests can help as much or as little as they like with collecting eggs, looking after ponies, feeding pigs and helping out with lambing. Rates start from £650 per week.
In Scotland, children staying in cottages at Galloway House Estate, a dairy and cattle farm, can take advantage of a games room and the beach. Rentals from £380 per week (01988 600694; gallowayhouseestate.co.uk).
Get stuck in
Muck in planting vegetables, feeding animals or mending fences on a farm and you'll be rewarded with a bed for the night and plenty of food to keep your energy levels up. Two sources of information for volunteer placements are World Wide Opportunities on Organic Farms (wwoof.org) and Help Exchange (helpx.net), but there are plenty of independent projects that also take volunteers. The Magdalen Project (01460 30144; themagdalenproject.org.uk), in Somerset, for example, runs a well-established volunteer programme on its organic farm. Help dig up marrows and you'll get meals and a bed.
A honeymoon hideaway
Bluebells at The Dandelion Hideaway (01455 292888; thedandelionhideaway.co.uk) is a luxury tent for two at Osbaston House Farm in Leicestershire. A roll-top bath, "proper" loo, sleigh bed, rocking chair-bedecked veranda and gramophone help set a romantic tone and a tandem bicycle is provided for pedalling à deux around the countryside. All guests are given sparkling wine and breakfast supplies but honeymooners also get a supper and champagne thrown in. The farm raises goats, hens and cultivates wheat and maize – farmer John will take guests on tours. Rates start at £348 per couple for three nights.
Insider information
"Most farm hosts are delighted to tell you about the goings-on on the farm. Even if their website doesn't specifically offer one, most will happily give you a tour, let children collect eggs or watch milking. This all helps to create a bond with the countryside and the link between food and farming." Sue Prince, Beechenhill Farm B&B (01335 310274; beechenhill.co.uk).
Register for free to continue reading
Registration is a free and easy way to support our truly independent journalism
By registering, you will also enjoy limited access to Premium articles, exclusive newsletters, commenting, and virtual events with our leading journalists
Already have an account? sign in
Register for free to continue reading
Registration is a free and easy way to support our truly independent journalism
By registering, you will also enjoy limited access to Premium articles, exclusive newsletters, commenting, and virtual events with our leading journalists
Already have an account? sign in
Join our new commenting forum
Join thought-provoking conversations, follow other Independent readers and see their replies