The Independent's journalism is supported by our readers. When you purchase through links on our site, we may earn commission.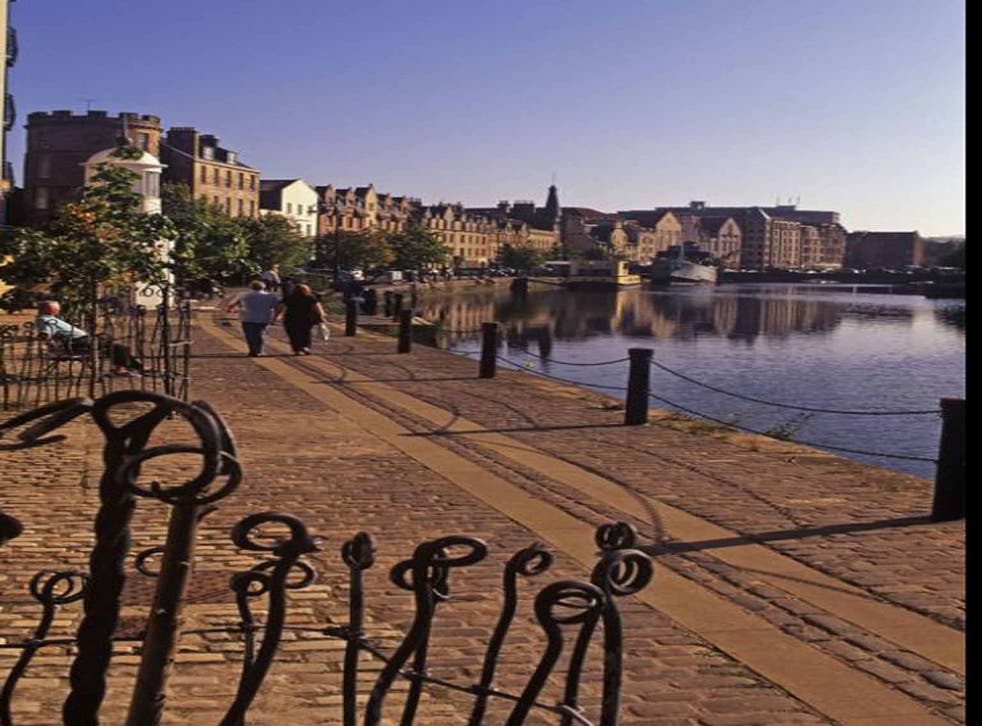 Leith: Basking in the sunshine again
With Michelin-starred restaurants, chic bars, and modern art galleries, Edinburgh's seaside suburb is worth revisiting, says Chris Leadbeater
Perhaps The Proclaimers summed it up best. "While the chief puts sunshine on Leith, I'll thank him for his work," sang the none-more-Scottish guitar duo, Charlie and Craig Reid, on the title track of their 1988 album Sunshine On Leith. It's a heartbroken ditty that takes dabs of comfort from a warm day in Edinburgh's fabled seafront area.
I'm midway along Leith Walk – the 1.5-mile avenue of small stores and sullen traffic that connects the district to the centre of the Scottish capital – when I understand what they meant. It's a drab afternoon, and Hibernian – Leith's much-loved, much-despaired-of football team, recently relegated from Scotland's top flight – have just lost again, filling the Walk with glum faces. But then the clouds part, and the light that pours down on to the grey-stone buildings seems to promise a brighter evening.
Leith itself has undergone a similar transformation. Set on the southern edge of the Firth of Forth, it has been Edinburgh's port since the 14th century – growing in size and significance as the city became one of the key royal power bases of Europe. But it suffered in the second half of the 20th century, drifting into urban decline.
The 21st century, though, has brought revival – cool bars, bright galleries, chic eateries. Although the regeneration of Leith has been under way for a good 15 years, it is a district that demands to be explored – not least, perhaps, in a week when Scotland mulls a decision which may irrevocably alter its future. Not, one suspects, that Thursday's independence vote will make too much difference to Leith, which has managed both to embrace and resist change. Leith Walk, with its betting shops and grocers, remains wholly ungentrified.
Parts of the waterside are still abuzz with metal containers and cranes. Even Shore – the street that most embodies the tide of renewal – salutes its past, rail tracks buried in the cobbles on which cocktail drinkers now congregate. And the failure of Edinburgh's new, hugely over-budget, tram network to run to Leith will ensure that this pragmatic enclave keeps its distance from the more mainstream tourist sites along the Royal Mile. As – indeed – it always has.
Unpack
"Oh yes, it was a brothel," replies the cheery receptionist behind the desk at Malmaison Edinburgh (1 Tower Place; 08446 930 652; malmaison.com). In truth, I already knew the answer to my query, but ask anyway to see if the grimy reality will be acknowledged. Malmaison has long made a show of reshaping stately structures, in this case a seaman's mission that provided refuge for sailors long before it put on the red light ("1883" is still carved over the door). Double rooms – all dark-wood furniture and black carpets – cost from £153 a night, including breakfast.
Think local
Those keen to view other insalubrious shards of Leith's story might wish to call upon the services of local Tim Bell, who does guided walks (from £8 a head, minimum three people; leithwalks.co.uk) around the locations that appeared in Trainspotting, Irvine Welsh's iconic 1993 novel about Edinburgh heroin users (and, to a lesser extent, the 1996 movie, which was largely filmed in Glasgow). Those seeking a less gritty stroll should try the Water of Leith Walkway (waterofleith.org.uk), which traces the river that winds inland from the docks for 13 miles – as far as the suburb of Balerno.
Eat
Culinary flair abounds in the Leith of 2014, with two Michelin-listed restaurants: one cocooned inside a one-time whisky warehouse, The Kitchin, at 78 Commercial Quay (0131 555 1755; thekitchin.com), which earned its accolade within six months of opening in 2006, its emphasis on seafood such as the seared North Sea hake with mussels (£28). Martin Wishart, at 56 Shore (0131 553 3557; martin-wishart.co.uk) sits quietly by the Water of Leith, revelling in the arch gastronomy of a six-course tasting menu – which includes ravioli of squab pigeon, and beef marrow with ox tongue, for £75.
Drink
"A woman drove me to drink and I didn't even have the decency to thank her." Comedian WC Fields's droll one-liner is chalk-scrawled above the bar in watering hole-restaurant The Granary at 32-34 Shore (08451 666 005; granaryleith.co.uk). It chimes neatly with the relaxed vibe in a hotspot whose cocktail list draws a metropolitan crowd. I order what proves to be a splendid passion fruit daiquiri – rum, passion fruit pulp, lime juice; £5.95 – from the elegantly coiffed barman, and wonder whether, if I signed up for The Granary's cocktail master classes (from £19.95), I really could learn to concoct a tipple so refined.
Spend
While Leith Walk deals in an older style of shopping – Canderson's Sweet Shop, at 76 Leith Walk (0131 554 1401; candersons-sweetshop.co.uk) could be a refugee from The Beano, a board outside touting "sour plooms; toffee doddles; Iron Brew humbugs", the waterside area makes a more sophisticated play for your cash. Delicatessen Relish at 6 Commercial Street crams its shelves with wines, olive oils and locally sourced sushi (0131 476 1920), while The Leith Gallery, at 65 Shore (0131 553 5255; the-leith-gallery.co.uk) sells works by Scottish artists – including landscapes by Douglas Phillips.
Don't miss
The area's frontline attraction is the Royal Yacht Britannia, on Ocean Drive (0131 555 8800; royalyachtbritannia.co.uk), the vessel that ferried the Queen around the globe between 1954 and 1997 (open 9.30am-4.30pm daily until the end September; £12.75). Deeper insight into Leith is, however, proffered by Trinity House, a former customs office and guildhall, at 99 Kirkgate (0131 554 3289; trinityhouseleith.org.uk), now a maritime museum (tours by arrangement, Monday to Friday; £4.50).
Getting there
Edinburgh is served by East Coast from London King's Cross, York and Newcastle; ScotRail sleepers and Virgin Trains day trains from London Euston; First TransPennine from Manchester; and CrossCountry Trains from a wide range of cities. The main airlines serving Edinburgh from other UK airports are British Airways, easyJet and FlyBe.
More information
Register for free to continue reading
Registration is a free and easy way to support our truly independent journalism
By registering, you will also enjoy limited access to Premium articles, exclusive newsletters, commenting, and virtual events with our leading journalists
Already have an account? sign in
Register for free to continue reading
Registration is a free and easy way to support our truly independent journalism
By registering, you will also enjoy limited access to Premium articles, exclusive newsletters, commenting, and virtual events with our leading journalists
Already have an account? sign in
Join our new commenting forum
Join thought-provoking conversations, follow other Independent readers and see their replies