The Independent's journalism is supported by our readers. When you purchase through links on our site, we may earn commission.
Natural wonders in the UK: From Giant's Causeway to Durdle Door
Our landscape may not claim many world records but it  is one of a kind, born of rare geology and sculpted by the unpredictable weather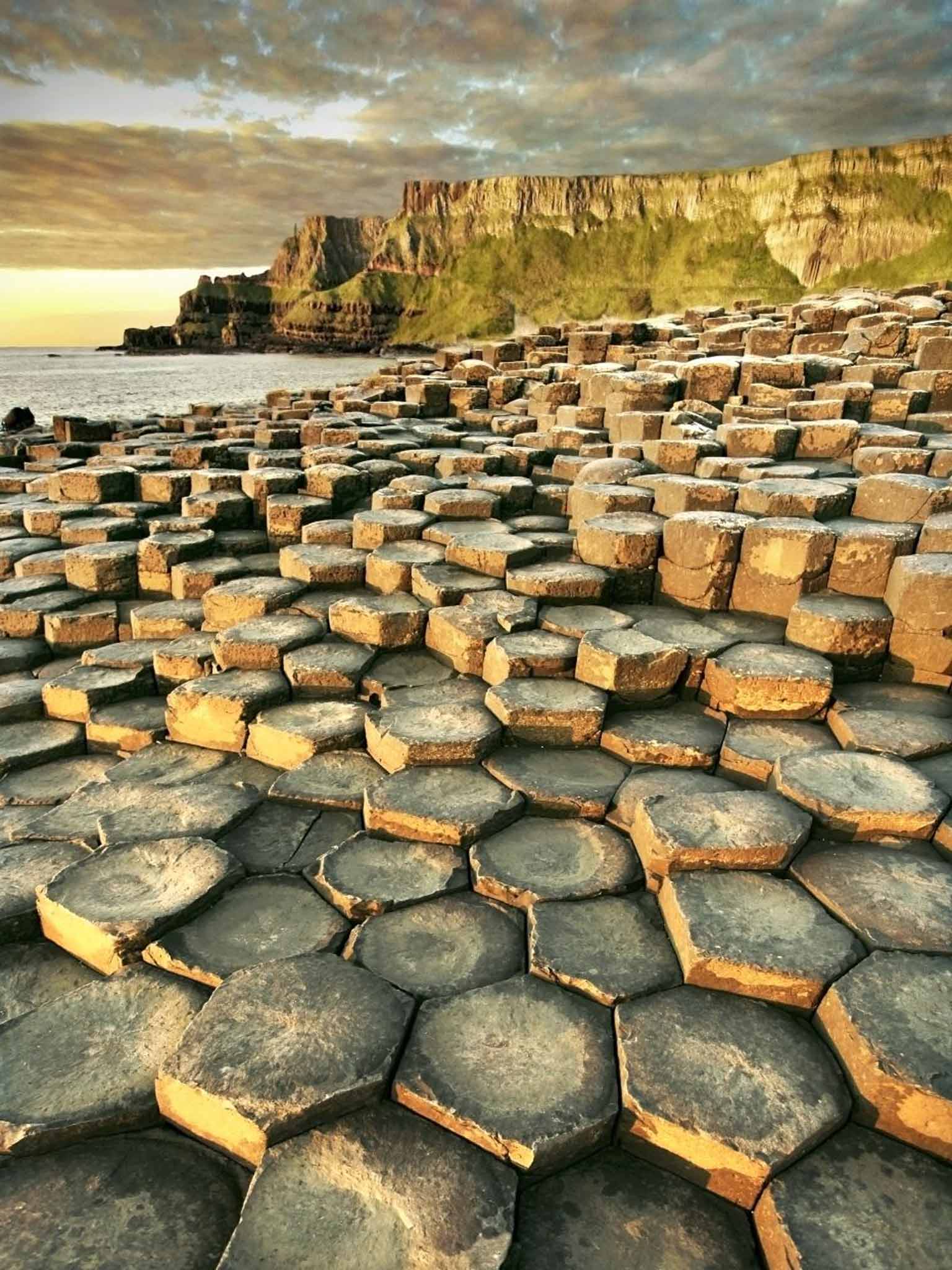 The British Isles rock. That's a subjective cultural claim, certainly, but it's also an empirical truth – because it's geology that has created our diverse and extraordinary natural wonders. We owe the creation of vertiginous cliffs and sea stacks to deposits of sandstone and chalk; soft limestone has been etched and scoured to carve craggy gorges, coastal arches and echoing caverns; and sculpted from extrusions of volcanic basalt are the weirdly geometric columns of causeways and sea caves.
But if science speak doesn't thrill you, the sheer wildness of our landscapes can't fail to enthral. The UK's wonders may not top the lists of the tallest, deepest, widest or loudest in the world, but the canyons are grand, the waterfalls dramatic and the coastline is, frankly, as spectacular as any. And yet, we rarely celebrate these natural marvels. Typical British reticence, perhaps, though another factor might be the weather – of which we have plenty. Indeed, the power tools that cut and shaped these masterpieces are largely meteorological. It is waves, wind, rain and ice that have moulded our land.
"The UK is one of the most varied regions in the world, geologically speaking," says Joe Cornish, a landscape photographer whose new book, This Land (published 1 October), showcases Britain's most beautiful scenery. "And thanks to the auspicious location of this gnarly, ancient chunk of rock in the path of the Gulf Stream, we also enjoy some of the most varied and interesting weather conditions."
Natural wonders in the UK
Show all 7
But while extreme weather is great for forging natural wonders, it can make reaching them trickier – which is why now is the time to explore, while access is generally easier and more comfortable than in winter. Most of our most magnificent sights are best enjoyed on a self-powered expedition.
The UK's extensive network of public footpaths provides access to most of our most amazing spectacles, and 15 waymarked National Trails of England and Wales (nationaltrail.co.uk) take in many of the most impressive natural monuments.
Planning your own hike is straightforward, but several companies offer supported or guided holidays along sections of these routes; Macs Adventure (0141 530 8886; macsadventure.com) has a comprehensive roster of self-guided tours, while Ramblers Worldwide Holidays (01707 331133; ramblersholidays.co.uk) offers walking trips highlighting our geological marvels.
Many of the trails can be traced by bike or on horseback, while other spots are best appreciated from the water – on a boat tour, paddling a kayak or even bobbing beneath cliffs on a coasteering excursion.
Some, though, can be admired from the comfort of a warm cottage, hotel or bar – the National Trust (0344 335 1287; nationaltrustholidays.org.uk) and Landmark Trust (01628 825925; landmarktrust.org.uk) both have enticing arrays of holiday properties with views of mountains, cliffs and crags.
What's guaranteed is that seeing our natural wonders will set your shutter finger itching. Charlie Waite, founder of the Landscape Photographer of the Year competition (take-a-view.co.uk) and the specialist photography tour operator Light and Land (01747 824727; lightandland.co.uk), is evangelical about the idea.
"In the context of the world, we are not a physically large country but the variety and beauty of our landscapes is second to none, from the limestone scenery of the Yorkshire Dales to the basalt columns of Fingal's Cave on the isle of Staffa," he says. "And the camera is a wonderful conduit through which one can connect with the myriad natural wonders."
Northern Ireland
The Giant's Causeway in Co Antrim consists of more than 40,000 hexagonal basalt columns which were formed when magma spurted through cracks in the Earth's surface 60 million years ago. Daily guided walks (028 2073 3419; giantscausewaytickets.com) cost £7.50 online or £9 on arrival.
The Gobbins cliffs, also in Antrim, rise dramatically from the Irish Sea, and there's a new – or rather, old – way to explore them. The Gobbins Cliff Path (028 9337 2318; thegobbinscliffpath.com) first opened in 1902 and had been closed since the Fifties until it reopened this month following a refurbishment. Explore the bridges and walkways on a guided tour (£8.50); a free cliff-top walk and viewing platform are due to open in September.
Whitepark Bay, on the northern tip of Antrim, is one of the few spots on the planet with "singing sands": walk across the beach and listen for the unearthly whistle. Self-catering Portbradden Cottage (0344 335 1287; nationaltrustholidays.org.uk) on the beach sleeps six and costs from £299 for three nights.
South-west England
For the finest views of the surf-battered rock stacks of Bedruthan Steps, north of Newquay, head for the South West Coast Path (southwestcoastpath.com). Sherpa Expeditions (0800 008 7741; sherpaexpeditions.com) has a nine-day cycle circuit along the coast path from Padstow, from £685pp including B&B accommodation, route notes and luggage transfers; it also offers a walking option.
The Dorset coast has Lulworth Cove and the mighty Durdle Door rock arch, around which Land & Wave (01929 423031; landandwave.co.uk) offers half-day coasteering tours from £40pp.
The 137m cliffs of Cheddar Gorge (01934 742343; cheddargorge.co.uk) in Somerset are England's grandest canyon, stretching nearly 5km. Taster rock-climbing sessions cost £22pp from April until the end of September. Gorge View Cottage (01934 744727; gorgeviewcottage.co.uk) sleeps two; low-season weekend rates start at £220 for three nights' self-catering.
Wales
Gawp up at the massive limestone arch known as the Green Bridge of Wales, Pembrokeshire, from a kayak with Adventure Beyond (0292 125 2761; adventurebeyond.co.uk); guided one-day/overnight trips cost £80/£150pp for a minimum of four paddlers.
In the Berwyn Mountains, west of Oswestry, Wales's highest single-drop waterfall tumbles for 80 metres under a natural rock arch and into a magical wooded gorge at Pistyll Rhaeadr. Sleep at the falls in a lovingly restored 1940s showman's caravan (01691 780392; bit.ly/Pistyll); from £180 for three nights, sleeps two.
Explore three huge caverns in the National Showcaves Centre at Dan-yr-Ogof (01639 730 284; showcaves.co.uk), between Swansea and Brecon. It is reputedly northern Europe's largest cave system, open daily April to October; entry £13.75.
South-east England
Dover's famed 110m-high White Cliffs can be admired from the waves aboard the Southern Queen (0797 130 1379; doverwhiteclifftours.com); cruises, costing £10, run three times a day in summer. Or delve into the newly opened wartime Fan Bay Deep Shelter, which was burrowed into the cliffs in 1940 (0844 249 1895; bit.ly/DeepShelter); tours cost £10 and run daily until 7 September.
The Needles are a lot less needly since the chalk stack named Lot's Wife collapsed in 1764 – but the remaining three rise dramatically from the waves at the western tip of the Isle of Wight. Contours Walking Holidays' (01629 821900; contours.co.uk) self-guided Isle of Wight Coast Path itinerary costs from £380 for five nights, including B&B accommodation, luggage transfers, maps and guidebook.
Scotland
Like the Giant's Causeway, the isle of Staffa, 10km west of Mull, formed when lava solidified into basalt columns, forming huge cliffs and the yawning maw of Fingal's Cave (of Mendelssohn's Hebrides Overture). Staffa Tours (07831 885 985; staffatours.com) runs three-hour boat trips to the island, departing from Fionnphort (Mull) and Iona daily until 10 October; £30pp.
Suilven, a rocky outcrop in north-west Sutherland, has a 731m ridge like a dinosaur's spine. An ascent is a highlight of Wilderness Scotland's (01479 420020; wildernessscotland.com) seven-day Open Canoeing North West Highlands trip, from £795pp including wild camping, one night's B&B, most meals, guide and equipment.
Scotland's most imposing sea stack is the Old Man of Hoy, rising 137m off the coast of Orkney. Northlink Ferries (0845 6000 449; northlinkferries.co.uk) sails the 90-minute crossing twice-daily, with MV Hamnavoe from Scrabster near Thurso to Stromness. From £16.65 one-way. A rock pinnacle below water is one of the factors creating the world's third-largest whirlpool, which rages in the gulf of Corrievreckan, between Jura and Scarba. Seafari Adventures (01852 300003; seafari.co.uk) runs RIB tours to the whirlpool from Oban, costing £42pp.
North of England
Yorkshire's towering Bempton Cliffs – more than 100m high and 10km long – host a teeming seabird city bustling with 250,000 gannets, puffins, kittiwakes and more. The RSPB (01262 422212; rspb.org.uk) runs regular guided Planet Gannet walks (£3), and Yorkshire Coast Nature (01723 865498; yorkshirecoastnature.co.uk) offers three-hour photography workshops for £45.
The awesome crags and elephant-skin limestone pavements of Malham Cove, in the Yorkshire Dales, are best reached along the 431km Pennine Way (penninewayassociation.co.uk), Britain's oldest national trail. Discovery Travel (01904 632226; discoverytravel.co.uk) covers the lot in an epic 23-day self-guided itinerary costing £1,395pp, including B&B, luggage transfers, maps and guidebook.
Further to the west, Fell Beck plummets 98 metres into the vast pothole that's known as Gaping Gill, into which you can only plunge on two thrilling winch meetings with local potholing clubs (bit.ly/GapingGill). However, the nearby Ingleborough Caves (01524 251242; ingleboroughcave.co.uk) are open for guided tours from February to October, and cost £8.
Click here to view UK Tours and Holidays, with Independent Holidays.
Join our commenting forum
Join thought-provoking conversations, follow other Independent readers and see their replies