The Independent's journalism is supported by our readers. When you purchase through links on our site, we may earn commission.
New Forest guide: boutique hotels, fine dining and abundant natural delights
The New Forest marks its first decade as a national park this year. Kate Simon reports on hikes, bikes and culinary delights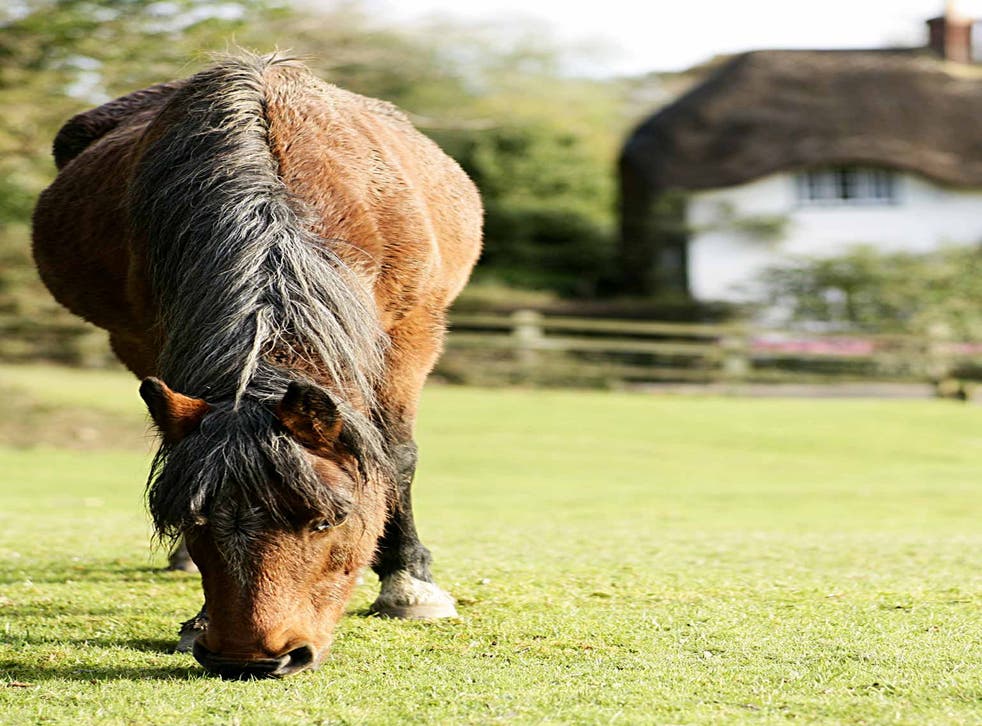 What's in a name? There's some confusion when it comes to the New Forest, which isn't new nor named for its ancient trees. In 1079, William the Conqueror created the nova foresta or "new hunting ground" to track the native deer and wild pigs, and he applied harsh laws to protect the beasts and the land they grazed on – much to the anger of the locals.
While the name survived, common rights were reinstated 150 years later, some of which apply today. Many commoners still put animals out to pasture on Europe's largest heathland, famously the free-roaming ponies that have become the forest's quintessential sight. Yet, it's only 10 years since National Park status was bestowed on this pretty corner of south-west Hampshire, bounded by the Solent to the south and the Wiltshire downs to the north, Southampton Water in the east, and the Avon Valley in the west.
In spring 2005, the new park authority was given its first powers to preserve not just the nature but the customs and traditions within this landscape of marshy mires, heather-covered heaths and shady glades of ancient oaks and yews, painted green, brown, purple and gold by the seasons. But the forest isn't just about its ethereal pastures and shadowy dells, there are quaint old towns and villages to explore at Lyndhurst, Brockenhurst, Sway and (witchcraft central) Burley.
Along the riverbank from Beaulieu – quite the hamlet caught in aspic, with a fine palace and abbey to view, too – stands the extraordinary sight of Buckler's Hard, two terraces of 18th-century houses, once home to the shipwrights who built Nelson's fleet just here at the water's edge. Down on the coast, there's top birdwatching on the mudflats and marshes at the Keyhaven and Pennington Marshes Reserve, passing liners to view from Hythe, and the charming port of Lymington. And, while wiggling your toes in pebbles on this stretch of coast, there are lovely views from the beaches, across the Solent to the Needles – a row of chalk pillars rising out of the sea.
For an overview of the area, start at the New Forest Visitor Centre (023 8028 2269; thenewforest.co.uk) in Lyndhurst, where you can pick up plenty of useful information. While you're there, consider buying a Brand New Forest Card (brandnewforest.com), annual fee £5, to get discounts at restaurants, shops and tourist attractions.
Step out
The New Forest has more than 200 miles of paths to follow. The major trails include part of the Solent Way (bit.ly/SolentWay), which offers a chance to explore the coast that underpins the forest, from Milton-on-Sea, through Lymington, Beaulieu and Hythe, on its route to Emsworth Harbour. The Avon Valley Path (bit.ly/AvonPath) snakes down the western edge of the forest, via Fordingbridge and Ringwood.
You will find route notes for 25 walks and information about accessible trails on the National Park's website (bit.ly/NFwalks), available to download to your smartphone or to print out.
The Forestry Commission (03000 680400; forestry.gov.uk) runs various guided walks, some free, some paid for, each with an interesting twist. On "A Walk with Four-Legged Architects" (3 June; £5.50), for example, a ranger leads the way, talking as you go about how the New Forest ponies munch the land into shape.
On two wheels
It is possible to visit the New Forest without a car. Go by train to Brockenhurst, which is on the mainline from London Waterloo (networkrail.co.uk). You can hire a bicycle – push-pedal or electric – at Country Lanes (01590 622627; countrylanes.co.uk; from £18 per day), which is based at the train station. The team can also send you off on one of their one-day, self-guided routes themed on picnics, cream teas and even cider.
More route ideas can be devised using the keyed maps available on the National Park website (bit.ly/NFcycling). The eight-mile route from Beechen Lane to Hatchet Pond is a mid-level on- and off-road ride that immerses cyclists in the tranquil heart of the forest, crossing open heath and dipping into wooded copses.
The Carter Company (01296 631671; the-carter-company.com) offers a gentle itinerary on its seven-night self-guided "Dorset Beaches and the New Forest", from £895pp, including seven nights' B&B, luggage transfers, equipment hire and route maps.
Take the family
Off the nature trail, there are plenty of man-made family attractions. In March, Critter Creek opened at Paultons Park (023 8801 4442; paultonspark.co.uk; £24.25 for anyone over a metre tall), better known as the home of Peppa Pig World (above). Little ones can ride the Cat-o-pillar rollercoaster through a garden of giant plant sculptures and get close to creepy crawlies, fish and lizards at Beastie Burrow.
Total Wipeout arrived at the New Forest Water Park (01425 656868; newforestwaterpark.co.uk; £15 for one hour) this month, with the UK's first Wibit Inflatable Sports Aqua Park. The fearless and foolhardy can pratfall their way around 40 metres of trampolines, slides, hurdles and rollers. Wakeboarding, kayaking and paddleboarding are also on offer.
Other good bets for keeping children happy include Go Ape! (0845 643 9215; goape.co.uk) at Moors Valley Country Park, Liberty's Owl, Raptor and Reptile Centre (01425 476487; libertyscentre.co.uk) and the steam railway at Exbury Gardens (023 8089 1203; exbury.co.uk).
Flavours of the forest
Deep in the woods, the taste trend-setters at Hartnett Holder & Co – the culinary collaboration of chefs Angela Hartnett and Luke Holder at Lime Wood, near Lyndhurst – are rustling up a new brunch menu for their "fun not fine dining" concept, due to launch in July. The menu is still under wraps, but expect much curing of beasts from nose to tail, and a signature dash of Italy. Ideas being chewed over include new twists on such classics as duck eggs and soldiers, plus the return of a little theatre table-side courtesy of the carving knife and the flambé pan.
In Brockenhurst, Lime Wood's sister hotel The Pig (see "where to stay") is still wowing fans of kitchen-garden fare. But it's not hogging all the limelight, with rising star Fallen Tree Restaurant (01590 622296; fallentreerestaurant.co.uk) now also bringing foodies to the town. Here, the young team understand that, to pull in the diners, "local" and "seasonal" are the watchwords to apply to fresh-to-order plates such as roasted crown of partridge with caramelised pear, root vegetables and partridge leg confit.
Fans of slow food should look out for the New Forest Marque (newforestmarque.co.uk), a seal of approval that can be seen on products, and at shops, eateries and any accommodation that has been recognised under the scheme for championing local produce.
Where to stay
Since December, The Master Builder's hotel at Buckler's Hard (01590 616253; themasterbuilders.co.uk), has been renting out two neighbouring historic cottages. The snug two-bedroom residences, with winding staircases and upper floors pitched like a ship on rough seas, have had modern kitchens and bathrooms added and been given a lick of paint. Each sleeps up to six. Three- and four-night breaks from £400. For more self-catering ideas, try New Forest Living (0845 680 0173; newforestliving.com) and New Forest Cottages (01590 679655; newforestcottages.co.uk).
For budget travellers, there are 10 campsites in the national park (campingintheforest.co.uk).
At the top end, the area's best hotels include five-star Chewton Glen (01425 275341; chewtonglen.com), at New Milton, with doubles from £325.
New Park Manor (01590 623467; newparkmanorhotel.co.uk), near Brockenhurst, is a member of the stylish Luxury Family Hotels collection, with rooms from £155.
Lime Wood (023 8028 7177; limewood.co.uk), near Lyndhurst, is a modish take on the country house, doubles from £255.
Its close relation, shabby-chic The Pig (0845 077 9494; thepighotel.com), is a restaurant with rooms in Brockenhurst, with doubles from £139.
Need for speed
The quiet rural lanes of the New Forest might seem a curious place to uncover the history of motoring. Yet, at Beaulieu, one of Britain's finest palaces and the home of the Montagu family since 1538, is the National Motor Museum (01590 612345; beaulieu.co.uk; adults £18, children aged 5-17 £9), a collection of 250 automobiles and motorbikes from down the years.
A new exhibition, "A Chequered History", opened in March, telling the story of motor-racing, with iconic sports cars on display, including Graham Hill's Lotus 49 R3. It features two new displays. The Grand Prix Greats section takes a journey through the history of Formula 1, from the earliest days of the sport to the latest advances, with helmets and race suits worn by Lewis Hamilton, Fernando Alonso and other stars of the track.
Road, Race and Rally focuses on rally and hill climbing and includes a Start-Up Area, where you can watch the engineers at work and hear the mighty engines revving up.
Click here to view UK Tours and Holidays, with Independent Holidays.
Register for free to continue reading
Registration is a free and easy way to support our truly independent journalism
By registering, you will also enjoy limited access to Premium articles, exclusive newsletters, commenting, and virtual events with our leading journalists
Already have an account? sign in
Register for free to continue reading
Registration is a free and easy way to support our truly independent journalism
By registering, you will also enjoy limited access to Premium articles, exclusive newsletters, commenting, and virtual events with our leading journalists
Already have an account? sign in
Join our new commenting forum
Join thought-provoking conversations, follow other Independent readers and see their replies