The Independent's journalism is supported by our readers. When you purchase through links on our site, we may earn commission.
What to do in Belfast when you've only got two days
After decades of political violence and uncertainty, Belfast is finally firmly back on the tourist map, with a panoply of new restaurant openings to tempt weekenders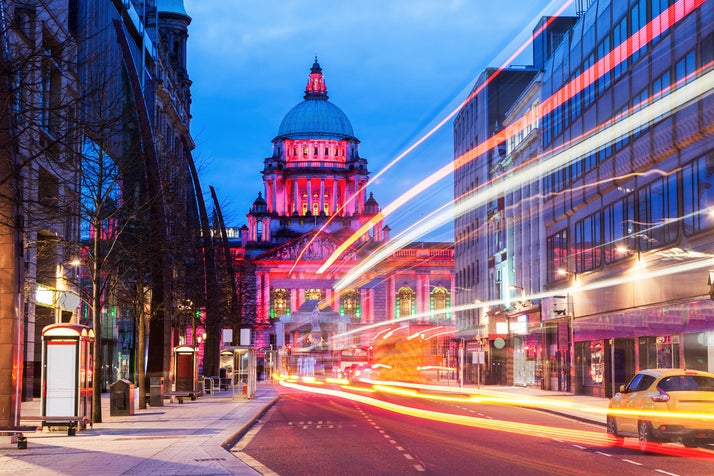 Why go now?
The last few years have seen Belfast emerge from a turbulent past, and shake off its reputation as a troubled city. For years it was off the tourist scene, but now it's firmly established itself as a destination worthy of a mini break, with bars, museums and sights to rival many a European city.
With a surge of hip new restaurant openings (and a couple of Michelin stars), there's never been a better time for excellent food in the city, as well as a bit of craic after dinner. The short flight time and ease of access from all over the UK is a bonus, too.
Get your bearings
A relatively small city, Belfast is divided into several "quarters", each known for its own distinct character. You'll likely spend most of your time in the centrally-located Cathedral Quarter, with its rambling streets, buzzing pubs and top-notch restaurants. Further south is the leafy Queen's Quarter, where you'll find the Botanical Gardens (1) and Queen's University (2), alongside some cool coffee shops and restaurants that are well worth the half-hour stroll. To the east, on the other side of the River Lagan, lies the Titanic Quarter, named after the infamous ship that was built there in 1912. It's home to an impressive Titanic-themed museum (3), an 11,000-seater sports and entertainment arena called the Odyssey Complex (4), and plenty of swish new apartment buildings and restaurants on the harbour-front. Meanwhile, the Gaeltacht Quarter in the west of the city is all about Irish language and culture. Highlights include important political sites, cemeteries and locales where you can take in the best traditional dance and music Belfast has to offer.
The Visit Belfast Welcome Centre is at 9 Donegall Square North in the Cathedral Quarter (5) (028 9024 6609; visitbelfast.com). It's open 9am-5.30pm Monday to Saturday (7pm in the summer) and 11am-4pm on Sundays.
Day one
Take a hike
Get acquainted with the city and its culinary highlights with a guided food tour. The Belfast Food Tour with Taste & Tour (tasteandtour.co.uk) starts at St George's Market (6). Tours meander around the stalls, while you taste all the local delicacies – Suki tea, blue cheese, Broughgammon goat and "fifteens" fridge cake. Walks continue through the city, stopping at chocolatiers for truffles, bars for cider and pubs for champ. Tours cost £50 and generally run on Saturdays at 10am.
Lunch on the run
If you're not too full from a morning of grazing, head into Coppi (7) (028 9031 1959; coppi.co.uk) opposite St Anne's Cathedral (8), a contemporary Italian restaurant with a cool, industrial-chic vibe. A selection of their small 'cichetti' dishes make up a good lunch – try the feta fritters, sharp little bites of cheese swathed in truffle honey (£3.30). If you're more peckish, the duck ragu with porcini mushroom ravioli (£14.50) is decadently rich, topped with crisp shards of duck skin and slivers of truffle. It's open every day from 12pm-10pm or 11pm on Fridays and Saturdays.
Window shopping
Stroll along Wellington Street just west of Belfast City Hall (9) and you'll find some great shops within steps of each other. Envoy of Belfast (10) (028 9031 1110; envoyofbelfast.com, closed Sundays) is home to vaguely androgynous, Scandi-style pieces, while Octopus's Garden (11) (075 63147949; belfastrecordshop.co.uk) is a must for fans of vintage and vinyl. Around the corner on Chichester Street, Co Couture (12) (078 8889 9647; cocouture.co.uk, closed Sundays) is a dreamy chocolate shop, selling divine brownies.
There's nothing remarkable about the high street shops in the Victoria Square shopping centre (13) (victoriasquare.com), but head there anyway and climb up the spiral stairs into the glass dome for great free views of the city and out to the mountains.
Bear in mind a lot of the city's shops are either closed on Sundays or operate on limited opening hours (usually 1-5pm).
An aperitif
There's no shortage of great pubs in the city, particularly in the Cathedral Quarter. The party starts early on a Saturday, with groups often gathered for an afternoon pint to kick off the weekend. The Duke of York (14) (02890 241062; dukeofyorkbelfast.com) is filled with antique memorabilia, cool copper tables and an old printing press (with some dirty words hidden within the letters). It's open every day from 11am-1am, with shorter hours on Sundays and Mondays.
Game of Thrones fans should head over the road to sister pub The Dark Horse (15) (028 90 237807; dukeofyorkbelfast.com), where you'll find a door carved from fallen trees of the Dark Hedges (AKA Kingsroad).
Dine with the locals
The lights are low in the Muddlers Club (16) (028 9031 3199; themuddlersclubbelfast.com), also in the Cathedral Quarter, and the air is scented with wafts of citrus smoke from many an artisan Old Fashioned. But the food is so good that you barely notice how cool the space is. The menu is small, with a focus on solid, seasonal ingredients – think tender slices of lamb, served with fresh spring greens, pea puree and a dollop of tangy sour cream (£24). It's open 12-2.45pm and 5.30-10pm, closed Sundays and Mondays, and booking is essential.
Down in the Queen's District, The Barking Dog (17) (028 9066 1885; barkingdogbelfast.com) is the place to go for laidback gastro food and, unlike many Belfast restaurants, it's open on Sundays (their roasts are epic). Hours vary.
Day two
Out to brunch
It can be tricky to eat out on Sundays, with a lot of restaurants closing up shop. Established Coffee (18) (established.coffee) next to the cathedral is one of the few stellar joints open every day, and their weekend feasts are well worth a trip. Their Cheesy French Toast is made with a doorstop of sourdough, topped with braised kale, smoked bacon, sage hollandaise and a poached egg (£7.50). It's open 9am-6pm Sundays, other days differ.
A walk in the park
The Botanical Gardens (1) are in Queen's District, around a 30-minute walk south from the Cathedral Quarter, and a great spot to spend a sunny afternoon. Stroll past the flowerbeds and trees to the Palm House, a beautiful Victorian glasshouse home to tropical plants and birds. The gardens are open every day from 7.30am-9pm, and entry is free of charge.
For a unique walk in the city centre, book in for a Street Art Tour (seedheadarts.com) which guides you through the incredible art and murals that line the streets of the Cathedral Quarter. Walks run at 12pm every Sunday from outside the Dark Horse (15), for £8.
Cultural afternoon
Belfast is synonymous with shipbuilding, and particularly its most infamous accomplishment, the Titanic. The exhibition centre, Titanic Belfast (3) (028 9076 6386; titanicbelfast.com), is based in the Titanic Quarter a short walk east from the city centre, and a striking sight in itself. The self-guided tour is insightful and sensitively interactive – a ride takes you through the "shipyard", complete with face-warming coals; a handrail vibrates as you look out over a televised sea view. Voices from survivors depict the moment of disaster in a darkened corridor, as sounds of Morse code fill the air. Submarine footage of the wreckage is shown on a huge cinema screen and also underfoot, below a glass floor. Tickets cost £18, and include access to SS Nomadic. It's open daily from 9am-7pm in the summer, hours vary slightly in other months.
Take a ride
The city is compact, so you'll rarely need to use public transport. Taxis are fairly cheap, with a 10-minute ride costing around £5, and much of the city can be reached on foot. If you need them, buses run through the city and out to the airport.
To see more of the outskirts while learning about the complex history of the city, take a Blackcab Political Tour (077 9860 2401; touringaroundbelfast.com) with someone who knows the city and its intricacies inside and out. You'll see the Peace Wall (19) and murals, and learn about The Troubles from someone who has lived through them. Tours cost £35 for up to three people or £15 per head for more.
Travel essentials
Getting there
British Airways (ba.com) flies to George Best Belfast City Airport (20) from Heathrow from £88 return; Flybe (flybe.com) from 14 UK airports, from £50 return. It's 3 miles from the city centre - a taxi takes less than 10 minutes and costs around £10. Alternatively the Airport Express 600 bus takes around 15 minutes and costs £2.50.
Ryanair (ryanair.com) flies to Belfast International Airport (21) from Gatwick from £26 return; Easyjet (easyjet.com) from 10 UK airports from £34 return. Belfast International Airport is about a 30-minute drive from the city centre – a taxi costs around £33. The Airport Express 300 takes 45 minutes and costs £7.50.
Staying there
There's a serious buzz to Bullitt Belfast (22) (028 9590 0600;), with the courtyard bar hopping every weekend, and locals gathering for a glass of wine in the afternoon. Rooms range from dinky (read: tiny) to roomy, and include a breakfast bag hung on your door come morning. Doubles from £100, B&B.
As well as a location right on the edge of the Cathedral Quarter, Malmaison Belfast (23) is also a handy hop away from the Titanic District (028 9600 1405). Doubles from £115, room only.
The only five-star in the city, The Merchant Hotel (24) (028 9023 4888) is home to a seriously impressive façade and an elegant cocktail bar. Doubles from £180, room only.
Join our commenting forum
Join thought-provoking conversations, follow other Independent readers and see their replies