The Independent's journalism is supported by our readers. When you purchase through links on our site, we may earn commission.
How Derry became the best Halloween destination in the world
Transylvania? Salem? Pah, says Ben Kelly – their Halloween celebrations have nothing on Northern Ireland's second city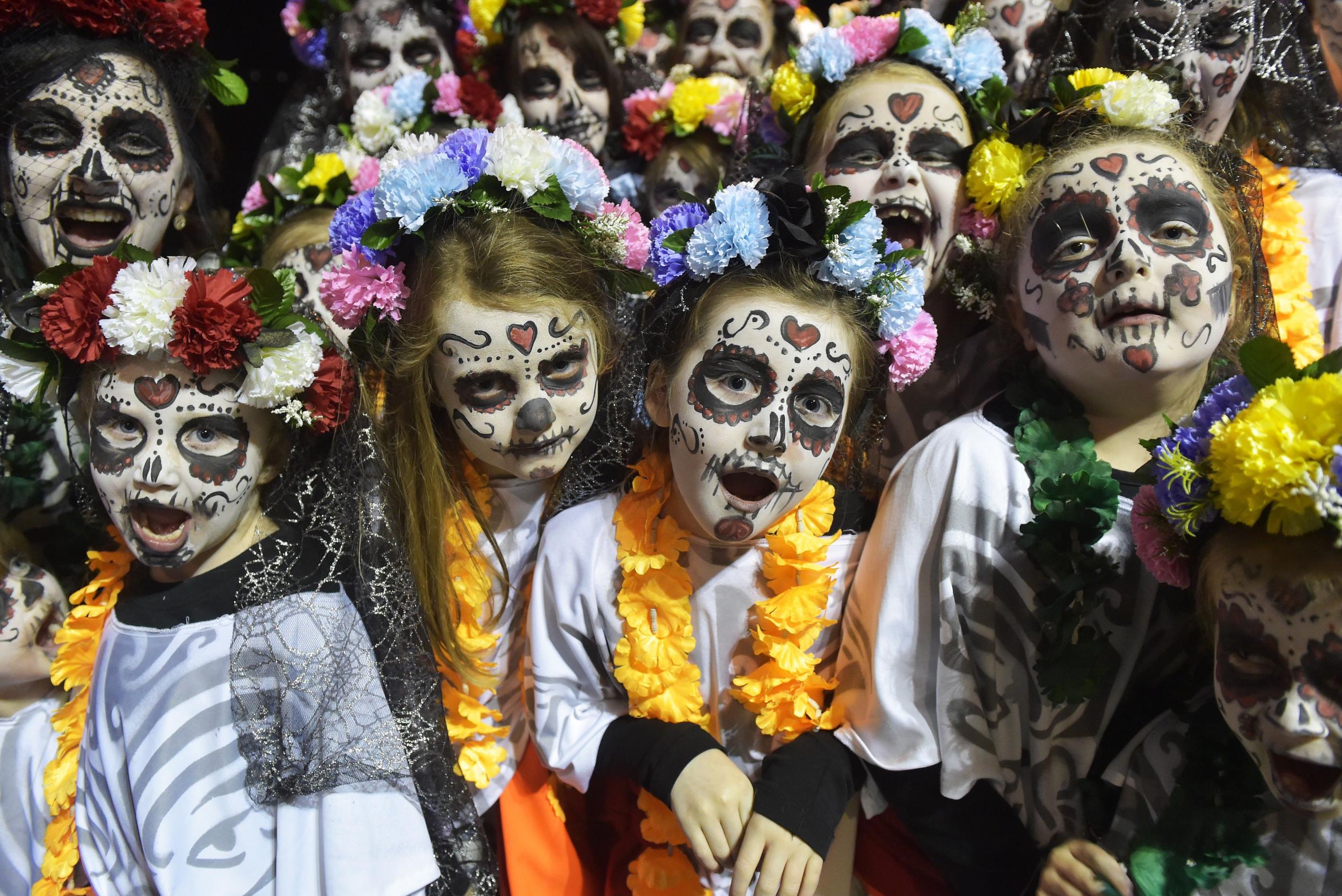 The best place to celebrate Halloween in the world. It must be Transylvania, the home of Dracula, right? Or Salem, Massachusetts, for its history of witches, right. Maybe even New York, for its celebrity-led annual Village Parade.
One place you almost certainly wouldn't think of is Derry – the second city of Northern Ireland. But that's where you'd be wrong.
I was born and bred in Derry, so don't take my word for it. Instead, listen to USA Today, who named Derry the "best Halloween destination in the world" in 2015. If Americans say someone else does Halloween better, you can guarantee they do.
Growing up, I would dress up with my family and join the Halloween parade as it snaked through the streets, before assembling to watch a spectacular fireworks display from the banks of the River Foyle.
I thought everywhere did this. It was only when I first moved away from Derry for university that I realised Halloween wasn't nearly as big a deal anywhere else, and I've always wondered how our city came to be such an essential festive location. The answer, it seems, has its roots in Irish history.
Don't be fooled by the Americanisation of 31 October. Halloween's origins date back over 2,000 years to the ancient Celtic festival of Samhain (sow-in), when, according to tradition, the ghosts of the dead returned to walk the earth before a new year began for the Celts on 1 November.
This sparked a long tradition of sacrifices, bonfires, activities, and the telling of ghost stories. Indeed, despite the introduction of Christianity, the pagan culture of Ireland – and a belief in the supernatural, spirits, and fortune tellers – remained very much alive in the nation. The popularisation of Halloween in America in the late 19th century coincided with the mass migration of Irish people following the potato famine of the 1850s, suggesting that as with many American traditions, it was brought to the country by immigrants, before being mass-marketed and exported back to the world.
But back in Derry, the carnival we know and love is entirely homegrown. My grandparents' generation have memories of little more than telling ghost stories, but Jacqueline Whoriskey, the festival manager, fills me in on how the festivities grew in size.
"It was started by the local communities, groups getting together and dressing up," she says. "Derry has a lot of creativity, and because it was a city of shirt factories, people also had the skills to put together great costumes. It was done among the local people long before it drew others in from abroad."
In 1986, the city council stepped in to make Halloween more of an organised event. Arthur Arbuckle was one of the workers who helped put that first year together.
"It was a very small carnival," he tells me. "We built a stage in the Guildhall Square, there was a small band, no parade – just a festival which then grew year after year. I've spoken to people who've come from all over the world: England, Germany, America. They just thought it was the greatest thing ever."
That certainly rings true for the people I spoke to. Lorenzo De Martino – an Italian living in London – visited Derry for Halloween with friends a few years ago, and remembers how the locals "truly embraced" the whole affair.
"I was positively surprised at the effort people made for fancy dress, and how big an event is actually is," he says. "It wasn't just about finding a ready-made costume to wear but to go and find different pieces in different shops to create the best and most original outfit."
Otherwise known as being a city of song and dance, rich in history with a reputation for a good night out, the Halloween celebrations fuse the best of Derry together – starting with the 17th-century city walls that give it its nickname, the Walled City (Derry is the only fully intact walled city in Ireland). While they've often been seen as a divisive symbol in a city largely populated by Irish nationalists, now the Halloween "wakening of the walls" – which see them brought to life with art projections and nearby parades – has given them a new significance.
In 2013, the Halloween carnival was one of the centrepieces of Derry's year as UK City of Culture. On the occassion of its 30th anniversary in 2016, the council estimates 80,000 people took part in four days of festivities – with 30,000 people attending the main carnival itself. It's unique in the world, insists Whoriskey. "We don't know of anywhere else in Europe that puts on a Halloween carnival like we do – and we have looked hard!"
Visitors to the carnival can expect fireworks and Jack-o'-lantern competitions (with traditional Irish turnips used for carving in addition to the expected pumpkins). To tie in with this year's theme of 'Under the Samhain Moon', there will be a giant moon on display in the central Guildhall Square – the centre for many activities – before it is released during the final parade.
Of course Halloween isn't just for children, and it isn't just for horror fans either. The Derry celebrations will see a harvest market for foodies, the Samhain Sessions for music lovers, as well as plenty of opportunities to scare yourself senseless – literally. The Playhouse Theatre is engaging the help of its resident ghost – supposedly a nun, who lingers there from when the building was a school – and putting on a sensory deprivation exercise called 'See No Evil' which involves being put in a room blindfolded, to heighten your other senses.
So, for the best Halloween experience in the world, rooted in th festival's history, look no further than Derry. And remember: spooky costumes bought in a shop are usually frowned upon, so get creative while you've still got time.
Travel essentials
Getting there
Loganair flies to Derry from London Southend. Ryanair flies from Glasgow and Liverpool.
Staying there
The Bishop's Gate Hotel has doubles from £129, B&B.
More information
This article was originally published in October 2017.
Join our commenting forum
Join thought-provoking conversations, follow other Independent readers and see their replies