Head to Orkney for Scotland's greenest road trip
With Britain's first electric camper vans – and more super chargers than petrol stations – Orkney is spawning a serious form of sustainable tourism, says Mike MacEacheran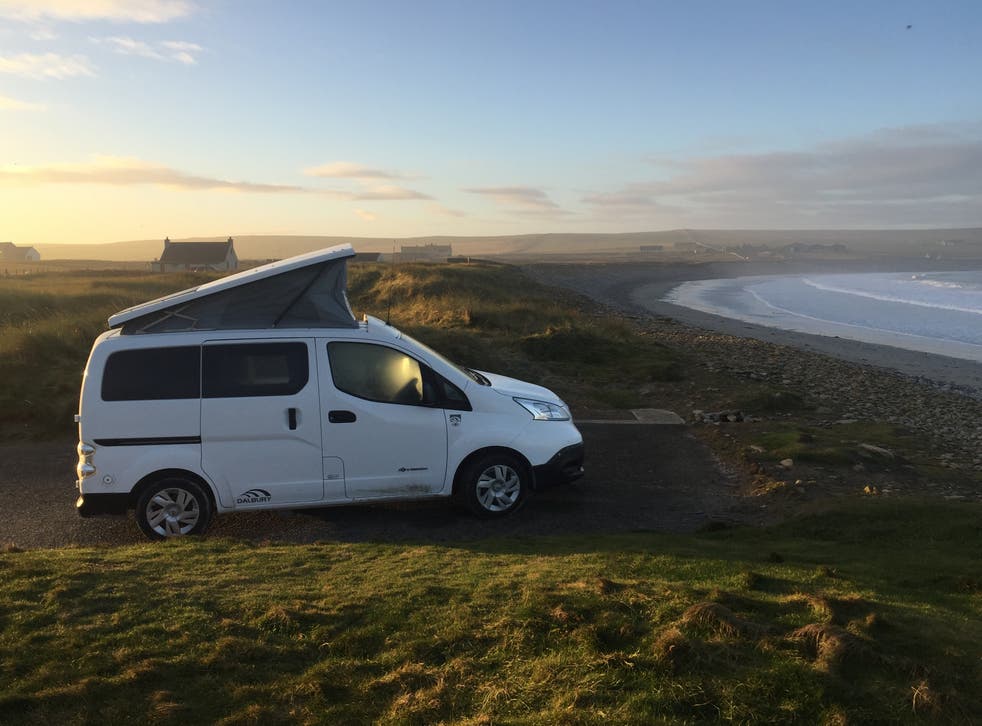 On the single track road towards Burgar Hill Wind Farm, colossal 100m-high turbines cast silhouettes like triffids. Stand directly beneath them and the visceral swoosh of the blades as they pass overhead is among the strangest travel experiences you can have in Britain.
It's here on this exposed hilltop, one of the windiest places in Europe, that Gulf Stream surges help demonstrate how Orkney has managed to lead the UK for sustainability. When the wind blows in Orkney, it blows hard and fast; and here, there is plenty of air and a surplus of energy.
For those of us predisposed towards shrinking our holiday carbon footprint, Orkney is a place of possibility. It engenders in its people a love of sustainability and, in recent years, the islands have embarked on a high-speed programme that's transforming the lives of locals, as well as the traveller experience. Weigh up community-owned wind turbines, grid-connected wave test sites, tidal generators, a hydrogen-powered ferry and – maybe in the not-too-distant future – the UK's first electric-powered flights from Westray and Papa Westray.
Until then, there is something equally exciting. Beyond the gold standard electric vehicle charging network, the latest addition is two of the UK's first electric camper vans for hire. There is something undeniably satisfying about seeing so much of prehistoric Britain by plug-in, emission-free motor.
The one I was driving is named Spoot, the Scottish term for razor clam, and it's a polar-white, zero-emission, all-electric Tardis of a vehicle. A Nissan Dalbury E, otherwise known as the world's first all-electric camper van, it is a map away from everyday life, fitted with a pop-top, double bed and Hobbit-sized kitchenette. Better still: my fridge was loaded with beer from the nearby Swannay Brewery, the cupboard stocked with homemade fudge and fatty cutties, Orkney's hallmark, otherwise known as raisin-speckled shortbread.
You can hire one of these campers from JP Orkney, a new tour operator set up by Merseyside transplants Paul Hudd and Jane Ellison, who moved from Sheffield to Birsay in 2017. They relocated because of Orkney's forward-thinking approach, for fresh air and to find some quiet for a while. Already, they have no plans to leave. "Right now, Orkney is going places," said Paul, while handing over the keys. "There's real positivity about the future here. You'll feel the buzz soon enough."
In fact, Orkney has done an outstanding job of convincing sustainably conscious travellers that its eco-offering is worth the NorthLink Ferries ride from Scrabster on the Scottish mainland, or short-hop plane ride from elsewhere in the UK. Truthfully, Orkney operates on its own, cooler frequency.
Out on the road, Spoot puttered along at a jolly rhythm, not so fast as to freak out the sheep swaggering onto the single track roads, but still capable of a range of 100 miles after only a rapid 20-minute charge. Given that Mainland, Orkney's main island, is 26 miles east to west and there are more charging stations per mile than anywhere else in the UK (40 and counting), range anxiety here is hypothetical. Which makes it as close as I've been to electric vehicle paradise.
The first night I parked for free at Skaill Bay, beside the stacked stone houses of Unesco-listed Skara Brae, and looked out onto the moonlit beach to see blinking lights from a handful of crofts. There were no other camper vans, let alone tents, RVs or hook-ups, and the evening was greeted in the company of peekaboo seals practising aquarobics out in the bay. Soon darkness fell, but what an extraordinary view to wake up to: the waves crashing in from the Atlantic, the sun streaking onto ruins older than Stonehenge.
No one can avoid the touch of history on Orkney. Some 5,000 years ago, Mesolithic hunter-gatherers once walked the long shorelines and ridges. Later, Neolithic farmers chose the same land to erect the prehistoric houses of Skara Brae, as well as to build Celtic ceremonial circles that ushered in an era of mystery that has never truly been unravelled. Elsewhere, detail-perfect tombs loom over cliffs cleft by the moshing Atlantic and Viking-era settlements storm the hillsides. This living history helps instil a sense of perspective in any visitor.
That first day I motored between Britain's oldest archaeological marvels – Skara Brae, Maeshowe and Ness of Brodgar – on roads jammed between heather fields. At the Ring of Brodgar's standing stones, braced by a hectic, roaring wind, it felt like I was being blown back in time. From here, it was quickly back into the camper van to shelter with a takeaway packed lunch: a buttery crab roll from Julia's Shed, an old-school deli next to Stromness' next-generation super chargers.
The Independent's climate change front pages

Show all 15
For eco-conscious travellers, Orkney is increasingly an island of creativity. With sustainable green hydrogen on the doorstep – engineered from water that has been electrolysed from Orkney's multiple wind, wave and tide generators – locals are pioneering all sorts of implausible-sounding fantasies for a carbon-free future.
On Kirkwall Bay, for instance, I grabbed a drink with Stephen Kemp of Orkney Distilling, which is working closely with the European Marine Energy Centre to become the world's first hydrogen-powered distillery and to decarbonise the gin-making process.
Such pipe dreams are very Orcadian, Kemp said. "There's an abnormal intensity of brilliant resources around us. Not just botanicals like Angelica root and juniper, but the abundance of wind and waves – all of Orkney now produces more electricity than we use." The distiller left me in his newly built, outdoor drinking snug. I gladly exited with a bottle of Old Tom gin, the perfect companion for my second night in the camper.
On my final morning, I kayaked over shallow water onto a seaweed-strewn beach below a toothy Iron Age roundhouse with Sea Kayak 59° North, Orkney's first guided kayaking operator. The archipelago might have more than 750 miles of pristine coastline, but it's only since last summer that it's been truly accessible for visitors. Seals popped out in our wake. We picked a path over smooth boulders to a tussocky verge, which soon gave way to a dramatic glimpse of prehistory: a jumble of toothy walls, stone-floored galleries and circular stone towers. Seeing the beached kayaks, the brilliant blue shallows, the sparkling sands, the electric camper in the distance: it could have been California. Almost.
Over the coming months, post-lockdown, UK road trips will be back on the travel agenda once more. Tackling one in an electric vehicle, however, has never felt more urgent. And by that measure alone, Orkney is miles ahead.
Travel essentials
JP Orkney rents electric camper vans from £110 per night, with a minimum rental of three nights, including insurance, bedding and kitchen equipment.
A guided sea kayak tour with Sea Kayak 59° North costs from £60 per half day, including all equipment, wetsuit and life jacket.
Loganair flies direct to Kirkwall from Glasgow, Edinburgh, Inverness and Aberdeen from £190 return.
Register for free to continue reading
Registration is a free and easy way to support our truly independent journalism
By registering, you will also enjoy limited access to Premium articles, exclusive newsletters, commenting, and virtual events with our leading journalists
Already have an account? sign in
Register for free to continue reading
Registration is a free and easy way to support our truly independent journalism
By registering, you will also enjoy limited access to Premium articles, exclusive newsletters, commenting, and virtual events with our leading journalists
Already have an account? sign in
Join our new commenting forum
Join thought-provoking conversations, follow other Independent readers and see their replies