The Independent's journalism is supported by our readers. When you purchase through links on our site, we may earn commission.
Our guide to pet-friendly holidays in the UK
Can't bear to be parted from your furry friend on holiday? With pet-friendly cottages, hotels, tours – even relaxation retreats – taking them with you is easy, says Lucy Gillmore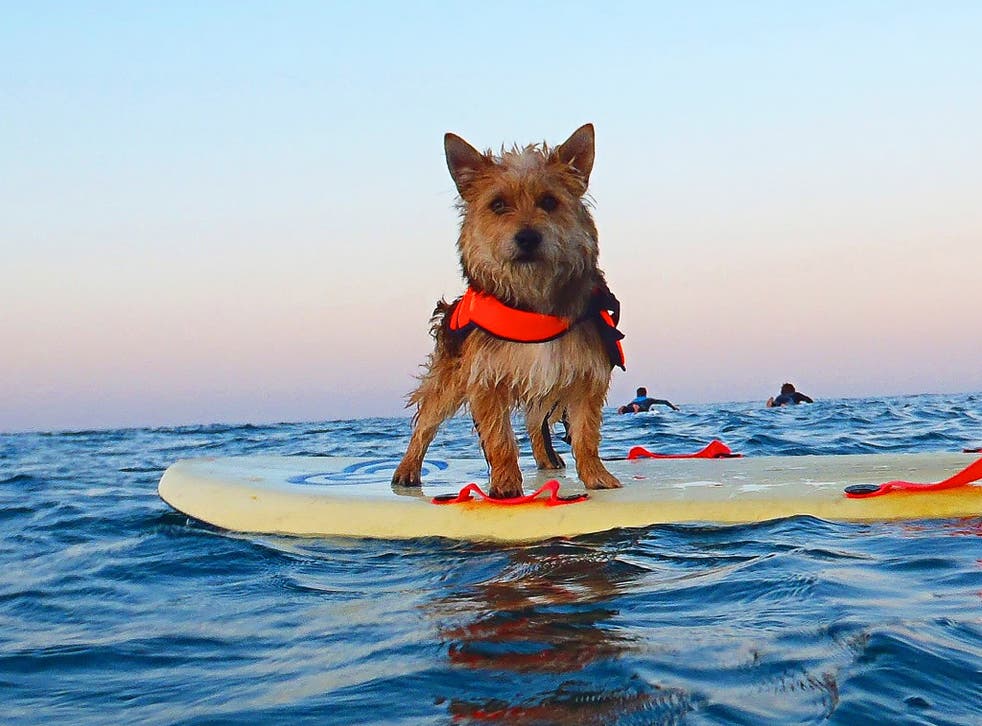 What's the attraction?
In a recent poll of 1,000 pet owners MedicAnimal.com found that nine out of 10 people took their dogs with them when they holidayed in the UK last year.
It's not just the emotional wrench that's a motivating factor – it's a savvy financial decision, too. According to Haven Holidays (0871 230 1900; haven.com), 20 per cent of their customers brought their dogs last year, at a cost of just £1 a night (or £40 per week in one of Haven's tents or caravans) – far less expensive than a week in a boarding kennel.
The nation's tourism sector is getting increasingly pet-friendly. Visit Cornwall is launching a free Dogs Love Cornwall guide in September, with accommodation options, plus walks and activities (bit.ly/CanineCornwall), while The Good Cornwall Guide lists the best beaches that welcome dogs year-round (bit.ly/CornDogBeach).
Ferry operator Wightlink (0871 376 1000; wightlink.co.uk) provides free travel for dogs to the Isle of Wight while its guide Pawprint outlines some of the best places to go for walks, along with tips on dog-friendly pubs and accommodation – which is getting easier and easier to find, from cosy cottages to country house hotels offering pooch pampering packages. At the Nare (01872 501111; narehotel.co.uk) on Cornwall's Roseland Peninsula, for instance, dogs can opt for the table d'hôte menu for dinner or go à la carte. A one-night stay costs from £16 per dog, while owners fork out £270 per double, B&B.
Malmaison (malmaison.com) also offers room service for dogs in its 12 hotels and if that's not relaxing enough, you can even take your dog on a retreat. The Ceridwen Centre (01559 370517; ceridwencentre.co.uk) in Carmarthenshire offers four-day holidays run by spiritual dog trainer, Caroline Griffith. Owners learn techniques to improve behaviour and are given advice on canine nutrition, animal healing, communication and hypnotherapy. The retreat runs 16-20 September and costs from £595 per owner and dog, full board.
Town and country
Belgraves Hotel (020 7858 0100; thompsonhotels.com/hotels/london) in the heart of London's upmarket Belgravia, has just started welcoming pets into its stylish rooms. Its new complimentary Pet Package includes a room upgrade, a "pet in room" sign for your door, food bowl, toy and a late check-out. Double rooms start at £371, room only.
Gleneagles (01764 662231; gleneagles.com), set in rolling Perthshire countryside, might be synonymous with golf but also offers the full range of country pursuits, plus gun-dog scurries for those wanting to see how to put one of the school's dogs through its paces. The resort also recently launched obedience training for guests' own dogs. You can book a half or whole day at £75 an hour. And after all that hard work, dogs can bed down in the hotel's luxury kennels for £40 a night, or in your room. The hotel provides a tartan dog bed, water bowl and pooper scooper (£50 per night). Doubles from £335, B&B.
Take the reins
Crabtree & Crabtree (01573 226711; crabtreeandcrabtree.com) has a number of properties in Northumberland with stabling and grazing, for those taking their horse on holiday. At The Bothy in Wooler there's a paddock and a barn to stable your pony along with scenic riding on the owner's estate, which stretches up into the Cheviot Hills. The cottage is also close to the coast for windswept beach gallops. The Bothy sleeps four and rental starts at £500 per week. The British Horse Society (02476 840500; bhs.org.uk) lists holiday accommodation with stabling facilities further afield, with options from Chenhal Farm in West Cornwall to Bramblebrae Cottage in the Scottish Lowlands.
All creatures great and small
Bedruthan Steps Hotel (01637 860860; bedruthan.com) in Cornwall has an open-door pet policy. If your pet won't eat another guest, they say, it's welcome. The yes-list includes dogs, hamsters, guinea pigs, rabbits, lizards, stick insects, spiders, mice, gerbils, budgies, goldfish and chinchillas. Chickens are allowed, but not noisy roosters. However, cats are banned along with rats and cockroaches. Double rooms start at £175 half board, dogs £12.50, other pets free.
For broader accommodation listings, the website WeAcceptPets.co.uk includes hotels, B&Bs and rentals around the UK that welcome dogs, horses and "small pets".
Walkies
There are plenty of romps for energetic hounds at Swinton Park (01765 680900; swintonpark.com) on a 2,000-acre estate in the Yorkshire Dales. Walks range from a gentle three-mile amble to a 50-mile trek through the estate to Ripon cathedral. Returning to the hotel's boot room there are plenty of dog towels for a good rub down and dog toys. Doubles start at £185 including breakfast; £25 per dog. Dog beds, a welcome letter from Swinton Park's dog Myrtle, water bowl and dog chew on arrival.
Ramblers Holidays (01707 386800; ramblersholidays.co.uk) has a Paws on Tour trip around the North York Moors and coast in August. Hiking through the spectacular gorges, dales and spending time on the beaches at Scarborough and Whitby, dog-owners can explore the rugged beauty of this breathtaking area. There are options to join for three, four or seven nights, starting on 24 or 28 August, from £229 per person half board and including the services of a tour leader; £20 per dog.
Hello kitty
Well-behaved cats are welcome at the Lambert Arms, just outside Oxford at the foot of the Chiltern Hills. The hotel has launched a Pets Innvited programme. Two pets are allowed per room (with a 75 lb weight limit for dogs). The inn provides food and water bowls and disposable litter boxes for feline guests; dogs are welcome to lounge in front of the open fires after yomping over the rolling chalk hills. Doubles from £90 including afternoon cream tea, full English breakfast, plus 10 per cent off food and drinks in the restaurant through Great Little Breaks (08448 488 488; greatlittlebreaks.com).
Insider information
"For many years taking pets on holiday was not taken seriously. When we launched the Woof Guide it meant that pet owners could search for accommodation by dog personality type. Pembrokeshire has over 186 miles of coast path to walk dogs and many of the beaches are open to dogs in the summer, too. For me the best walk is around angle and West Angle Bay, finishing in the characterful Old Point House for a well-earned beer and a drink for your best friend." Matthew Evans, CEO of Coastal Cottages of Pembrokeshire (01437 772760; coastalcottages.co.uk) and founder of the WoofGuide.com which scores its properties with paw ratings.
Dog-friendly pads
Holly Farm Holidays is a campsite in Illminster, Somerset, with a tipi, yurt, wigwam, camping pod and Big Red, a converted railway carriage, that sleeps two with a woodburner, barbecue and outside seating; two nights from £120 (pitchup.com; hollyfarmholidays.co.uk).
Brechfa Forest Barns (07590 923604; brechfaforestbarns.com) has two mountain-top properties that sleep four, with stunning views over the Carmarthenshire countryside – and no limit on the number of dogs you bring with you. They even offer dog-sitting. One-week from £295; short breaks also available.
Coast & Country Cottages (01548 843773; coastandcountry.co.uk) has a new pet-friendly property on its books. The Old Chapel is near Bantham, with its sandy surfing beach. The property has a lovely garden and is within easy reach of the South West Coast Path. Rental from £650 per week.
Kett Country Cottages (01328 887589; kettcountrycottages.co.uk) in Norfolk has a selection of pet-friendly properties including Blue Galilee, a fisherman's cottage in the seaside resort of Cromer. Dog beds and treats included. Sleeps five plus one dog from £325 per week.
Natural Retreats (0843 636 4625; naturalretreats.com) locations around the UK from John O'Groats to Cornwall are all pet-friendly with no extra charges for dogs. Guests can also book special doggy hampers online. For something more luxurious, Chien Bleu (chienbleutravel.com) reviews dog-friendly luxury hotels, from gastro-inns to grand country house estates.
Who said that?
"Such short little lives our pets have to spend with us, and they spend most of it waiting for us to come home each day." – John Grogan, author of 'Marley and Me'
"A hotel ought to offer optional small animals ... a cat to sleep on your bed, or a dog to act pleased when you come in." – 'The Accidental Tourist' by Anne Tyler
"Dogs are our link to paradise. They don't know evil or jealousy or discontent. To sit with a dog on ... a glorious afternoon is to be back in Eden." – Milan Kundera
Register for free to continue reading
Registration is a free and easy way to support our truly independent journalism
By registering, you will also enjoy limited access to Premium articles, exclusive newsletters, commenting, and virtual events with our leading journalists
Already have an account? sign in
Register for free to continue reading
Registration is a free and easy way to support our truly independent journalism
By registering, you will also enjoy limited access to Premium articles, exclusive newsletters, commenting, and virtual events with our leading journalists
Already have an account? sign in
Join our new commenting forum
Join thought-provoking conversations, follow other Independent readers and see their replies