The Independent's journalism is supported by our readers. When you purchase through links on our site, we may earn commission.
Aberdeen guide: Where to eat, drink, shop and stay in the Granite City
How to take the ultimate trip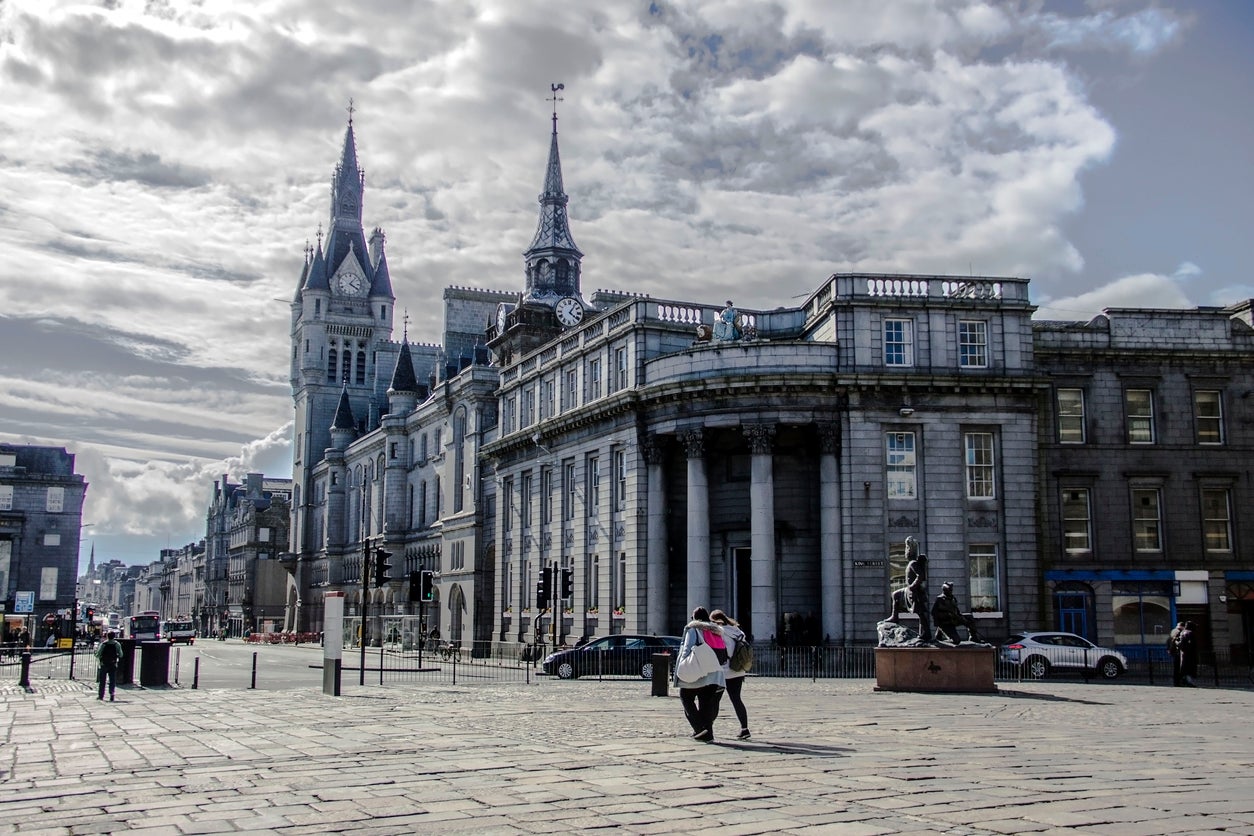 The Granite City became the Oil City in the 1970s – but oil is isn't exactly flavour of the month these days. "Art is the new oil" is the mantra in some parts of the city; various art festivals have sprung up and the much-anticipated reopening of Aberdeen Art Gallery following a £36.4m transformation ramped things up in November 2019.
Aberdeen also has a new conference centre (the AECC) and arena complex hosting shows by the likes of Elton John, new flights to London Southend with Loganair, and the Caledonian Sleeper's new carriages – so getting there should be a cinch.
What to do
Bridge and Tunnel
You'll be reminded of Edinburgh as you explore each side of the majestic boulevard of Union Street. Railway lines, roads and Union Terrace Gardens are sunk into a culvert. Union Street bridges alleyways with stairs running up and down just like around Waverley Station and North Bridge in Edinburgh; tunnels slip in and out of the centre's hills in a suitably spooky way.
"This is a city that thrives on confusions and jagged encounters" surmised the writer and broadcaster Jonathan Meades. But the sturdy grey, granite buildings along Union Street and its "Wynds", or alleys, are a muscular sight indeed.
Arty happenings
It's not quite Dundee's new Kengo Kuma-designed V&A but the city's revamped Aberdeen Art Gallery (refurbished by Hoskins Architects) has been a long time coming (it shut in 2015). New spaces have been added into the old Victorian structure, plus there's a new plaza outside.
The Look Again Festival brings live art happenings to the city every June and the NuArt Festival, which happens every April, leaves a legacy of murals on the city's buildings that can be explored at any time. Look out for the emotive piece on the side of the Markets by artists Herakut, featuring a young girl.
Old Archie
Archibald Simpson was a one-man machine who crafted many of Aberdeen's most grandiose buildings. The Music Hall on Union Street is worth a look, as well as St Andrew's Cathedral. Simpson was also behind the North of Scotland Bank where his name lives on – it's now a Wetherspoon's called The Archibald Simpson. During Look Again Festival in 2019, artist Craig Barrowman wheeled a supersize Simpson head around Aberdeen which was so big the artist could open a door in his neck and get inside. Archie would surely have approved.
A seaside day out
Take the train to Stonehaven (15 minutes, £5.60 return) for a breath of fresh sea air. Stonehaven is a gorgeous little town with an old clock tower and barometer, harbour filled with fishing boats, castle and beach – keep an eye out for dolphins in the bay. Best of all there's Britain's northernmost lido: Stonehaven Open Air Pool (high season weekdays 10am-7.30pm, weekends 10am-6pm) is heated to a balmy temperature and open from 25 May until 1 September every year. The glorious blue and yellow sundecks buzz on warm afternoons and the Olympic-size pool has been used by medal winners Eleanor and Ken McKay, among others, over the years since it opened in 1934.
Where to stay
Expect to hear a few lilting Canadian accents over the haggis, sausage and beans of the breakfast buffet at Sandman Signature – this Vancouver-based chain seems to attract a lot of holidaying Canucks. The restaurant and reception have fun interior design with multi-coloured umbrellas dangling from the roof, and the food is good – the room service cheeseburger made with Speyside beef is better than a hotel burger has any right to be. Doubles from £61, B&B.
Aberdeen's newest hotel opened above the brand new Exhibition and Conference Centre and next to the new arena in summer 2019. This Hilton has a spa, cocktail bar and restaurant, and is also handy for the airport and getting out of town to the west towards Speyside whisky country, Balmoral and the Cairngorms. Double from £84, B&B.
Palm Court is a small, simple, independent hotel located in the pleasant West End of the city, featuring trendy-sophisticated décor and a friendly vibe. Doubles from £49, B&B.
Where to eat
The Bay has won numerous awards and is sometimes described as Britain's best chippy. Having pigged out on battered haddock, turbot, scampi, calamari and fluffy chips we can report that it is, indeed, exceptional. The fish is sustainably sourced and they even flash up the name of the boat which landed them at Peterhead the previous day. It's on the seafront, right next to Stonehaven's lido. Open daily, 12pm-10pm.
The oddly named but impressive Moonfish Cafe (it's not a cafe – it's a cosy bistro) is a perfect choice for a dinner a deux. Vaguely French flavours mix with local ingredients – see halibut fillet with pea puree, and stuffed courgette flower. It's a buzzy little joint and a great location on one of the historic "Wynds" in the city centre. Open daily for lunch 12-2pm and dinner 6-9pm; closed Sundays and Mondays.
Where to drink
Acclaimed craft beer joint Six Degrees North proffers a variety of suds made with care, such as a house-made Peloton Pilsner. The clientele is invariably young and bearded, but don't let that put you off. Open Monday to Thursday 1pm-12am, Fridays and Saturdays 12pm-12am, Sundays 12.30pm-12am.
Aberdeen birthed Brewdog, and the company has taken that Scottish combo of heavy boozing and heavier waggery around the world. Back in its hometown, the brand opened a new draft house bar, The Hop & Anchor, in March; open daily, 12pm-1am. There's a new DogHouse hotel in the offing too – but no one quite knows if or when that's happening.
Where to shop
Aberdeen has a surprisingly thriving record shop scene, where you can pick up vinyl by local heroes including Annie Lennox, The Shamen and The Xcerts. Check out Maidinvinyl (Tuesday to Saturday, 10am-5.30pm, closed Sundays); the snazzy Chameleon – which also sells upmarket interiors for the oil exec in your life (Wednesday to Saturday 10am-6pm, closed Sundays, Mondays and Tuesdays); and second-hand superstore Aberdeen Vinyl Records (Monday to Saturday 9am-5.30pm, closed Sundays).
Architectural highlight
Footdee (or Fittie as everyone calls it) is a tiny little fishing village right at the mouth of the Dee, with cute cottages and alleys sandwiched between the sea and the river on a tiny spit of land you wouldn't believe anyone could live on. The oil tanks and ships in the harbour make it feel even more surreal. Fittie was the subject of an episode of the acclaimed BBC TV series Secret History of Our Streets, telling the story of its remarkable development.
Aberdeen Nuts and Bolts
What currency do they use?
Pound sterling.
What language do they speak?
English.
How much should I tip?
10 per cent is fine.
What's the time difference?
None – GMT.
Public transport
No need for public transport in Aberdeen: you can walk everywhere. Trains run to Stonehaven and into the Cairngorms and towards Inverness.
Getting there
Flight time from London is around 1hr 10mins; flights depart from Luton, Southend and Heathrow with a variety of airlines including British Airways, Loganair and FlyBe. The Caledonian Sleeper runs six nights a week (not Saturdays) taking 10 hours between London and Aberdeen. LNER day trains take between seven and eight hours.
Join our commenting forum
Join thought-provoking conversations, follow other Independent readers and see their replies